| | |
| --- | --- |
| Vancouver Island Thunder Aboriginal Rugby Program | |

Original Bear carving by Billy Cook
©
Thunder Fundraiser on Sunday at JBAA with Bobby Ross Capping Ceremony

posted May 2 2015

If you're in Victoria on Sunday think of dropping by the James Bay clubhouse between 2pm and 5pm. It's $20 admission which includes a Salmon Feast, a drink ticket and a ticket in the prize draw. There will be many auction items available including some amazing aboriginal art from artists like Richard Hunt, Mulidzas-Curtis Wilson, Billy Cook and Rande Cook. There's a 5 day trip to Langara Fishing Lodge in June up for bid and a VIP trip to the Pacific Nations Cup final, August 3rd, in Burnaby including Helijet transportation and Fairmont Hotel. There will be national players like Phil Mack, Hubert Buydens, Ray Barkwill, Jordan Wilson-Ross and others in attendance.

If you plan on going please indicate so on the Facebook event page so caterers will know how much food to prepare.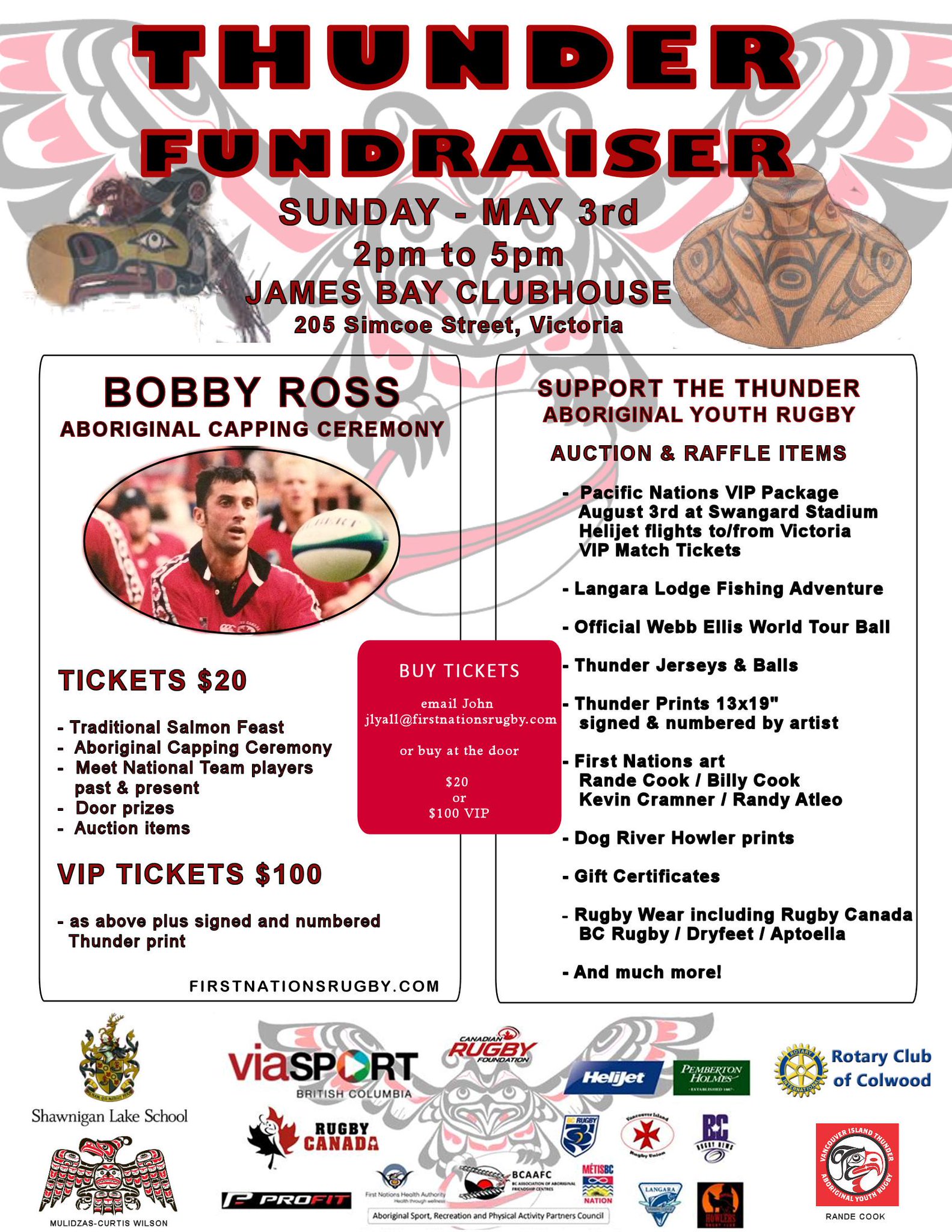 ---
Thunder Meet Webb Ellis at Klahanie; Fundraiser Set for May 3rd, Bobby Ross to be Honored as Aboriginal Rugby Athlete

posted April 10 2015

The Thunder program started their 2015 season with a session at the University 7s tournament in March. This month they traveled to the Capilano home field of Klahanie where they were invited to be part of the Webb Ellis Cup world tour. It was a strong turnout with Phil Mack leading the camp. Next up is the fundraiser on May 3rd which will generate the funds to get the program through the summer. Last year Phil Mack was honored in the "capping" ceremony, this year it will be Bobby Ross who will be honored. The event will take place Sunday May 3rd at the James Bay clubhouse starting at 2pm. It will feature a salmon feast and an auction on some impressive items. So far the following items will be available for auction:

- Langara Lodge Fishing Trip
- Helijet travel package to the Pacific Nations Cup Final Aug 3rd at Swangard
- Rugby Canada VIP passes to the Pacific Nations Cup Final Aug 3rd at Swangard
- Art and carvings from renowned Vancouver Island Aboriginal artists
- Official Rugby World Cup Tour ball (only 8 of these presented on the World Tour)
- Thunder merchandise including balls and T-shirts
- Signed and numbered prints of the Thunderbird by Mulidzas Curtis Wilson

Tickets are $20, VIP tickets are $100 and includes a signed and numbered print or a special gift for those who already purchased a print last year.

Last year funds were used to hold camps around Vancouver Island, as well the money helped to send Phil to Toronto to run a couple of camps. That trip was also generously supported by Shawnigan Lake School. The funds also helped in hosting the players during the Victoria 7s youth tournament, some of them from outside of the area.

This year the funds will help support Phil's trips to selected schools to run camps to identify Aboriginal athletes and promote the program. If enough money is available another out of province trip will be made to grow the program, there have been enquiries from Alberta, Saskatchewan and New Brunswick. The funds will also help support the three teams (U16 & U18 boys, U18 girls) during the Victoria 7s tournament and the 3 day Shawnigan Lake School camp immediately prior to the tournament. As the program grows there's more interest from other areas such as northern BC and, if possible, funds will be used to help offset travel costs for youth where financial barriers exist.

We look forward to seeing you May 3rd, for those wanting to bid on items from afar we'll look into accepting bids online or by phone. We also welcome donations of gift items or funds, also volunteers are required during the event. Please contact John Lyall at jlyall@firstnationsrugby.com for more information.



Thunder meets Webb Ellis at Klahanie - this photo was posted on the official Rugby World Cup twitter feed



The Thunder headdress created by Vancouver Island artist Rande Cook now travels everywhere with the Thunder



The official Trophy Tour ball, apparently only one of eight, this will be auctioned off to help support the Thunder program


---
Thunder Fundraiser on Wednesday April 23rd 6-9pm at James Bay Clubhouse: Original Carvings on Offer

[ed. you can download the event poster in .pdf format.
posted April 18 2014

The Thunder Aboriginal Youth Rugby program has their fundraising evening on Wednesday April 23rd at James Bay clubhouse from 6 to 9pm. The men's national 7s team will be present for the evening as one of their own, Phil Mack, is recognized for his accomplishments with a unique First Nations capping ceremony. The team leave for Scotland on the Saturday so it's a chance to mingle and wish them well on their last road trip in the the 2014 iRB series.

There are some impressive auction and raffle items available including a VIP package to the Japan v Canada game on June 7th in Burnaby. Helijet will fly you over, VIP tickets, stay overnight at the Fairmont and then get flown back the next day. A dream rugby experience. There's a signed NZ Maori jersey from the Canada vs NZ Maori game last fall. Signed and numbered prints of the Thunderbird logo from the original artist, Mulidzas Curtis-Wilson. Rugby balls with the Thunderbird logo, very sharp. Original carvings by First Nations artists with a rugby theme, including Rande Cook and Billy Cook. Lots of gift certificates and rugby wear. So lots going on for a good cause. Tickets are $25 which includes catering by Heron Rock Bistro. VIP tickets at $100 includes one of the signed and numbered Thunderbird prints.

The Thunder will be entering two teams, boys and girls, into the Victoria International 7s Youth tournament in July and holding camps up and down Vancouver Island in May and June to identify talent and introduce the game to Aboriginal Youth. Phil Mack is the head coach.

If you would like to attend please register online at www.firstnationsrugby.com so organizers will know numbers for catering purposes.



Rugby Bear carving by Billy Cook


Signed Thunderbird prints and Thunder rugby balls

---
Vancouver Island Thunder Program Prepares for Spring Launch

posted Jan 20 2014

The Vancouver Island Thunder aim to take off in the spring of 2014, looking to promote the great game of 7's rugby to Aboriginal communities on Vancouver Island. Rugby Sevens is an exciting version of rugby, and is now recognized as an Olympic Sport. Canada has had proven success in the International fields in youth, men and women rugby.

Background: Rugby is truly an international sport, popular throughout the world with Indigenous populations. Traditionally, it hasn't been a sport of focus for Aboriginal populations throughout Canada. For example, it is not one of the 7 sports identified by BC Aboriginal Sports and Recreation. However, we feel its international flavor, its Olympic inclusion and by its nature, an exciting and physical game that empathizes teamwork, make it an ideal sport for our Aboriginal athletes and communities.

Aboriginal Culture: The Vancouver Island Thunder believe simply in a holistic approach, that rugby while primarily a physical component also encompasses balance through an emotional, spiritual and intellectual involvement. We are interested in working with the communities and elders to guide us on our path.

Logo: The Thunderbird logo was designed by Curtis "Mulizdas' Wilson. The powerful supernatural bird that originates from the west is an ideal symbol for our burgeoning program.

Goals: The Vancouver Island Thunder aims to offer a structured vehicle to promote the game of rugby to Aboriginal communities on Vancouver Island, specifically:

To promote the game of rugby to Aboriginal communities
To identify potential high performance Aboriginal athletes that could one day represent Canada, potentially at the Summer Olympics

Structure: The Vancouver Island Thunder aim to offer rugby camps in Aboriginal communities on Vancouver Island in the spring of 2014. Whereas these camps would be participation, skills and fun driven, it is anticipated that a Boys U16 and Girls U16 7-aside team would be selected to participate in the Victoria International Youth 7's tournament, held at UVic traditionally in July. It is anticipated that this simple structure would be an annual sustainable program with considerable room for growth.

Our Team: Manager: John Lyall, of Kwakwaka'wakw descent, rugby player over 25 years, currently VP in SD 62, VP of VIRU Rugby

Boys Coach: Phil Mack, of Toquaht Nation, Canada International rugby player with over 40 international appearances in 7s rugby for Canada and 15 international appearances in XVs rugby

Girls Coach: Marlene Donaldson, former Canadian international, BC Rugby youth coordinator

Communications / Manager: Mark Bryant, editor of BC Rugby News

What can you do? We are looking for interested peoples and organizations to get on board with us and watch the Vancouver Island Thunder soar. We are interested in partnering and developing relationships with Aboriginal organizations, First Nations, Metis and Inuit communities, Rugby unions, Rugby clubs or any individuals or organizations willing to contribute to the development of Aboriginal grassroots and high performance athlete rugby here on Vancouver Island!

Contact: you can contact John via email at jyall@firstnationsrugby.com or cell phone 250-217-9031




---