Weekend Results: Premier Semi-finals Bays Outlast CW; Lakers Sink Caps
updated April 26 2014
[ed. comments below]
Two great semi-finals in Premier plus an Island final in Div 1 highlight the weekend. The high school 7s tournament is taking place at UBC. So lots of good rugby to watch, get out to the field and support local rugby.
Castaway Wanderers 13 at James Bay AA 16
Well two games and I was out by 5 points total. This game was bang on, +3 predicted, +3 delivered. It was an awesome match. As usual the team attacking with the downward slope dominates, the 1st half was James Bay, the second half was CW. The scoring went 3-0, 8-0, 13-3 at halftime for the Bays. Then 13-8 and 13-13 with CW ascending. The Bays kicked a penalty against the flow of play and that would be enough as time ran out on the Oak Bay squad.
Phil Meyer will have the match details in the JBAA report so I'll just give my observations. The CW pack dominated especially in the second half, so if you look at it as the Canada pack vs the American pack with James Bay having two USA Eagles, Canada won that battle. Guys like Tiedemann, Ilnicki, Phelan an Barkwill got the job done. Actually one of the turning points I thought was in the second half when inside their 22 the Bays pack was being pushed back in a scrum but miraculously they managed to win the ball, that magic may have been due to the clever scrum half Spencer Dalziel. That was a game saver.
One of the James Bay faithful told me after the game, "thank goodness Hearn wasn't playing #10", I concur. After watching the game neither Pat Parfrey or Ander Monro are the future of Canada's flyhalf dilemma. Monro had his time in the sun, Parfrey, even though nursing a hamstring injury didn't look like the backline leader Canada is searching for. Now Ciaran Hearn, he's looking very sharp, it would have been interesting to see him at #10 for CW... He scored the try that tied the game and he has looked sharp in the games where he played #10, we'll see on that front. If Connor Braid had been available the game might have been more one sided for the Bays... more conjecture.
It was a battle though, you could hear the hits, and fans were enthralled for 80 minutes. Kudos to the players from both squads.
We selected Nick Blevins #13 as the match MVP. He's looking on form to represent Canada this summer. Taylor Dalziel at #12 also played a strong game and scored a great second effort try.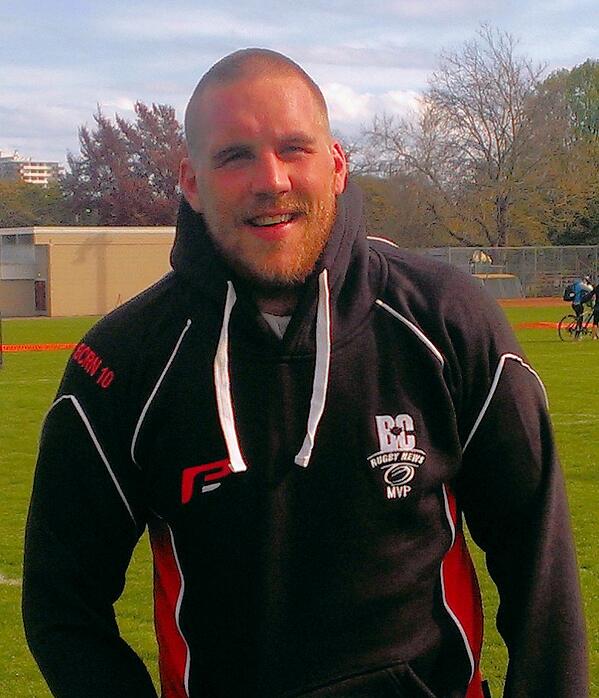 PREGAME
Last time these teams met in February, CW gave the Bays a bit of a battering up front. The scoreline was a respectable 24-15 but the victory was set by the domination in the tight 5. CW had Buydens, Tiedemann, Phelan, Ilnicki and Braddock that day, they're only missing Buydens from that group. The Bays were missing their two USA Eagles Wallace and Harriman that day and that may be the difference in the return match. The Bays also have Cole Racine back in the front row, he was missing in February as were two of their loose forwards Nolan Miles and Neil Meechan. Compared to the February match, it's a much more accomplished and physical pack for the Bays. For CW, besides missing Buydens it looks the same with the addition of Alberta and Wolf Pack #8 Clay Panga.

In the February game Hearn and Horton did all the scoring for CW and they're back, Horton received our BCRN MVP hoodie in that match. Hearn has been looking good at #10 making one wonder if the national team are looking at that option but he gives way to Ander Monro, the former national #10 while Hearn retreats to fullback. Again speculation that Monro at #10 might be something the national selectors are following, or is this just a last club hurrah for the veteran player? If he plays too well he may find eager arms pulling him back into national duty. The Bays have gone with Parfrey at #10, Connor Braid the 1st choice #10 is away with the national 7s team. This could be the key battle in Saturday's match, I haven't seen Parfrey step up at the club level yet. He's been very quiet in the games I've seen. Will he be able to orchestrate a top level backline and match up against the maestro Monro? Both players may be scrutinized in this game for future national honours. It's pressure but the national team wants players who perform under pressure.

Both backlines have firepower, the Bays will give Horton more respect this game as he stung them for two tries last match. Hearn coming in at fullback will be dangerous but his counterpart Mathie has been playing well. Barkwill is listed on the bench, rumours of an injury circulate but it can't be too serious if he's ready to join the fray in the second half. He might be an important impact sub if the game comes down to a battle of the trenches late in the game. It's a feast of rugby for the connoisseur and with both club supporters in attendance a good crowd is anticipated. One team has to win and it will be close, with the Bays reinforced pack in play it should push the deciding factor to the fringes where I think the Bays have the advantage. The only caveat being that if Monro dominates from #10 it will be the tricolours day. I'm thinking that Parfrey will rise to the challenge. Prediction: Bays by 3.

JAMES BAY
1. Nick Wallace
2. Noah Barker
3. Cole Racine
4. Jim de Goede
5. Graham Harriman
6. Vince Herlaar
7. Neil Meechan
8. Nolan Miles
9. Spencer Dalziel
10. Pat Parfrey
11. Clayton Meeres
12. Taylor Dalziel
13. Nick Blevins
14. Jordan Wilson-Ross
15. Dan Mathie

CASTAWAY WANDERERS
1. John Braddock
2. Andrew Tiedemann C
3. Jake Ilnicki
4. Gord Kehoe
5. Jon Phelan
6. Riley Ilnicki
7. Myles DIngwall
8. Clay Panga
9. Kyle Armstrong
10. Ander Monro
11. Keenan Horton
12. Matt Buckley
13. Jordan Henderson
14. Jonny Morris
15. Ciaran Hearn
16. Ray Barkwill
17. Keelan Chapman
18. Doug Middleton
19. Julien Canet
20. Jason Hodge
21. Sipili Molia
22. Riley MacPherson

Andrew Smith of BCRU writes:

Another edition of the 100 Years War will take place between storied rivals James Bay and Castaway Wanderers on Saturday as the two sides battle for a berth to the Rounsefell Cup Final on May 10. CW heads into the playoffs on the back of four straight wins while JBAA have three straight. While both will be without a number of Canada Sevens reps, each side will still have their share of national team capped players in their rosters.

CW have relied on the services of Jake and Riley Ilnicki throughout the season and steady performances from Ray Barkwill, John Phelan and Andrew Tiedamann make their pack one of the most lethal in the league. The tricolours have threats on both wings with top scorer Keenan Horton (11 tries) and Jonny Morris both capable of producing points.

Reigning champs James Bay will be aiming to lift a record 25th Rounsefell Cup this season. The Bays will be without their top scorer Connor Braid on Saturday but will look to rely on the steady Dalziels - Spencer and Taylor - in the playoffs. James Bay's back line will also feature Canada-capped Nick Blevins and Sevens-capped Jordan Wilson-Ross. Front row standout Noah Barker will also look to continue his impressive form that has seen him gain a reputation as an elite scrummager.

"CW will offer some great match ups this coming weekend and the battle up front should be very intriguing," said James Bay head coach Peter Rushton. "This will be a much better matchup than the one we saw back in February."

"CW are our cross town rivals. There is a healthy, respectful relationship between the clubs, but believe me, there is no love lost," Rushton added. "As is always the case, JBAA embraces the challenge."
Capilano RFC 17 at Burnaby Lake RC 30
We were out by 5 on this game. It was 18-12 at the half for Burnaby. Burnaby ran it up to 30-12 in the second half before Caps replied to make it a little closer. A red card to Caps ended their chance of a comeback.
So it's another James Bay v Burnaby final. Many were expecting it, a chance of redemption for the Burnaby squad after they were stymied last year by a swarming JBAA defence. Is it the year for Burnaby? I wouldn't bet against it. The BC Premier final takes place in 2 weeks on the mainland, likely at Klahanie in North Vancouver.
PREGAME
These teams met a mere 2 weeks ago with Burnaby eking out a 25-19 victory. Caps delivered Burnaby their only loss in an early season mudfest. As far as rosters, the big omission for the Caps is Harry Jones at #10 as he's away with the national 7s team. That's a big gap to fill. His brother Charlie is also still out with injury. Taylor Clark and Bruce Bowman come in to shore up the roster. For Burnaby, the big addition is Joe Dolesau who missed the game two weeks ago. Andrew Lackner comes into hook, he was absent last match. One player not showing on the starting XV is James Reekie, he's an influential player in the backline when he's on form. Burnaby have only lost one game this year and that was in weather limiting conditions, Saturday should see a day with isolated showers which will likely encourage an expansive match although adding the possibility of a greasy ball if showers persist. The form book definitely favours the league leading Burnaby team so barring the unpredictable such as: red cards, torrential rains, acts of god or having one of those days when nothing goes right it should end up in the home town's favour. The final I believe is scheduled for Klahanie, but I haven't seen the BCRU confirm that yet, so Caps would love the upset. We'll see. Prediction: Burnaby by 8.

BURNABY LAKE
1 Anthony Luca - Capt
2 Andrew Lackner
3 Scott Mackay
4 Gurvinder Kalar
5 Mike Gough
6 Doug Breadon
7 Scott Plummer
8 Admir Cejvanovic
9 Cody Rockson
10 Geoff Ryan
11 Evan Thomas
12 Jeke Gotegote
13 Joe Dolesau
14 Brian Murphy
15 Cole McQueen

CAPILANO
1. Jesse Ryan
2. Evan Mallory
3. Evan Marshall
4. Robbie McCall
5. Taylor Clark
6. Jeff McKinnon
7. Gareth Dyer
8. Glen McKinnon
9. Jack Couzens
10. Matt Sims
11. Austin Karius
12. Adam Zaruba
13. Brady Carpenter
14. Bruce Bowman
15. Matt Yanagiya

Andrew Smith of BCRU writes:

Capilano is the only Premier League side to defeat Burnaby this season. The North Shore club nearly repeated their heroics in the final regular season match but came away with just a bonus point in their 25-19 loss on April 12th. Led by heavy-hitting Captain Glen McKinnon, Capilano ranked third in the league defensively, allowing just 19.7 points per game. Their offence struggled, however, ranking sixth with 19.4 ppg.

Burnaby led the league both offensively (33.6 ppg) and defensively (12 ppg) and wrapped up the season with 10 straight wins.

"This will be the second year we've entered the playoffs in first place and with the top seed," said Burnaby's Director of Rugby Simon Smoldon. "While our club sees this as a great accomplishment, we recognize that the most difficult game we'll play all year is against Capilano this Saturday."

After coming up short to James Bay in last year's final, Burnaby added depth to their roster with new additions Gurvinder Kalar, Kyle Wisniewski and Cody Rockson complimenting a veteran core. 20-year-old Brian Murphy has also made an impact, as has league leading scorer Geoff Ryan. A true veteran on the roster, Michael "Pikey" Gough has made his presence felt with his physicality and worth ethic around the park.

"What adds fuel to our rivalry with Capilano is competition more than anything else," added Smoldon. "A tough win is the one you feel best about and a close loss is the one that leaves you the most emotional. We have more of those games against each other than any other clubs do. Few other clubs can have a great 3-5 GREAT games of rugby against each other on any given Saturday."
Division One
Velox won a close battle in Duncan 14-11 over Cowichan. These teams were close all season. So VV now host UBC in the semis. Will the extra week of rest help the students. Velox lost the semi to Abbotsford last year. Abby were eventually defeated by the Rowers who gained promotion to the Premier. Seattle hosts Richmond in the other Div 1 semi-final.
PREGAME
The main focus in this division is the Island final between Cowichan and Velox, hosted at Cowichan. They meet in 3rds and 1sts for Island bragging rights. The winner of that game will host UBC in the provincial semi-final. It should be a tight match, a war, based on previous results which have been close including one tie. The local Island derbies like CW v JBAA and VV v Cowichan produce a lot of emotion and create great rivalries. That sometimes creates a difficulty in finding neutral local match officials as the top refs are allocated to Premier. Michael Jones is officiating the Bays v CW with Kai Taylor and Pierre Iachetti as assistants. On the mainland Sherry Trumbull looks after the Caps v Burnaby match with Harry Mason and Drew Sagar assisting. There's no word on the VV v Cowichan match, hopefully someone like John de Goede will manage that game. John is one of the most respected refs on the Island and veteran refs play a valuable role in handling these emotion charged local playoff matches.

Going back to the mention of UBC, there's some controversy as they defaulted their games in 1st and 2nd division to Surrey. Their thinking likely is, "why risk injury when we already have 2nd place locked up in 1st div and can't achieve 1st place. We'll let Cowichan and Velox beat themselves silly this weekend, we'll rest this weekend in preparation". Seems logical except their decision has vaulted Surrey over Abbbotsford in the 2nd division and knocked Abby out of the playoffs. UBC haven't lost a game in 2nd div so the form book would have said victory over Surrey and Abbotsford would claim 3rd spot. UBC play the 3rd place team in the playoffs in 2nd div so basically have chosen Surrey over Abbotsford by the default. Needless to say a few Abbotsford people are saying UBC should be turfed out of the Div 2 playoffs for that. BCRU remains mute on the subject but it's not a satisfactory situation.
FULL BC RESULTS
BC RUGBY MEN'S LEAGUES
Canadian Direct Insurance Premier League - Sat. April 26th:
SEMIFINALS: Castaway Wanderers 13 - 16 James Bay AA
SEMIFINALS: Capilano RFC 17 - 30 Burnaby Lake RC
ROUNSEFELL CUP FINAL: Scheduled for May 10, 2014
Okanagan Spring Brewery League One - Sat. April 26th:
UBC Thunderbirds 0 - 20(+1) Surrey Beavers UBC DEFAULT
Bayside AA 20(+1) - 0 United Rugby Club UNITED DEFAULT
Kamloops Rugby Club 0 - 20(+1) Richmond KAMLOOPS DEFAULT
Okanagan Spring Brewery League Two - Sat. April 26th:
UBC 0 - 20(+1) Surrey Beavers UBC DEFAULT
Bayside AA 20(+1) - 0 United Rugby Club UNITED DEFAULT
Kamloops Rugby Club 0 - 20(+1) Richmond KAMLOOPS DEFAULT
Lower Mainland Third Division - Sat. April 26th:
QUARTERFINALS
TIER A QF 6 v 1: Scribes RFC 3 - 42 Capilano-A
TIER A QF 5 v 2: Kelowna 24 - 17 Brit Lions-A
TIER A QF 4 v 3: Burnaby Lake 10 - 26 Kats RFC
TIER B QF 6 V 1: Chilliwack 5 - 52 Abbotsford
TIER B QF 5 V 2: Brit Lions-B 3 - 36 Capilano-B
TIER B QF 4 V 3: Ridge Meadows 12 - 13 Surrey Beavers
Vancouver Island Cowichan Cup - Sat. April 26th:
COWICHAN CUP FINAL: Velox 14 - 11 Cowichan
Vancouver Island Third Division - Sat. April 26th:
THIRD DIVISION CHAMPIONSHIP: Velox 27 - 36 Cowichan
BC RUGBY WOMEN'S LEAGUES
Women's Adidas Premiership - Sat. April 26th:
Seattle RFC 0 - 81(+1) Burnaby Lake
Abbotsford RFC 10 - 32(+1) Capilano RFC
United Rugby Club 20(+1) - 0 Emerald City Mudhens MUDHENS DEFAULT
SFU 52 - 0 Bayside AA
Women's Division 1/2 - Sat. April 26th:
Brit Lions RFC 30 - 29 United-2
Meraloma 14 - 17 Nanaimo Hornets
Cowichan Rugby Club at Kamloops NOT REPORTED
Kelowna at Ridge Meadows NOT REPORTED
FULL BC SCHEDULE
HIGH SCHOOL RUGBY
BC Rugby High School Provincial Sevens Championships
April 25-26: BC High School Girls Sevens (UBC Wolfson Fields)
April 26-27: BC High School Boys Sevens (UBC Wolfson Fields)
For full schedules visit: www.bcrugby.com
BC RUGBY MEN'S LEAGUES
Canadian Direct Insurance Premier League - Sat. April 26th:
SEMIFINALS: Castaway Wanderers at James Bay AA (MacDonald Park) 2:45pm
SEMIFINALS: Capilano RFC at Burnaby Lake RC (Burnaby Lake Sports Complex) 2:45pm
ROUNSEFELL CUP FINAL: Scheduled for May 10, 2014
Ceili's Cup (First Divisiion) League - Sat. April 26th:
BYE WEEKEND
SEMIFINALS: Scheduled for May 3
Okanagan Spring Brewery League One - Sat. April 26th:
UBC Thunderbirds 0 - 20(+1) Surrey Beavers UBC DEFAULT
Bayside AA 20(+1) - 0 United Rugby Club UNITED DEFAULT
Kamloops Rugby Club at Richmond RFC (King George Park) 2:30pm
Okanagan Spring Brewery League Two - Sat. April 26th:
UBC 0 - 20(+1) Surrey Beavers UBC DEFAULT
Bayside AA 20(+1) - 0 United Rugby Club UNITED DEFAULT
Kamloops Rugby Club at Richmond RFC (King George Park) 1:00pm
Lower Mainland Third Division - Sat. April 26th:
QUARTERFINALS
TIER A QF 6 v 1: Scribes RFC at Capilano-A (Klahanie Park) 11:30am
TIER A QF 5 v 2: Kelowna at Brit Lions-A (John Oliver Park) 1:00pm
TIER A QF 4 v 3: Burnaby Lake at Kats RFC (Brockton Oval) 1:00pm
TIER B QF 6 V 1: Chilliwack at Abbotsford (CFV Exhibition) 11:30am
TIER B QF 5 V 2: Brit Lions-B at Capilano-B (Klahanie Park) 1:00pm
TIER B QF 4 V 3: Ridge Meadows at Surrey Beavers (Sullivan Heights) 11:30am
Vancouver Island Cowichan Cup - Sat. April 26th:
COWICHAN CUP FINAL: Velox at Cowichan (Cowichan Rugby Club) 2:30pm
Vancouver Island Third Division - Sat. April 26th:
THIRD DIVISION CHAMPIONSHIP: Velox at Cowichan (Cowichan Rugby Club) 1:00pm
Okanagan Rugby Union - Sat. April 26th:
Vernon at Manthers (Manthers RFC) 1:00pm
BC RUGBY WOMEN'S LEAGUES
Women's Adidas Premiership - Sat. April 26th:
Seattle RFC at Burnaby Lake (Burnaby Lake Sports Complex) 11:30am
Abbotsford RFC at Capilano RFC (Klahanie Park) 11:30am
United Rugby Club at Emerald City Mudhens MUDHENS DEFAULT
SFU at Bayside AA (South Surrey Athl Park) 11:30am
Women's Division 1/2 - Sat. April 26th:
Brit Lions RFC at United-2 (Eagle Ridge, Coquitlam) 11:30am
Meraloma at Nanaimo Hornets (May Bennett) 11:30am
Cowichan Rugby Club at Kamloops (Rayleigh Rugby Park) 11:30am
Kelowna at Ridge Meadows (Maple Ridge Secondary) 12:00pm
BC RUGBY AGE GRADE LEAGUES
U13 Boys Lower Mainland - Sun. April 27th:
Season Wrap Up Festival at Capilano (Klahanie Park) 10:00am - 12:00pm
U14 Boys Lower Mainland - Sun. April 27th:
Lower Mainland Final Festival at Burnaby (Burnaby Lake Sports Complex) 10:30am - 1:00pm
U16 Men Lower Mainland - Sun. April 27th:
Chuckanut at Rowers (Brockton Oval) 12:15pm