| | |
| --- | --- |
| Raymond James Langford 7s 2016 | |

Langford 7s
©
Canada Selects Win Cup in Men's and Women's Divisions; James Bay Win Plate; Thunder Aboriginal Win Bowl

posted May 29 2016

There was some doubt before the tournament as to which team would be stronger, the University All-Stars or the Canada Selects. By the end of the day, it was the Canada Selects by a comfortable margin, 24-5. The Selects captain was Jon West but perhaps most noticeable on the field was Luke Bradley barging past and through defenders. Connor Llewellyn, former Vike and current Westshore player, looked very energetic and deserves another look at this level. Ty Williams from the University of Calgary showed great pace early in the tournament but was less noticeable in the later games.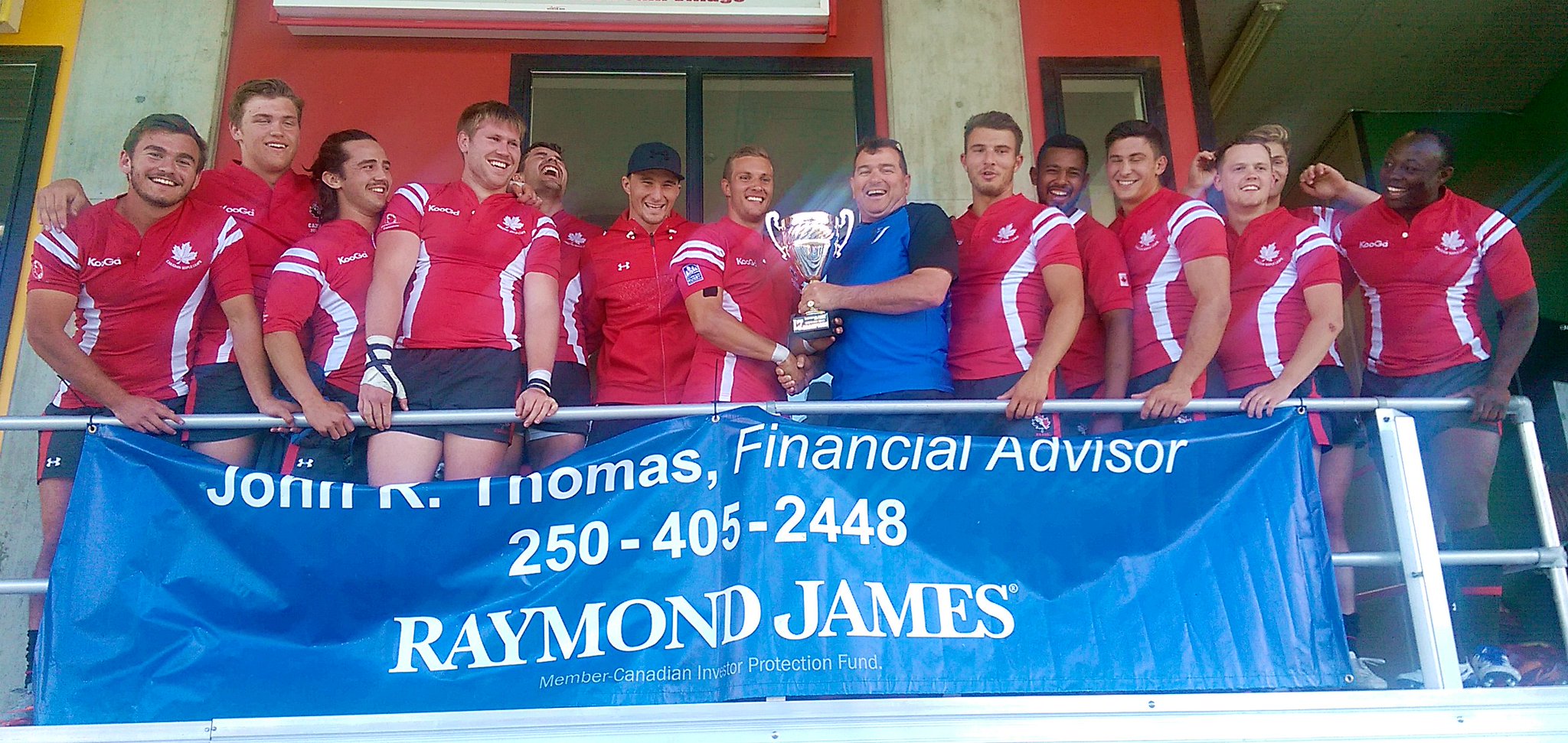 James Bay won the Plate final in a feisty match against South Seas that saw numerous cards being shown by referee John de Goede. The match ended 24-15 in the Bays favour.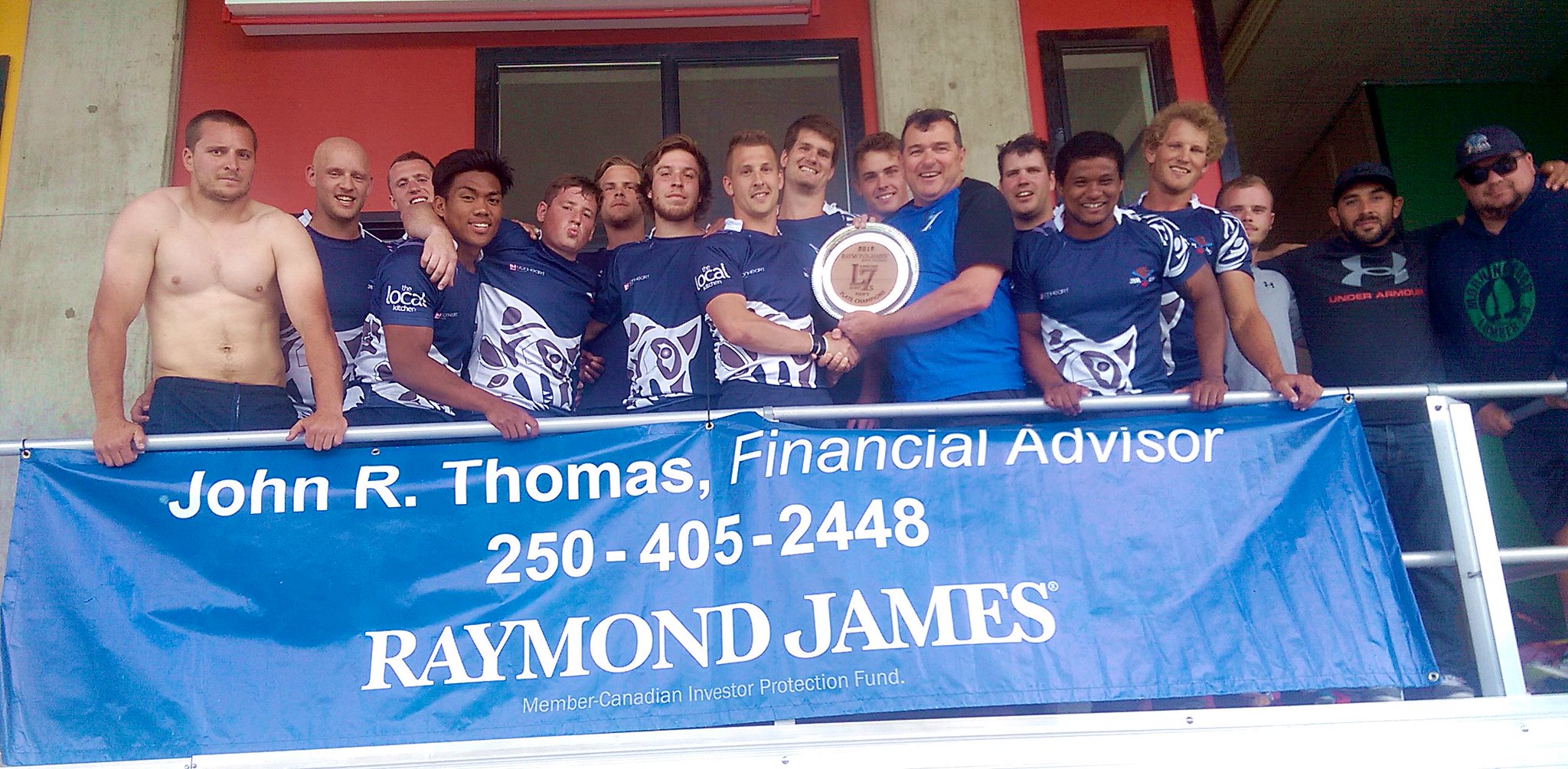 The Thunder Aboriginal team pulled off a surprise upset over Fiji Blond in the Bowl final. Many of the Thunder team are still U18 eligible so were not expected to do well against the older Fijians who were winners of last weekend's Cloverdale Rodeo 7s. It was an epic match where youth and heart prevailed, it came down to the final whistle in a 15-12 victory.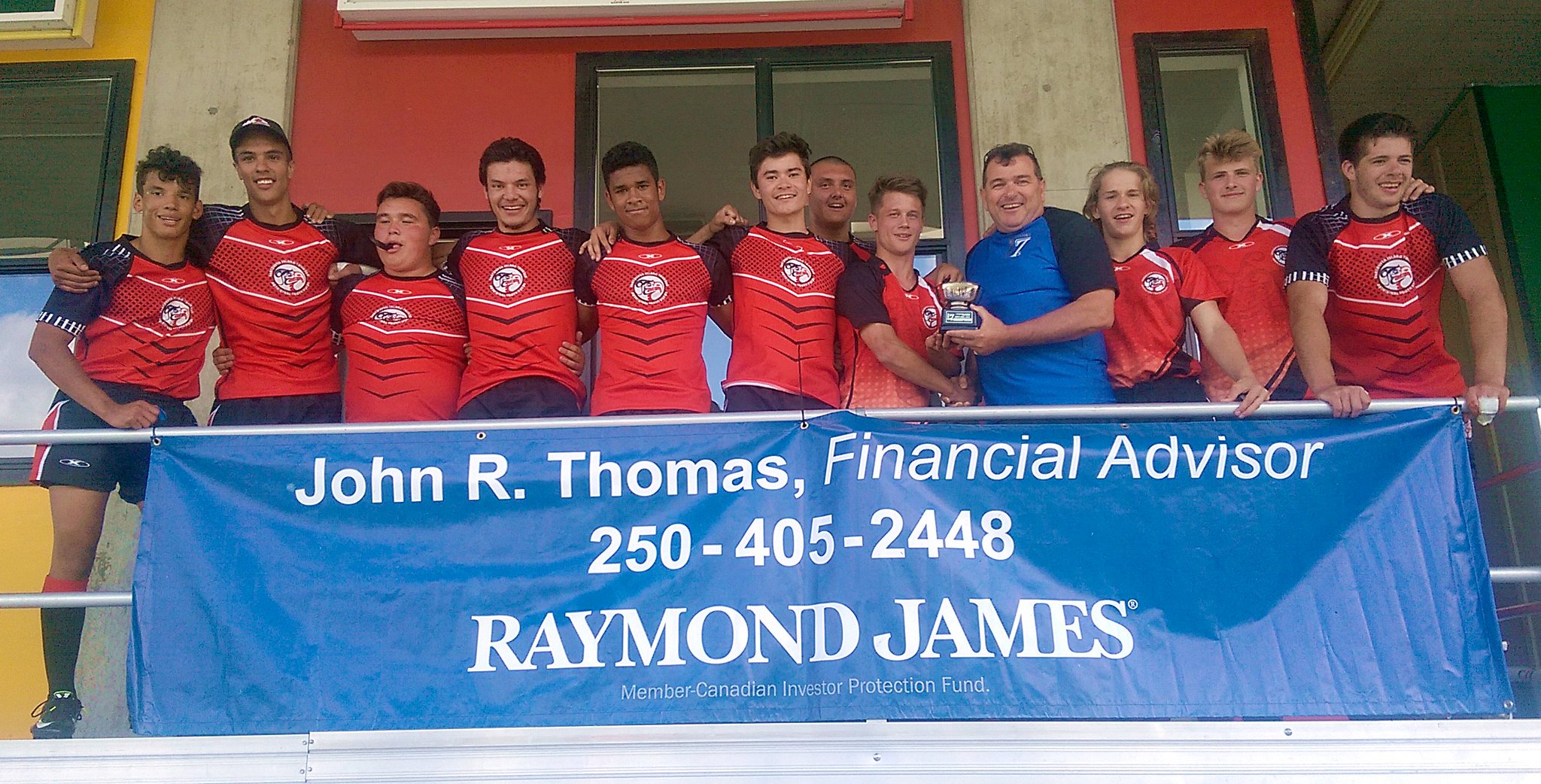 In the women's division it was Canada Selects all the way as they were too powerful for the Tide and BC Bobcats. The Canada team which featured a few capped players ran away with the final 38-0 over the Crimson Tide.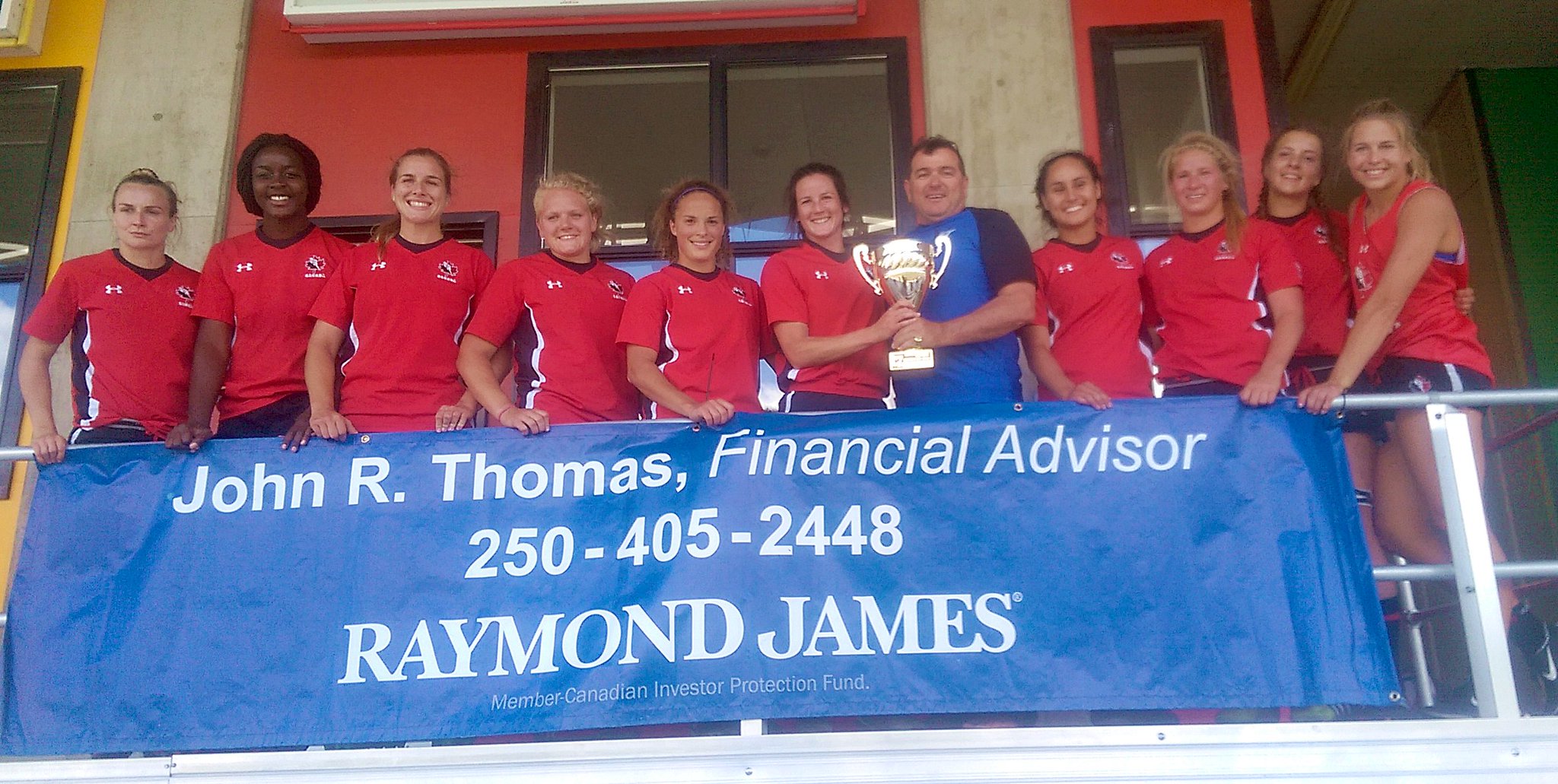 PHOTO GALLERY BY CHRIS WILSON - www.weeblesphotography.com



---
Team Rosters and Updated Schedule: Live Updates Throughout the Day

posted May 29 2016

Here are the tentative rosters, subject to changes. The Rugby Canada selected sides look strong. Players like Crosby Stewart, Andrew Coe, Ollie Nott, James Pitblado are familiar to BC Rugby fans who followed UVic and UBC this year. They'll be the core of the University All Star team.

James Bay has a strong team with Connor Braid, Jordan Wilson Ross, Doug Fraser, Aaron Evison, Mike Niewenhuysen and Nathan Tough. The Fiji Blond team won the Cloverdale Rodeo 7s last weekend and will play an exciting Fiji style of rugby. Canada Selects have some exciting players like Karsten Leitner, Jon West and Anton Ngongo.

University All Stars
1 Dylan Mundy – Brock University
2 Jeremy Brownridge – Brock University
3 Michael Appiah-Kubi – Waterloo
4 Jeffrey MacDonald – Queen's
5 Kainoa Lloyd – Queen's
6 Wade Lavellee – University of Regina
7 Marcus Hall – University of Regina
8 Ty Williams – University of Calgary
9 Andrew Coe – UBC
10 Ollie Nott – UVIC
11 James Pitblado – UVIC
12 Crosby Stewart – UVIC

Canada Selects
1 Jon West – University of Guelph
2 Payton Hall – University of Regina
3 Jake Thiel – Abbotsford RFC
4 Jared Douglas – Abbotsford RFC
5 Karsten Leitner – UBC
6 David Dinbandhu – Brit Lions RFC
7 Aaron Hearsant – UVIC
8 Brendan Kelliher – Castaway Wanderers
9 Anton Ngongo – Castaway Wanderers
10 Connor Llewellyn – Westshore Velox RFC
11 Adam Roer – Westshore Velox RFC

Untouchables
1. Cam Neish
2. Matt Evans
3. Connor Bottrell
4. Justin McGregor
5. Leam Williams
6. Chris Sanii
7. Jordon Tait
8. Konrad Nikkel
9. Conrad Newell
10. Dirk Brussow
11. Cody Gervais
12. Matt Kemp
13. Logan Martin-Feek

Thunder
1. Kyle Joe
2. Taylor Desouza
3. Peyt Williams
4. Brandon Schellenberger
5. Alex Vaa
6. Hunter Grant
7. Hyoga Onda
8. Seth Racalma
9. Blaine Quocksister
10. Sheldon Dawson Samuel
11. Quinn Ngawati

Barbarians
1. Morgan Dganigian
2. Jay Jimmo
3. Dave Jack
4. Jaime Dark
5. Jamie Pickup
6. Tanner Holland
7. Cory Walker
8. Joe McDonough
9. Mike McDougall
10. Ryan Waldriff

South Seas
1. Kapi Vataiki (captain)
2. Niu Savea
3. Aukuso Savea
4. Teagan Horton
5. Aava Fa'asavalu
6. Joseph Atalifo
7. Quinn Ngawati
8. Keenan Horton
10. Tim Davis
11. Nate Thomas
12. David Philp

James Bay
1. Jordan Wilson Ross
2. Connor Braid
3. Doug Fraser
4. Nathan Tough
5. Mike Niewenhuysen
6. Aaron Evison
7. Wes Block
8. Bryan Kelly
9. Elliot Mitrou
10. Nate Waldmann
11. Andrew deGeode

Fiji Blond
1: Asaeli Rokotuiwakaya
2: Anare Rokotuiwakaya
3: Sitiveni Rokotuiwakaya
4: Peceli Leweni
5:Samu Raiwalui
6:Hank Hankins
7:Christopher Lomani
8:Ben Drikibau
9:Seveci duruloka
10:Isimeli Vonocivo
11:Peni rokodiva
12:Ben Maravu
13:Uraia Lutu

Canada woman
1. Nakisa Levale (BC)
2. Caroline Crossley (BC)
3. Kayla Mack (SK)
4. Ashley Gordon (ON)
5. Pam Buisa (QC)
6. Natasha Watcham-Roy (QC)
7. Breanne Nicholas (ON)
8. Emily Belchos (ON)
9. Denise Roy (BC)
10. Julia Greenshields (ON)
11. Nadia Popov (ON)
12. Elissa Alarie (QC)

Crimson Tide Woman
1. Jess Neilson
2. Brittany Waters
3. Barbara Mervin
4. Syra Trafford
5. Katie McNally
6. Lisa Gauthier
7. Rori Wood
8. Laura Russell
9. Tyson Beukeboom
10. Julianne Zussman

Bobcats Woman
1. Demi Stamatakis
2. Camilla Maslo
3. Taylor Reidlinger
4. Jessica Harvey
5. Meghan Wellis
6. Daris Tendler
7. Elyssa Phillipson
8. Courtney Sims
9. McKenzie Lee
10. Lauren Seargent
11. Ciara Malone


---
Raymond James Langford 7s Kicks Off on Sunday: Features Three Canada Development Sides and Fiji Blond Winner of Cloverdale 7s

posted May 24 2016
[ed. comments below]

Some top 7s rugby is coming back to Langford this Sunday with the Langford 7s. It's the 5th year for the tournament which features some of the best emerging 7s talent in Canada. Rugby Canada are entering two men's teams, a University 7s All Star team and a Canada Selects side; and one women's team, a Canada Selects team.

In the men's division, Canada's main opposition will likely be the Fiji Blond team that won last weekend's Cloverdale Rodeo 7s. Also Phil Mack has assembled a team from James Bay and friends that is the mystery team at this point.

On the women's side there are three strong sides, the Canada Selects, a BC Bobcats team that will feature many BC players and a Crimson Tide side that will feature a few surprises from the BC Premier finalists CW and Westshore.

How much for all this entertainment, it's free so bring the family and enjoy some rugby camaraderie and top level 7s rugby at Westhills Stadium.

The tournament also features the Thunder Aboriginal team, the U18 boys will step up to test their mettle against some of the best in the country. The U18 girls will play a game of Ultra 7s, an extended 7s game with running substitutions - hockey style. There will be a Thunder merchandise table with T-shirts and hoodies for sale.

The tight five haven't been forgotten and there are men's and women's tight five matches during the break so fans can watch their favourite club props and second rows battle it out in the short game.

It will be an entertaining family day at Westhills Stadium, hope to see you there.

SCHEDULE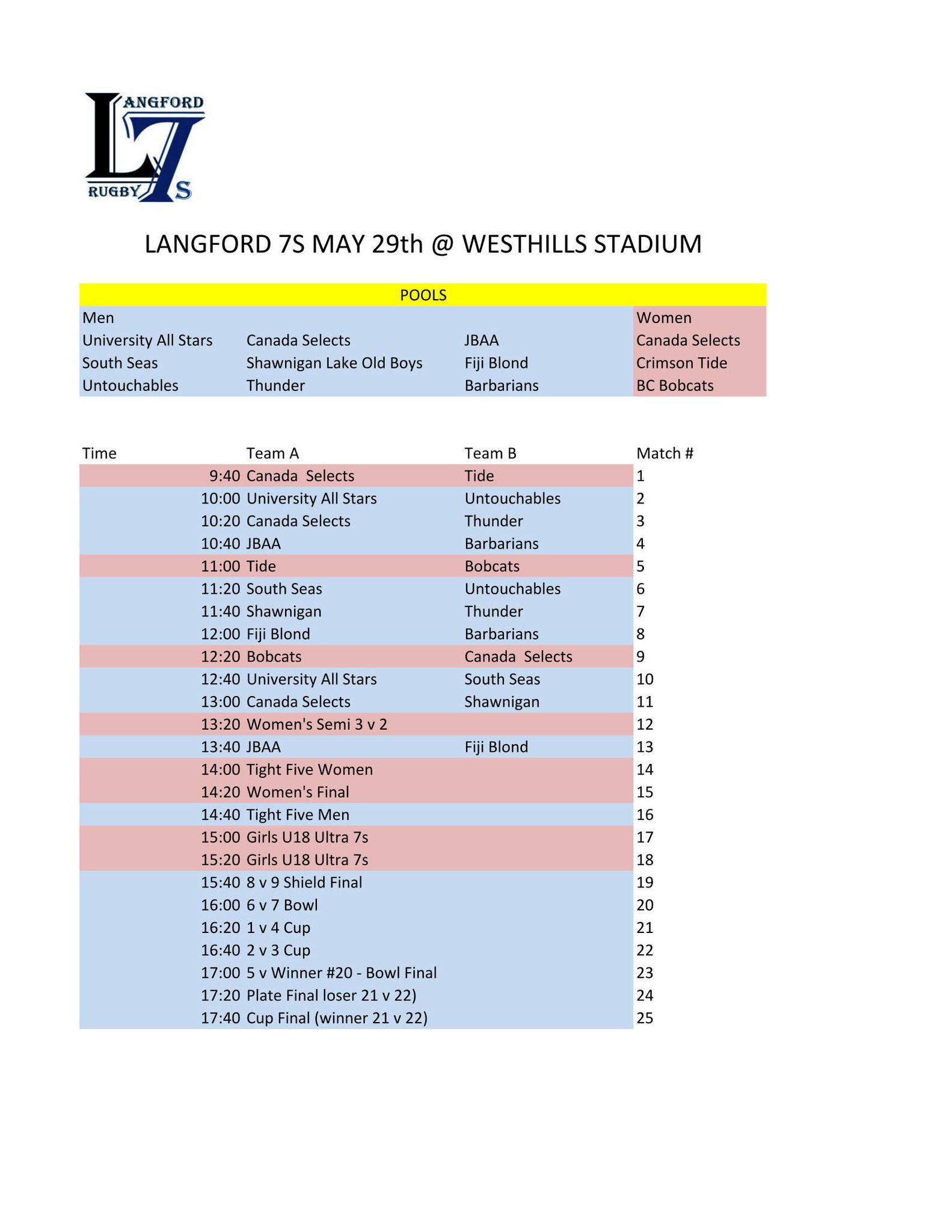 from Rugby Canada

A University All-Stars team and a Canada Selects team will play in this weekend's Langford Sevens.

The university all-star team, announced last month, is made up of 12 players who were previously named to the 20-man National University Sevens Rugby Championship All-Stars roster and will be coached by former Canadian sevens standout Fred Asselin.

Additionally, an 11-man Canada Selects team will also compete coached by Aaron Frisby.

"The strength of these teams and the difficult selection process speaks to the quality of play at the University Sevens," said Rugby Canada's National Senior Men's Sevens manager, Sean Liebich. "We are committed to using the teams selected and the tournament in Langford to expand our talent pool and build depth for the Canadian men's sevens program."

The tournament will take place May 29 at Westhills Stadium in Langford, B.C. For the tournament schedule, please click here.

University Sevens All-Star for the Langford Sevens (Name, university):

Dylan Mundy – Brock University
Jeremy Brownridge – Brock University
Michael Appiah-Kubi – Waterloo
Jeffrey MacDonald – Queen's
Kainoa Lloyd – Queen's
Wade Lavellee – University of Regina
Marcus Hall – University of Regina
Ty Williams – University of Calgary
Andrew Coe – UBC
Ollie Nott – UVIC
James Pitblado – UVIC
Crosby Stewart – UVIC

Head Coach – Fred Asselin

Canada Selects for the Langford Sevens (Name, university/club):

Jon West – University of Guelph
Payton Hall – University of Regina
Jake Thiel – Abbotsford RFC
Jared Douglas – Abbotsford RFC
Karsten Leitner – UBC
David Dinbandhu – Brit Lions RFC
Aaron Hearsant – UVIC
Brendan Kelliher – Castaway Wanderers
Anton Ngongo – Castaway Wanderers
Connor Llewellyn – Westshore Velox RFC
Adam Roer – Westshore Velox RFC

Head Coach – Aaron Frisby


---
University All-Stars Announced for 2016 - Entered in Langford 7s on May 29th

from Rugby Canada
posted April 13 2016

After a successful National University Sevens Rugby Championships at Burnaby Rugby Club last month, Rugby Canada is pleased to announce the University All-Stars from the men's competition.

Twenty players from 10 universities across Canada have earned all-star honours. The University All-Stars will take part in the Langford Sevens on May 29 and the event will be held at Westhills Stadium.

"There are a number of very good players coming through the university sevens ranks," Men's National Sevens head coach Liam Middleton said. "This university representative team offers players an opportunity to enter our pathway which leads to competition for National team places."

The all-star selections from the University Sevens are in its second year and is part of our long-term approach to sevens talent identification.

The University Sevens began in 2011 as part of a plan to give more opportunities to university rugby players and to build a pathway towards National team consideration. From 2012-15 the event was played in Langford after the original tournament was played at UBC's Thunderbird Stadium.

"This tournament is growing in quality and the athletes we are identifying are getting an opportunity to show their talents in a new environment in front of national coaches," said Ken Goodland, Rugby Canada's National Player Development & Talent ID coordinator. Complimenting the quality of the university programs Goodland adds, "We are building the depth of the sevens program and already have had one player from last years all-stars develop through the Maple Leafs and into the World Series."

UVIC won this year's final, beating UBC 28-12. UVIC has won five of the six cup finals since the tournament's inauguration. Western University won the 2012 tournament.

2016 University Sevens All-Stars

Dylan Mundy – Brock University
Jeffrey McDonald – Queens
Ty Williams – University of Calgary
Wade Lavellee – University of Regina
Isaac Kay – UVIC
Ollie Nott – UVIC
James Pitblado – UVIC
Crosby Stewart - UVIC
Andrew Coe – UBC
Liam Murphy-Burke – UBC
Theo Sauder – UBC
Marcus Hall – University of Regina
William Jacklin-Watt – U of Saskatechwan
Jeremy Brownridge – Brock University
Payton Hall – University of Regina
Kainoa Lloyd – Queens
Michael Appiah-Kubi – Waterloo
Cole Keffer – UBC
Kaprieli Vataiki – UVIC
Alex Colbourne – Queens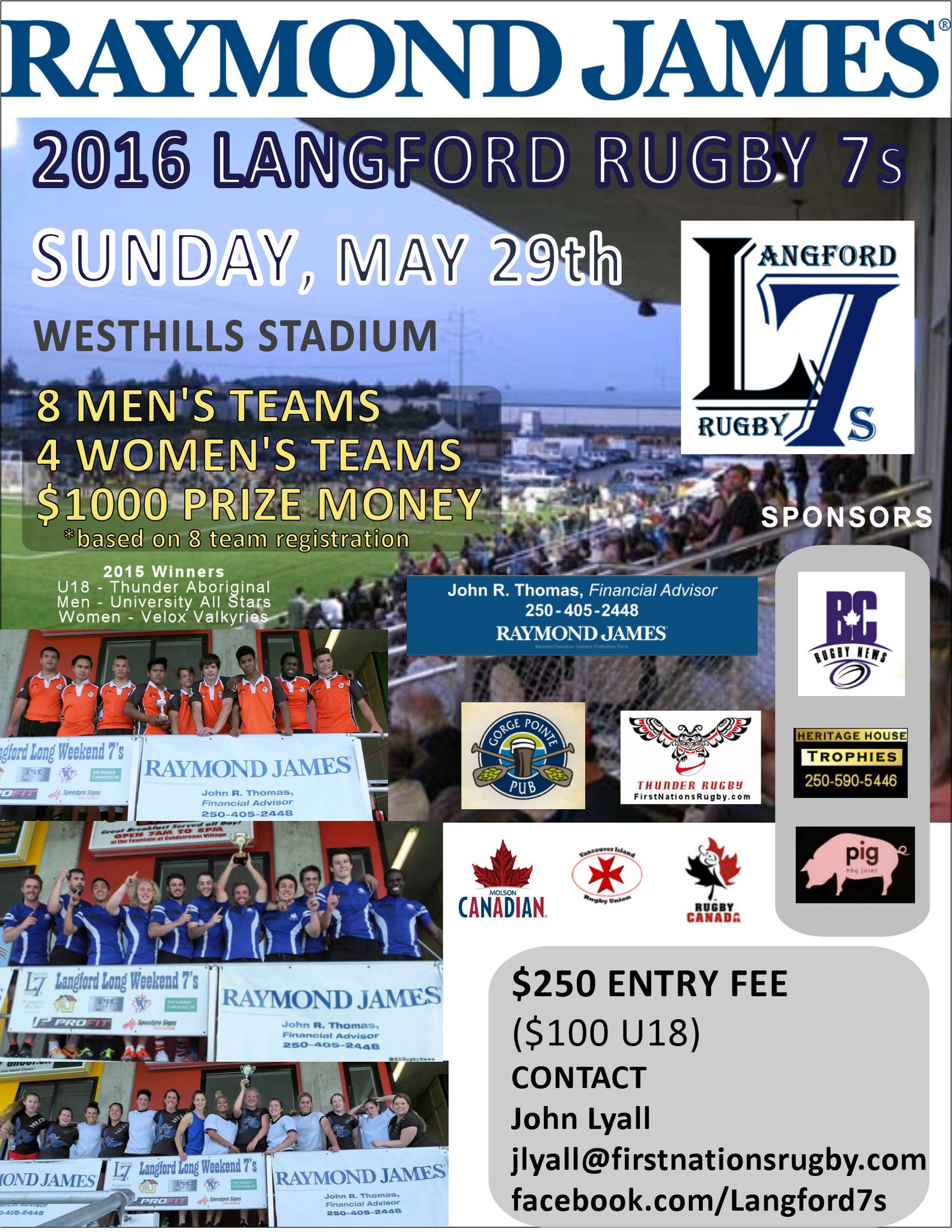 ---