| | |
| --- | --- |
| From the Editor's Desk - April 2016 | |
Langford 7s May 29th; Rugby League Introduce Trans-Atlantic Toronto Wolfpack; Island Rugby Poster; Father's Day Run


It's an eclectic mix of topics today from Provincial championships to Rugby League with a visit to 7s and a Father's Day walk to support awareness of prostate cancer.

Provincial Championships

There are 6 games at Klahanie and 3 at MacDonald Park. The VIRU have created a poster for the three on the Island.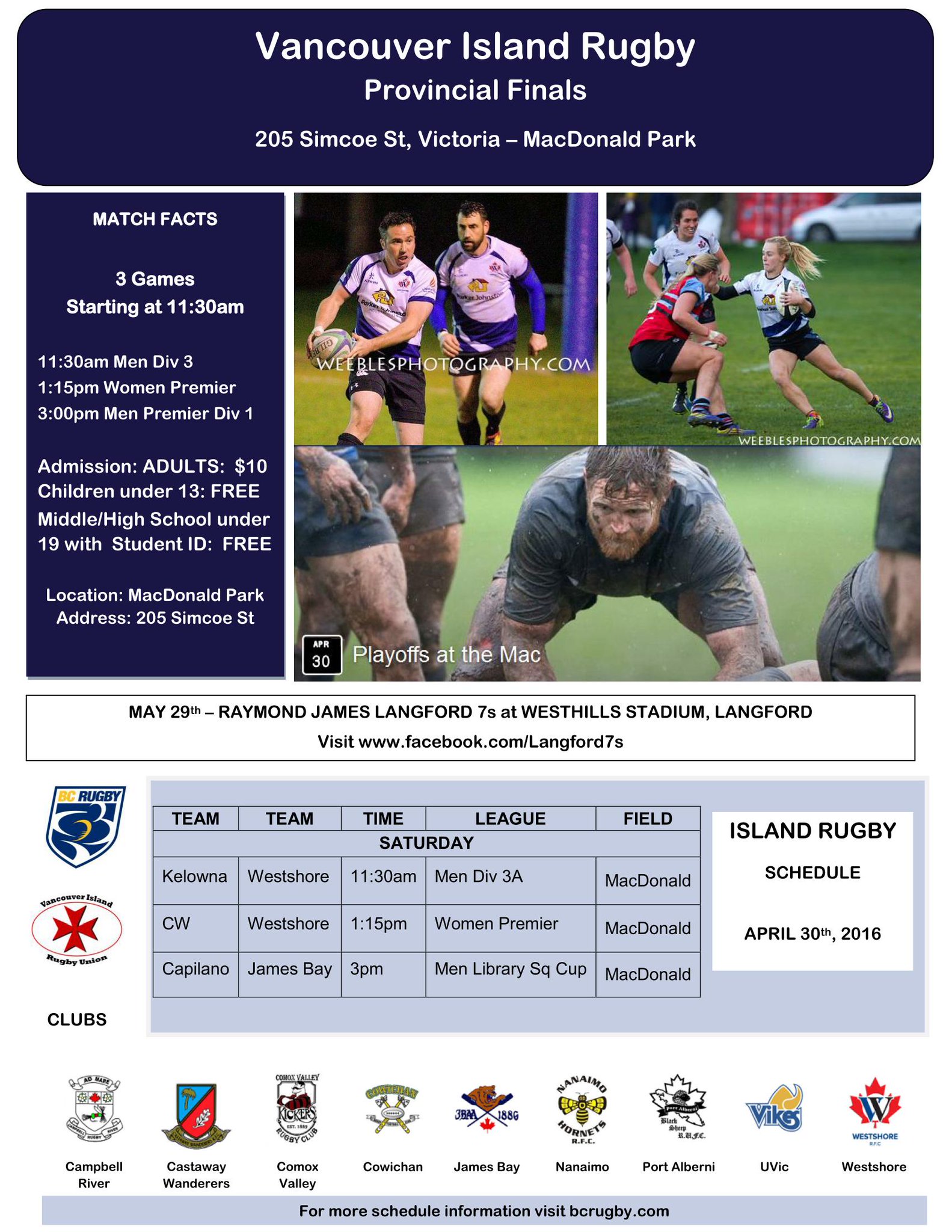 Rugby League Upping the Ante

Rugby League is starting to make its presence felt more in Canada, as Editor I've seen their growth over the last couple of years in BC. It hasn't been enormous but has been steady. Rugby League is played mostly in the summer in BC which means it's competing more with 7s than with XVs in the Union code. Being the underdog of the rugby codes they're a little more adventurous in marketing their sport, the latest is the announcement of a team to play in the third tier UK league. They even took on the Wolfpack name which was well marketed in Canadian rugby by the Prairie Wolfpack team that particates in the CRC (Canadian Rugby Championship). I wonder how the Alberta group feel about that?

www.theguardian.com/sport/2016/apr/27/toronto-wolfpack-rugby-league-one-2017-brian-noble

Raymond James Langford 7s

Talking about 7s, the Langford 7s is May 29th. It's the place to be if you're a serious 7s player as Rugby Canada will have two men's development sides in the tournament, the University All-Stars and another development team still to be named. Also Phil Mack is coaching a team of James Bay plus others group that will have a few ringers you can be sure. If you want to be on the path to the national team you have to be competing against this level of player. The women's competition will also have two national development teams and the same holds true for those with national team aspirations, show up and get noticed.

Contact John Lyall at johnlyall4@gmail.com if interested.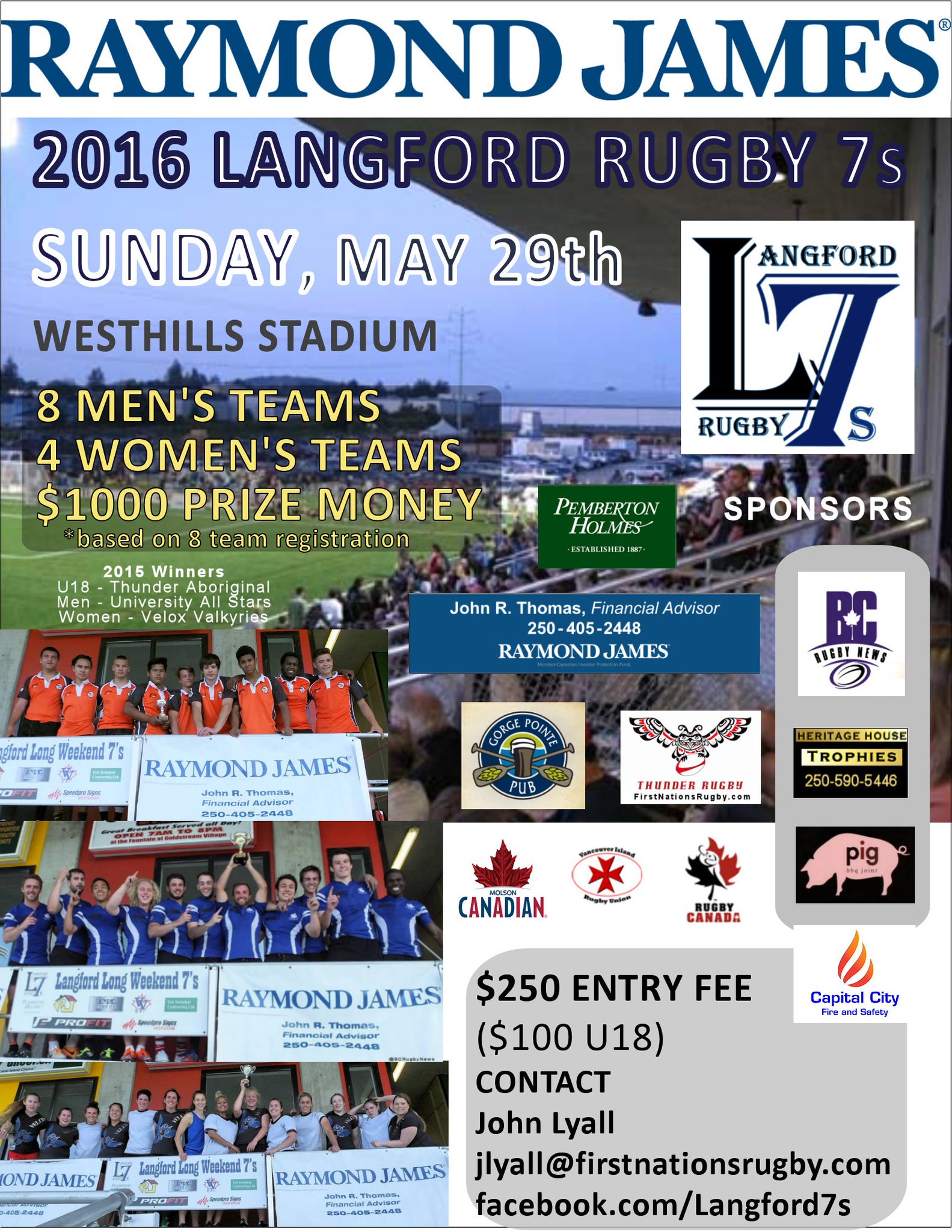 Father's Day Walk June 19th

Speaking of Raymond James they're also sponsoring a Father's Day walk on June 19th to raise awareness and funds to combat prostate cancer.

The link is here: www.thefathersdayrun.ca

If you want more information contact John Thomas at John.Thomas@raymondjames.ca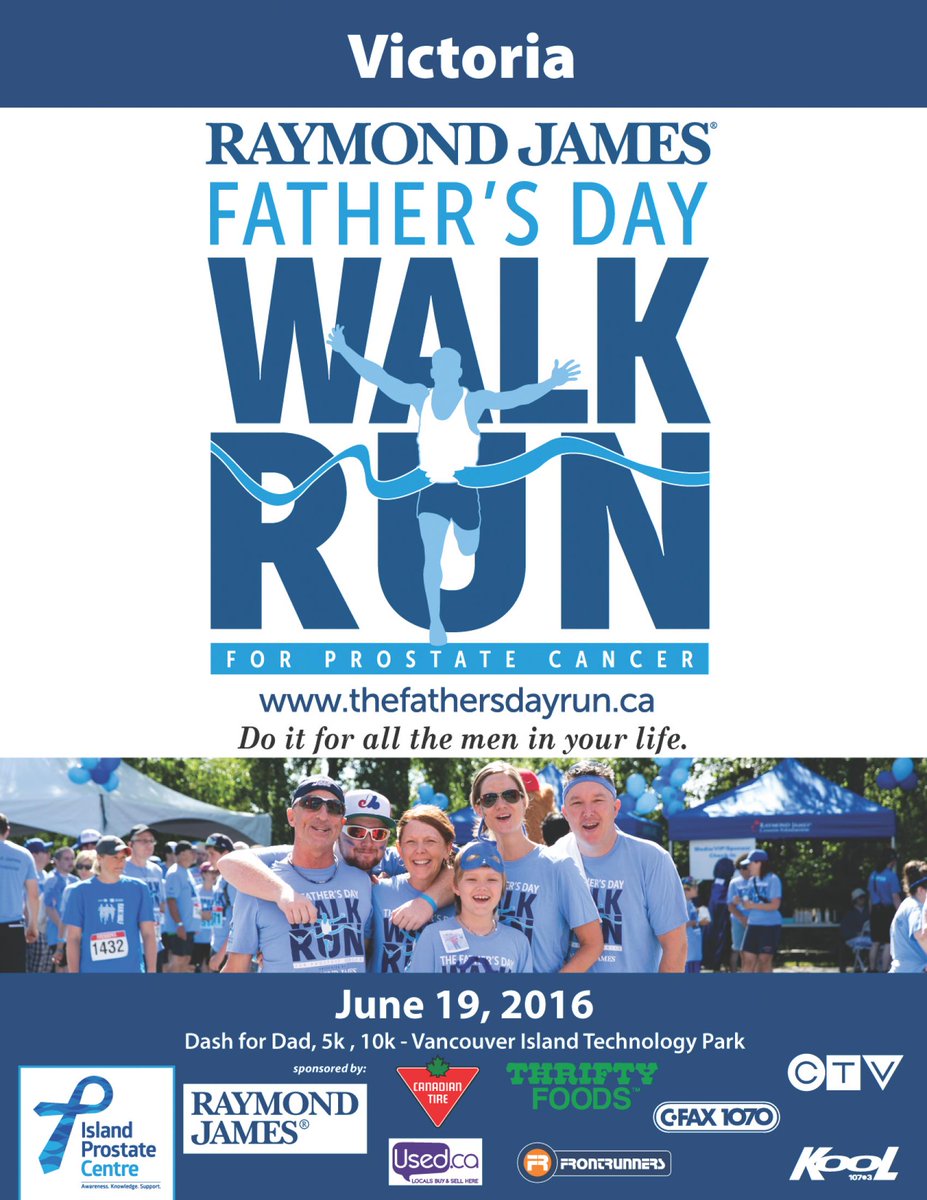 ---