| | |
| --- | --- |
| From the Editor's Desk - May 2016 | |
Battle of the Island Saturday; Local Ref Invited to Barbados 7s in December; ARFC Middle School Sevens; The Lessons Australian Rugby Can Learn from North America; Cindy Briggs Passes

posted May 5th 2016

North vs South in the Battle of the Island

This Saturday marks the beginning of, hopefully, a long tradition with the North Island Tsunami hosting the South Island Tide in a senior men's game. The Battle of the Island will be used as a selection game for the following Mainland vs Island clash on May 14th. This is all part of the BC Bears selection process. This Saturday's match is at the Nanaimo Rugby Club at 2:30pm.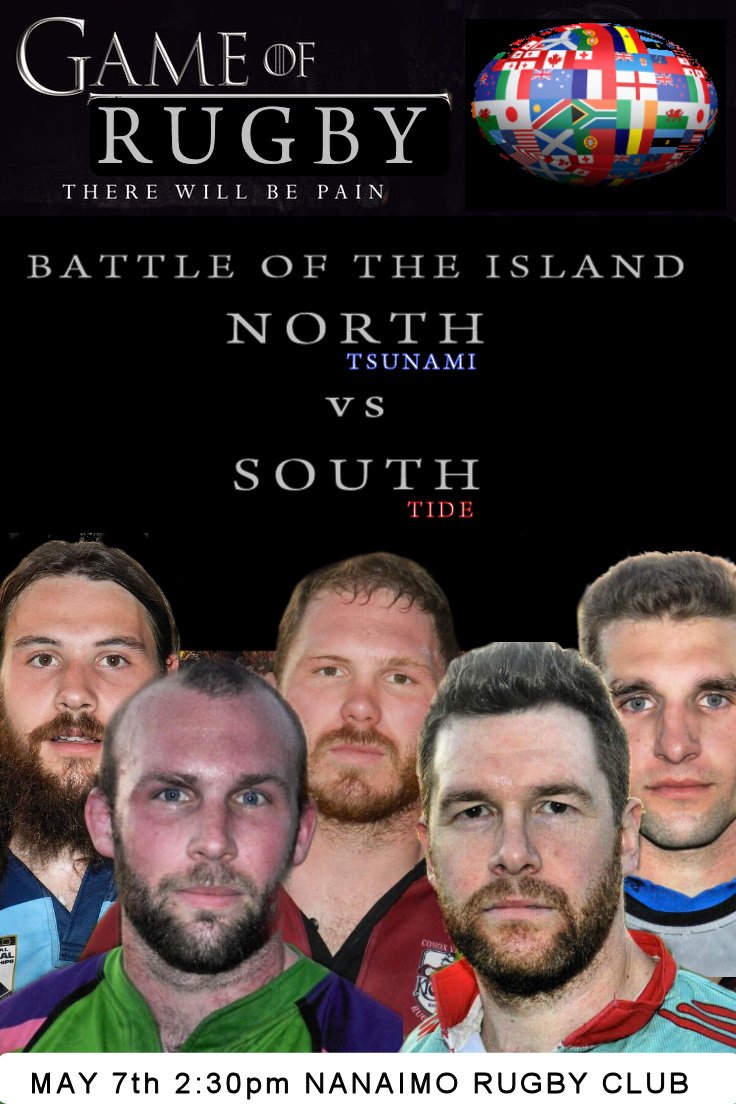 Local Ref Invited to Barbados 7s in December

Congratulation to local ref, Pierre Iachetti, who has been invited to officiate at the Barbados 7s in December. If you wish to add to the Canadian content the deadline to register teams is August 31st. The link is here: www.barbados7s.com

ARFC Middle School Sevens from Ryan McWhinney

On April 22, we had the annual ARFC Middle School Sevens at W.A. Fraser and Yale Schools. The Abbotsford Rugby Club was thrilled to see over 300 grade 7 and 8 boys and girls on 30 different teams take the field to pursue division titles in half field sevens. Clayburn Middle School won the grade 8 girls' division, WA Fraser won the grade 8 boys, Yorkson Creek Middle School won the grade 7 girls and HDSMS Skyhawks won the grade 7 boys. Thanks to all coaches, players, and volunteers who made it a great event! See below for results and MVP's.

Grade 8 Boys
1. Fraser Black
2. Stafford
3. Clayburn
4. Chief Dan White
5. Abby
6. Fraser Gold
7. Fraser Red
8. Chief Dan Red
9. Stafford 2 (Misfits)
10. Reimer
11. Fraser White
12. Clayburn White

Grade 8 Girls
1. Clayburn
2. Fraser Red
3. Howe White
4. Howe Black
5. Chief Dan
6. Yorkson
7. Abby
8. Fraser Black

Grade 7 Boys
1. Stafford
2. Fraser (ARFC City Trophy)
3. Abby
4. Yorkson
5. Fraser Red
6. Chief Dan

Grade 7 Girls
1. Yorkson
2. Fraser (ARFC City Trophy)
3. Howe
4. Abby

MVP's

Grade 8 Boys
Fraser Black – Griffin Chhina
Stafford 2 – Ayden Holloway
Reimer – Ravdeep Toor
Chief White – Jackey Kuang
Fraser White – Austin Moar
Clayburn Blue – Ben Alafriz
Fraser Gold – Daygen Guidone
Abby – William Taggert
Stafford – Andrew Fassbender
Chief Red – Kaelen Grell
Fraser Red – Levi St. Jean
Clayburn White – Tyler McLaughlin

Grade 8 Girls
Abby – Maizie McIntosh
Fraser Red – Kate Hotner
Howe Blue – Charisma Trolland
Yorkson – Dianna Yang
Chief Dan – Makenna Gayger
Clayburn – Lauren Paller
Fraser Black – Megan McGeorge
Howe White – Jazleen Grewal

Grade 7 Girls
Abby – Gunika Bajaj
Fraser – Cassie Hull
Howe – Veena Badhon
Yorkson – Pawsahay Moo

Grade 7 Boys
Fraser Red – Josh Fox
Stafford – Xach Romanchuk
Abby – Jesse Davis
Fraser Black – Byron Beytell-Johnson
Chief – Nick Middleton
Yorkson – Dylan King

The Lessons Australian Rugby Can Learn from North America from a reader

A very recent article from Matt Burke, former Wallaby about his time coaching in Canada last week. This is from the Sydney Morning Herald the major daily here. Thought it might be of interest.

Sydney Morning Herald article

Cindy Briggs Passes from Phil Meyer

Sad news yesterday. Cindy Briggs – daughter of Tillman and Maxine – friend to Greg – mother to Ollie, Penner and Sophia, and to countless JBAA young ruggers over the years – member of JBAA's iconic Briggs rugby dynasty – passed away during evening hours Sunday.

Nancy and I last saw Cindy Saturday evening at Heron Rock Bistro – there with her mom, and other family members – happy – looking forward to "more rugby with our Bays" over years ahead.

Whenever there was Youth playing rugby at JBAA, Cindy was in the middle of it. She had been taught "commitment to Family, and to the Bays" at the knee of her Mom and Dad – and she turned "what she had learned" about rugby into "action" – right through to this season's end.

Her presence will be sorely missed. We will struggle on – following her footsteps – cognisant of the standards of care for our young ruggers that Cindy brought to JBAA – and to our game.





---