Abbotsford 7s Wrapup: Seattle Win Men's Elite; Atlantis Wins Women's Elite

from Abbotsford Rugby
posted June 6 2016

It was a warm one on June 4 at Exhibition Park with temperatures nearing 32 degrees for the annual 2016 Abbotsford VIP Mazda Sevens. This was the first of three official stops on the BC Rugby Summer Sevens Circuit where club teams compete for points. 21 teams were in attendance to compete in 4 divisions, including the Men's Elite (5), Women's Elite (5), Men's Social (7) and Women's Social (4).

After nearly 50 games, four teams were crowned cup champions in their respective divisions. The Seattle Saracens edged Abbotsford 19-12 to win the Men's Elite divisoin while Atlantis from Abbotsford beat SFU 33-14 to take the Women's Elite title. In the men's social division, SFU topped the Lomas Social Men 24-19 while Ridge Meadows finished first in the Women's Social division.

Division MVP's were also awarded with VIP Mazda steins. Our male and female drop kick contest winners took away golf course passes courtesy of Finnegan's Pub.

MVP Winners:
Men's Elite - Sequoyah Burke-Combs (Seattle)
Women's Elite - Meg Wellis (Atlantis)
Men's Social - Sean Longmire (SFU)
Women's Social - Faith Fitzpatrick (Ridge Meadows)

Drop Kick Contest Winners:
Solomon Puckey (Finnegan's)
Tanya Bennet (TJ) (Lomas)

The Abbotsford Rugby Club would like to thank all teams, players and fans who attended the tournament as well as volunteers and supporters who made the tournament possible. We would also like to thank all the referees who helped on the day, especially Heather Lilburn who reffed over a dozen games. We also want to give a shout out to the Lomas who had a huge fitness day, competing in 2 men's divisions with less than 15 players. We would also like to thank VIP Mazda for sponsoring the tournament and for keeping people hydrated down at the pitch as they checked out some awesome vehicles!

Please read on for full results and visit our FB site for more pictures (https://www.facebook.com/Abbotsford-Rugby-Football-Club-217824921598887/)

Men's Elite Division

Burnaby (21) vs Canadian Fijians (12)
Meralomas (19) vs Abbotsford (28)
Seattle (24) vs Burnaby (5)
Abbotsford (14) vs Canadian Fijians (33)
Meralomas (7) vs Burnaby Lake (38)
Canadian Fijians (0) vs Seattle (22)
Canadian Fijians (31) vs Meralomas (5)
Abbotsford (19) vs Seattle (14)
Seattle (20) vs Meralomas (0)
Burnaby (19) vs Abbotsford (26)

Consolation Final (3/4) - Burnaby (20) vs Canadian Fijians (0) Forfeit
Cup Final - Seattle (19) vs Abbotsford (12)

Women's Elite Division

Atlantis (36) vs Thunderbirds (10)
SFU (33) vs Burnaby (5)
Meralomas (0) vs Atlantis (54)
Burnaby (5) vs Thunderbirds (38)
Atlantis (19) vs SFU (27)
Thunderbirds (26) vs Meralomas (12)
Meralomas (22) vs Burnaby (10)
Thunderbirds (24) vs SFU (24)
Burnaby (5) vs Atlantis (48)
SFU (22) vs Meralomas (5)

Consolation Final (3/4) - Meralomas (7) vs Thunderbirds (48)
Cup Final - Atlantis (33) vs SFU (14)

Men's Social Division:

Finnegan's (17) vs United (20)
Surrey (20) vs Brit Lions (0) - Forfeit
Phoenix (12) vs Meralomas Social (26)
Heavy Setters (7) vs SFU (43)
Surrey (32) vs Finnegan's (10)
United (20) vs Brit Lions (0) - Forfeit
Phoenix (40) vs Heavy Setters (19)
Meralomas Social (19) vs SFU (12)
Brit Lions (0) vs Finnegan's (20) - Forfeit
United (19) vs Surrey (21)
Heavy Setters (7) vs Meralomas Social (43)

Cup Semi - Surrey (14) vs SFU (38)
Cup Semi - Meralomas Social (22) vs United (5)
Plate Semi - Finnegan's (0) vs Heavy Setters (20) - Boat Race
Plate Semi - United (31) vs Phoenix (21)

Plate Final - United (12) vs Heavy Setters (22)
Cup Final - Meralomas Social (19) vs SFU (24)

Women's Social Division

Brit Lions (0) vs Ridge Meadows (20)
SFU Social (24) vs Wild Ones (20)
Ridge Meadows (24) vs Wild Ones (10)
SFU Social (7) vs. Brit Lions (12)
Wild Ones (20) vs Brit Lions (0) - Forfeit
Ridge Meadows (48) vs SFU Social (0)

Cup Final: Ridge Meadows

---
Abbotsford 7s Elite Schedule and Pools

posted June 4 2016
[ed. comments below]

Seattle likely will be the class of the field in the men's tournament. The strength of the Canadian Fijian team remains to be seen but may be the main competition. Host Abbotsford will no doubt want to do well in their home tournament.

We'll have results if they're posted by tournament organizers.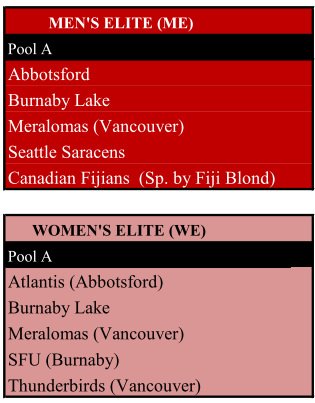 FIELD 1 SCHEDULE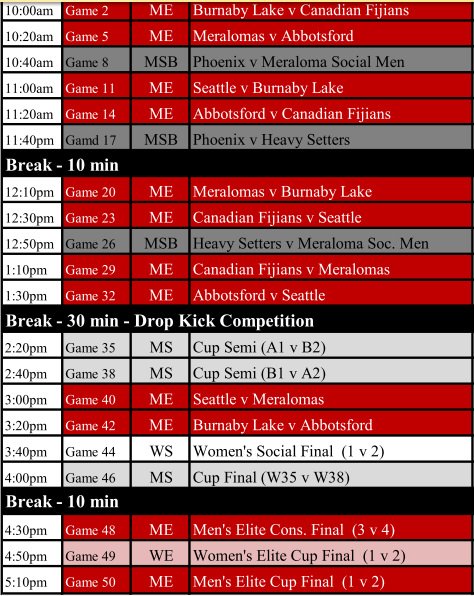 ---