BC Lose First Match 54-29 to High School All Americans: Match Report

from Marius Felix
posted Aug 7 2016
[ed. 2nd match ends 55-5 for the Americans (19-5 HT). Aggregate of 109-34 this year compared to 103-17 last year.]

First, the purpose behind playing these games is to prepare for our National Championship matches later this month. With this in mind, please be aware that we intend to play all of our players over the course of the two match series in order to discover who responds most effectively in a highly competitive environment.

The first half was a torrid 35 minutes and was highly competitive. The USA are big and athletic, but after a 10 minute "feeling our period" that saw the USA score a early try, the BC team grew in confidence, especially in their belief that they could defend effectively. While a few lapses cost us, the effort was immense and we scored two tries to take a 12-5 lead. The Americans fought back and scored two converted tries before BC replied, making the score 19-17. The Americans scored another try late in the half to make the score 24-17.

BC made subs across the board in the second half, playing all 9 available subs. In contrast, the USA did not sub in any reserve players until late in the game. While this led to an imbalance in play, we were able to identify several players who we now know we can rely on in the tight matches we will play in Ontario later this month. The final score was 54-29, as BC did score a try in the second half.

Our plan for tomorrow is to play our most competitive players in the first half, and then continue to expose our developing players to the intensity of the level of rugby in the second half. Our goal is to prepare for the National Championships.

The key takeaways from yesterday:

1. When we had our most accomplished players on the field we proved we can compete against the Americans. This is a significant improvement from last year when we played the USA.
2. We have been able to establish who is capable of competing within our group at this level, and we have been able to expose our younger and developing players to the intensity they need to step up to in Ontario in nine days time.
3. With four games in 6 days at the Nationals, it is clear we need to continue to develop as deep a bench as possible. Playing the USA in this two match series is doing that for us. We are missing Val Widnewski, who is currently at the National track and field championships. She will join us for the Nationals and her power and stature will improve our team.

Had we decided to stay with our first half team yesterday, we would have been highly competitive for the full 70 minutes. The goal, however, was to develop our team in preparation for the NRCs, and we are doing so.


---
USA High School All-Americans Name Squad to Face BC U18 Girls in Seattle

posted July 26 2016
[ed. comments below]

It wasn't pretty last year when BC U18 hosted the HSAA team at Brentwood, the two game series ended up 103-17 in favour of the American visitors. That's the baseline for comparison this year, and this year the Americans are hosting in Seattle.

About a quarter of the American roster is returning from last year including a couple of their top performers. Tiara A'au was our pick last year as player of the series, the big tighthead prop was devastating and BC had no match for her physicality. She's bringing her two sisters this year, Sui A'Au and Tiana A'Au.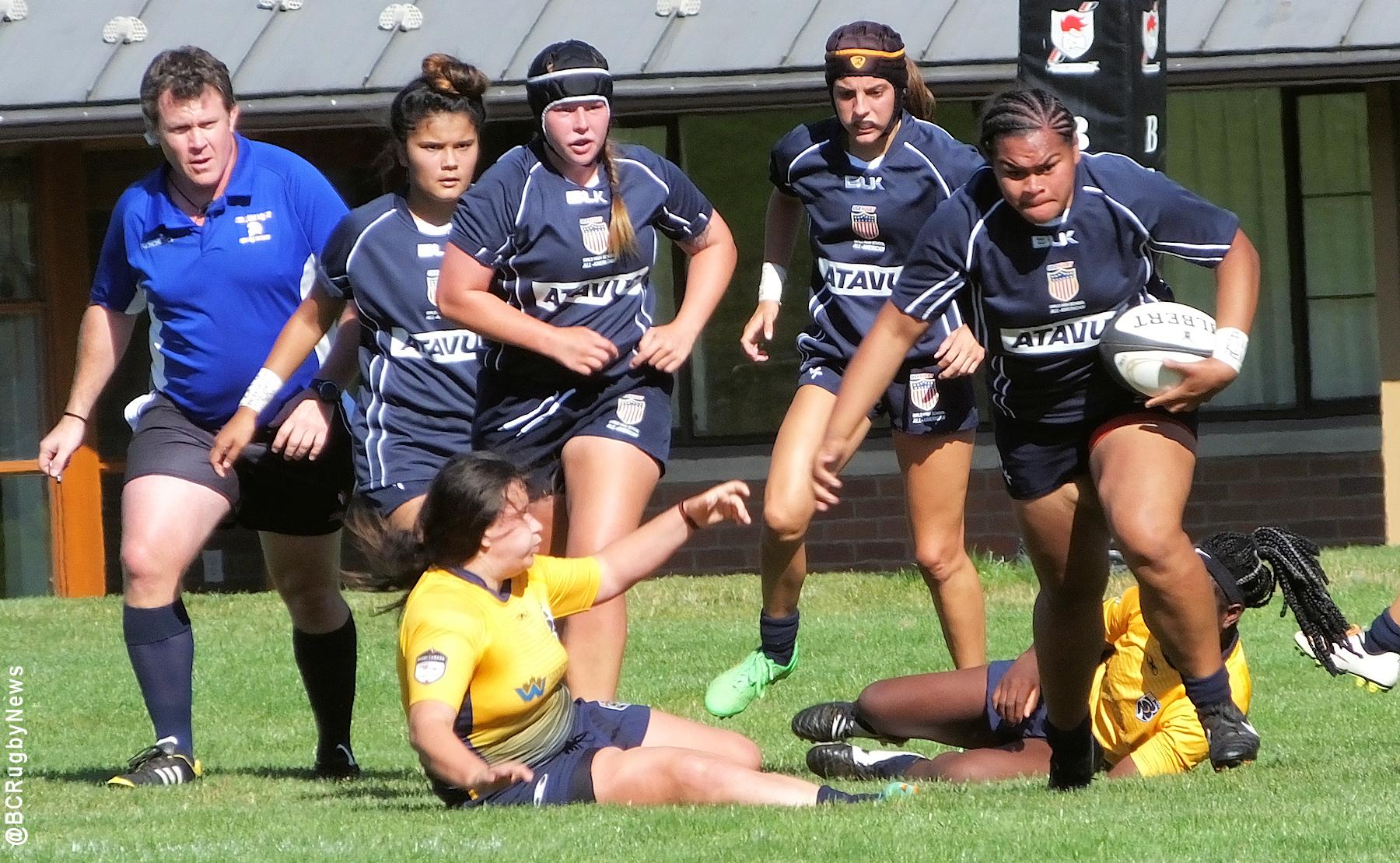 Also returning is Nia Toliver who had outside speed that BC couldn't contain, she scored four tries in one game.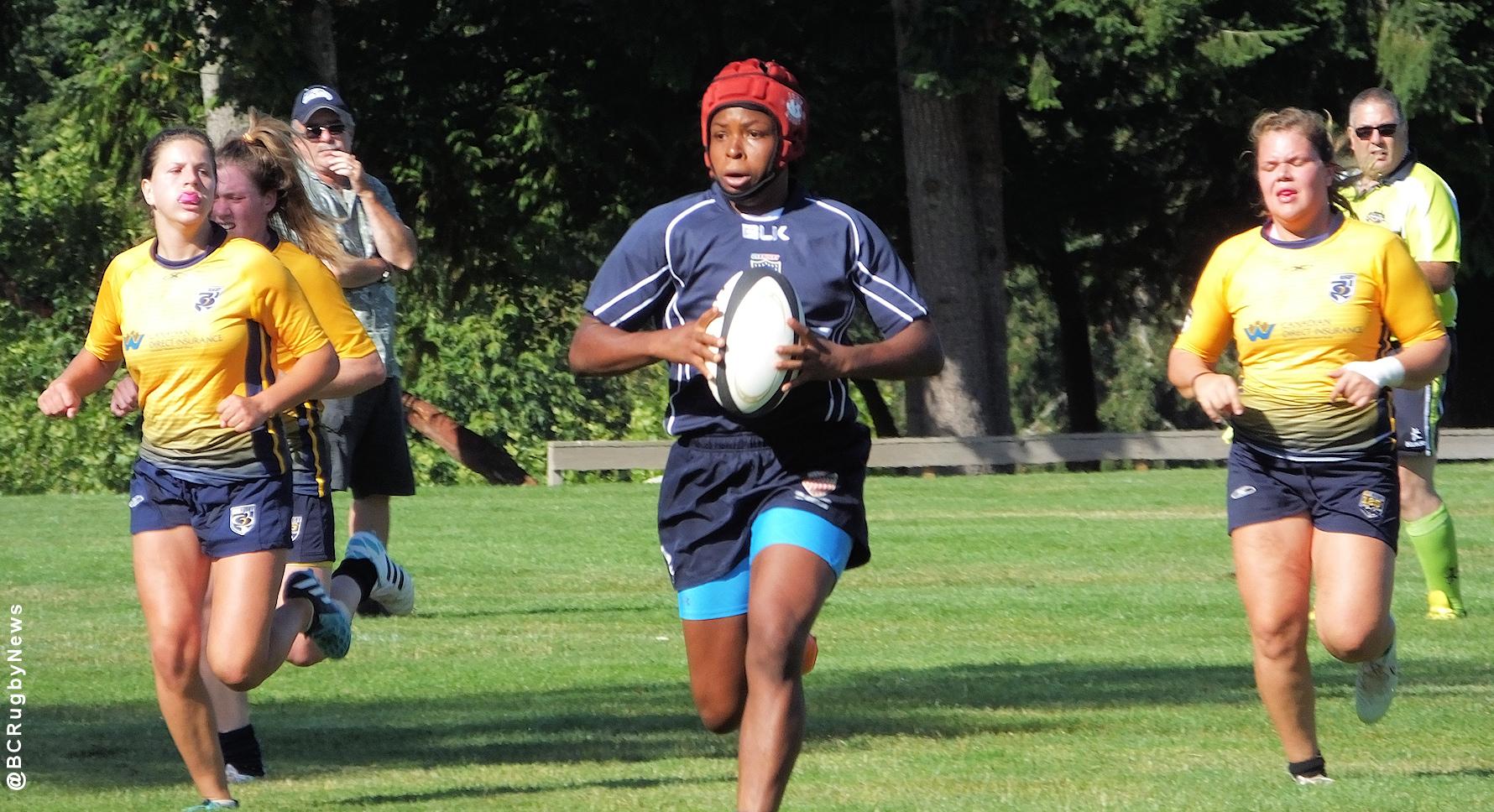 The American team could probably compete with a Canada U19 side, BC will likely be outmatched again in the two game series unless there's a marked improvement from last year in preparation and athlete availability. The games are August 5th and 7th. BC will then compete at the nationals in mid-August in Ontario.

BC are holding their selection camp at Brentwood in the week leading up to the Seattle games.

from USA Rugby

LAFAYETTE, Colo. - The Girls High School All-Americans powered by ATAVUS will venture on three tours in the final half of the year, with more than 80 young athletes set to receive international experience in 15s and the Olympic sport of Rugby Sevens.

Led by Head Coach Farrah Douglas, a GHSAA 'east' team will travel to Mount St. Mary's University for matches against Quebec's under-18s, while an under-16s team will also play two matches July 29 and July 31. In Seattle, BC Rugby's under-18s will hope for redemption Aug. 5 and Aug. 7 following last year's series win by the GHSAAs north of the border. Once fall arrives, a GHSAA sevens team will travel to Vichy, France, for Women European Championship 7s U18.

The competitive rugby season is nearing the end of its cycle, and Douglas and national team pathway scouts have been finalizing their notes from the year for age-grade selection. Student-athletes performing at the Regional Cup Tournaments in Colorado, Illinois, New York, North Carolina, and Oregon were split into 'JV' and 'Varsity' teams, something the GHSAAs are replicating in Emmitsburg, Md.

"The U16 team is geared toward the idea that we want these young players to be exposed to the beginning of the decision-making needed to compete at the senior level, and look to increase their game understanding and skill development at a younger age," Douglas said. "By focusing on developing their rugby ability through skill development and early exposure to pressured collective and individual decision-making skills, we are able to encourage these players to explore and express their athleticism within the GHSAA game structures.

"Although the aim is still looking to continue to develop players, our U18 squad is in the beginning stages of transitioning to concepts of improvement and performance. We want to develop an ongoing conversation about how to improve not just skill, but playing ability, shifting some of the focus toward the facilitation of player learning through emphasizing questioning and player engagement in the GHSAA structure."

The support of ATAVUS since late 2014 has been instrumental in allowing the team to assemble and tour multiple times a year, and the GHSAA 'west' team will be in the sponsor's backyard while the Rio 2016 Olympic Summer Games kick off in Brazil. The GHSAAs will be housed at Seattle University before match days out at Magnuson Park, home of ATAVUS camps and local senior clubs.

"Because we are such a large country geographically it is always tough with only five RCT events as selection venues," Douglas said. "However, the combination of the GHSAA Winter Camps and RCTs, in addition to the ATAVUS resident camps this summer, has enabled us to evaluate a larger number of high school players."

The GHSAAs first assembled for the Las Vegas Invitational sevens tournament in early 2015 before traveling to British Columbia for two matches against BC Rugby U18 Women's last year. Ten girls part of that squad return to the 2016 GHSAA teams, giving Douglas even more experience in the roster. Assistant Coach Emilie Bydwell will not be with the team on the 15s tours as she will be with Team USA in Rio, but she will accompany the girls to France for the Sept. 10-11 sevens tournament.

"While Bydwell is an integral part of the GHSAA staff, the opportunity to work with Team USA was one that could not be missed," Douglas said. "The GHSAA staff will look to former Eagles and Elite Coach Development program participants Kate Daley and Shawn Pittman to bring their expertise and experience to assist with the upcoming east and west competitions."

ATAVUS has supported the GHSAAs to ensure equitable opportunities in rugby for young women. ATAVUS will continue to sponsor the team's preparation and travel to play in elite tournaments across the U.S. and select international competitions. Three GHSAA alumna - Lilly Durbin, Tess Feury, and Richelle Stephens - have gone on to win senior caps for the 15s and sevens Eagles since the program began, with more than a handful of others graduating to the AIG Women's Junior All-Americans and AIG Women's Collegiate All-Americans.

The GHSAAs' European roster will be confirmed in the coming days.

Girls High School All-Americans powered by ATAVUS | East U18
Naomi Colin
Emma Conrad
Jordan Cowan
Olivia Duba
Lelyss Eligio
Hannah Garcia
Natalie Gray
Delia Hellander
Alyssa Henneberg
Emily Henrich
Sydeney Hugus
Lynnzee Jordan
Grace Kiraly
Paige Krahling
Jodi Losch
Hannah Moran
Jess Nagie
Allie Ramage
Darina Roe
Annie Rolf
Hannah Savin
Brianna Whitfield
Elizabeth Wilson
Erin Wright

Girls High School All-Americans powered by ATAVUS | East U18
v. Quebec U18s - Friday, July 29
v. Quebec U18s - Sunday, July 31

Girls High School All-Americans powered by ATAVUS | East U16
Gigi Agliardo
Delani Bargell
McKenzie Bochers
KC Byrd
Samantha Carroll
Kaitlyn Delapaz
Isabella Devore
Alex DiMarco
Grace Estes
Lauren Feddridge
Brooke Garcia
Fane Haungatau
Addison Horsley
Reagan Hunter
Madison Jumper
Natalie Locke
Leilani Mendoza
Delaney Rakuita
Megan Reed
Punipuoa Skipps
Joannah Skucek
Samantha Tancredi
Salote Tausinga
Hailey Thomas
Alexandra Wantlin
Camille White

Girls High School All-Americans powered by ATAVUS | East U16
v. Quebec U16s - Friday, July 29
v. Quebec U16s - Sunday, July 31

Girls High School All-Americans powered by ATAUVS | Coaching Staff
Farrah Douglas - Head Coach
Ricardo Ramirez - Assistant Coach
Kate Daley - Assistant Coach
Katherine Henry - Physiotherapist
Sarah Leslie - Physiotherapist
Carrie DuBray - Manager
Jacque Harrell - Manager

Girls High School All-Americans powered by ATAVUS | West U18
Sui A'Au
Tiana A'Au
Tiara A'Au
Legacy Adams
Destiny Arena
Cassidy Bargell
Lily Brown
Mirielle Cordoa
Atumata Hingano
Seini Imarial
Mililani Leui
Lolohea Makaafi
Daisy Manoa
Rian Moala
Cheyene Nielson
Winter OBrien
MJ Paisoles
Ana Polaulo
Julia Riekena
Malili Schaap
Alexandra Sedrick
McKenna Strong
Finau Tamaviena
Mele Tausinga
Nia Toliver
Penina Tuipaepa
Brianna Vasquez

Girls High School All-Americans powered by ATAVUS | West U18
v. BC U18s - Friday, Aug. 5
v. BC U18s - Sunday, Aug. 7

Girls High School All-Americans powered by ATAVUS | Coaching Staff
Farrah Douglas - Head Coach
Ricardo Ramirez - Assistant Coach
Shawn Pittman - Assistant Coach
Sarah Leslie - Physiotheraphist
Carrie DuBray - Manager
Jacque Harrell - Manager




---