Final Results: BC Win Gold in 3 of 5 Divisions at Nationals - Plus Silver and Bronze
posted Aug 21 2016
[ed. comments below]
BC won Gold in the men's U16 and U18 Divisions, and in the women's U18 Division. They won Silver in the women's U16 Division losing to host Ontario, a team they had beaten in the pool round. The Senior Women won Bronze, defeating the eventual champion Quebec earlier in the tournament and only losing to Ontario who won Silver. They were a bonus point away from claiming Gold.
It was a good tournament for BC proving that they remain the top province for producing young rugby talent, particularly up to the U18 level. There are gaps to fix for sure, for example the drop off from Gold in women's U18 to last place in women's U20 earlier this summer. The men's U19 team won Gold in their division in July.
Congratulations to the players and coaches.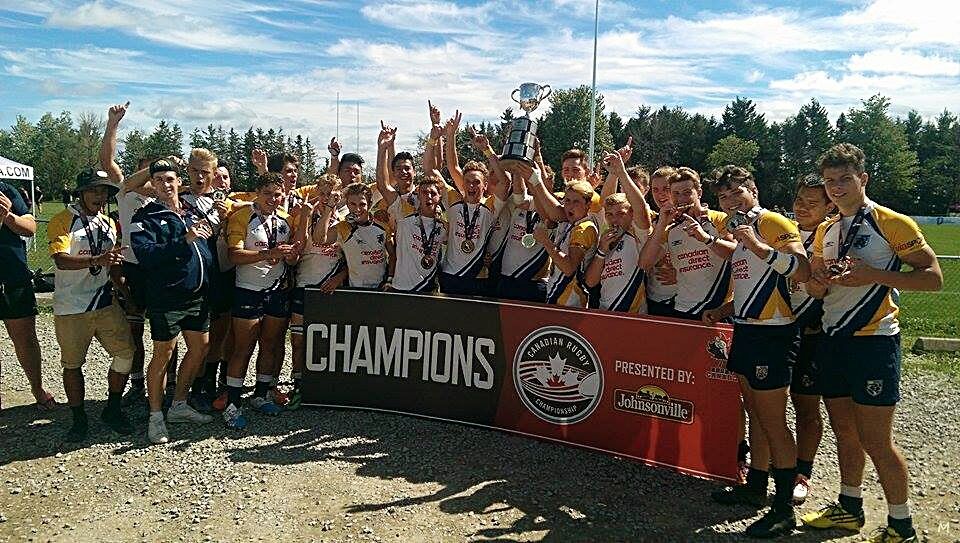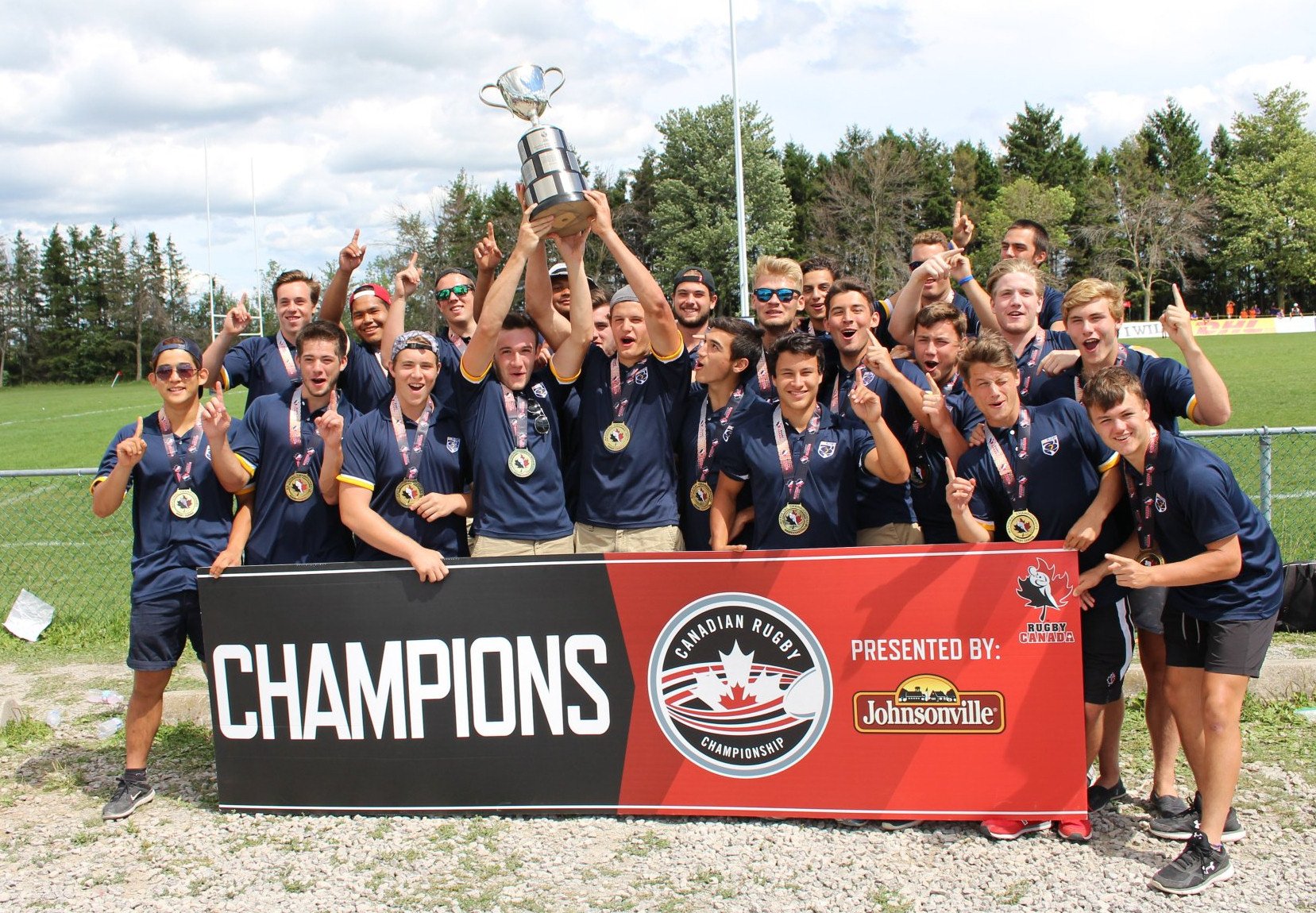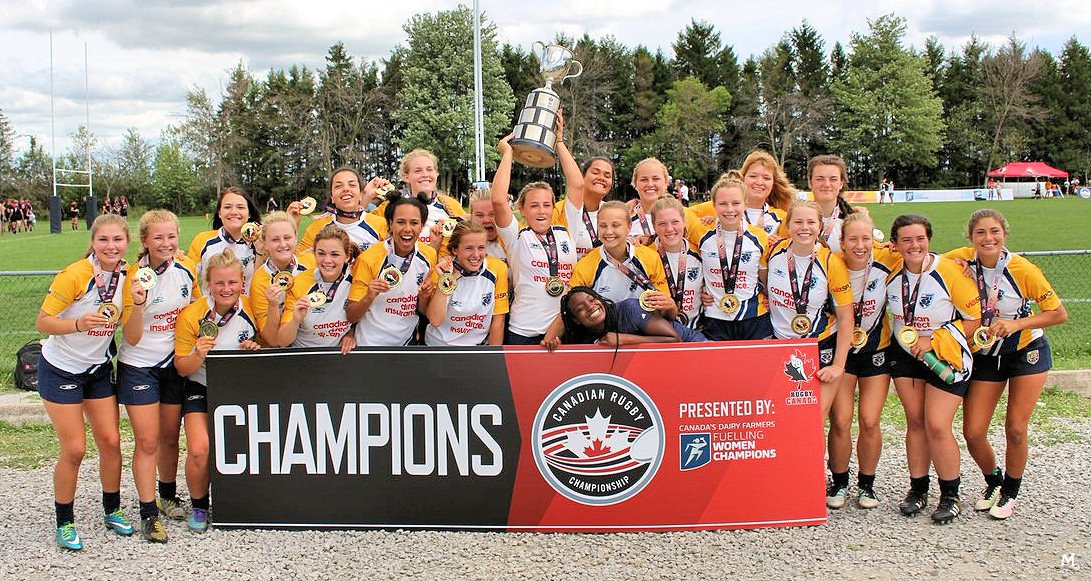 BC U18 Women's Report by Marius Felix
The BC U18 Women's team rebounded from a disappointing performance vs Ontario last Friday and defeated the Wolf Pack today at the Canadian Rugby Championships. The win secured the National Championship for the team!
BC put their counterparts under pressure throughout the game, starting with the set pieces and then getting into the attacking spaces of the opposition and taking away any room for them to effectively run. A win while preventing the Wolf Pack from earning a bonus point was the difference.
Led by Captain Sarah Klok, BC's forwards tackled their hearts out on defence and when BC had the ball, plenty of "go forward" was created by getting into gaps with excellent support play. BC's backs also delivered on the defensive side of the ball and with the forwards, turned the Wolf Pack over several times. A well executed 3/4 switch sprung Shalaya Valenzuela who supplied both pace and footwork to score. Hera Sfikas added a penalty to round out the scoring. The Wolf Pack scored a well-earned try early in the first half, but then BC's determined effort kicked in and secured the win. A great team effort was the difference.
Senior Women
BC 35 - Wolfpack 10
U18 Women
BC 8 - Wolfpack 5
U16 Women
Ontario 17 - BC 10
U18 Men
Gold on Saturday
U16 Men
BC 31 - Alberta 24
---
Day 5 Results: BC U18 Men Claim Gold; U16 Men Win Semi Face Alberta in Final; U16 Women Put Up Century-Like Score in Semi Face Ontario in Final
posted Aug 20 2016
[ed. comments below]
The BC U18 men are the first confirmed Gold at the tournament. They defeated Atlantic 57-7 which puts them at 23 points, 10 clear of their closest competitor with only one round left on Sunday. Well done to the men's U18 team.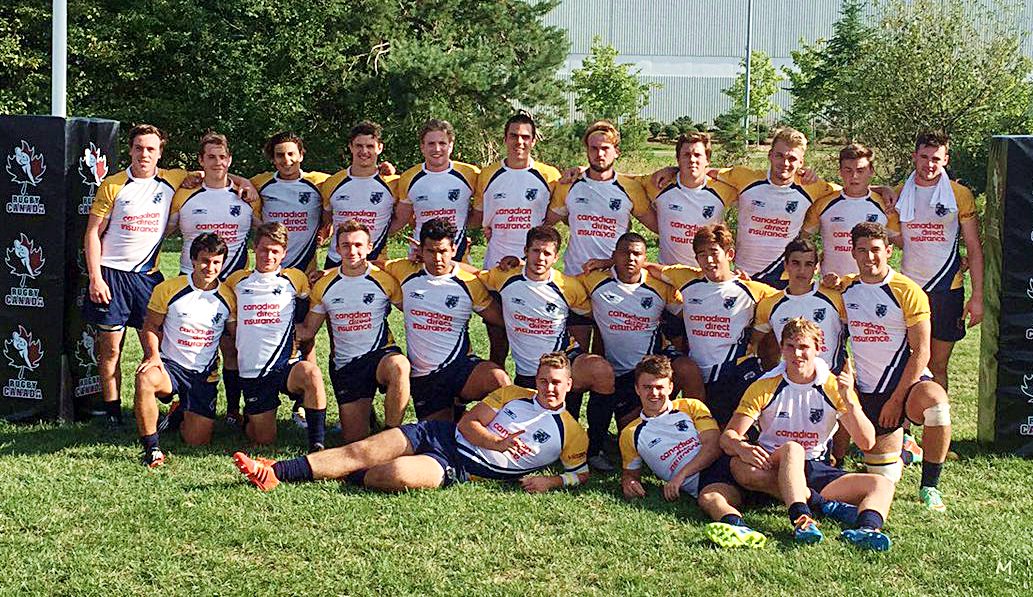 The BC U16 men have a rematch with Alberta in the final on Sunday, they won the pool game 15-10 on Day 1. They defeated a strong Newfoundland side 22-19 in the semi while Alberta took down host Ontario 19-14.
The BC U16 women almost put up a century in their 94-0 win over New Brunswick in the semi-final. They will face Ontario in the final, BC won the pool match 34-19.
U18 Men
BC 57 - Atlantic 7
U16 Women
BC 94 - New Brunswick 0
U16 Men
BC 22 - Newfoundland 19
---
Day 4 Results: Women Defeat Nova Scotia; U18 Men Win Over Ontario; U18 Women and U16 Men Record Losses
posted Aug 19 2016
[ed. comments below]
The senior women defeated Nova Scotia today gaining a bonus point but not being able to deliver a bonus point in their previous win and loss may cost them the gold and deliver the bronze. Quebec upset Ontario and now lead the competition on 12 points, tied with Ontario with BC one point behind. If all teams get bonus point wins in their last match it will be Quebec, Ontario, BC in that order. Quebec faces Wolf Pack tomorrow, BC meet Wolf Pack on Sunday and it's Ontario versus Nova Scotia on Sunday
A huge win for the U18 men over Ontario, 10-8, almost guarantees them Gold. All they need is a win against the 0-2 Atlantic team tomorrow.
In U16 men BC took a bit of a beating today, the #2 and #3 squads getting dominated by Newfoundland and Alberta. BC #1 will face Alberta and Ontario #1 will face Newfoundland in the Cup semis. Newfoundland are the surprise team in this division, they usually don't have a strong team at the U16 level so that bodes well for Canadian rugby down the road.
The U18 women stumbled today losing to Ontario 24-20 but picked up two bonus points. They're still in the running for Gold but have to defeat the Wolf Pack on Sunday who have been the class of the tournament to date at 3-0.
The U16 women had a bye today but they are looking strong and will face New Brunswick in the Cup semis on Saturday while Ontario and Alberta do battle in the other semi.
Senior Women
BC 45 (+1) - Nova Scotia 7
U18 Men
BC 10 - Ontario 8 (+1)
U18 Women
Ontario 24 (+1) - BC 20 (+2)
U16 Women
bye
U16 Wen
BC #2 12 - Newfoundland 50 (+1)
Alberta 47 (+1) - BC #3
---
Day 3 Results: U16 and U18 Women Win Large; Senior Women Lose to Ontario, Men Have Bye
posted Aug 18 2016
It was women only on Thursday as the men in U16 and U18 had byes. The senior women lost to Ontario 26-15 and Ontario looks well on their way to defending the national title. It was a different story for the younger women as they both notched lopsided victories over the Atlantic provinces. The U16 women have a bye tomorrow and as top placed team take on New Brunswick again in the semis, Ontario and Alberta battle it out in the other semi. The U18 women face Ontario tomorrow and they're still in the hunt for Gold. The senior women take on Nova Scotia tomorrow as they'll likely be in a battle for silver with the Wolf Pack who they face on Sunday.
The men had a bye today, the U18 men face Ontario tomorrow in a match that will likely decide Gold. The U16 men await the winner of the semi-finals tomorrow and it could be BC versus BC in the semis (on Saturday). BC #1 will face the winner of Alberta and BC #3, BC's U15 team. Ontario will face the winner of Newfoundland and BC #2.
Senior Women
Ontario 26 - BC 15
U18 Women
BC 56 - Nova Scotia 15
U16 Women
BC 89 - New Brunswick 0
U18 Men
Bye
U16 Men
Bye
---
Day 2 Results: BC Senior Women Open with Win Over Quebec; U16 Women Defeat Ontario; U18 Men Dominate Quebec
posted Aug 17 2016
[ed. comments below]
The BC Senior women opened their tournament with an impressive win over Quebec. Quebec won the tournament in 2013 and came second in 2014 (the national tournament wasn't held in 2015). BC's senior women's program has trailed Ontario and Quebec since 2010 when they last won the national title. Quebec boasts the best attacking player in the country, Julianne Zussman but BC won the forwards battle dominating the set pieces and utilizing a strong maul. BC tries were scored by Tyson Beukeboom (2) and Laura Crowe-Hutchon with Jess Neilson notching a penalty and 2 conversions.
The U16 women were impressive defeating the home province Ontario. Ontario traditionally has a strong women's program. The U18 women had a bye day.
The U18 men crushed Quebec 62-0, they have a bye tomorrow before facing Ontario on Friday.
It wasn't a good day for the U16 men as BC team #1 lost to Ontario, team #2 lost to Alberta. Only the U15 team, BC's #3, won their match versus Manitoba. The result give Ontario and BC #1 a bye into the semi-finals on Saturday as the top two seeds. BC #2 will play Friday in the QF, likely against Newfoundland and BC #3 will likely face Alberta.
Senior Women
BC 22 - Quebec 12
U16 Women
BC 34 - Ontario 19
U18 Men
BC 62 - Quebec 0
U16 Men
Ontario #1 19 - BC #1 5
Alberta 12 - BC #2 5
BC #3 26 - Manitoba 3
U18 Women
Bye day
---
Day 1 Results: BC's Top Teams Undefeated After Day 1
posted Aug 16 2016
BC's top teams are undefeated after Day 1, the only losses coming to the BC #2 team in U16 men. The U16 and U18 women had strong wins to open the tournament. One surprise was to see the Ontario U18 women defeated by the Wolf Pack on Day 1.
The men's U16 BC #1 and BC #3 (U15) won two games on Day 1 and the men's U18 had an emphatic win over Wolf Pack to open the tournament.
The Senior women open their account tomorrow.
Women U16
Alberta 10 - British Columbia 44 (+1)
Ontario Storm 87 (+1) - New Brunswick 0
Women U18
Ontario 12 - Wolfpack 31 (+1)
Quebec 0 - British Columbia 42 (+1)
Men U16
Alberta 10 (+1) - British Columbia #1 15
British Columbia #3 17 - Equipe Quebec 10 (+1)
Ontario #1 10 - British Columbia #2 3 (+1)
Ontario #2 5 - Manitoba 5
Newfoundland 34 (+1) - New Brunswick 3
Equipe Quebec 19 = Ontario #2 0
Manitoba 0 - Newfoundland 88 (+1)
Alberta 17 - Ontario #1 26 (+1)
New Brunswick 5 - British Columbia #3 15
British Columbia #1 26 (+1) - British Columbia #2 7
Men U18
British Columbia 34 (+1) - Wolfpack 0
Atlantic 0 - Ontario 47 (+1)
Senior Women
Wolfpack 15 (+1) - Ontario Storm 17
Equipe Quebec 50 (+1) - Nova Scotia Keltics 0
---
National Championships Start Tomorrow for U16, U18 and Senior Women: Team, Schedules and Rosters
posted Aug 15 2016
The age-grade national championships start tomorrow, along with the senior women's tournament at Fletcher's Field in Toronto. We'll provide updated scores during the tournament.
Teams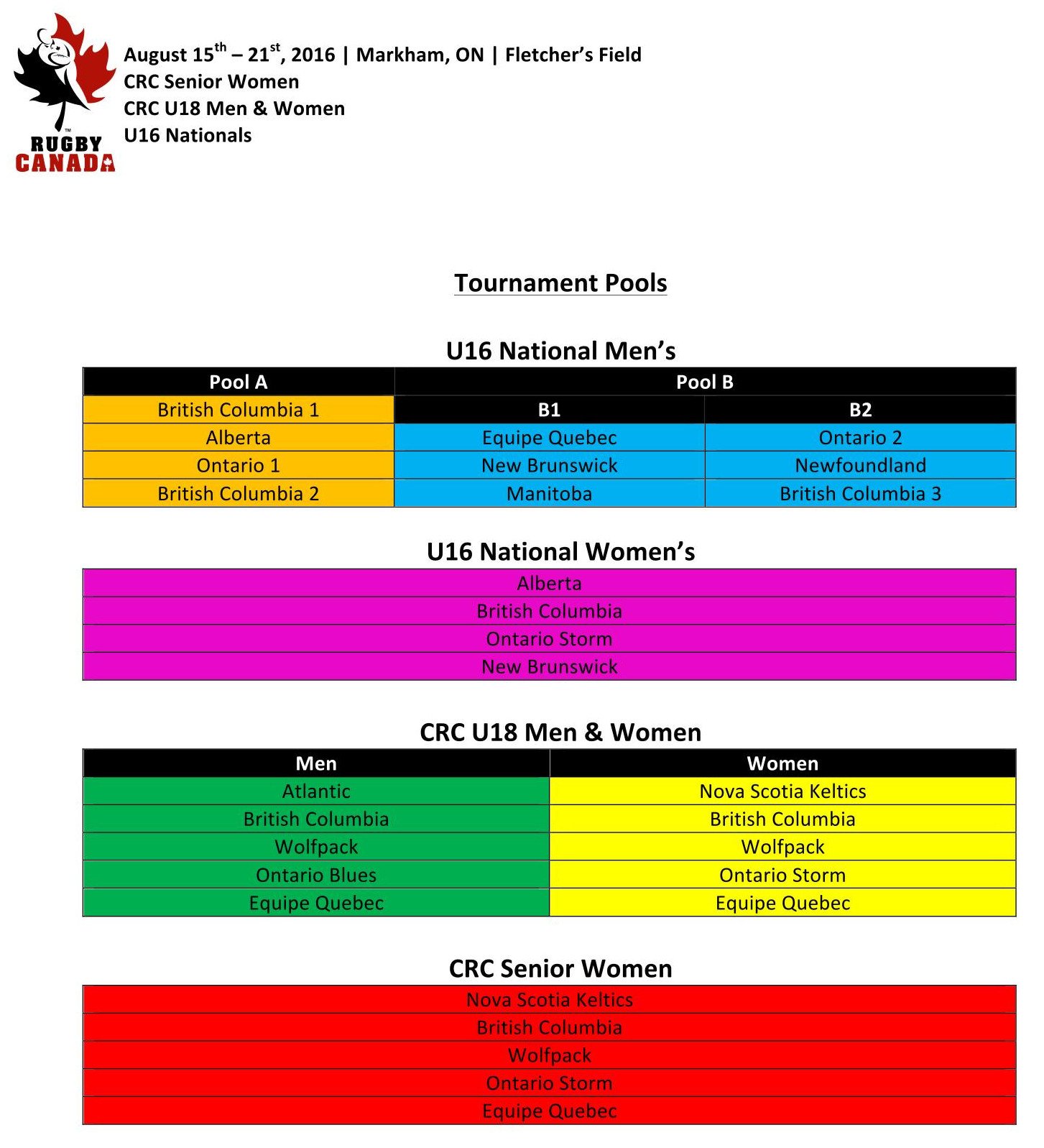 Day 1 to 3 Schedule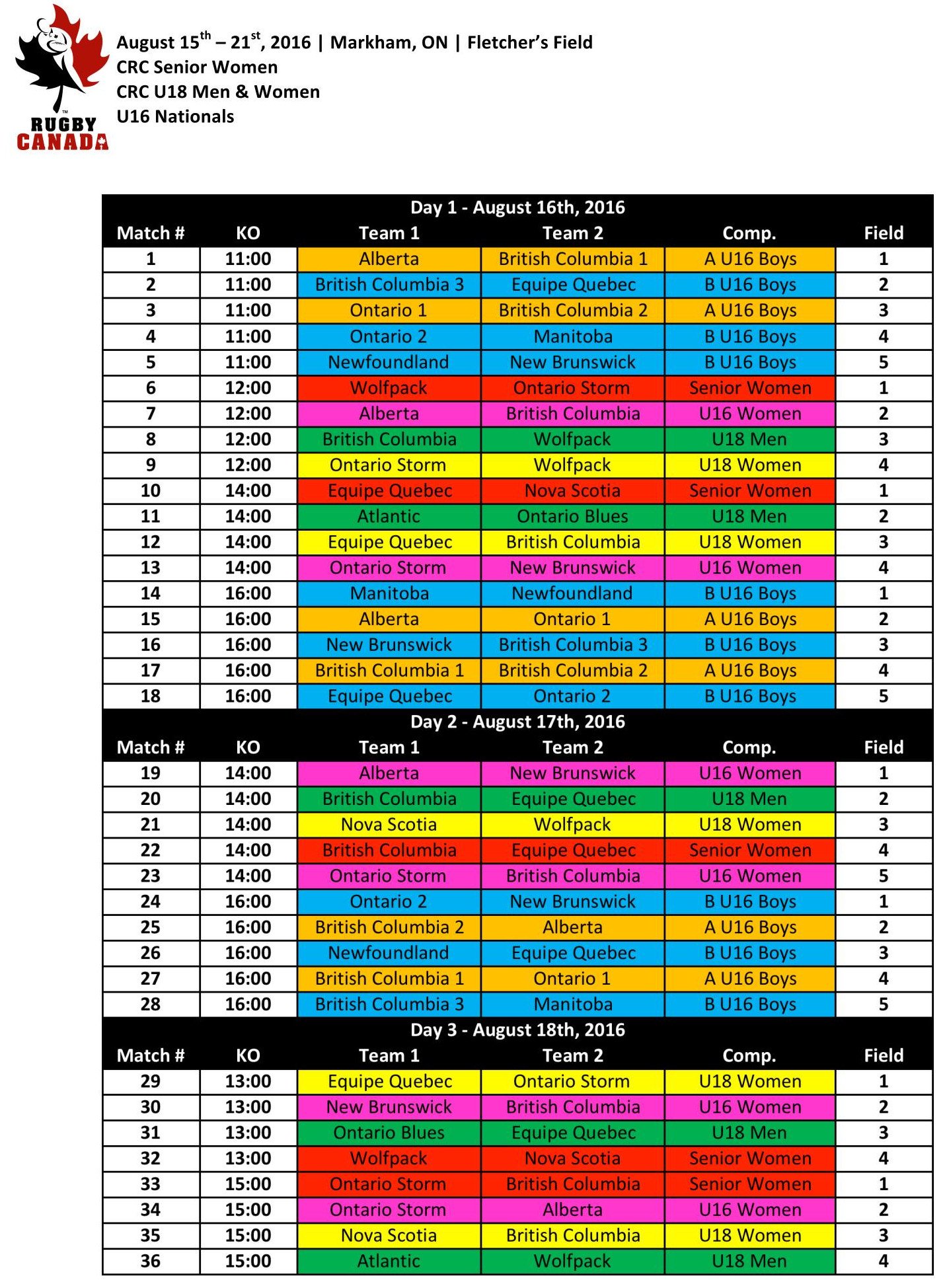 Day 4 to 6 Schedule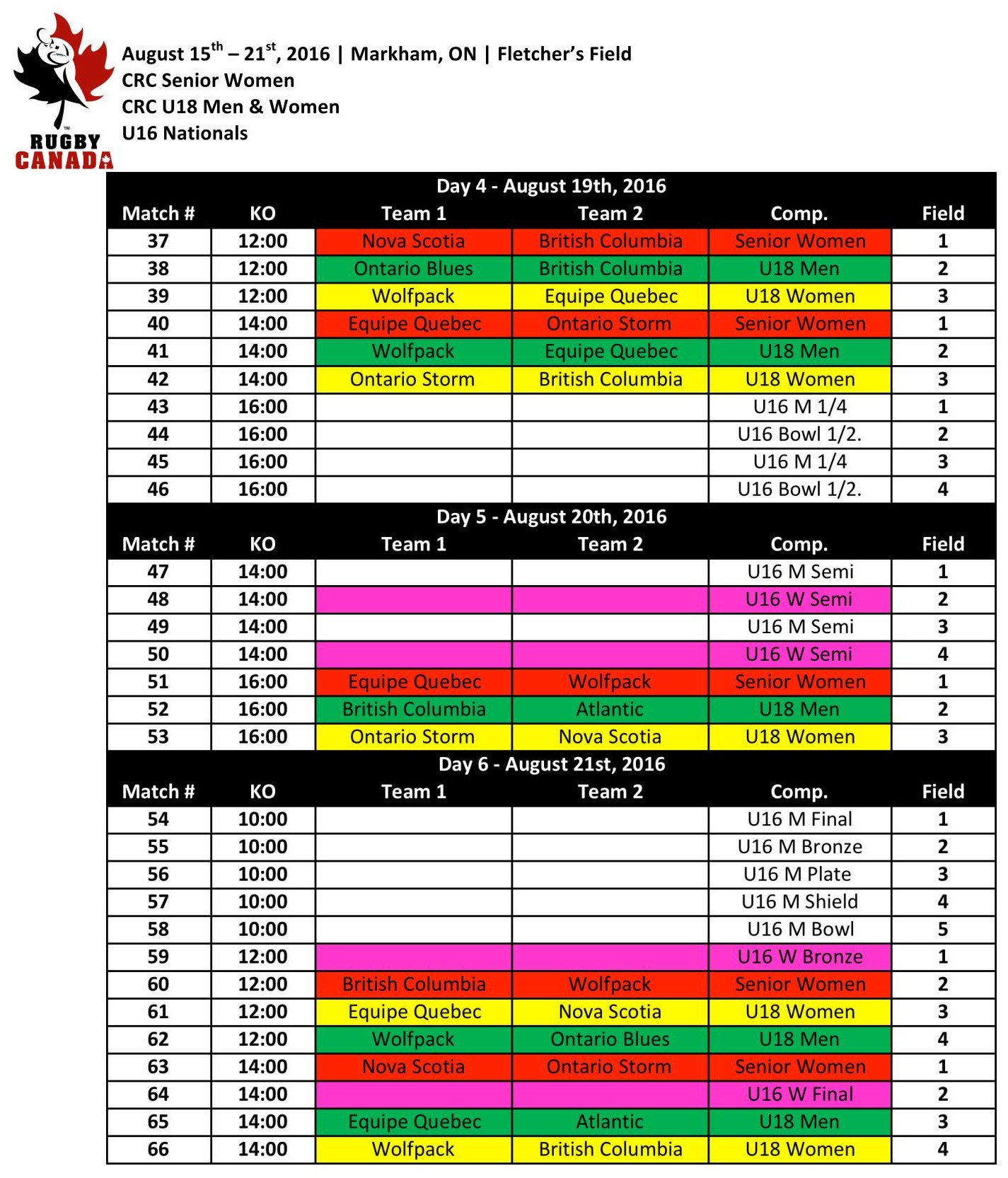 Rosters
from BC Rugby Union
U18 Girls Team BC
Lyric Atchison // Carson Graham
Emily Baker // Mission
Tanika Bonneville // Bayside
Rachel Choboter // Abbotsford
Zoe DeFaveri // North Vancouver
Kaleigh Dupuis // Royal Bay
Danika Elias // Brentwood
Elizabeth Fitzner // Victoria
Dawson German // Vanier
McKenna Haz // Brentwood
Syan Johnson // Victoria
Olivia Kellinghusen // Vanier
Sofie Kennedy // Stelly's Secondary
Sarah-Ann Klok // Yale
Kate Richards // Semiahoo
Carrie Rojas // Williams Lake
Neila Schaad // Vanier
Tyra Schaad // Vanier
Berlyn Seselja // Bayside
Shoshanah Seumanutala // Vancouver
Hera Sfikas // Bayside
Shaye Tudor // Victoria
Shalaya Valenzuela // Yale
Imogen White // Oak Bay
Valerie Wideski // Vancouver
Staff:
Steve Cowie
Marius Felix
Ashley Robinson
Naomi Ogawa
U16 Girls Team BC
Kashish Arya // Abbotsford
Tayler Bailer // Abbotsford
Maggie Banks // Shawnigan Lake
Hazel Bice // Handsworth
Summer Blackmore // Mt Baker
Payton Cochrane // Castaway Wanderers
Hannah Collins // Yale
Hunter Czeppel // Abbotsford
Alexis Dunning // Westshore
Emma Feldinger // Williams Lake
Danica Foster // Semiahoo
Amelia Gordon // Castaway Wanderers
Kally King // Kamloops
Maggie Mackinnon // Westshore
Jordyn Meyers // Walnut Grover
Mackenzie Myles // Capilano
Tyanna Paling // Mission
Emily Parker // Castaway Wanderers
Maelle Reed // Castaway Wanderers
Rachel Smith // Earl Marriott
Rachael Storie // Lord Tweedsmuir
Kelsey White // Castaway Wanderers
Zoe Williams // Westshore
Rori Wood // Westshore
Liriel Yurik // Abbotsford
Non Travelling Reserves
Hailey Chambers // Kamloops
Adema Mbongo // Carson Graham
Jessica Nelson // Chateleh
Nicolette Vinnedge // Vanier
U16 Boys Team (BC 1)
Jack Allen / Vancouver North
Ryan Agyagos / Vancouver North
Cameron Bruk / Vancouver North
Ben Challis / Fraser Valley East
Liam Clark / Vancouver North
Owen Cumming / Vancouver Island Tsunami
Jarvis Dashkewytch / Vancouver South
Conor Hills / Vancouver Island Tide
Daniel Jacob / Vancouver North
Hector Jardine / Vancouver Island Tide
Adam Jay / Vancouver Tide
Nick Joe / Vancouver Island Tsunami
Gavin Kilpatrik / Vancouver Island Tide
Lachlan Kratz / Vancouver Island Tide
Tate McIntosh / Fraser Valley West
Zephyr Melnyk / Vancouver Island Tsunami
Carter Miller / Fraser Valley East
Owen Parker / Fraser Valley East
Hans Senger / Vancouver
Samuel Sirlin / Vancouver
Reece Tudor-Jones / Vancouver Island Tsunami
Lucas Tuffin / Vancouver Island Tide
Luke Wooldridge / Vancouver North
Willem Young / Vancouver North
U16 Boys Team (BC 2)
Devon Bocsik / Vancouver Island Tide
Duncan Bustos / Vancouver North
Euan Cave / Vancouver South
Teo DeGianni / Fraser Valley East
Storm Fisher / Fraser Valley West
Matt Frost / Vancouver North
Caleb Gerth / Fraser Valley West
Quinn Hayhurst / Vancouver Island Tide
Alex Hutcheson / Vancouver Island Tide
Manvir Kahlon / Fraser Valley West
Isaac Kelly / Vancouver
Josh Krieger / Vancouver North
James Macdonald / Vancouver Island Tsunami
Kyle McCallum / Vancouver Island Tsunami
Brock McCartney / Fraser Valley East
Joe Meier / Fraser Valley East
Max Moyes / Vancouver North
Sean Moynahan / Fraser Valley East
Ryan Renkers / Fraser Valley East
Nick Sauder / Vancouver
Forest Scarrwener / Vancouver
Brady Smith / Vancouver South
Braeden Verleur / Fraser Valley East
Caden Ward / Vancouver
Nolan Young / Vancouver Island Tsunami
Head Coach : Conan Cooper
U15 Boys Team (BC 3)
Joel Abdel-Barr / Capilano RFC
Anson Adshade / Capilano RFC
Logan Auringer / James Bay AA
Hunter Banfield / ADSS
JT Boehme / Vancouver Island Tide
Jacob Bossi / Westshore
Jacob Bourne / Ravens RFC
Ciaran Breen / Cowichan RFC
George Brown / Langley RFC
Joel Byron / Abbotsford RFC
Josef Dirom / CRAA
Joshua Elbourne / James Bay
Nathan Holm / Capilano RFC
Masen Kehler /Abbotsford RFC
Brenner Kelava / Capilano RFC
Thomas Kirkwood / St. George's
Matthew McDougall / Cowichan RFC
Jack Mitzler / Richmond RFC
Daniel Parkins / Capilano RFC
George Piper / Abbotsford RFC
Basil Schincariol / Meralomas RFC
Callum Sinclair /Mt. Baker Secondary School
Alexander Soltan / Capilano RFC
Brendan Tatalias / Castaway Wanderers
Ethan Turner / Abbotssford RFC
Head coach : Shane Muldrew
Assistant. Coach : Jake Duraan
Manager: Jim Capron
Athletic Therapist: Melissa Wirsching
U18 Boys Team
Gabriel Atkinson // St. George's
Spencer Cooper // Vanier
Peyton Eagar // Cowichan
Austin Fink // Vanier
Logan Martin-Feek // Claremont
Jessen Gibbs // Vancouver
Kyle Joe // Ladysmith
John Jubenville // Earl Marriott
Josh Long // Yale
Callum Masterton // Oak Bay
Karl Mattion // Frances Kelsey
Jim Newman // Shawnigan Lake
Evan Norris // Shawnigan Lake
Nick Pearce // Victoria
Owen Pitblado // St. George's
Brining Prevost // GNS
Seth Purdey // Shawnigan Lake
Thomas Rennie // Yale
Brandon Schellenberger // Oak Bay
Jackson Silvester Lee // Earl Marriott
Michael Smith // Earl Marriott
Christoph Stangl // Carson Graham
Matias Suez // Kitsilano
Nick Thomas // Vancouver
Carter White // Oak Bay
U17 Boys Team (U17 boys to play a 3 match exhibition series against Ontario)
Jordy Amkela // Velox RFC
Quinton Brown // Bayside Sharks
Corben Bowen // G.W. Graham High School
Michael Caldecott // LV Rogers
Aiden Cottrell // Capilano RFC
Reid Davis // Bayside Sharks RFC
Cole Dreyer // Shawnigan Lake
Julian Foggit // Westshore Velox RFC
Stefanos Goulas // South Delta Secondary
Samuel Kahn // Castaway Wanderers
Carter MacDonald // Bayside Sharks RFC
William McDougall Percillier // Cowichan Rugby Club
Spencer Normann // Richmond Rugby Club
Lucas Portillo // Cowichan Rugby Club
James Quentin // Carson Graham Secondary
Patrick Raleigh // Elgin Park Secondary
Von Richardson // GW Graham Secondary
Gareth Sandner // Castaway Wanderers
Kilick Saxer // Capilano RFC
Jack Scher // Vancouver Rugby Club
Connor Sinclair // Shawnigan Lake
Cam Smith // Bayside Sharks
Tighe Andreou // Vancouver South
Tyler Wong // Vancouver North
Senior Women's Team
Tyson Beukeboom from Uxbridge, ON (Cowichan Piggies RFC / Vancouver Island Crimson Tide)
Andrea Burk from North Vancouver, BC (Capilano RFC / Vancouver Wave)
Gillian Boag from Calgary, AB (UBC Thunderbirds / Capilano RFC / Vancouver Wave)
Laura Crowe-Hutcheon from Victoria, BC (Castaway Wanderers RC / Vancouver Island Crimson Tide)
Kara Galbraith from Victoria, BC (Castaway Wanderers RC / Vancouver Island Crimson Tide)
Louisa Hadley from Burlington, ON (UBC Thunderbirds / Capilano RFC / Vancouver Wave)
Meaghan Howat from Guelph, ON (Westshore RFC / Vancouver Island Crimson Tide)
Rosie Lang from Victoria, BC (Westshore RFC / Vancouver Island Crimson Tide)
Mackenzie Lee from Langley, BC (UBC Thunderbirds)
Hillary Leith from Vancouver, BC (Capilano RFC / Vancouver Wave)
Carolyn McEwan from St. George, ON (Burnaby Lake RC / Vancouver Wave)
Allison McCormack from Orangeville, ON (University of Ottawa Gee-gee's / Vancouver Wave)
Katie McNally from Guelph, ON (Castaway Wanderers RC / Vancouver Island Crimson Tide)
Chelsea Minter from Sidney, BC (Westshore RFC / Vancouver Island Crimson Tide)
Marlene Nedved from Edmonton, AB (Castaway Wanderers RC / Vancouver Island Crimson Tide)
Jess Neilson from Vancouver, BC (UVic Vikes / Castaway Wanderers / Vancouver Island Crimson Tide)
Elyssa Phillipson from Abbotsford, BC (Abbotsford RFC / Vancouver Wave)
Brittany Sims from Victoria, BC (Westshore RFC / Vancouver Island Crimson Tide)
Demi Stamatakis from Vancouver, BC (Simon Fraser University / Vancouver Wave)
Amanda Thornborough from Brandon, MB (Westshore RFC / Vancouver Island Crimson Tide)
Sya Trafford from Calgary, AB (Castaway Wanderers / Vancouver Island Crimson Tide)
Brittany Waters from Vancouver, BC (Castaway Wanderers RC / Vancouver Island Crimson Tide)
Non Travelling Reserves:
Annie Arnott from Vancouver, BC (UBC Thunderbirds / Burnaby Lake RC / Vancouver Wave)
Robyn Chrosciewicz from Surrey, BC (Bayside Sharks)
Kaitlyn Cummings from Kamloops, BC (Kamloops Raiders RC / Vancouver Wave)
Elijah Lacap from Surrey, BC (Simon Fraser University / Vancouver Wave)
Ciara Malone from Delta, BC (UBC Thunderbirds / Burnaby Lake RC / Vancouver Wave)
Lauren Sargent from Victoria, BC (Castaway Wanderers RC / Vancouver Island Crimson Tide)
Courtney Sims from Victoria, BC (Westshore RFC / Vancouver Island Crimson Tide)
Meghan Wellis of White Rock, BC (Abbotsford RFC / Vancouver Wave)
Coach: Aaron Frisby
Assistant Coach: Scott Manning
Manager: Roko Kapaiwai