| | |
| --- | --- |
| Women's Premier Schedule - Fall 2016 | |
Women's Premier League Schedule: 8 Teams Start September 17th: UPDATE REVISED SCHEDULE

posted Aug 31 2016
[ed. comments below]

UPDATE: SFU have dropped to Div 1 this year, there are now 7 teams in Premier and a revised schedule.

The women's BC Premier league promises to be the most competitive to date. The influx of national XVs players from across the country will bolster team rosters. Unlike the men's national team XVs program in recent years, the national women's program encourages players to play club rugby. Canada are ranked 2nd in the world behind New Zealand so the system must be working. I've been watching women's rugby since the mid-90s and the increase in skill level in the top BC club leagues has been outstanding.

Make sure to mark off a date on your calendar to watch a few of these games this fall, you'll be impressed.

The three Island teams CW, Westshore and Cowichan should all be competitive as they're in the catchment area of the Rugby Canada centre of excellence and will feature some national team athletes. Capilano and Burnaby on the mainland have strong squads with current and former national team players on the roster. Seattle can draw from USA athletes and will field a formidable squad as they have done the past few seasons. SFU and Bayside are the young upstart programs and were on the receiving end of some lopsided scores last season. They'll be looking to be more competitive this year.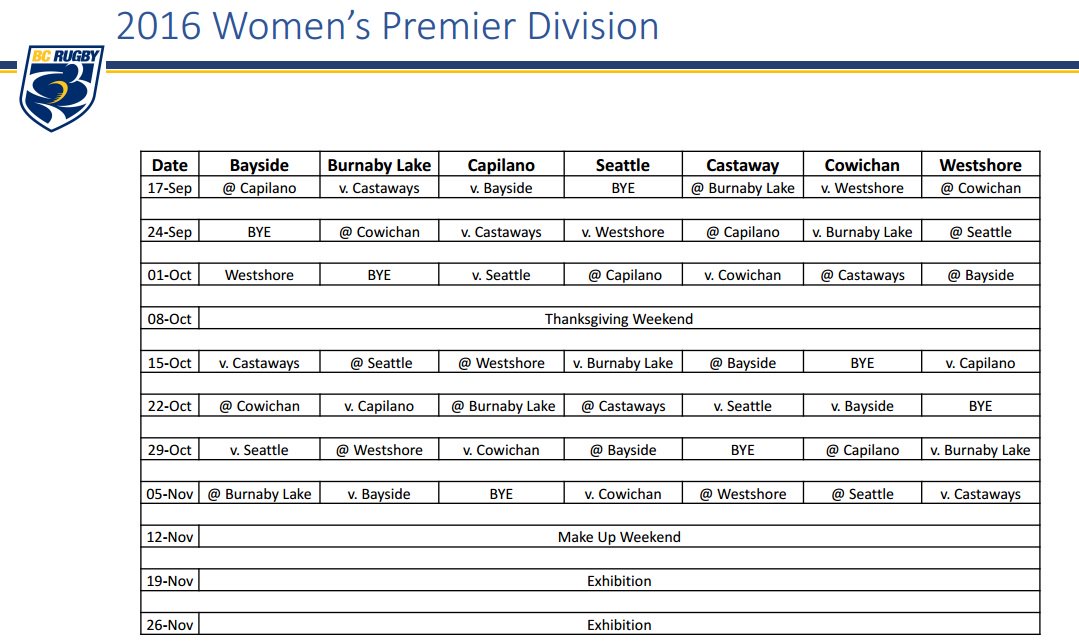 Click on image to enlarge



---