| | |
| --- | --- |
| BC Rugby Weekend of September 24th | |
Weekend Results: Vikes Outscore Valhallians; T-Birds Top Caps; Lomas Shut Down Abby; Ravens Dominate Seattle; Lakers Paddle Rowers; Bays Blitz CW

updated Sept 24 2016
[ed. comments below]

Westshore 29 @ UVic 46 (Friday night)

It was a tryfest under the lights with UVic running in 8 tries and Westshore notching 5 tries. Isaac Kaay was the star for the Vikes claiming 4 tries while Erlic (2), Lorimer and Stewart added to the tally. For Westshore Clay Panga scored four tries with Leam Williams adding a try. The half time score was 24-7. The Vikes go to 1-1 on the season and Westshore 0-2 picking up their first bonus point in the loss.

View UVic Vikes Report

In other Vikes news the women lost to U of Calgary 29-20 in CIS competition, giving up a 20-10 lead in the second half and conceding three straight tries. The Vikes were ranked 6th going into the match, Calgary were not on the Top 10 list.

PREGAME
UVic gave a star-studded JBAA team a good run last weekend while Westshore were blown out by another national laden team, CW. UVic should have the advantage here, especially out wide. Westshore have a competent forward pack but have some gaps in the backline which UVic will expose. Prediction: UVic by 12.

UVic

1 Stephen Cooper
2 Casey Reed
3 Honjo Shota
4 Jesse Burns
5 Connor Keys
6 Mike Harvey
7 Jeff Nishima-Miller
8 Isaac Kaay (moved to wing in 2nd half, Leask on)
9 James Pitblado ©
10 Guiseppe du Toit
11 Kapi Vataiki
12 Joe Erlic
13 Lucas Hammond
14 Crosby Stewart
15 Fergus Hall

Westshore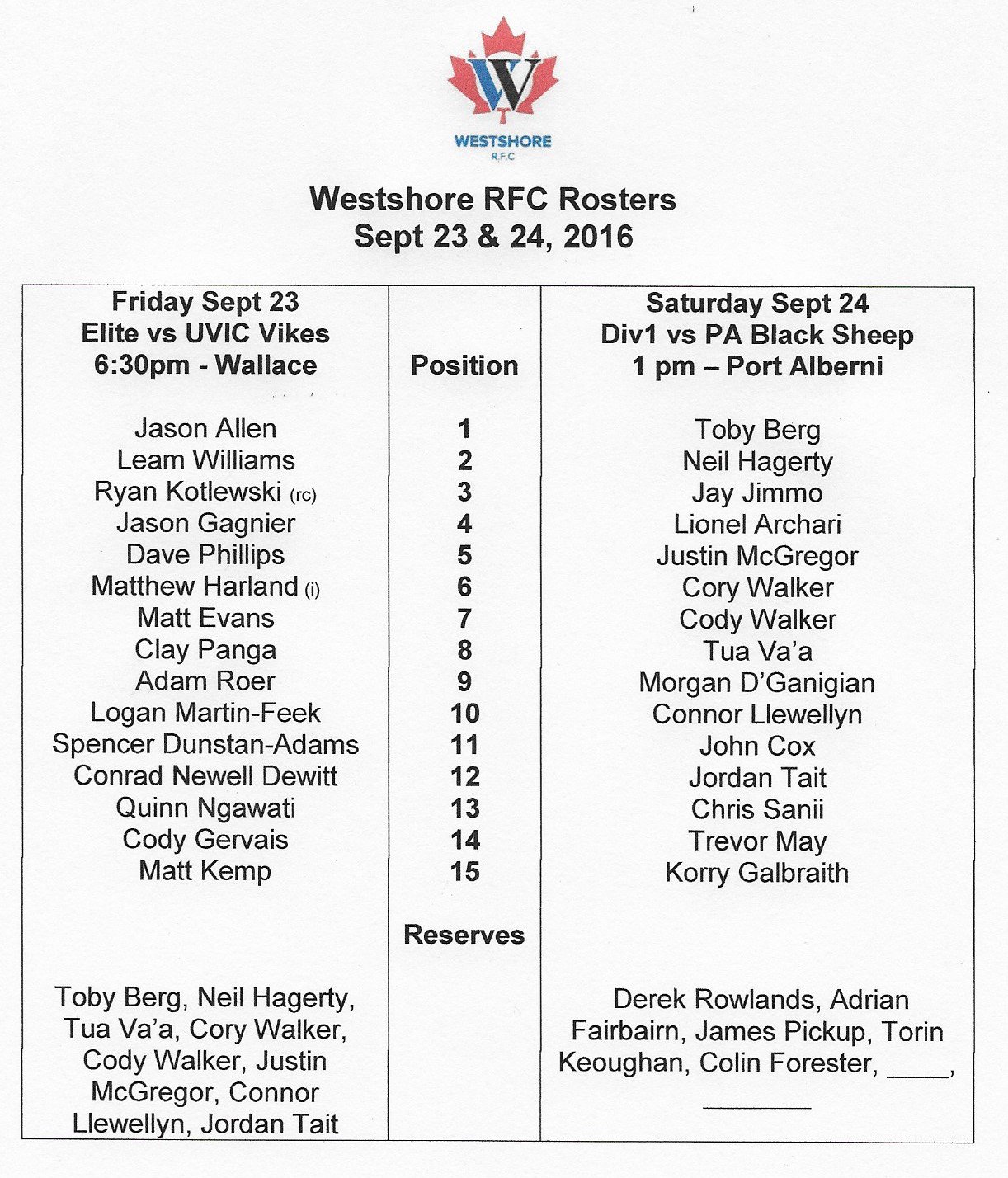 UBC 28 @ Capilano 8

UBC bounce back with a bonus point win. Cole Keffer, Jorden Best and Tom Roche led the T-Birds to a 18-3 halftime lead. Adam McQueen scored in the second and Caps got a late try to finish the match. The best tweets of the day came from UBC, so they get another bonus point for that awarded from the #burn unit.







PREGAME
This should be a good test of where UBC are this year, they lost to the Ravens last weekend with some of their alumni leading the charge against them. The Caps narrowly defeated the Rowers last weekend. The Caps are missing Harry Jones this week in the starting XV but have home field advantage. The T-Birds if they have any hope of a three-peat this year have to win games like this. Prediction: UBC by 3.

Capilano

1 Mackenzie Mills
2 Jason De Freitas
3 Jesse Ryan
4 Reid Tucker
5 Dave Owen
6 Rich Merinsky
7 Lee Foster
8 Jordan Harvey
9 Chris Robinson
10 Kayne Tapiki
11 Adam Zaruba
12 Greg Brown
13 Chad Carlsen
14 Austin Karius
15 Will Newbegin

UBC

1: Neil Courtney (Handsworth)
2: Alex Mascott (St George's)
3: Chris Taylor (Dromore) (I)
4: Sam Clark (Kitsilano)
5: James Carson (Oak Bay)
6: Thomas Roche (St Johns Ravenscourt)
7: Connor Weyell (Handsworth)
8: Connor Hamilton (St George's)
9: Jorden Sandover-Best (Robert Bateman)
10: Adam McQueen (Canmore)
11: Manar Kulkhan (Port Moody)
12: Niko Clironomos (Lord Byng)
13: Nathan Rees (Porth County)
14: Cole Keffer (Sutherland)
15: Nick Collett (Southridge)

Abbotsford 3 @ Meraloma 27

Lomas go to 1-1 and Abbotsford 0-2 holding down the cellar with the Rowers. Abbotsford host the Ravens next week while the Lomas visit the Rowers.

PREGAME
Two teams who were relegated to Div 1 last year battle it out. Will there be relegation this season, only Annabel and the Board know with any degree of certainty at this point. Both teams sit at the bottom of the standings with zero points. Abby have a -14 differential, Lomas a -21. Will home field make the difference? We'll say yes. Prediction: Meraloma by 1.

Abbotsford

1. Brent Bradbury
2. Somé Mosogau C
3. Ryan March
4. Nathan Sagert
5. David Prins
6. Gareth McNiece (i)
7. Nate Sandhu
8. Jake Thiel (RC)
9. Spencer Gordon
10. Dan Tou
11. Darwin Guevra
12. Konrad Rybkowski
13. Shea Bourquin
14. Trent Bourke
15. Robbie Faloon (i)

Meraloma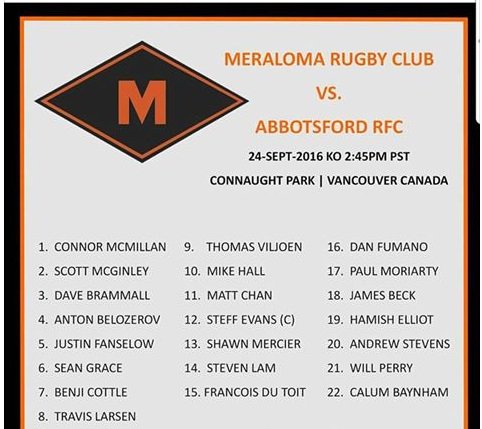 UBCOB Ravens 43 @ Seattle Saracens 26

So we have to declare the Ravens now, "the real deal". They not only won on the road in Seattle but did so convincingly. They were up 40-14 at the half but took their foot off the gas. There are only two undefeated teams early in the season on the mainland, Ravens and Burnaby.

PREGAME
Interesting matchup, Seattle didn't have the star power in their roster last weekend when they travelled to Abbotsford for a win but they're always stronger at home. Ravens surprised last year's champs, UBC, in the season opener last weekend. Travelling across the border usually drops a key player or two. We haven't seen either roster yet so impossible to comment on their playing strengths this weekend. Early in the season the home team in this contest gets the nod but if the Ravens can pull off this road trip then we're willing to consider them the real deal this season. Prediction: Seattle by 5.

UBCOB Ravens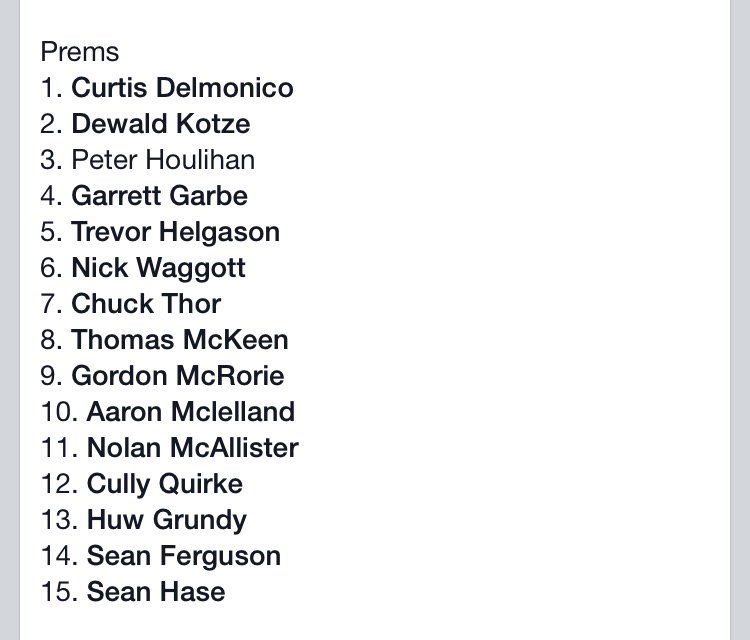 Seattle Saracens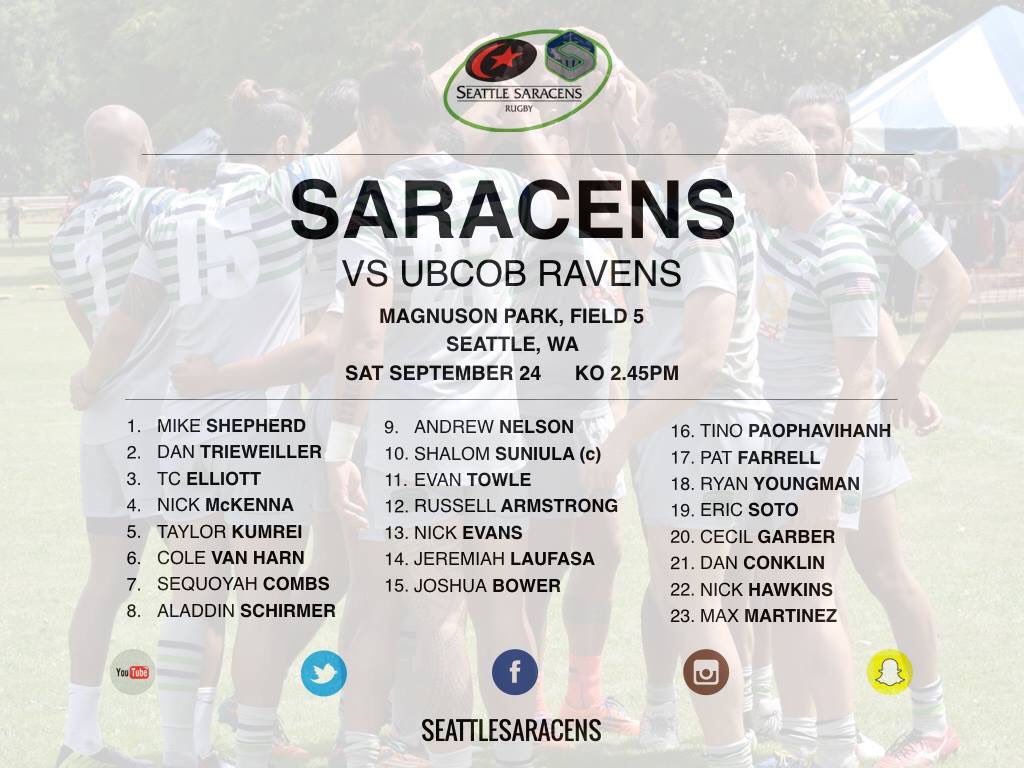 Burnaby 32 @ Rowers 15

Burnaby remain undefeated and Rowers winless. Rowers scored first but replies from Cole Mcqueen and Andrew Lackner gave Burnaby a 12-7 lead at the half. Taitutsi Vikilani and Angus Fisher scored after the break with a reply from Rowers to make it 22-15. Burnaby closed it out with two tries, another by Vikilani and one by scrum half Cody Rockson.

PREGAME
Rowers look to have a competitive team this year, just losing to Caps last weekend at the end of the match. Burnaby continue their winning ways from last season. They're missing Admir Cejvanovic from the starting XV but have a capable replacement in Lucas Albornoz. A good test of Burnaby's form this year as Rowers will be tough at home. Prediction: Burnaby by 7.

Burnaby

1 Anth Luca (Capt)
2 Andrew Lackner
3 Ryan Ackerman
4 Mike Gough
5 Craig Mclaughlin
6 Lucas Albornoz
7 Mike O'Toole
8 Taitutsi Vikilani
9 Cody Rockson
10 Mike Goodall (i)
11 Angus Fisher
12 Cole Mcqueen
13 Kimi Vunituraga
14 Andrew Porter
15 Nolan Shelley

James Bay 38 @ CW 26

The much anticipated match looked like it would be a rout as the Bays claimed their bonus point by halftime scoring four tries and leading 28-0. Braid, Moonlight and JWR scored with Braid converting all four tries. CW battled back in the second half but it was too little with the Bays running out winners. Phil Meyer will have more in his match report.

PREGAME
This should be interesting. There's so much rivalry between these teams that the JBAA president, John de Goede, had to issue a warning to supporters through their website and FB page, "I tell you now if you cannot censor yourself go stand on the upper deck with the CW faithful. Do not stand on the JBAA sideline." It was last season, I believe, there was a major fracas in a similar match where JWR was carded and Keenan Horton suspended. Should be a good one. CW haven't released their lineup at the time of writing [ed. now listed] but JBAA have. They have a potent backline with Mack, Braid, Parfrey, JWR, White but they're missing their top outside finishers from last weekend Nathan Tough and Tennyson Brown. They do have John Moonlight in the roster though at openside. Quite impressive, probably the strongest lineup they'll have this season before the 7s program kicks back into gear. CW last weekend had Dala, Fraser, Kay, Fuailefau, Moor, Ngongo another impressive list of players. The key may be whether CW can slip players like Buydens and Barkwill into the front row where the Bays may be vulnerable. Prediction: Bays by 3.

James Bay

1 Noah Barker
2 Blake Van Heyningen
3 Cole Keith
4 Jim de Goede
5 Graham Harriman
6 Ben Johnson
7 John Moonlight
8 Kieran McAuley
9 Phil Mack
10 Patrick Parfrey
11 Ed Adams
12 Connor Braid
13 Jordan Wilson-Ross
14 David McGrath
15 Sean White

CW

1. J. Braddock
2. C. Thornber
3. D. Wooldridge (C)
4. K. Hohert
5. C. Polson
6. R. Ilnicki
7. N. Dala
8. D. Dobrofsky
9. L. McCloskey
10. P. Kay
11. D. Moor
12. D. Fraser
13. M. Fuailefau
14. A. Ngongo
15. K. Styles
16. D. Pearson
17. J. Sponarski
18. G. Baird
19. H. Evans
20. N. Thomas
21. J. Morris
22. B. Schellenberger
23. K. Horton

Island Div 1

The North Island teams were all victorious over their southern neighbours. Nanaimo defeating CW 25-24, Port Alberni clobbering Westshore 55-19 and Cowichan taking down James Bay 36-27.

PREGAME
Nanaimo are the form team so far this season in Island Div 1. They travel to CW as part of CW's 3 match home stand. CW have a number of national team players they could drop down however if their top team reaches their 3 player limit. Westshore travel to Port Alberni, always a tough trip for south island teams and Cowichan travels to James Bay for a 12:30pm match.

Nanaimo

1. Craig Rutherford
2. Akira Takekawa
3. Pat Milford
4. Sam Skagfeld
5. Jake Recalma
6. Paul Jacobsen
7. Trevor Mcintyre
8. Drew Fisher (c)
9. Sam Fowler
10. Ryan Bradley
11. Sam Raiwalui
12. Taniela Tulia
13. Tyler Cameron
14. Hank Hankins
15. Brad Marshall
16. Ray Senini
17. Brent Miller
18. Alec Brydon
19. Steven Campbell
20. Aidan Finnegan
21. Rocky Coussens
22. Alex Mckay
23. Dane Smiley

Cowichan

1. Sam Anderson
2. Randy Barton
3. Noah Dobson
4. Robby Mcdonnell ( Captain )
5. Bruce Moss
6. Peyton Eagar
7. Robin Gusse
8. Scott Macleod
9. Jenner Teufel ( Assistant )
10. Andrew Gudmundseth
11. Amish Dobson
12. Jordan McGarvey
13. Cory Bellis
14. Seth Davis
15. Sean Williams
16. Mike Debrouwer
17. Ryan Spooner
18. Darren Sage
19. Alucious Gray
20. Gregor Grantham
21. Mike Roberts

Mainland Div 1

Kelowna remain undefeated as they beat Langley 34-17. No word on the Bayside v Richmond match. United defeated Brit-Lions 36-14.

PREGAME
Top team Surrey has the weekend off in Div 1 (but playing Div 2 & 3), the other undefeated teams Kelowna and Bayside are in action. Kelowna host Langley and Bayside travel to Richmond. United host Brit Lions in the other match.




Women's Premier

CW and Seattle were the winning teams today. CW defeating Cowichan 43-29 and Seattle defeating Burnaby 37-10.

PREGAME
Still in exhibition mode, CW host Cowichan and Seattle host Burnaby.

Other Results

Men's Div 3 - Mainland
Van. Rowing Club 10 vs 39 Burnaby Lake
Capilano 27 vs 36 Surrey Beavers

Women's Division 2 - Mainland
Surrey Beavers 7 vs 15 Scribes

FULL BC SCHEDULE

Mainland Men's Premier

14:45 Capilano vs UBC Klahanie Park
14:45 Meraloma vs Abbotsford Connaught Park
14:45 Seattle vs UBCOB Ravens Seattle
14:45 Van. Rowing Club vs Burnaby Lake Brockton Oval

Mainland Men's Premier Reserve

13:00 Capilano 2 vs UBC 2 Klahanie Park
13:00 Meraloma 2 vs Abbotsford 2 Connaught Park
13:00 Seattle 2 vs UBCOB Ravens 2 Seattle
13:00 Van. Rowing Club 2 vs Burnaby Lake 2 Brockton Oval

Island Premier (Barnard Cup)

14:45 James Bay AA vs Castaway Wanderers James Bay AA
14:45 U Of Victoria vs Westshore U Of Victoria

Island Division 1 (Times Cup)

12:30 James Bay AA 2 vs Cowichan James Bay AA
13:00 Castaway Wanderers 2 vs Nanaimo
13:00 Port Alberni vs Westshore 2 Port Alberni

OK Springs Division 1

14:45 Kelowna Crows vs Langley Kelowna Crows
14:45 Richmond vs Bayside Richmond
14:45 United vs Brit Lions United

OK Springs Division 2

13:00 Kamloops 2 vs Surrey Beavers AA 2 Kamloops Exhibition Park
13:00 Kelowna Crows 2 vs Langley 2 Kelowna Crows

Mens Division 3A

11:30 Capilano 3 vs UBC 3 Klahanie Park
11:30 Meraloma 3 vs Abbotsford 3 Connaught Park
11:30 Van. Rowing Club 3 vs Burnaby Lake 3 Brockton Oval

Mens Division 3B

11:30 Capilano 4 vs Surrey Beavers AA 3 Klahanie Park
13:00 Scribes vs Ridge Meadows Trout Lake
13:00 Squamish vs Kats Squamish

Premier Women Exhibition Game

11:30 Seattle vs Burnaby Lake Seattle

Womens Division 1

11:30 Kamloops vs United Kamloops Exhibition Park
11:30 Meraloma vs Abbotsford Connaught Park
11:30 UBCO Heat vs Simon Fraser RC Parkinson Rec Field
11:30 United vs Bayside United More

Womens Division 2 - Mainland

10:00 Seattle 2 vs Ridge Meadows Seattle
11:30 Kelowna Crows vs United 2 Parkinson Rec Field
11:30 Surrey Beavers AA vs Scribes Surrey Beavers AA





---