Weekend Results: CW Topple Vikes; Bays Smash Westshore ; Ravens Tie Abby; Lakers Ground T-Birds; Saracens Edge Caps; Rowers Sink Lomas: FULL MATCH VIDEOS ADDED
updated Oct 1, 2016
[ed. comments below. Full match videos from JBAA v Westshore and Burnaby v UBC added.]
Castaway Wanderers 31 vs UVic @ Castaway Wanderers 18
The Vikes were up 13-10 at the half but CW owned the second half to finish the game with a comfortable margin. The top two teams compete for the Barnard Cup in December and early signs point to a CW v JBAA match.
PREGAME
Teams are missing their national team XVs players this week as they prepare for the trip to Uruguay for the Americas Challenge Cup. The return of Mike Scholz to the CW lineup compensates to some degree plus they still have the national team 7s players, Kay and Fuailefau, while negotiations between the players and Rugby Canada continues. Word is that World Rugby has sent a mediator to get talks back on track. The teams look evenly matched with CW having a slight edge in quality across the roster. Prediction: CW by 2.

UVic

1 Spencer Cooper
2 Casey Reed
3 Shota Honjo
4 Jesse Burns
5 Kevin Leask
6 Mike Harvey
7 Jeff Nishima-Miller
8 Isaac Kaay
9 James Pitblado ©
10 Morgan Tate
11 Jon Lorimer
12 Joe Erlic
13 Lucas Hammond
14 Crosby Stewart
15 Fergus Hall
16 Macbryan Bos
17 Matt Sutherland
18 Gavin Rowell
19 Kapi Vataiki
20 Aaron Hersant
21 Dylan Ormsher
22 Nathan Yue
23 Liam Mahon

CW

1. J. Braddock
2. C. Thornber
3. D. Wooldridge (C)
4. K. Hohert
5. C. Polson
6. R. Ilnicki
7. J. Morris
8. D. Dobrovsky
9. L. McCloskey
10. P. Kay
11. R. Ancil
12. M. Scholz
13. M. Fuailefau
14. K. Horton
15. K. Styles
James Bay 64 vs Westshore @ James Bay 17
This was a good game until the half, it was 17-17 and Westshore looked on their way to their best effort of the young season. A yellow card to Westshore early in the second half broke the dam open and the Bays poured in the points. It was a weak call and unfortunate that it ended the contest. Braid and Mack as expected were the class of the field, Matt Mullins looked good as well. The Bays are undefeated and look on track for a spot in the Barnard Cup final in December.
Match Video Premier
Match Video Div 1
Photos from Premier
PREGAME
The Bays will be clear favourites as they are the only undefeated team on the Island while Westshore are winless. The Bays are missing a number of top players from last week including Sean White, John Moonlight, JWR and Pat Parfrey. They still have Mack, Braid and supporting crew however and that should be enough this week. Matt Mullins returns to the Bays lineup in the centres and Braid takes over the #10 role. Also returning is Liam Beaulieu, usually prop but second row today, their tight five should be formidable. Westshore are missing their new prop Ryan Kotlewski to national duty. Sana Dawai returns from the northern oilfields of Alberta to suit up for Westshore for the first time since they left Velox. He left a back and returned a prop, the camp life is the good life. It's likely going to be a long day at the office however for the Westshore crew. Prediction: Bays by 20.

James Bay

Premier Division
1. Noah Barker
2. Blake Van Heyningen
3. Cole Keith
4. Liam Beaulieu
5. Graham Harriman
6. Luke Campbell
7. Ben Johnson
8. Kieran McAuley
9. Phil Mack
10. Connor Braid
11. Robert Freckelton
12. Matt Mullins
13. Ed Adams
14. Elliot Mitrou
15. David McGrath
 
First Division
1. Jason Lines
2. Andrew Macpherson
3. Connor Bulcock
4. Quentin Martinez
5. Ben Strocel
6. Jack Mealey
7. Ryan Shupe
8. Andrew de Goede
9. Max Sydenham
10. Bryan Kelly
11. Nate Tough
12. Nate Waldmann
13. James Graham
14. Cole Braid
15. Tennyson Brown
Westshore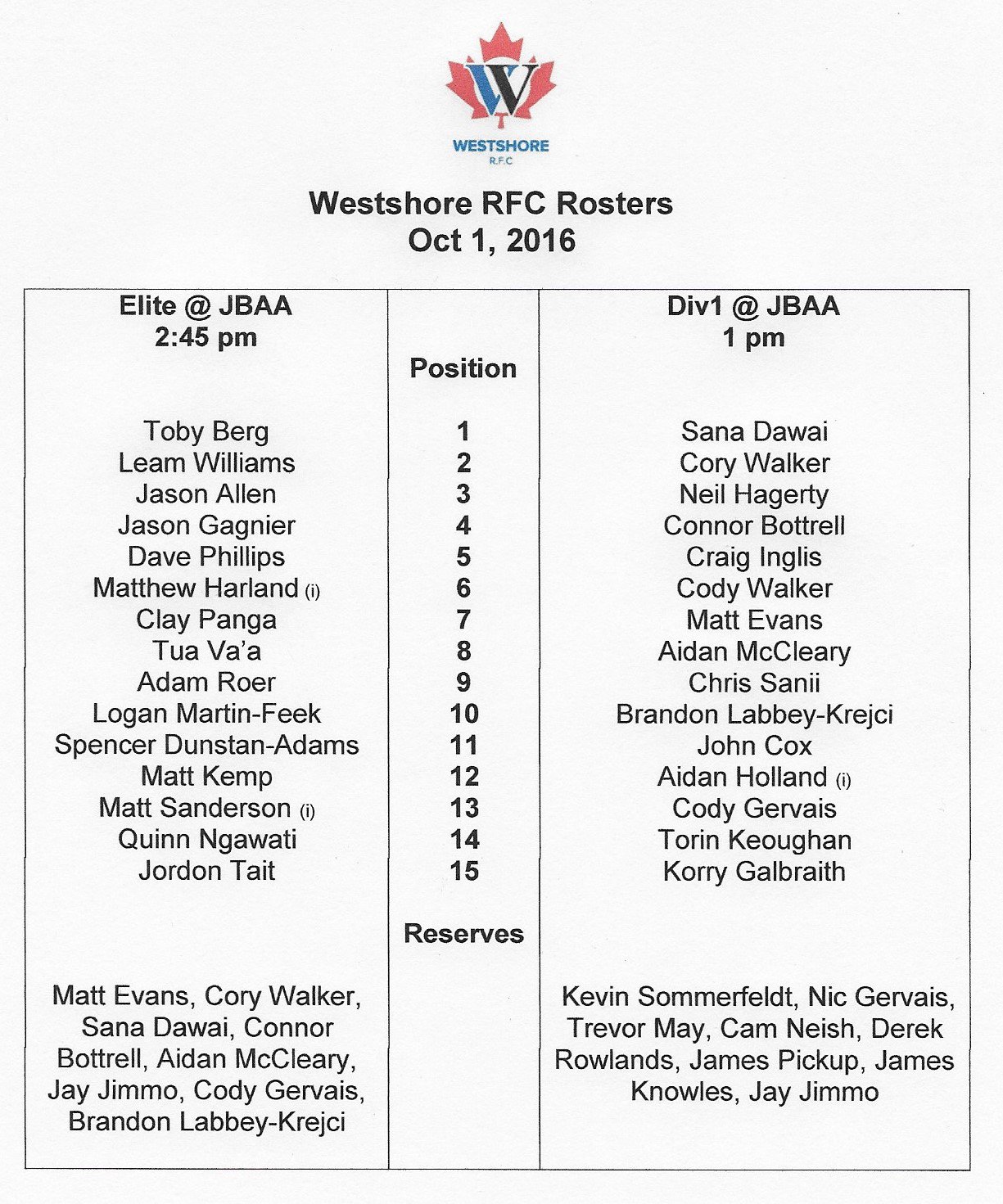 Abbotsford 16 vs UBCOB Ravens 16 @ Central Valley Exhibition
The surprise of the weekend and that's what happens when you don't publish your rosters, let that be a lesson to all clubs... just kidding. But it is true that the consistently good clubs have good management and delegate to someone the job of publishing rosters - that good organization is often reflected in the level of play on the field as well. Abby apparently scored on the last play of the game to tie and missed the conversion to win the match. Well done to Abby for the upset of the week... plus publishing their rosters.
PREGAME
Teams at the top and bottom of the table, the Ravens being the surprise team of the competition while Abbotsford are winless. Abby are at home but it won't be enough to knock off the Ravens juggernaught. Ravens will be missing their Canada player Gordon McRorie but should still have enough firepower. As the BCRU moves to remove relegation from the equation for the spring season the importance of staying out of the bottom of the table lessens. Prediction: Ravens by 10.

Abbotsford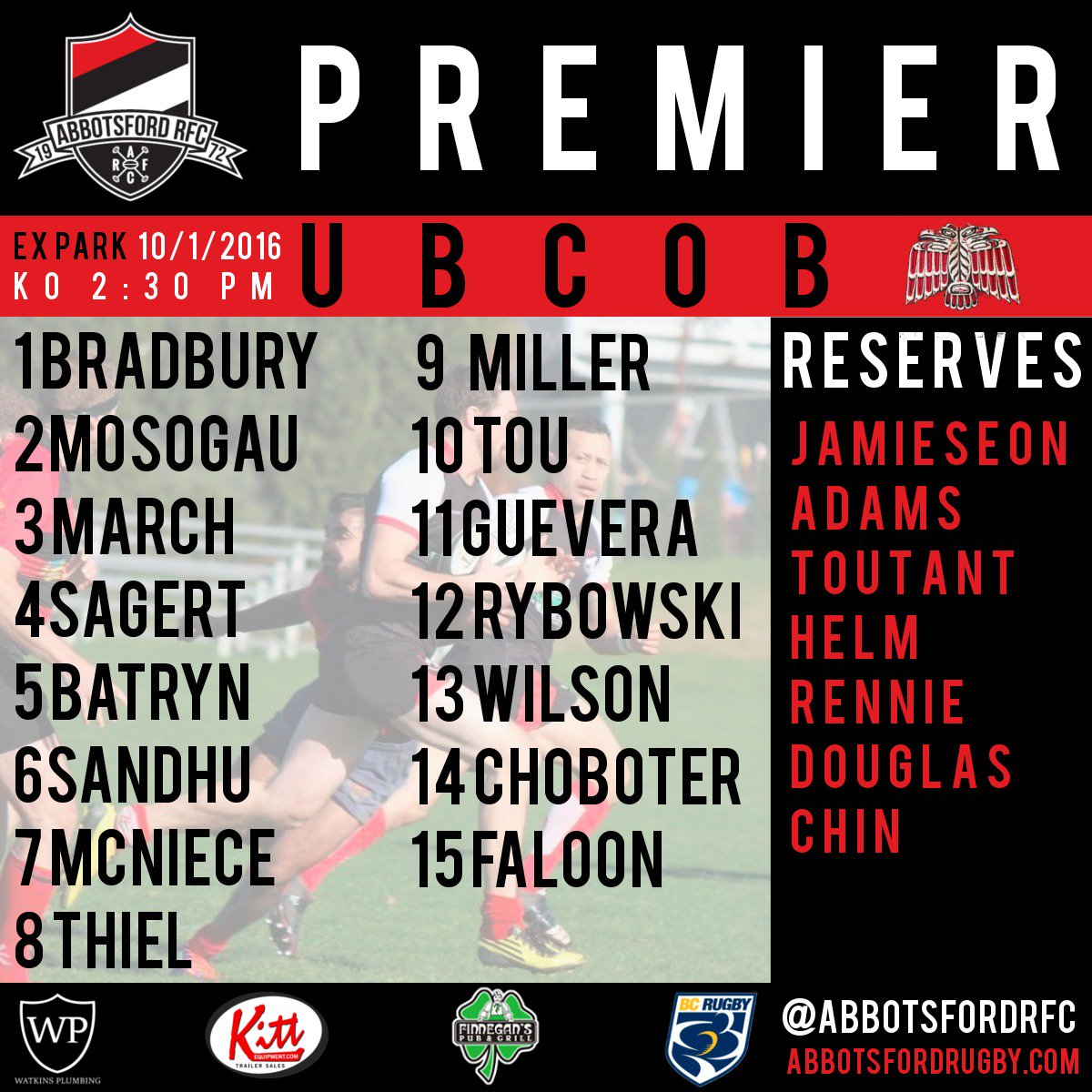 Burnaby Lake 27 vs UBC 10 @ Burnaby Lake Sports Complex
UBC were leading 10-6 at the half and it looks like Burnaby scored three push over tries in the second half to win the game. We look forward to Mike Devlin's report to clarify but it appears this was a dominant exhibition of scrummaging by the Burnaby club. Burnaby remain the only undefeated team in the mainland Premier. UBC drop to middle of the pack.
Match Video Premier
PREGAME
This should be the match of the weekend, a replay of last year's final. Burnaby will enjoy having this one at home. Burnaby are well known for their powerful scrum but they'll be missing their tighthead Ryan Ackerman who was selected for Canada. UBC have their former Irish U20 tighthead, Chris Taylor, who is a top scrummager. Burnaby are also missing another two forwards to the Canada team Lucas Albornoz and Admir Cejvanovic so that may be a factor. Jeke Gotegote is back in the lineup in the centres. UBC appear to be a bit weaker this year after losing a few key players, they lost to Ravens in the opener, this will be a good test to see if they are in the running for a three-peat run at the title. It's going to be close. Prediction: Burnaby by 1.

UBC

1: Neil Courtney (Handsworth)
2: Connor Sampson (Sir Charles Tupper)
3: Chris Taylor (Dromore) (I)
4: Chris Weyell (Handsworth)
5: James Carson (Oak Bay)
6: Nick Allen (Mulgrave)
7: Thomas Roche (St John's Ravenscourt)
8: Connor Hamilton (St George's)
9: Jorden Sandover-Best (Robert Bateman)
10: Adam McQueen (Canmore)
11: Fraser Hurst (St George's)
12: Manar Kulkhan (Port Moody)
13: Tyler Hergott (St Mary's)
14: Cole Keffer (Sutherland)
15: Nick Collett (Southridge)

Burnaby

1 Anth Luca (Capt)
2 Micha Govorchin 
3 Ben Rowley (i)
4 Mike Gough 
5 Craig Mclaughlin
6 Mike O'Toole 
7 Cole Mosychuk 
8 Taitutsi Vikilani 
9 Cody Rockson 
10 Mike Goodall (i) 
11 Kimi Vunituraga 
12 Cole Macqueen
13 Jeke Gotegote
14 Dan Josok 
15 Nolan Shelley 
Capilano 18 vs Seattle 20 @ Klahanie Park
Not much detail on the game except the final score. Caps won the Premier Reserve game 15-0 and Seattle won the women's game 35-20. John Langley will have more details in his report.
PREGAME
This should be another close match, Seattle are down in strength from a season ago. Caps have a number of players MIA for the first half of the season. Caps were disappointed at the performance against UBC while Seattle were dominated at home by the Ravens. Caps have Adam Zaruba from the national 7s still playing but no sign of Harry Jones. Seattle have captain Matt Trouville back in the lineup, it was 8 months ago he was stretchered off the field and taken away by ambulance on an away game at UVic. It's good to see him back and starting as captain in this match. There's not much between the teams but we'll go with the home field and cross border travel factor. Caps by 3.

Capilano

1.   Rhys Sheriff
2.   Jason De Freitas
3.   Mackenzie Mills
4.   Reid Tucker
5.   Dave Owen
6.   Rich Merinsky
7.   Reece Roberts
8.  Jordan Harvey  
9.  Chris Robinson
10. Kayne Tapiki  
11. Chad Carlsen
12. Greg Brown
13. Adam Zaruba
14. Eligh Papin
15. Will Newbegin

Seattle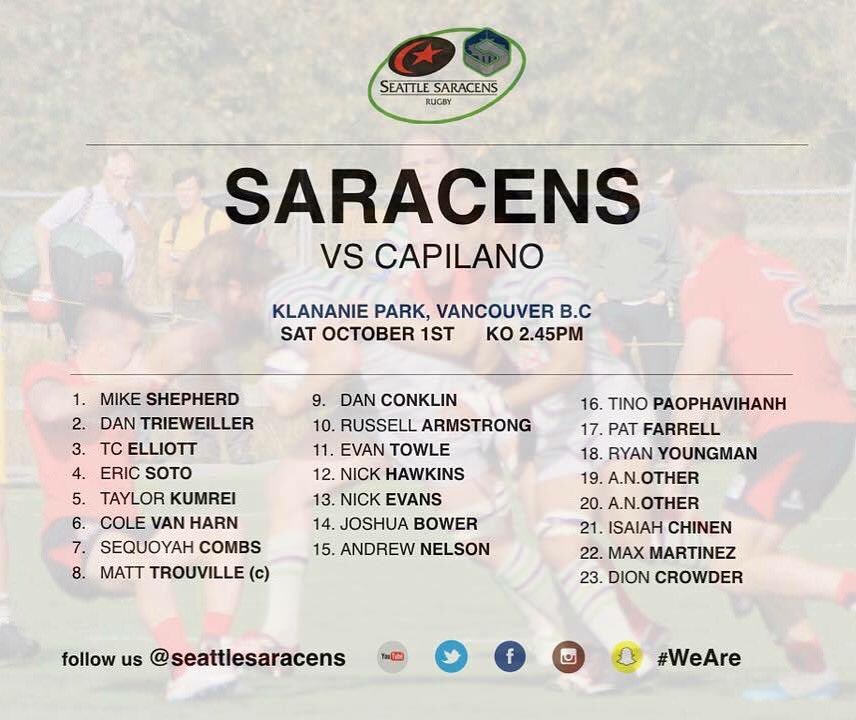 Meraloma 22 vs Rowers 26 @ Connaught Park
The Rowers publish their roster for the first time this season, they win their first game... just saying. Looks like it was a close game, Rowers scored a late try to claim the victory.
PREGAME
The Rowers look to have a good team this year but lost to Caps by 1 point and then to a strong Burnaby team. The Lomas got their only win against Abbotsford. These teams look evenly matched. If you compare a common opponent, Rowers lost to Burnaby by 17 and Lomas lost to Burnaby by 21. We'll give the Rowers the +4 spread. Prediction: Rowers by 4.

Rowers

Jason Carton
Matt Fabio
Keegan W-R
Brandon Kaye
Colin Cooper
George Richmond
Connor McCann
Tommy Hanson
Chris Nolan
Richard Thompson
Brett Lucas
Conor Cleary
Brian Derham
Nikola Samija
Levon Kvas-Rothwell
Reserves: David Andersen, Michael Jordan

joint Rowers and Meraloma media release

This Saturday at Connaught Park in Kitsilano, two of western Canada's most historic rugby clubs come together for a great new tradition: the inaugural Porter Challenge Cup.

Named for the late Jim Porter (1936 - 2014), a giant of BC Rugby, the Porter Challenge Cup will be contested between Jim's long-time club, the Vancouver Rowing Club, and the Meraloma Club, where Jim had many friends and where his son Duncan played.

The Lomas will host the Rowers in three men's rugby games Saturday: 3rd Division kicks off at 11:30am, followed by 1st Division at 1pm, and the Premier match at2:30pm.

The two Vancouver clubs, longtime rivals on the pitch and good friends off it, will play for a new trophy dedicated to the memory of Jim, who also represented BC and Canada at rugby.

In attendance Saturday will be Jim's beloved wife Joan, who watched Jim play his first rugby game, in 1952 at Magee Secondary School in Vancouver, and watched him play his last game, more than 50 years later, in 2006 at the age of 70.

All Rowers and Lomas supporters, alumni, and everyone else is encouraged to come out for what promises to be a great day full of some of Jim's favourite things: rugby, family, friends, and fun.
Mainland Div 1
The big upset here is United taking down undefeated Bayside 44-7. Andrew Evans is a very happy guy in Coquitlam. Surrey won their game over Brit Lions 52-7, so they, along with Kelowna, remain the only undefeated sides in Mainland Div 1.
PREGAME
Three undefeated team remain Kelowna, Surrey and Bayside. Kelowna are not in action but Surrey and Bayside should keep their streak alive against Brit Lions and United. Richmond face Langley in the other match.

Surrey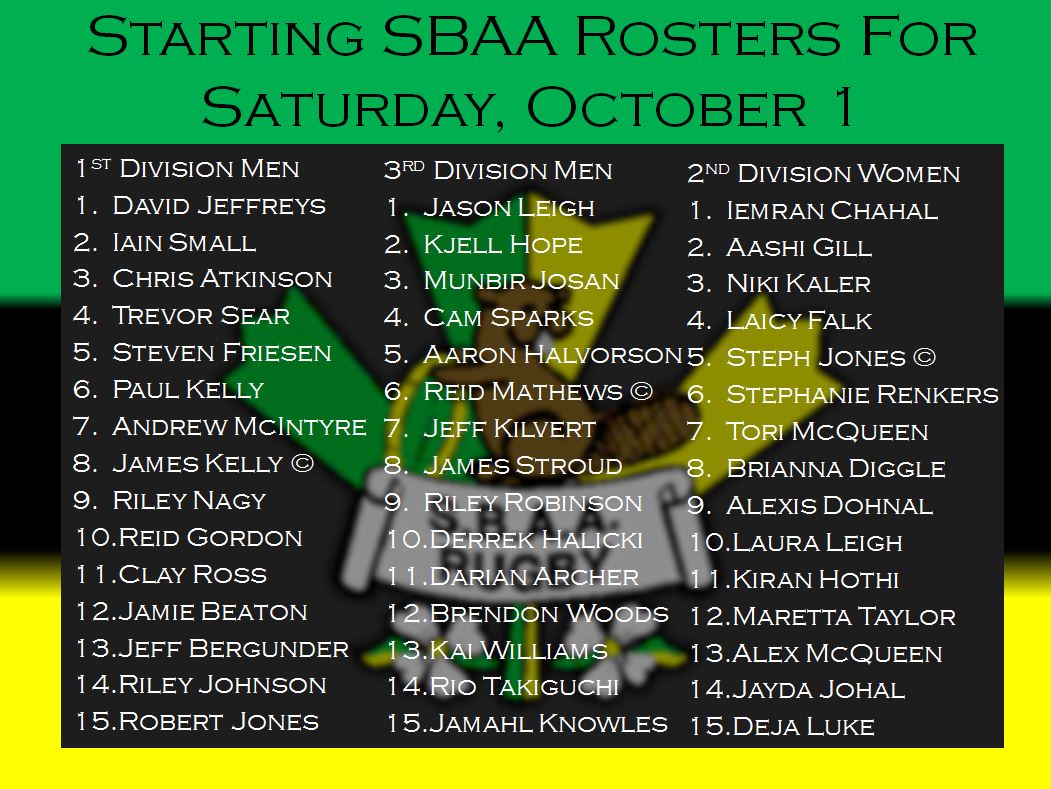 Island Div 1
Nanaimo continue to roll and are undefeated, taking down Port Alberni 45-15. Westshore defeated James Bay 21-12. UVic and CW draw at 17-17.
PREGAME
Nanaimo hosts Port Alberni in a meeting of the two undefeated teams. CW hosts UVic, James Bay hosts Westshore while Cowichan visits Comox for an exhibition match.


Mainland Div 2
A big win from Kamloops 62-3 over Kelowna.
PREGAME
Kamloops travel to Kelowna and Langley hosts Richmond.

Kamloops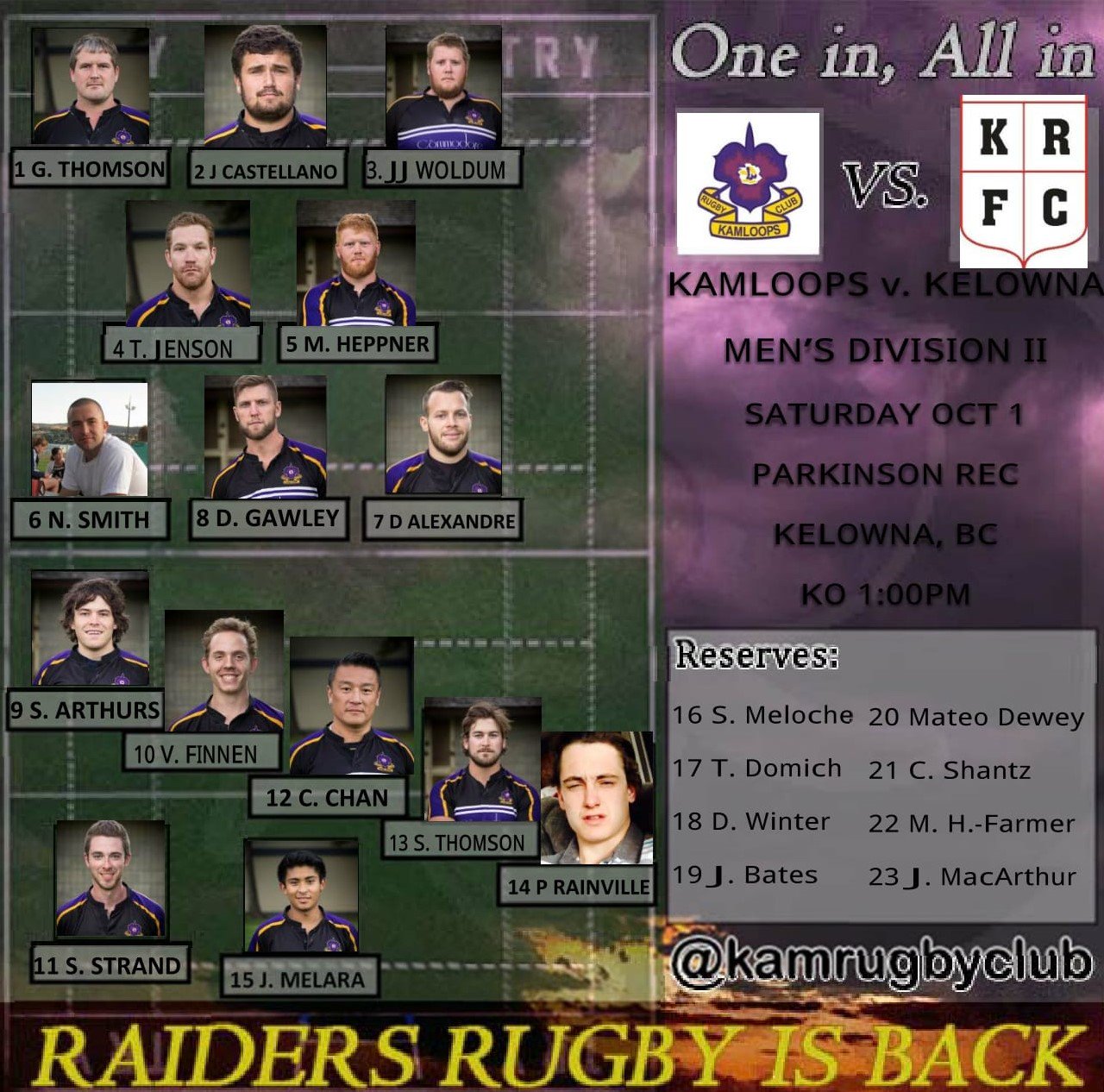 Women's Premier
Still in exhibition season with Westshore hosting CW.
BC RUGBY SCHEDULE (taken from BCRU site)
Mens Premier League
01/10/2016
14:45 Abbotsford vs UBCOB Ravens @ Central Valley Exhibition
14:45 Burnaby Lake vs UBC @ Burnaby Lake Sports Complex
14:45 Capilano vs Seattle @ Klahanie Park
14:45 Meraloma vs Van. Rowing Club @ Connaught Park
Mens Premier Reserve
01/10/2016
13:00 Abbotsford 2 vs UBCOB Ravens 2 @ Central Valley Exhibition
13:00 Burnaby Lake 2 vs UBC 2 @ Burnaby Lake Sports Complex
13:00 Capilano 2 vs Seattle 2 @ Klahanie Park
13:00 Meraloma 2 vs Van. Rowing Club 2 @ Connaught Park
Island Premier (Barnard Cup)
01/10/2016
14:45 Castaway Wanderers vs U Of Victoria @ Castaway Wanderers
14:45 James Bay AA vs Westshore @ James Bay AA
Island Division 1 (Times Cup)
01/10/2016
13:00 Castaway Wanderers 2 vs U Of Victoria Norsemen @ Castaway Wanderers
13:00 James Bay AA 2 vs Westshore 2 @ James Bay AA
13:00 Port Alberni vs Nanaimo @ Nanaimo
OK Springs Division 1
01/10/2016
14:45 Bayside vs United Bayside
14:45 Brit Lions vs Surrey Beavers AA @ John Oliver Park
14:45 Langley vs Richmond @ Crush Crescent
OK Springs Division 2
01/10/2016
13:00 Kelowna Crows 2 vs Kamloops 2 @ Kelowna Crows
13:00 Langley 2 vs Richmond 2 @ Crush Crescent
Mens Division 3A
01/10/2016
11:30 Abbotsford 3 vs Simon Fraser RC @ Central Valley Exhibition
11:30 Burnaby Lake 3 vs UBC 3 @ Burnaby Lake Sports Complex
11:30 Meraloma 3 vs Van. Rowing Club 3 @ Connaught Park
Mens Division 3B
01/10/2016
13:00 Chilliwack vs Ridge Meadows @ Chilliwack
13:00 Kats vs Surrey Beavers AA 3 @ Balaclava Park
13:00 Squamish vs Scribes @ Squamish
Womens Division 1
01/10/2016
11:30 Abbotsford vs Simon Fraser RC @ Central Valley Exhibition
11:30 Brit Lions vs Bayside @ John Oliver Park
11:30 Nanaimo vs United @ May Bennett Pioneer Park
11:30 UBCO Heat vs Kamloops @ Parkinson Rec Field
Womens Division 2 - Mainland
01/10/2016
10:00 United 2 vs Seattle 2 @ N/A
11:30 Kelowna Crows vs Scribes @ Parkinson Rec Field
11:30 Ridge Meadows vs Surrey Beavers AA @ Thomas Haney Secondary
Womens Division 2 - Island
01/10/2016
11:30 Comox vs Westshore 2 @ Comox
Womens Exhibition Game
01/10/2016
11:30 Capilano vs Seattle @ Klahanie Park
Boys U18 Mainland
02/10/2016
00:00 Bayside vs Surrey Beavers AA @ Bayside
00:00 Chilliwack vs Capilano @ Chilliwack
00:00 Langley vs UBCOB Ravens @ Crush Crescent
Boys U18 Island
02/10/2016
14:30 Castaway Wanderers vs Westshore @ Castaway Wanderers
Boys U16 Division 1
02/10/2016
13:00 Castaway Wanderers vs Capilano Gold @ Castaway Wanderers
13:00 Cowichan vs UBCOB Ravens @ Cowichan
Boys U16 Division 2
02/10/2016
13:00 Abbotsford Red vs Bayside 1 @ Central Valley Exhibition
13:00 Langley vs Capilano Black @ Crush Crescent
13:00 Meraloma vs Bayside 2 @ Connaught Park
---
A Look Ahead at the BC Rugby Schedule for October 1st: Full Schedule Posted
posted Sept 28 2016
[ed. comments below]
We'll have our weekly predictions out Friday when the team rosters are released but we'll just look at some key matchups during the midweek report.
The Ravens have been the surprise team of the men's Premier with the likes of Gordon McRorie and Tom McKeen leading the way. They brought in a flyer from Dubai of kiwi extraction, Aaron Mclelland, who has been getting good reviews. He even has a promotion video on YouTube, you know you have swagger when... They'll travel to Abbotsford on Saturday. Should also mention that we've heard Abbotsford will be the site of the clubs final event in May.
The other undefeated team, Burnaby, host UBC in a rematch of last year's final. That should be a good one. Caps are looking forward to hosting Seattle in both men's and women's divisions. Rowers will visit the Lomas.
On the Island CW will host UVic in what should be a good game. It's not clear yet whether the Canada 'A' players will be available as they are in Uruguay the weekend after, October 8th - likely not.
Speaking of Canada players the BCRU ruled that Nanyak Dala is a "homegrown" player under the current wording of eligibility. It was a technicality really as he was capped in 2007, started with CW in 2008 but the eligibility wording specifically refers to "Rugby Canada Langford training program". Langford, of course, didn't come into play as a Rugby Canada facility until 2011/2012. It was first announced June 2011 and the official opening ceremony was January 2012. So that loophole and subsequent ruling should allow other players who were at a club 2 years before "Langford" started to be homegrown, John Moonlight for JBAA is another player that comes to mind. Also interesting is that this ruling did not go through the Competition Committee but was decided elsewhere, that leaves either the CEO or person(s) she assigned.
James Bay are hosting their "Returning Warriors" fundraiser benefiting the Thunder Aboriginal Youth and Esquimalt High School Rugby Academy following their match versus Westshore at MacDonald Park.
The women's Premier is still in exhibition mode, the league starts in two weeks.
There's a host of matches in Divisions 1, 2, and 3 (see list below) plus the U16 and U18 leagues are listed and they go on Sunday.
See you back here on Friday for the predictions.
BC RUGBY SCHEDULE
Mens Premier League
01/10/2016
14:45 Abbotsford vs UBCOB Ravens @ Central Valley Exhibition
14:45 Burnaby Lake vs UBC @ Burnaby Lake Sports Complex
14:45 Capilano vs Seattle @ Klahanie Park
14:45 Meraloma vs Van. Rowing Club @ Connaught Park
Mens Premier Reserve
01/10/2016
13:00 Abbotsford 2 vs UBCOB Ravens 2 @ Central Valley Exhibition
13:00 Burnaby Lake 2 vs UBC 2 @ Burnaby Lake Sports Complex
13:00 Capilano 2 vs Seattle 2 @ Klahanie Park
13:00 Meraloma 2 vs Van. Rowing Club 2 @ Connaught Park
Island Premier (Barnard Cup)
01/10/2016
14:45 Castaway Wanderers vs U Of Victoria @ Castaway Wanderers
14:45 James Bay AA vs Westshore @ James Bay AA
Island Division 1 (Times Cup)
01/10/2016
13:00 Castaway Wanderers 2 vs U Of Victoria Norsemen @ Castaway Wanderers
13:00 Cowichan vs Port Alberni @ Cowichan
13:00 James Bay AA 2 vs Westshore 2 @ James Bay AA
13:00 Port Alberni vs Nanaimo @ Port Alberni
OK Springs Division 1
01/10/2016
14:45 Bayside vs United Bayside
14:45 Brit Lions vs Surrey Beavers AA @ John Oliver Park
14:45 Langley vs Richmond @ Crush Crescent
OK Springs Division 2
01/10/2016
13:00 Kelowna Crows 2 vs Kamloops 2 @ Kelowna Crows
13:00 Langley 2 vs Richmond 2 @ Crush Crescent
Mens Division 3A
01/10/2016
11:30 Abbotsford 3 vs Simon Fraser RC @ Central Valley Exhibition
11:30 Burnaby Lake 3 vs UBC 3 @ Burnaby Lake Sports Complex
11:30 Meraloma 3 vs Van. Rowing Club 3 @ Connaught Park
Mens Division 3B
01/10/2016
13:00 Chilliwack vs Ridge Meadows @ Chilliwack
13:00 Kats vs Surrey Beavers AA 3 @ Balaclava Park
13:00 Squamish vs Scribes @ Squamish
Womens Division 1
01/10/2016
11:30 Abbotsford vs Simon Fraser RC @ Central Valley Exhibition
11:30 Brit Lions vs Bayside @ John Oliver Park
11:30 Nanaimo vs United @ May Bennett Pioneer Park
11:30 UBCO Heat vs Kamloops @ Parkinson Rec Field
Womens Division 2 - Mainland
01/10/2016
10:00 United 2 vs Seattle 2 @ N/A
11:30 Kelowna Crows vs Scribes @ Parkinson Rec Field
11:30 Ridge Meadows vs Surrey Beavers AA @ Thomas Haney Secondary
Womens Division 2 - Island
01/10/2016
11:30 Comox vs Westshore 2 @ Comox
Womens Exhibition Game
01/10/2016
11:30 Capilano vs Seattle @ Klahanie Park
Boys U18 Mainland
02/10/2016
00:00 Bayside vs Surrey Beavers AA @ Bayside
00:00 Chilliwack vs Capilano @ Chilliwack
00:00 Langley vs UBCOB Ravens @ Crush Crescent
Boys U18 Island
02/10/2016
14:30 Castaway Wanderers vs Westshore @ Castaway Wanderers
Boys U16 Division 1
02/10/2016
13:00 Castaway Wanderers vs Capilano Gold @ Castaway Wanderers
13:00 Cowichan vs UBCOB Ravens @ Cowichan
Boys U16 Division 2
02/10/2016
13:00 Abbotsford Red vs Bayside 1 @ Central Valley Exhibition
13:00 Langley vs Capilano Black @ Crush Crescent
13:00 Meraloma vs Bayside 2 @ Connaught Park