| | |
| --- | --- |
| CIS Women's University Championships 2016 | |

Elysa Sandron - Dinos #15
© Chris Wilson
StFX Wins Gold, Ottawa Silver, Calgary Bronze in Medal Round of University Championships: MATCH REPORTS, VIDEO HIGHLIGHTS, FULL MATCH VIDEOS

posted Nov 7 2016
[ed. comments below]

It was a sparse but vocal crowd on Sunday as the home team had been knocked out of the tournament on Saturday. The weather cooperated for most of the day with the sun actually making a cameo appearance in the afternoon.

The play was very forwards oriented for much of the 80 minutes in both medal contests perhaps coaches adapting game plans to the rainy weather during the week. Sometimes the games seemed to lurch from whistle to whistle as the handling errors were compounded by some eager refereeing.

There are some good forwards coming through the university system that head coach Francois Ratier will be eager to develop. The matches didn't provide a spectacle of backline, running rugby but there were a few glimpses of potential in both games.

Here's an example of stellar forward play by the Calgary tighthead prop, DaLeaka Menin, counter rucking something we see so little of in Canadian rugby in both men's and women's leagues.


Photos by Chris Wilson StFX v Ottawa - Island Wave Photography


StFX 29 - Ottawa 22 MATCH REPORT / MATCH VIDEO

VIDEO HIGHLIGHTS


Calgary 24 - Guelph 12 MATCH REPORT / MATCH VIDEO

VIDEO HIGHLIGHTS


Photos by Chris Wilson Calgary v Guelph - Island Wave Photography



---
StFX & Ottawa Advance to Final; Guelph v Calgary for Bronze on Sunday; McMaster v Concordia for 5th: MATCH REPORTS & VIDEO

posted Nov 5 2016
[ed. comments below]

It will be Ottawa and StFX in the final on Sunday as Ontario faces Nova Scotia. In the Bronze match it will be Calgary vs Guelph.

Today it was Concordia breaking the hearts of home fans with a win over UVic and McMaster taking care of Acadia to book a place in the Consolation final with fifth place up for grabs.

Concordia 29 - UVic 20 MATCH VIDEO

McMaster 24 - Acadia 5 MATCH REPORT / MATCH VIDEO

Ottawa 7 - Calgary 5 MATCH REPORT / MATCH VIDEO

StFX 38 - Guelph 24 MATCH REPORT / MATCH VIDEO

Sunday, Nov. 6

11:00 McMaster vs Concordia

13:00 Calgary vs. Guelph

15:00 Ottawa vs. StFX


---
Calgary, StFx, Guelph and Ottawa Go Through to Championship Round After Day One

posted Nov 4 2016
[ed. comments below]

We got three of the four games right in our predictions but expected defending champions McMaster to get past Ottawa which didn't happen. In Day 2 action it will be Calgary vs Ottawa and StFX vs Guelph as the top four seeds all progress to the championship round.

On Saturday it will be the consolation round with Acadia facing McMaster and UVic taking on Concordia. The losers of those games will be done, the winners will battle it out for 5th place on Sunday. Also Sunday at Centennial Stadium will be the championship game and the Bronze match for 3rd place.

Calgary 42 - Acadia 10 - MATCH REPORT
Ottawa 25 - McMaster 19 - MATCH REPORT
StFX 24 - Concordia 17 - MATCH REPORT
Guelph 33 - UVic 27 - MATCH REPORT

Photographer Chris Wilson captured some of the action from the Calgary v Acadia and UVic v Guelph games below.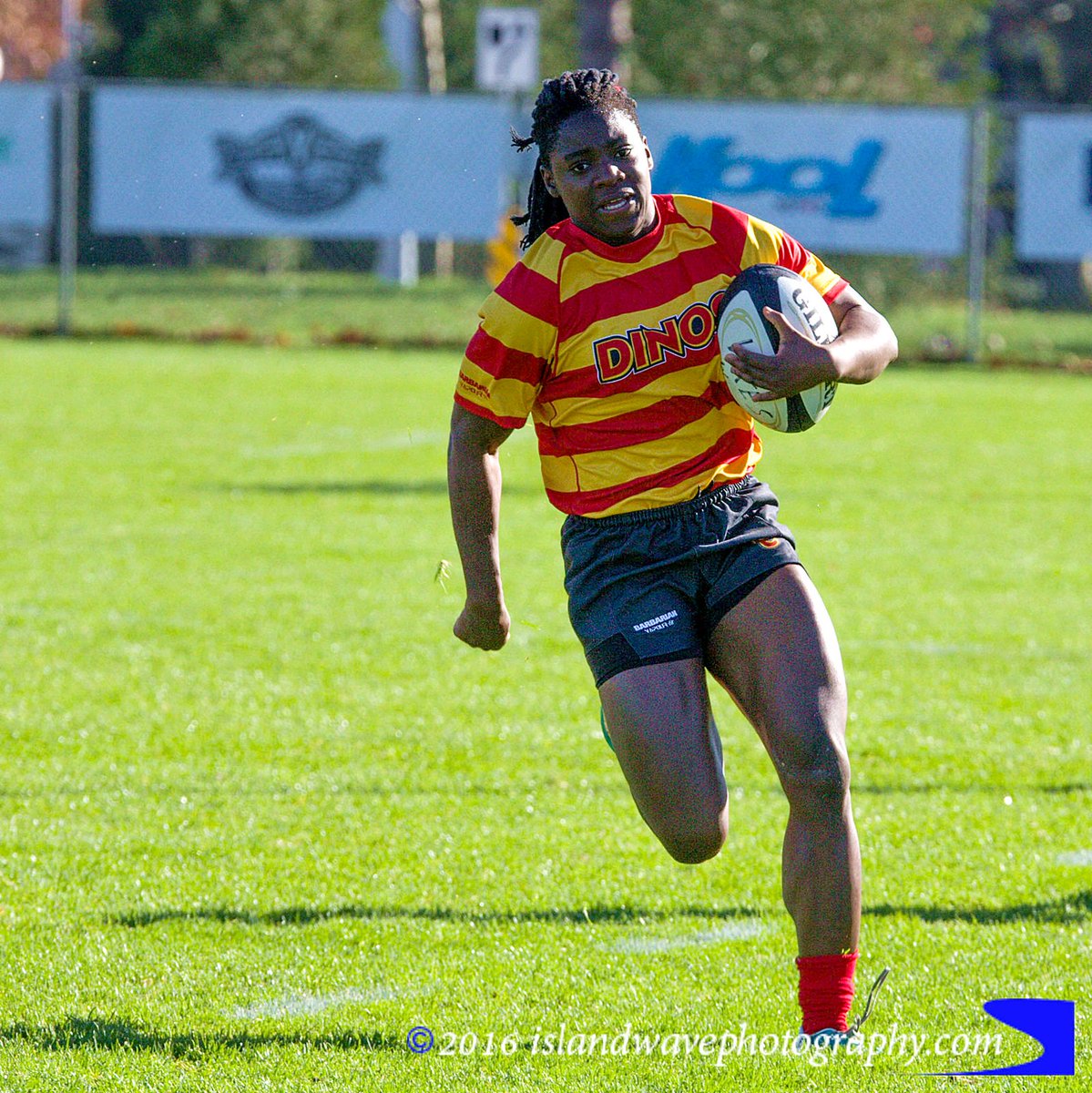 Dinos Temitope Ogunjimi scored four tries in the win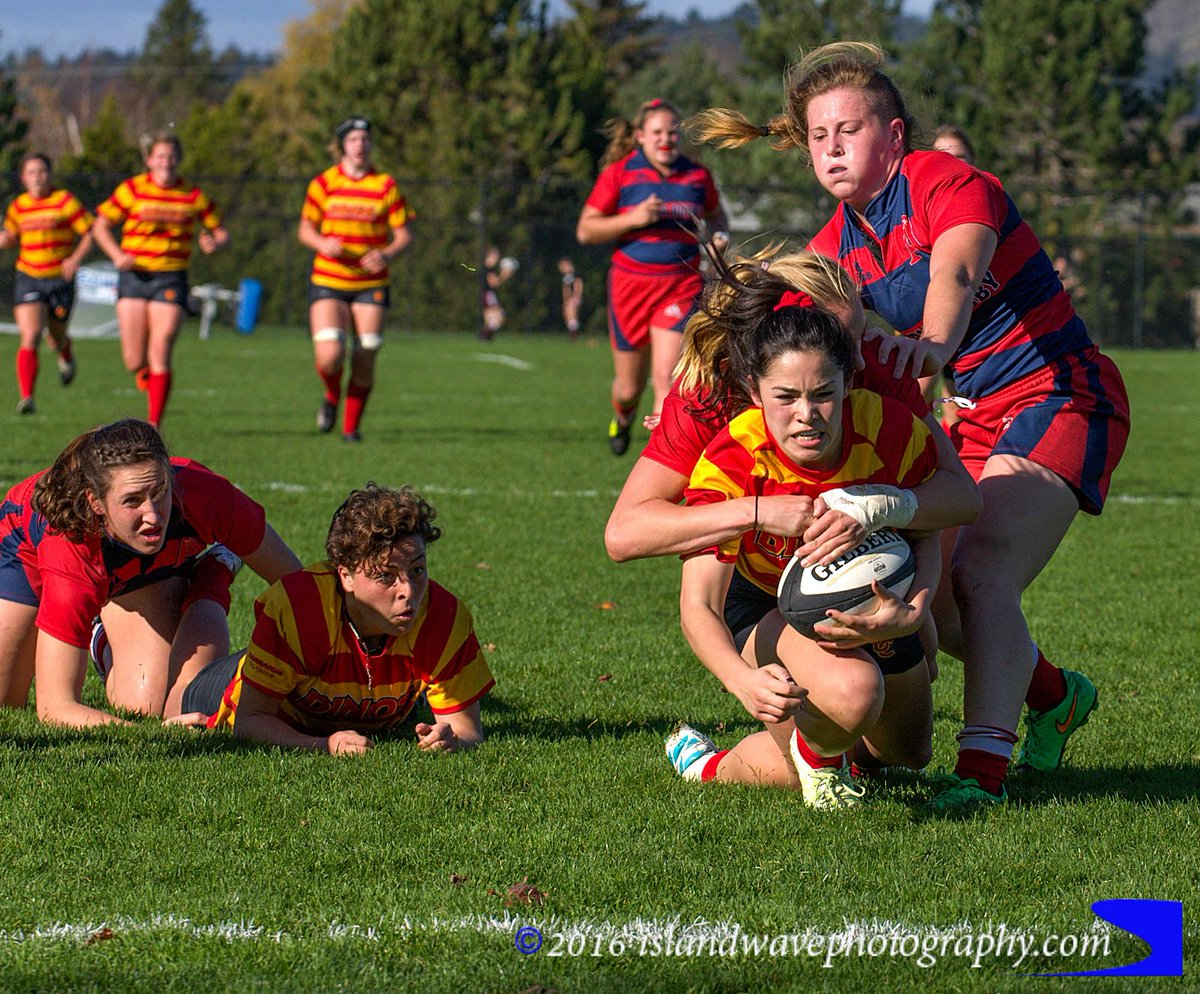 Taejah Thompson added another for Calgary

UVic vs Guelph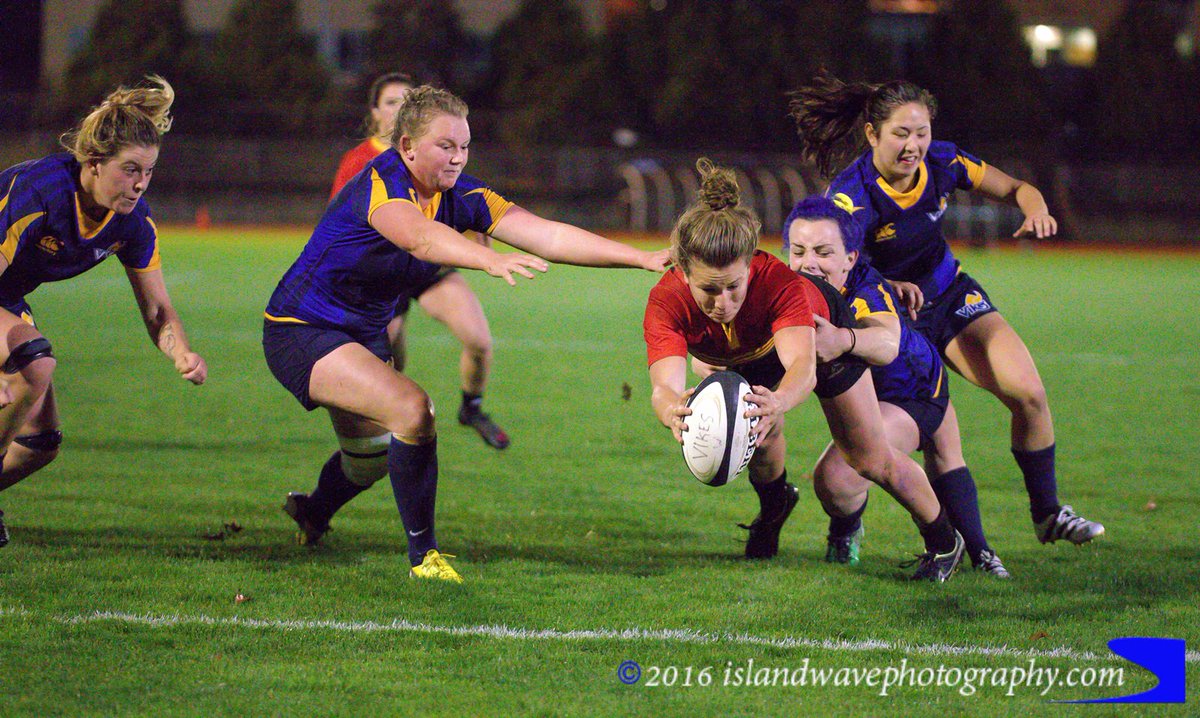 Alexander King scored four tries for Guelph in the win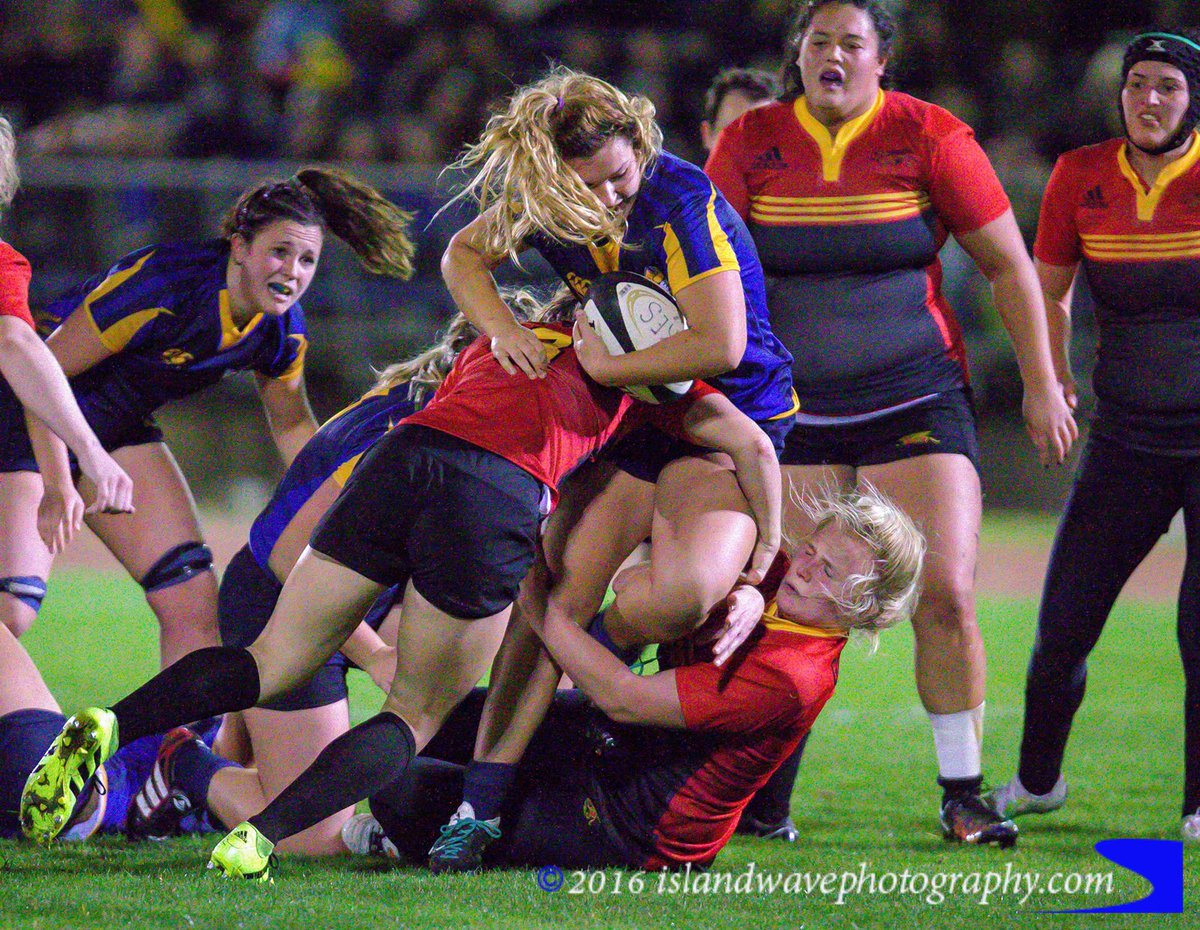 UVic tries by Tiffany Pickets, Chelsey Minter, Samantha Robb, Gabrielle Senft. Jennifer Appleby in photo, player of the match for UVic.

Also view Chris's photos from the UVic match. His website is islandwavephotography.com if you wish to order any prints.



---
Women's University Rugby Championships Start Thursday at UVic: SCHEDULE

posted Nov 2 2016
[ed. comments below]

The University rugby championships in XVs starts for women this Thursday at UVic. Host Vikes are in as the host team but rated #8 and that puts them up against #1 Guelph, a tall order for the home team. Last year's champs McMaster are ranked #7 but I suspect well below their actual strength as they were #1 all year and just lost one game to Guelph. I wouldn't be surprised to see them upset #2 Ottawa in the first game.

Calgary definitely got a better draw in the west from beating UVic in the western final, they'll face the winner of Ottawa/McMaster if they can get by Acadia. Guelph if they dispatch UVic will face the winner of StFX and Concordia. I wouldn't be surprised to see a Guelph/McMaster replay for gold on Sunday, StFX and Calgary for Bronze and UVic v Ottawa in the 5th place match.

We'll see how it plays out. Check back here for photos and video clips during the week.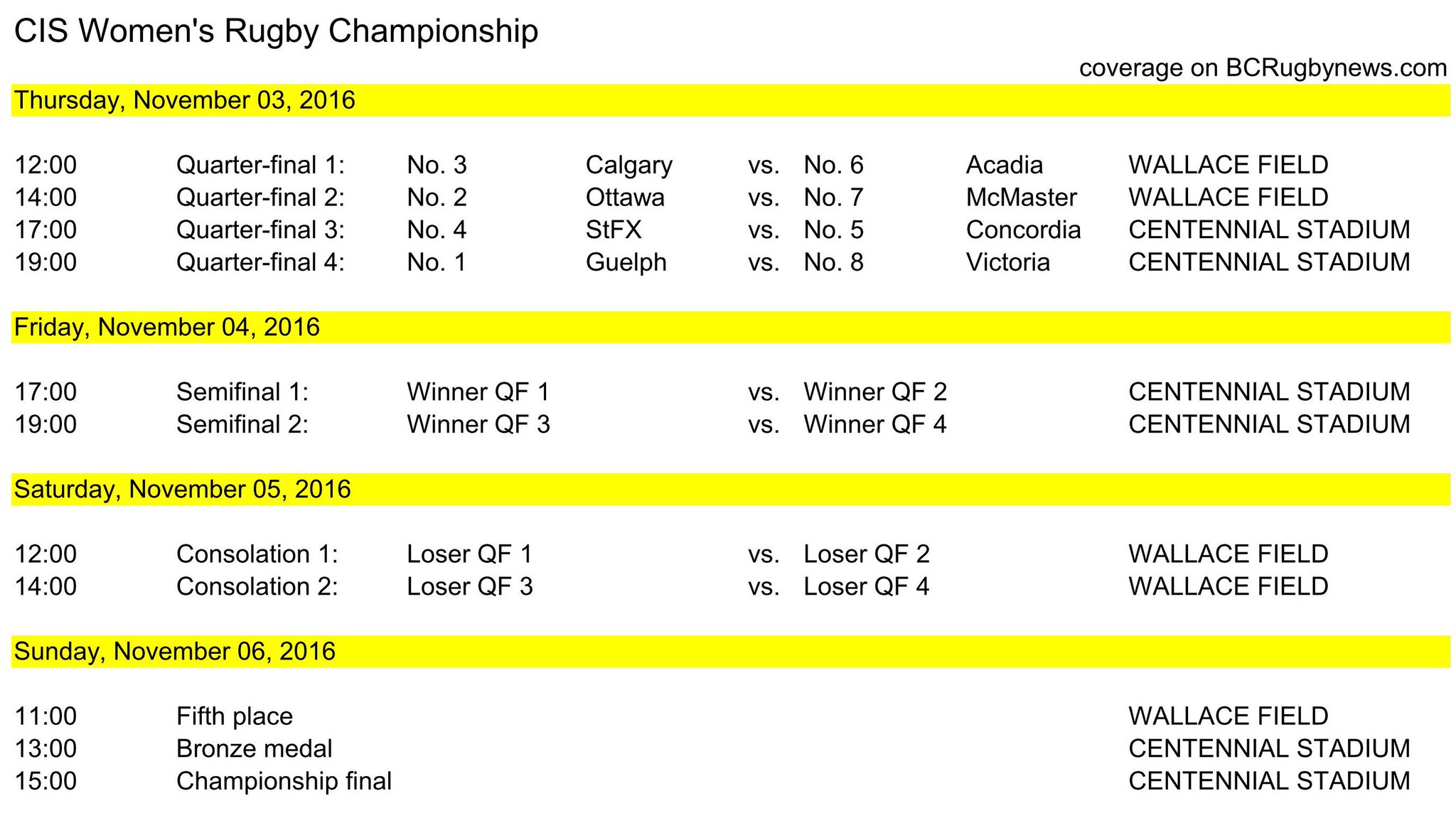 from UVic Vikes

TORONTO (U Sports) – The McMaster Marauders, the No.1 ranked team in the nation all season, head into the CIS women's rugby championship looking to defend their title from 2015, with a challenging draw after being upset in the OUA championship on Friday.

The tournament, hosted for the second time by the University of Victoria, kicks off on Thursday at Wallace Field and concludes Sunday with the gold-medal final at 3 p.m. PT.

The teams set to compete for the Monilex Trophy are the top-seeded Guelph Gryphons (OUA champions), No. 2 Ottawa Gee-Gees (RSEQ champs), No. 3 Calgary Dinos (Canada West champs), No. 4 StFX X-Women (AUS champs), No. 5 Concordia Stingers (RSEQ finalists), No. 6 Acadia Axewomen (AUS finalists), No. 7 McMaster Marauders (OUA finalists) and No. 8 Victoria Vikes (hosts/Canada West finalists).

Thursday's quarter-final matchups include Calgary vs. Acadia in the opener at 12 p.m., followed by Ottawa vs. McMaster at 2 p.m., StFX vs. Concordia at 5 p.m., as well as host Victoria vs. Guelph at 7 p.m.

Guelph captured its first OUA title since 2012 on Friday night, dethroning defending national champion and No.1-ranked McMaster 24-7 on the road. In other conference finals over the past two weekends, Ottawa defeated Concordia 29-19 in the RSEQ championship, while StFX reclaimed the AUS banner over Acadia with a 62-0 shutout, in a rematch of the 2015 final. Calgary took the Canada West championship via a 29-14 victory over Victoria.

Guelph's upset of previously undefeated McMaster served as redemption for the Gryphons, who'd lost the OUA championship to the Marauders the last two seasons. Both teams went 5-0 in the regular season and hadn't met since last season's title match.

"The biggest thing we need to do is just recover. It was a really tough match both physically and mentally," Marauders head coach Shaun Allen of the OUA gold medal game. "We need to make sure we go into our first game on Thursday in Victoria healthy and ready to play our game. If we continue to do what we have been doing on the pitch all season, we can compete with any team in the tournament."

"We are very excited to be heading to nationals this year," said Gryhons head coach Colette McAuley. "After missing out on it last year with the restructuring of the tournament, the players are very eager to have this opportunity. We've been able to achieve many of the goals that we've set out for ourselves and we're hoping to check one more box. I'm very proud of my athletes and coaching staff, as they continuously work hard to make each other better."

In the RSEQ, Ottawa and Concordia battled in the conference championship for the third straight year, with the Gee-Gees winning all three titles. The Gee-Gees had the Stingers' number also in the regular season taking the teams' lone regular season matchup 20-17 on Sept. 25.

"We've been there and I think that in itself says a lot," said Ottawa head coach Jenn Boyd of her team's national championship experience. "We have a large group of players that are returning from last year and they'll help the younger players – just the experience of how to recover and stay focused. It's hard when you're away from home but we're really looking forward to the challenge."

"We need to get through that first game against St. Francis Xavier," said Stingers head coach Graeme McGravie. "They are a big, physical team. The team that wins nationals will be the one that is most physical, most consistent and adapts to the week. The biggest adjustment for most teams will be playing on grass."

Out east, StFX swept both regular season matchups with Acadia – a 38-19 victory on Sept. 17 followed by a 32-7 victory on Oct. 2 – en route to a perfect 6-0 record and reclaiming the AUS title it lost last to the Axwomen last season after 17 straight conference championships. Acadia, meanwhile, finished the regular season at 4-2, a year after winning its first AUS gold.

"We are very excited to be heading to Victoria for nationals," said StFX head coach Mike Cavanagh. "We are looking forward to competing against the best programs in the country and hopefully being able to reach our goal as national champs."

In Canada West, Calgary enters the national championship on the heels of its first conference title in program history. In its season opener on Sept. 23, the Dinos defeated Victoria 29-20 in the teams' only matchup, a win that served notice to the Vikes, who would go on to lose the Canada West championship. Calgary went 4-0 on the season while host Victoria posted a 3-1 mark.

"We approached coming into October to win four games and earn our first conference championship," said Dinos head coach Simon Chi. "We're going to do the same thing at the CIS Championship. We're going to watch some of the videos if we can get any film, but really the focus is going to be on us executing our game plan as it has been all season. This will be our first trip to nationals as a team, but I'm confident that our athletes will perform up to expectations and play their game."

"It is an incredible opportunity to be hosting the CIS national championship here at UVic," said Vikes head coach Brittany Waters. "We have had a successful season this year but we have not reached our potential yet and are hoping to peak in time for nationals. We look forward to our upcoming games and the opportunity to test ourselves against the best in the country. I know the team will put in their best effort and having the home crowd behind us will be a huge benefit."


Official championship website: http://english.cis-sic.ca/championships/wrugby/index



MONILEX TROPHY CHAMPIONS

2015 McMaster

2014 StFX

2013 Alberta

2012 StFX

2011 Guelph

2010 StFX

2009 Lethbridge

2008 Lethbridge

2007 Lethbridge

2006 StFX

2005 Western

2004 Western

2003 Alberta

2002 Alberta

2001 Alberta

2000 Alberta

1999 Alberta

1998 Guelph


CHAMPIONSHIP SCHEDULE (All times Pacific Time)


Wednesday, Nov. 2

18:30 All-Canadian Awards Gala (Harbour Towers Hotel & Suites)


Thursday, Nov. 3

12:00 Quarter-final 1: No. 3 Calgary vs. No. 6 Acadia

14:00 Quarter-final 2: No. 2 Ottawa vs. No. 7 McMaster

17:00 Quarter-final 3: No. 4 StFX vs. No. 5 Concordia

19:00 Quarter-final 4: No. 1 Guelph vs. No. 8 Victoria


Friday, Nov. 4

17:00 Semifinal 1: Winner QF 1 vs. Winner QF 2

19:00 Semifinal 2: Winner QF 3 vs. Winner QF 4


Saturday, Nov. 5

12:00 Consolation 1: Loser QF 1 vs. Loser QF 2

14:00 Consolation 2: Loser QF 3 vs. Loser QF 4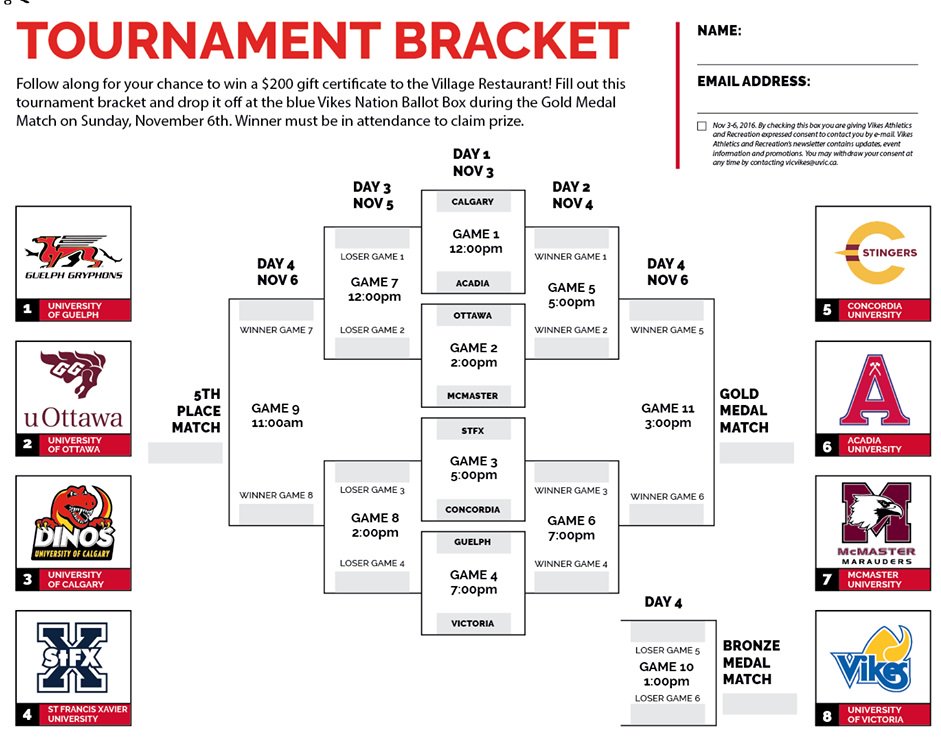 ---