| | |
| --- | --- |
| BC Rugby Weekend of November 5th 2016 | |
Weekend Results: Lakers Blank Abby; Lomas Upset Caps; T-Birds Defeat Saracens ; Ravens Sink Rowers; Vikes Tie Bays; Valhallians Default to CW: FULL MATCH VIDEO ADDED JBAA v UVIC

posted Nov 4 2016
[ed. comments below]

Burnaby Lake 42 vs Abbotsford 0 @ Burnaby Lake Sports Complex

Not a surprise and Burnaby finish out the regular season in style awaiting either Ravens or T-Birds in the Mainland Cup final. Abby will be playing Div 1 in the spring. Scorers for Burnaby included Vikilani (3), Josok (2), Mosychuk, Govorchin, Goodall.

PREGAME
The top and bottom teams in the standings, not a lot at stake for Burnaby as they finish top of the league regardless of the outcome. Abby could possibly climb out of the cellar and out of relegation with a bonus point win along with losses by Rowers and Lomas. Kudos to Abby for the creative roster pic this week, if they can muster that creativity in the backline they may have a chance but the odds are against them. Prediction: Burnaby by 8.

ABBOTSFORD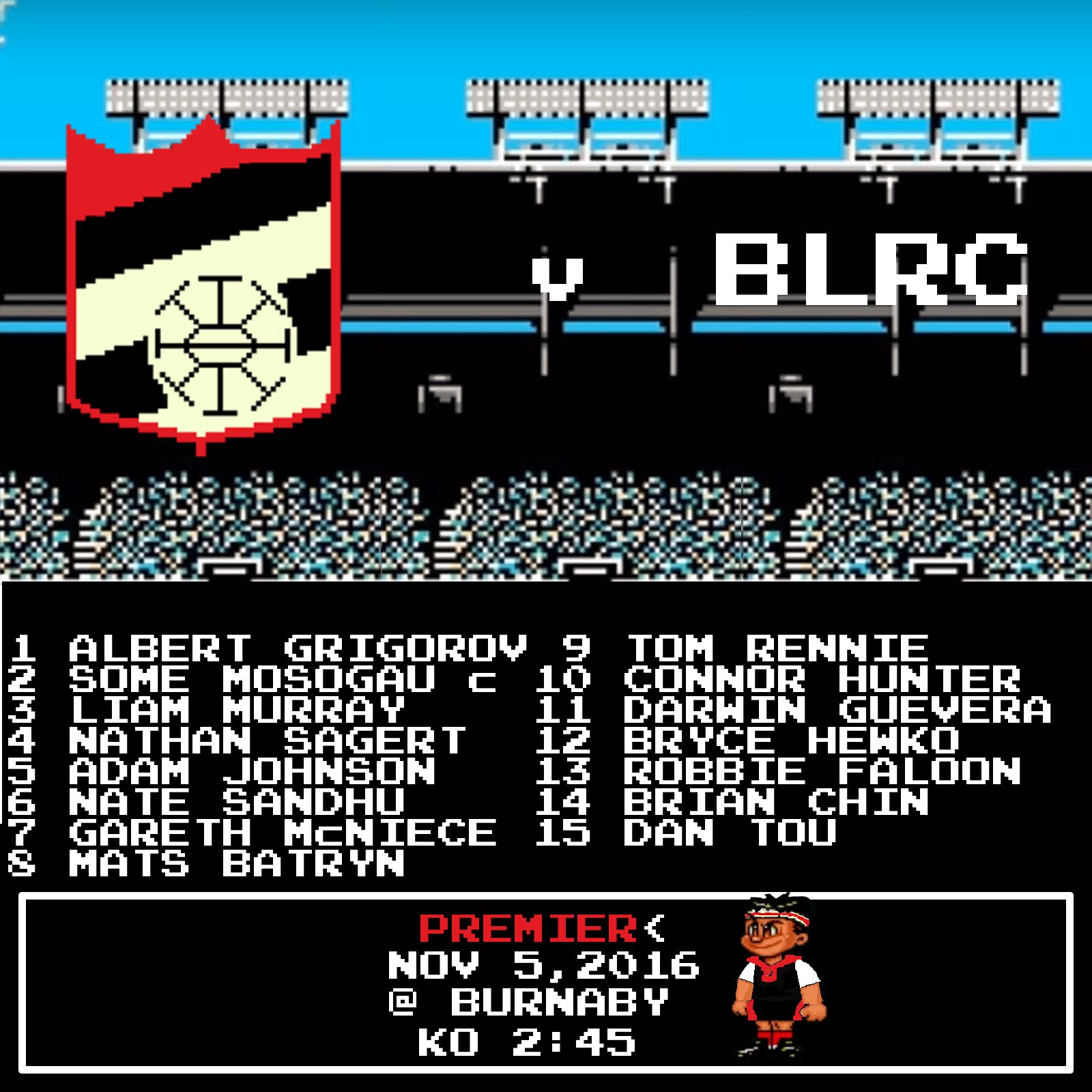 BURNABY
1 Anth Luca (Capt)
2 Micha Govorchin
3 Ben Rowley (i)
4 Mike Gough
5 Ryan Mchollister
6 Ethan Nisbett (i)
7 Cole Mosychuk
8 Taitutsi Vikilani
9 Cody Rockson
10 Mike Goodall (i)
11 Dan Josok
12 James Reekie
13 Cole Mcqueen
14 Kimi Vunituraga
15 Nolan Shelley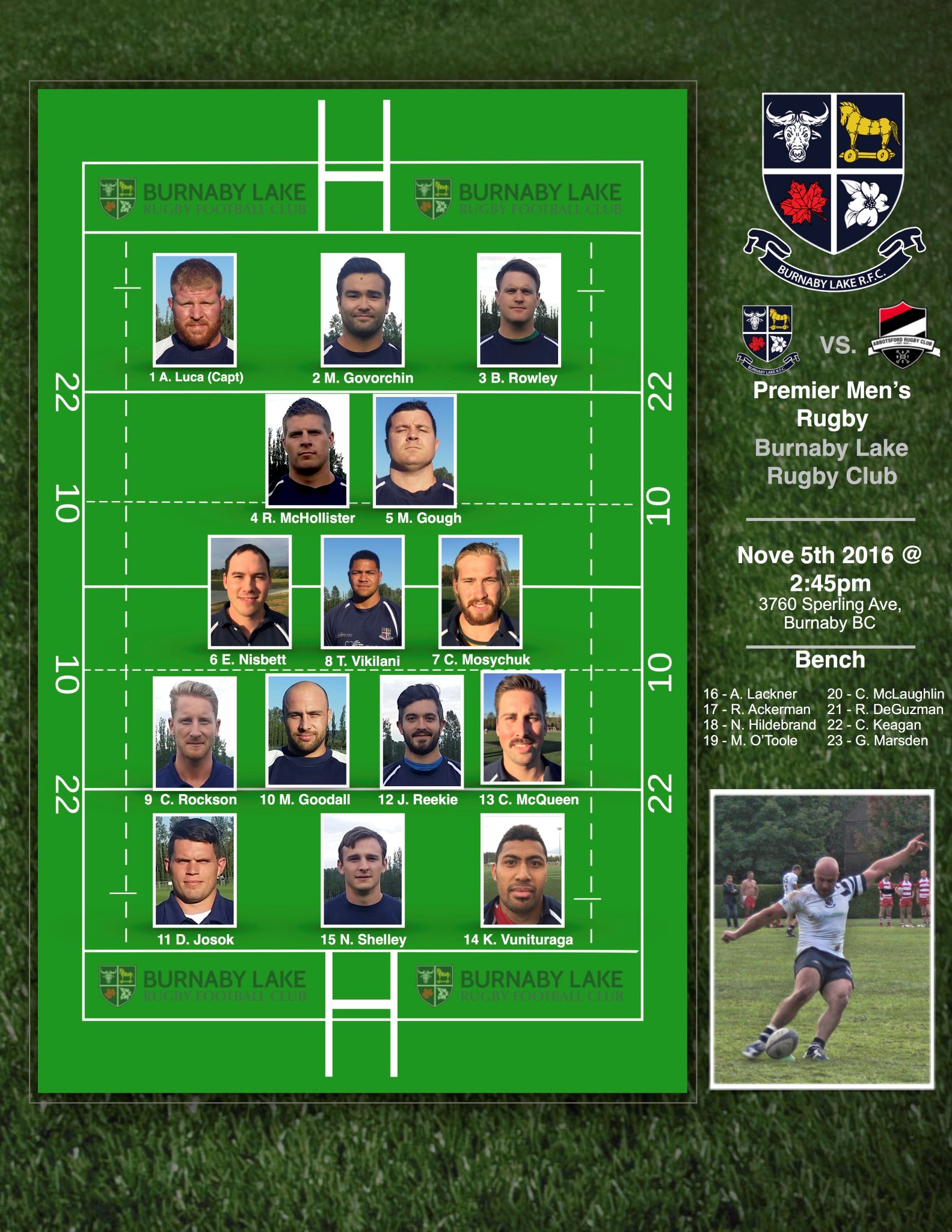 Meraloma 35 vs Capilano 24 @ Connaught Park

A big win for the Lomas as they've done all they can for the regular season to avoid relegation and now await the Caps v Ravens match next weekend. Lomas sit at 11 points in 5th place but both Rowers at 6 points and Caps at 10 points have one game left. These seem to be the permutations for the Lomas and Caps, if Ravens beat Caps then Lomas likely go to Premier, if Caps win then they go to Premier. The Rowers play Abby next on the 19th in a make-up match and would be favoured to win but if they lose then both Lomas and Caps go up and Rowers get relegated. There's another scenario where all three teams tie at 11 points and then head to head results give way to other tie breaking rules.

PREGAME
Two teams battling it out near the bottom of the table trying to avoid relegation. Caps are in a better position sitting 3 points clear of Rowers and Lomas and 7 clear of Abby. This is the Lomas last match this fall season, Caps have one make up game after this. Lomas need this one more than Caps and at home have a fighting chance. They need at least a bonus point and hope Rowers get blanked in their final two games. It's an unlikely scenario but mathematically they're not relegated yet. It should be a close game but a slight edge to Caps. Prediction: Caps by 2.

CAPILANO
1 - Andrew Crandell
2 - Jason de Freitas
3 - Jesse Ryan
4 - Reid Tucker
5 - Rich Merinsky
6 - Ryan Scott
7 - Alex Boyd
8 - Jordan Reid-Harvey
9 - Chris Robinson
10 - Matt Turner
11 - Liam Smith
12 - Joel Hulett
13 - Eligh Papin
14 - Austin Karius
15 - Sam Franklin

MERALOMA



UBC 44 vs Seattle 15 @ UBC

UBC again have done what they can in the regular season and await the Ravens v Caps game. If Caps win or Ravens don't win with a bonus point then they're in the Mainland Cup final against Burnaby. If Ravens win with a bonus point then they should be in the final against Burnaby by virtue of their 25-23 win over UBC in Week 1. Seattle finish the regular season in 4th place.

PREGAME
This may be the top game on the mainland, two rivals from seasons past when they fought for promotion to Premier. UBC have had the upper hand in this rivalry but Seattle are not to be taken lightly. Both teams have lost two games and sit with identical 4-2 records but UBC have an extra couple of bonus points. The winner of this match may get to face Burnaby for the Mainland Cup title (depending on Ravens last 2 games). The loser will battle it out for third. UBC looked strong last week with the return of key players like Theo Sauder at #10. Seattle had a more modest win against Lomas. Defence will be the key here, UBC are second in points against behind Burnaby, Seattle are a little more generous and are ranked 6th in points against. Prediction: UBC by 6.

UBC THUNDERBIRDS

1: Clint Lemkus (Paul Roos) (I)
2: Chris Taylor (Dromore) © (I)
3: Neil Courtney (Handsworth)
4: Thomas Roche (St John's Ravenscourt)
5: Connor Weyell (Handsworth)
6: Nakai Penny (Penticton)
7: Jake Ikeda (Magee)
8: Connor Hamilton (St George's)
9: Jorden Sandover-Best (Robert Bateman)
10: Theo Sauder (St George's)
11: Manar Kulkhan (Port Moody)
12: Adam McQueen (Canmore)
13: Nathan Rees (Port County)
14: Cole Keffer (Sutherland)
15: Daniel Archer (Renaissance College) (I)

SEATTLE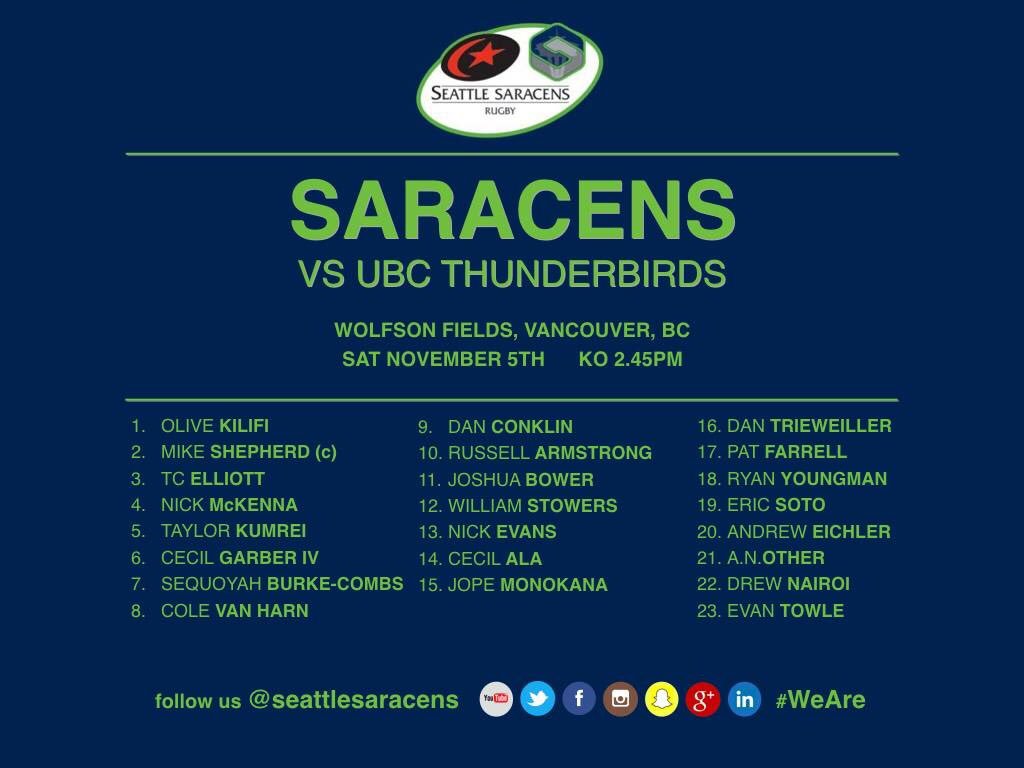 Rowers 7 vs UBCOB Ravens 33 @ Brockton Oval

Ravens control their destiny now, they need a bonus point win next week to get into the Mainland Cup final. Such a win may send Caps to Div 1 in the spring. The Rowers still have one match against Abby on the 19th and there may be a scenario where they end up tied with Caps and Lomas for the final relegation spot. The Rules of Competition state in case of a three way tie that the most wins between the teams is first but all are 1-1. So next is BP in league play. That could all be tied at 3 so next would be tries between the teams - the score sheets will have to be consulted for that result.
- The most wins between the teams;
- The most bonus points earned in league play;
- The most tries scored in league play between the teams; or
- The points differential (points for less points against) in divisional play between the teams involved in the three-way tie only.

PREGAME
Ravens sit 5 points behind UBC in the standings but with a game in hand. They also defeated UBC in their head to head match so if they end up tied Ravens would claim 2nd place and a spot in the Mainland Cup final. That's how we interpret the rules of competition, although with the BCRU you can never be sure there's not a last minute revision. Ravens need the win and four tries. Rowers have one more match against Abby where they may fancy their chances so they have options in controlling their relegation fate. Ravens should get the BP win. Prediction: Ravens by 12.

James Bay 10 vs UVic 10 @ MacDonald Park

We said that Bays would be at their most vulnerable with this lineup and it almost proved true. Bays still lead the pack but CW closed ground, UVic are 8 points behind CW now with 3 weeks left. It's looking very much like a CW v JBAA Island final with all the national team players back in the lineup by December.

FULL MATCH VIDEO (courtesy of JBAA)


PREGAME
The Bays are undefeated this season but this is the weakest lineup they've put out this season, at least in the backs, the forwards remain unchanged. Gone are Sean White, Connor Braid, Phil Mack, Pat Parfrey but JWR remains in the centres. UVic looked awful in the first half last weekend and they're a team that can be beaten with strong tackling and physicality as Westshore proved in the first half last week. Once they get some space and the opposition tires they can rack up the points in a hurry though. I expect the Bays will build up a lead and then hold on in the second half. This may actually be the Bays first loss depending on how spirited the Vikes play but we'll give the Bays the nod at home. Prediction: Bays by 3.

JAMES BAY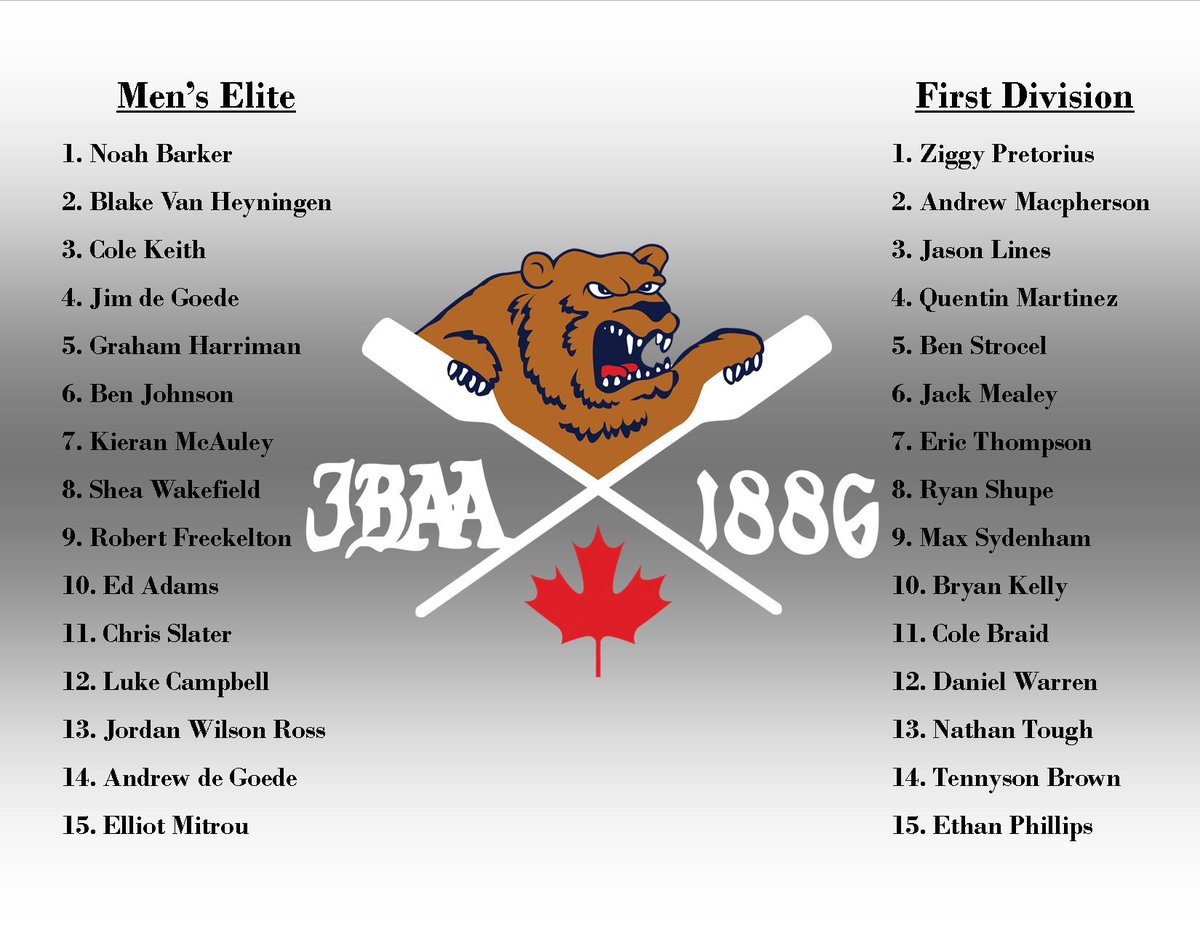 UVIC VIKES
1. Spencer Cooper
2. Casey Reed
3. MacBryan Bos
4. Kevin Leask
5. Liam Chisholm
6. Jeff Nishma-Miller
7. Ollie Nott
8. Issac Kaay
9. James Pitblado
10. Morgan Tate
11. Jonathan Lorimer
12. Guiseppe du Toit
13. Lucas Hammond
14. Crosby Stewart
15. Kapi Vataiki

The game is also a community event for Our Place Society collecting warm clothing (socks, jackets, blankets) and donations.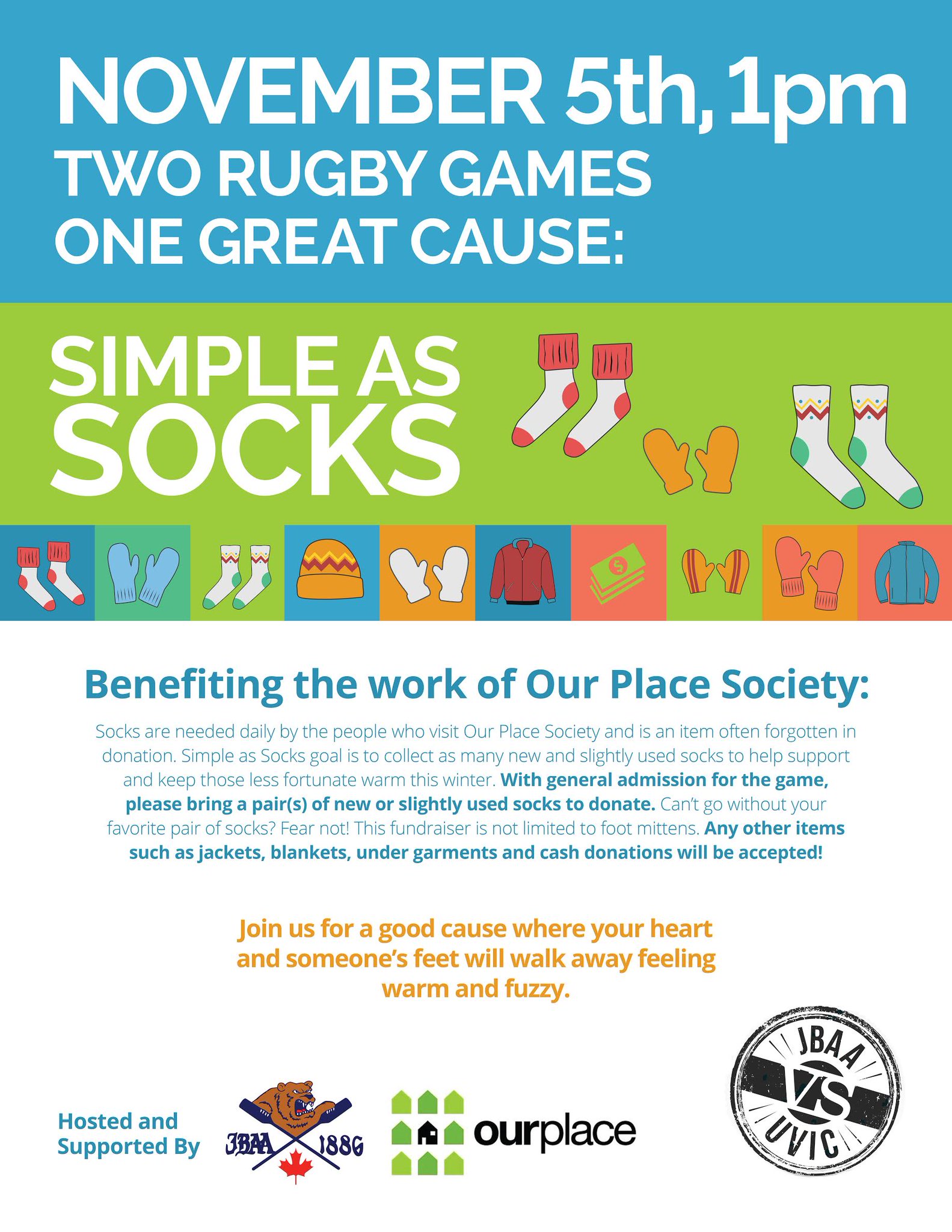 Westshore 0 vs Castaway Wanderers 20 @ Juan De Fuca DEFAULTED

The default gives CW maximum points and puts them 4 points behind the Bays now for top spot. To add insult to injury for Westshore the Div 1 game had to be moved to Carnarvon Park as Westshore parks department shut down their home field.

PREGAME
A surprise default here by Westshore as they couldn't get enough front row players for the Premier game, the first div game is going ahead. Westshore are already in the relegation zone on the Island so the points don't matter - they're still in the playoff picture in Div 1. Not good news for the Westshore club.

Women's Premier

Westshore look good early in the season devastating CW 50-0, both teams missing their national teams players. Cowichan defeated Burnaby 17-10 and Seattle beat Capilano 26-20. The result leaves Seattle top of the league with Westshore 2 points behind but a game in hand. Cowichan sit in 3rd place.

PREGAME
One area Westshore has done well is in women's Premier, they host CW in a rematch of last year's provincial championship. Also Burnaby travel to Cowichand and Seattle visit Capilano.

Mainland Div 1

Surrey keep their unbeaten record alive with a 38-17 win over Bayside. United take 2nd place with a 29-14 win over Kelowna. Kelowna and Bayside are tied for 3rd/4th.

PREGAME
Surrey are league leaders and travel to Bayside while Kelowna and United battle it out for 2nd place. Brit Lions host Langley in the other match.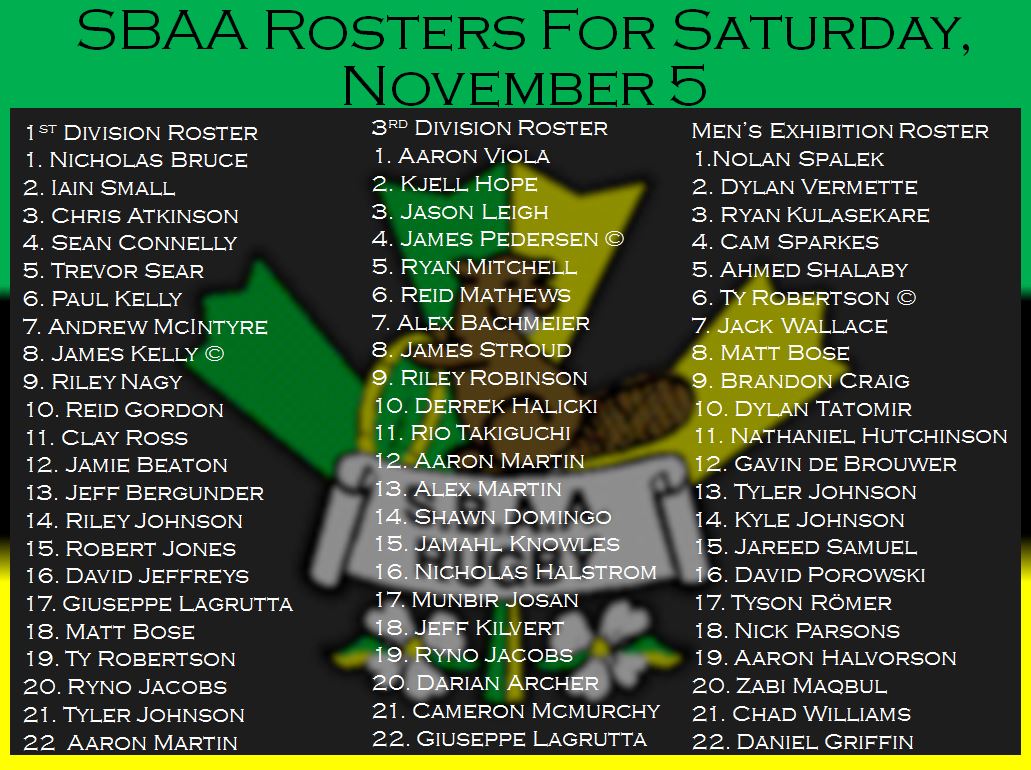 Island Div 1

Nanaimo proved they're worthy of top spot in Island Div 1 by crushing 2nd place Port Alberni 54-13 on the road. UVic defeated the Bays 22-17 to move ahead of Port into 2nd while CW claims 4th spot defeating Westshore 32-24.

PREGAME
League leaders Nanaimo visit Port Alberni with 1st place on the line. Nanaimo currently sit 3 points ahead of Port. Westshore host CW, Bays host UVic in other matches.

Women's Div 1

Meraloma won the battle of the undefeated, taking down Kamloops 12-10. Bayside defeated Nanaimo 50-7 and Brit Lions beat UBC Okanagan 5-0.

PREGAME
Kamloops are undefeated and visit Meraloma who are also undefeated but with one game in hand. Bayside host Nanaimo, Abby host United and Brit Lions host UBC Okanagan.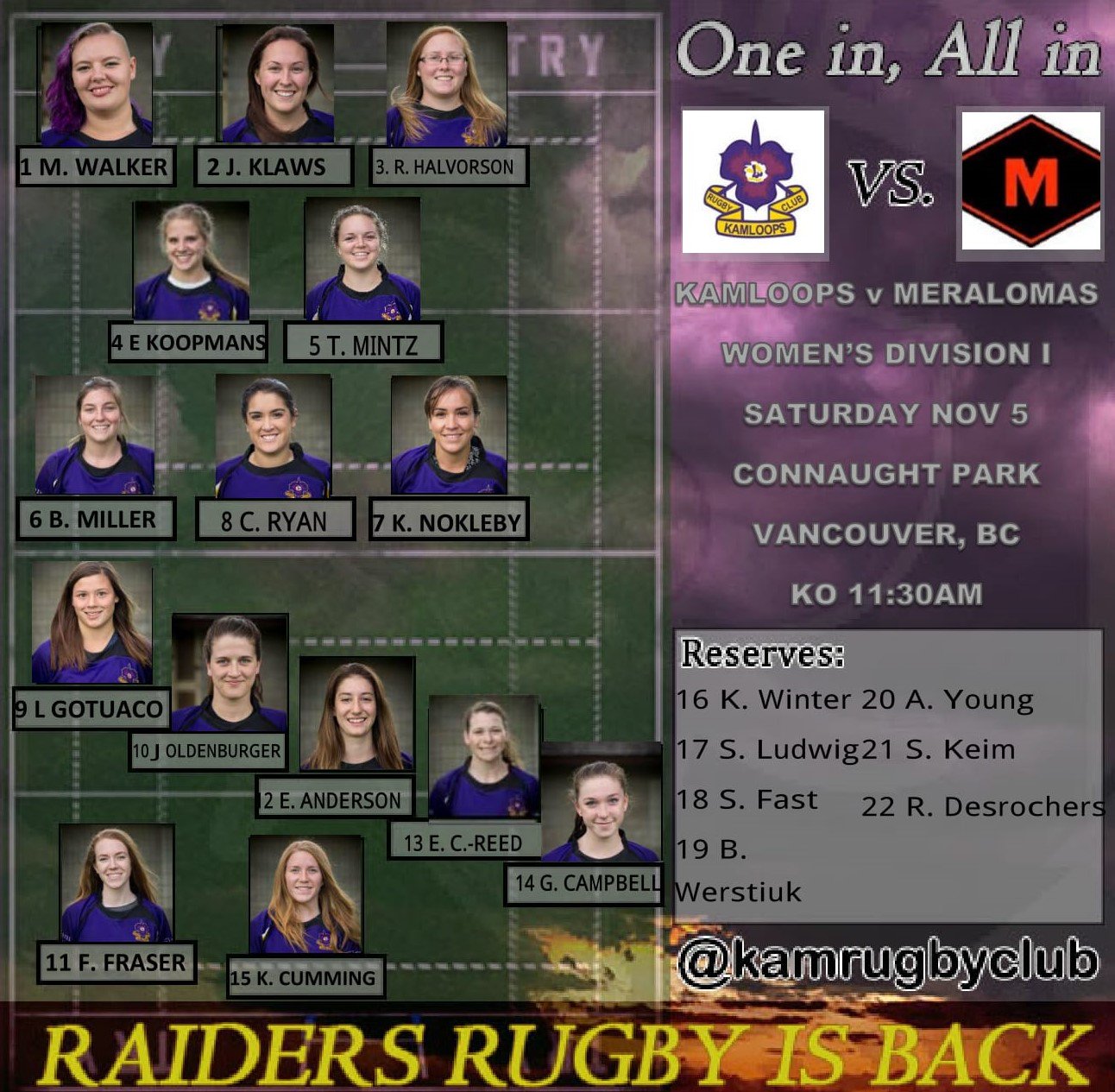 PHOTO FLASHBACK

We'll add a new feature to the weekly predictions, going through our extensive library of old photos of seasons past. This week it's September 2011. See if you remember the teams and players, or even what you were doing in September 2011. We'll update on Saturday when we post the results.

UPDATE: Ball carrier in the photo is Nate Mantle still scoring tries for Burnaby in Div 1 five years later.




FULL SCHEDULE

Mens Premier League
05/11/2016
14:45 Burnaby Lake vs Abbotsford @ Burnaby Lake Sports Complex
14:45 Meraloma vs Capilano @ Connaught Park
14:45 UBC vs Seattle @ UBC
14:45 Van. Rowing Club vs UBCOB Ravens @ Brockton Oval

Island Premier (Barnard Cup)
05/11/2016
14:45 James Bay AA vs U Of Victoria @ James Bay AA
14:45 Westshore vs Castaway Wanderers @ Juan De Fuca

Womens Premier Division
05/11/2016
11:30 Capilano vs Seattle @ Klahanie Park
11:30 Cowichan vs Burnaby Lake @ Cowichan
11:30 Westshore vs Castaway Wanderers @ Juan De Fuca

Mens Premier Reserve
05/11/2016
13:00 Burnaby Lake 2 vs Abbotsford 2 @ Burnaby Lake Sports Complex
13:00 Meraloma 2 vs Capilano 2 @ Connaught Park
13:00 UBC 2 vs Seattle 2 @ UBC
13:00 Van. Rowing Club 2 vs UBCOB Ravens 2 @ Brockton Oval

Island Division 1 (Times Cup)
05/11/2016
13:00 James Bay AA 2 vs U Of Victoria Norsemen @ James Bay AA
13:00 Port Alberni vs Nanaimo @ Port Alberni
13:00 Westshore 2 vs Castaway Wanderers 2 @ Juan De Fuca

OK Spring Division 1
05/11/2016
14:45 Bayside vs Surrey Beavers AA @ Bayside
14:45 Brit Lions vs Langley @ John Oliver Park
14:45 United vs Kelowna Crows @ United - Hume

OK Springs Division 2
05/11/2016
13:00 Richmond 2 vs Kamloops 2 @ King George Park
13:00 United 2 vs Kelowna Crows 2 @ United - Hume

Womens Division 1
05/11/2016
11:30 Abbotsford vs United @ Central Valley Exhibition
11:30 Bayside vs Nanaimo @ Bayside
11:30 Meraloma vs Kamloops @ Connaught Park
13:00 Brit Lions vs UBCO Heat @ John Oliver Park

Mens Division 3A
05/11/2016
11:30 Meraloma 3 vs Capilano 3 @ Connaught Park
11:30 Van. Rowing Club 3 vs Simon Fraser RC @ Brockton Oval

Mens Division 3B
05/11/2016
11:30 Surrey Beavers AA 3 vs Squamish @ Sullivan Heights
13:00 Ridge Meadows vs Kats @ Thomas Haney Secondary

Womens Division 2 - Mainland
05/11/2016
10:00 Surrey Beavers AA vs United 2 @ Central Valley Exhibition
11:30 Kelowna Crows vs United 2 @ Parkinson Rec Field

Womens Division 2 - Island
05/11/2016
11:30 Westshore 2 vs Comox @ Juan De Fuca

Exhibition Game
05/11/2016
12:30 UBC U20 vs Nanaimo VIU U20 @ UBC

Boys U18 Mainland
06/11/2016
14:30 Bayside vs Abbotsford @ Bayside
14:30 Capilano vs Surrey Beavers AA @ Klahanie Park
14:30 Langley vs Chilliwack @ King George Park

Boys U18 Island
06/11/2016
14:30 Castaway Wanderers vs Cowichan @ Windsor Park

Boys U16 Division 1
06/11/2016
12:00 Abbotsford Black vs Castaway Wanderers @ Central Valley Exhibition
13:00 Capilano Gold vs UBCOB Ravens @ Klahanie Park

Boys U16 Division 2
06/11/2016
10:30 Abbotsford Red vs Langley @ Central Valley Exhibition
13:00 Capilano Black vs Bayside 2 @ Klahanie Park
13:00 Meraloma vs Bayside 1 @ Connaught Park



---