| | |
| --- | --- |
| BC Rugby Weekend of November 19th 2016 | |
Weekend Results: Vikes Crush Bays; UBC Edge Burnaby to Claim Mainland Cup; CW Dominate Westshore ; Rowers Paddle Abby

posted Nov 18 2016

UVic 42 vs James Bay AA 7 @ U Of Victoria (Friday night 7pm)

I don't think many people saw this coming. The Vikes finally hitting their form, too late to make the Barnard Cup final but encouraging for coach Doug Tate with the spring Premier season around the corner. Vikes were ahead 17-7 at the break and it was all Vikes in the second half. Scorers for UVic were Guiseppe du Toit (1T, 2C, 1P), Oliver Nott (3T), Jonathan Lorimer (1T), Lucas Hammond (1T), Liam Chisholm (1T). Nathan Tough scored for the Bays. The UVic report is linked below and Phil Meyer's report will be up tomorrow.

Match Report by Vikes

PREGAME
Friday night match at Centennial Stadium, no one has defeated the Bays yet this season although the Vikes came the closest earlier this month in a 10-10 draw. It looks like the Bays will be without Connor Braid for the rest of the season as he's reportedly signing with Worcester Warriors of the English Premier. Sean White takes on the pivitol #10 role tonight for the Bays facing UVic's Morgan Tate. The Bays have the power advantage in the tight five, the Vikes will have to exploit their advantage in mobility with their loose forwards and try to wear the Bays down with an expansive game. In the backs it looks fairly even although the Bays have moved Mitrou from his usual wing/fullback posititon to #13 against the potent centre pairing of Lucas Hammond and Jon Lorimer, that may be to the Vikes advantage. Should be an entertaining match. Prediction: Bays by 2.

JAMES BAY

1. Noah Barker
2. Blake Van Heyningen
3. Cole Keith
4. Adrian Wadden c
5. Graham Harriman
6. Ben Johnson
7. Andrew de Goede
8. Shea Wakefield
9. Robert Freckelton
10. Sean White
11. Chris Slater i
12. Jordan Wilson Ross c
13. Elliot Mitrou
14. Nate Tough
15. Takeshi Barnes

UVIC

1 S. Cooper
2 C. Reed
3 Macbryan Bos
4 Liam Chisholm
5 Kevin Leask
6 Jeff Nishima-Miller
7 Isaac Kaay
8 Oliver Nott
9 James Pitblado
10 Morgan Tate
11 Joe Erlic
12 Lucas Hammond
13 Jon Lorimer
14 Crosby Stewart
15 Guiseppe du Toit



Burnaby Lake 10 vs UBC 20 @ Burnaby Lake Sports Complex

UBC hitting their form at the end of the fall season and ominously, for the opposition, just in time for the spring Premier season. UBC were up 20-3 with Burnaby scoring a late try to make the scoreline more respectable. We look forward to Mike Devlin's report on the match.




PREGAME
Burnaby won the first matchup on October 1st 27-10. UBC scored 233 points over 7 games so their average is over 30 points a game this season. Burnaby won the game on defence and an overwhelming advantage in the scrum. UBC brought in a new prop with a South African background, Clint Lemkus, since then so it will be interesting to see how that changes the dynamic of the scrums. Theo Sauder has returned from injury and he'll fire up the attack a notch for UBC. The Burnaby backline is slightly changed from the October 1st match with Jeke Gotegote and Cole McQueen replaced by James Reekie and Gareth Marsden in the centres and Cian Keegan replacing Nolan Shelley at fullback. Definitely a game to watch if you're on the mainland. Prediction: Burnaby by 3.

BURNABY

1 Anth Luca (Capt)
2 Micha Govorchin
3 Ryan Ackerman
4 Mike Gough
5 Craig Mclaughlin
6 Ethan Nisbett (i)
7 Cole Mosychuk
8 Taitutsi Vikilani
9 Cody Rockson
10 Mike Goodall (i)
11 Jack Caithness (i)
12 James Reekie
13 Gareth Marsden
14 Kimi Vunituraga
15 Cian Keegan (i)

UBC

1: Clint Lemkus (Paul Roos) (I)
2: Chris Taylor (Dromore) (I)
3: Neil Courtney (Handsworth)
4: James Carson (Oak Bay)
5: Thomas Roche (St John's Ravenscourt)
6: Nakai Penny (Penticton)
7: Jake Ikeda (Magee)
8: Connor Hamilton (St George's)
9: Jorden Sandover-Best (Robert Bateman)
10: Theo Sauder (St George's)
11: Manar Kulkhan (Port Moody)
12: Adam McQueen (Canmore)
13: Nico Clironomos (Lord Byng)
14: Daniel Archer (Renaissance College) (I)
15: Nick Collett (Southridge)

Rowers 27 vs @ Abbotsford 16 Brockton Oval

Rowers book their spot in the spring Premier and send Meraloma down to Div 1 in the process, along with Abbotsford. The Rowers were always ahead 17-6, 22-13, 27-13 but Abbotsford kept in the match until the end.

PREGAME
The Lomas will be hoping for an upset in this match but the Rowers at home knowing a win puts them into Premier will be hard to stop. Abby did tie the 3rd place Ravens so they are capable of producing a surprise result. The Rowers only win this season was against Meraloma. Prediction: Rowers by 8.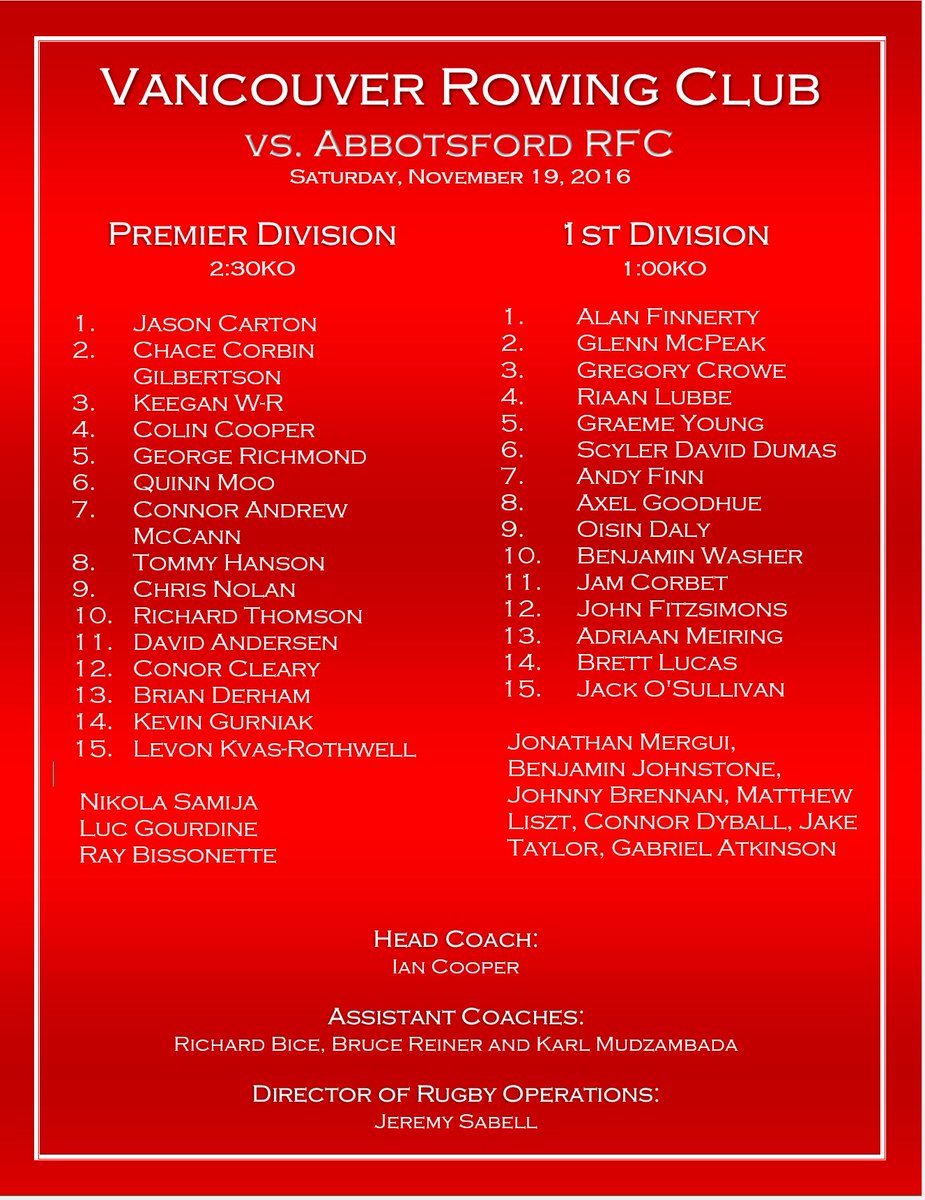 Ravens vs Seattle

I've been informed that there was a mutual decision by the two teams not to hold the game which was going to decide 3rd place. Ravens end the fall season in 3rd with 23 points, Seattle 4th with 19 points.

Castaway Wanderers 42 vs Westshore 12 @ Windsor Park

Westshore let in about 40 points a match and this game hit the average almost square on. Defence is definitely an issue with the relocated Velox side. The win puts CW into first place on the Island, a point ahead of James Bay who lost to UVic. CW and Bays will face off next weekend to see who hosts the Barnard Cup and then they'll do it all over again in December for the Cup.

PREGAME
Westshore looking for their first win have had depth issues in the front row. CW have a surplus in that department and have moved Doug Woolridge to the bench in favour of Jack Sponarski. They have explosive scoring potential with Mike Scholz, Doug Fraser and Anton Ngongo in the backs. The Westshore backline is respectable and developing with a strong youth contingent, there are gaps in the forwards however and their 271 points against over 7 games indicates problems in defence. Prediction: CW by 16.

WESTSHORE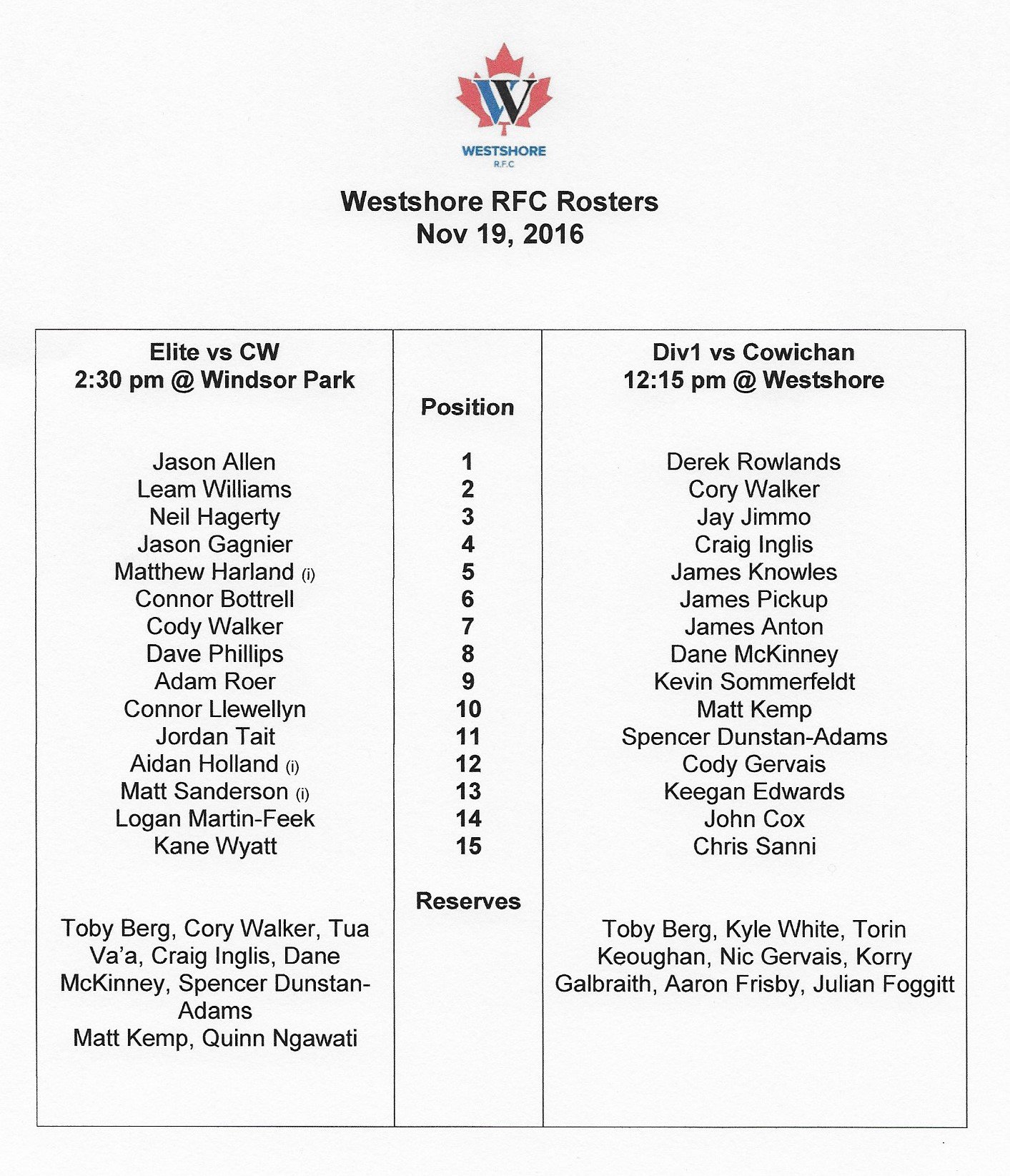 CW

1. John Braddock
2. Clayton Thornber
3. Jack Sponarski
4. Cam Polson
5. Connor Turner
6. Riley Ilnicki
7. Nathan Stewart
8. Dustin Dobravsky
9. Brandon Schellenberger
10. Mike Scholtz
11. Keenan Horton
12. Doug Fraser
13. John Moar
14. Anton Ngongo
15. Nick Hutton

Mainland Div 1

Surrey defeated Bayside in one semi, 31-10 and United won the other semi over Kelowna, 41-19.

PREGAME
Surrey are hosting playoff games in Divison One and Two. They meet Bayside in Div 1 while Kelowna and United contest the other semi-final game.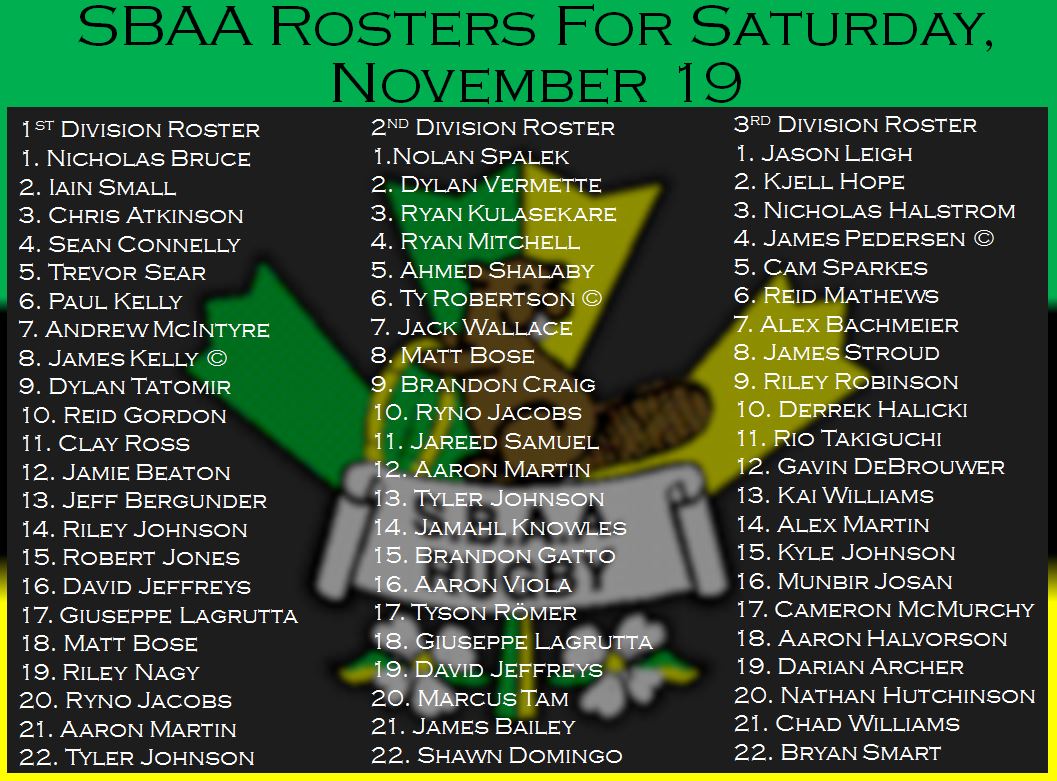 Island Div 1

Nanaimo crushed the visiting Bays 62-8 to remain at top of the standings. They're undefeated this season. Westshore survived a late comeback by Cowichan to win 29-26.

PREGAME
There's still two more weeks of regular season on the Island. This week league leading Nanaimo host James Bay, Westshore host Cowichan, and Port Alberni travel to UVic.

Women's Premier

Westshore closed the gap on league leading Seattle to 2 points and have a game in hand. They defeated Capilano 37-10. CW claimed a win at home against Cowichan 38-34.

PREGAME
The action is all on the Island this weekend as Caps travel to Westshore and CW host Cowichan.

BCRN Photo Archive

With reports that Connor Braid is signing with Worcester Warriors (courtesy of Phil Meyer) we thought it appropriate to go back to 2010 for this photo. It's not hard to spot Connor but how many readers recognize the former Canada 7s star and current firefighter in support?

The support player is Neil Meechan, capped for Canada in 7s now a firefighter in Saanich.




FULL SCHEDULE

Mens Premier League
19/11/2016
14:30 Burnaby Lake vs UBC @ Burnaby Lake Sports Complex
14:30 Van. Rowing Club vs @ Abbotsford Brockton Oval

Island Premier (Barnard Cup)
18/11/2016
19:00 U Of Victoria vs James Bay AA @ U Of Victoria
19/11/2016
14:30 Castaway Wanderers vs Westshore @ Windsor Park

Womens Premier Division
19/11/2016
10:30 Westshore vs Capilano @ Juan De Fuca
11:30 Castaway Wanderers vs Cowichan @ Windsor Park

Mens Premier Reserve
19/11/2016
13:00 Burnaby Lake vs Seattle @ Burnaby Lake Sports Complex
13:00 Van. Rowing Club 2 vs Abbotsford 2 @ Brockton Oval

Island Division 1 (Times Cup)
19/11/2016
12:45 Nanaimo vs James Bay AA 2 @ May Bennett Pioneer Park
12:45 U Of Victoria Norsemen vs Port Alberni @ U Of Victoria
12:45 Westshore 2 vs Cowichan @ Juan De Fuca

Mens Division 1 Fall Playoffs
19/11/2016
14:30 Surrey Beavers AA vs @ Bayside Sullivan Heights
14:30 United vs Kelowna Crows @ United - Hume

Mens Division 2 Fall Playoffs
19/11/2016
11:30 Surrey Beavers AA 2 vs United 2 @ Sullivan Heights
13:00 Kamloops vs Langley 2 @ Kamloops Exhibition Park

Womens Division 1
19/11/2016
11:30 Abbotsford vs Kamloops @ Central Valley Exhibition
11:30 Bayside vs UBCO Heat @ Bayside
11:30 Brit Lions vs Meraloma @ John Oliver Park
11:30 Simon Fraser RC vs Nanaimo @ Simon Fraser Field no.4

Mens Division 3A
19/11/2016
11:30 Van. Rowing Club 3 vs Abbotsford 3 @ Brockton Oval

Mens Division 3 Playoffs - Cup
19/11/2016
13:00 Kats vs Burnaby Lake 3 @ Balaclava Park
13:00 Simon Fraser RC vs Squamish @ Simon Fraser Field no.4

Mens Division 3 Playoffs - Plate
19/11/2016
11:30 Capilano 3 vs Surrey Beavers AA 3 @ Klahanie Park
13:00 Ridge Meadows vs Meraloma 3 @ Thomas Haney Secondary

Mens Division 3 Playoffs - Bowl
19/11/2016
13:00 Scribes vs Chilliwack @ Gordon Park

Womens Division 2 Playoffs
19/11/2016
11:30 Seattle 2 vs Westshore 2 @ Magnuson Park
13:00 Scribes vs Comox @ Comox

Exhibition Game
19/11/2016
11:30 UBC U20 vs U Of Victoria U20 @ UBC

Boys U18 Playoffs
20/11/2016
14:30 Capilano vs Surrey Beavers AA @ Sullivan Heights

Boys U16 Cup
20/11/2016
13:00 Castaway Wanderers vs Cowichan @ Windsor Park
13:00 UBCOB Ravens vs Abbotsford Black @ Jericho

Boys U16 Plate
20/11/2016
13:00 Bayside 1 vs Meraloma @ Bayside
13:00 Capilano Gold vs Langley @ Klahanie Park

Boys U16 Bowl
20/11/2016
13:00 Capilano Black vs Bayside 2 @ Klahanie Park


---
Weekend Schedule; Mainland Playoffs Start; Island Regular Season Winds Down

posted Nov 17 2016
[ed. comments below]

The Mainland Cup final is this weekend, it should be a great game between UBC and Burnaby, Burnaby won the regular season match. Burnaby are also hosting the Premier Reserve final as well with Seattle visiting. The Ravens from accounts were not interested in the 3rd place match versus Seattle so that's not in the schedule [ed. advised this was a joint decision]. Rowers and Abbotsford meet to determine the relegation picture, a win by Rowers sends Lomas down to Div 1 in the spring.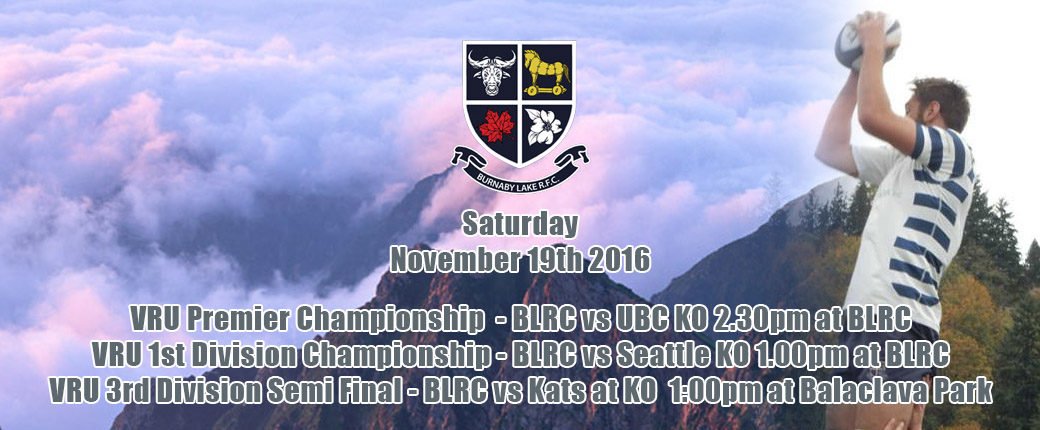 The Island is still in regular season for at least one more weekend. Vikes hosting a Friday night game under lights versus James Bay. Westshore travel to Windsor Park and CW to try to find their first win this season.





Women's Premier is a continuous season, October to May, and the action is all on the Island this weekend with Westshore hosting Caps and CW hosting Cowichan.





In Mainland Division One the semi-finals are this weekend, Surrey hosting Bayside and United hosting Kelowna.





Island Division One continues regular season with three matches, league leading Nanaimo hosting James Bay, UVic hosting Port Albernia and Westshore hosting Cowichan.





Mainland 3rd division start their playoffs in the Cup, Plate and Bowl competitions.

The Boys U16 and U18 Provincial playoffs start this weekend as well.

FULL SCHEDULE

Mens Premier League
19/11/2016
14:30 Burnaby Lake vs UBC @ Burnaby Lake Sports Complex
14:30 Van. Rowing Club vs @ Abbotsford Brockton Oval

Island Premier (Barnard Cup)
18/11/2016
19:00 U Of Victoria vs James Bay AA @ U Of Victoria
19/11/2016
14:30 Castaway Wanderers vs Westshore @ Windsor Park

Womens Premier Division
19/11/2016
10:30 Westshore vs Capilano @ Juan De Fuca
11:30 Castaway Wanderers vs Cowichan @ Windsor Park

Mens Premier Reserve
19/11/2016
13:00 Burnaby Lake vs Seattle @ Burnaby Lake Sports Complex
13:00 Van. Rowing Club 2 vs Abbotsford 2 @ Brockton Oval

Island Division 1 (Times Cup)
19/11/2016
12:45 Nanaimo vs James Bay AA 2 @ May Bennett Pioneer Park
12:45 U Of Victoria Norsemen vs Port Alberni @ U Of Victoria
12:45 Westshore 2 vs Cowichan @ Juan De Fuca

Mens Division 1 Fall Playoffs
19/11/2016
14:30 Surrey Beavers AA vs @ Bayside Sullivan Heights
14:30 United vs Kelowna Crows @ United - Hume

Mens Division 2 Fall Playoffs
19/11/2016
11:30 Surrey Beavers AA 2 vs United 2 @ Sullivan Heights
13:00 Kamloops vs Langley 2 @ Kamloops Exhibition Park

Womens Division 1
19/11/2016
11:30 Abbotsford vs Kamloops @ Central Valley Exhibition
11:30 Bayside vs UBCO Heat @ Bayside
11:30 Brit Lions vs Meraloma @ John Oliver Park
11:30 Simon Fraser RC vs Nanaimo @ Simon Fraser Field no.4

Mens Division 3A
19/11/2016
11:30 Van. Rowing Club 3 vs Abbotsford 3 @ Brockton Oval

Mens Division 3 Playoffs - Cup
19/11/2016
13:00 Kats vs Burnaby Lake 3 @ Balaclava Park
13:00 Simon Fraser RC vs Squamish @ Simon Fraser Field no.4

Mens Division 3 Playoffs - Plate
19/11/2016
11:30 Capilano 3 vs Surrey Beavers AA 3 @ Klahanie Park
13:00 Ridge Meadows vs Meraloma 3 @ Thomas Haney Secondary

Mens Division 3 Playoffs - Bowl
19/11/2016
13:00 Scribes vs Chilliwack @ Gordon Park

Womens Division 2 Playoffs
19/11/2016
11:30 Seattle 2 vs Westshore 2 @ Magnuson Park
13:00 Scribes vs Comox @ Comox

Exhibition Game
19/11/2016
11:30 UBC U20 vs U Of Victoria U20 @ UBC

Boys U18 Playoffs
20/11/2016
14:30 Capilano vs Surrey Beavers AA @ Sullivan Heights

Boys U16 Cup
20/11/2016
13:00 Castaway Wanderers vs Cowichan @ Windsor Park
13:00 UBCOB Ravens vs Abbotsford Black @ Jericho

Boys U16 Plate
20/11/2016
13:00 Bayside 1 vs Meraloma @ Bayside
13:00 Capilano Gold vs Langley @ Klahanie Park

Boys U16 Bowl
20/11/2016
13:00 Capilano Black vs Bayside 2 @ Klahanie Park



---