Robin MacDowell - Cowichan Skills Clinic January 2017
©
The Rugby Academies - How Important to National 7s Success: We Chat with Robin MacDowell of MacDowell Rugby Academy

posted Jan 9 2017
[ed. comments below]

The USA rugby academy system was a vital part of their qualification for the Olympics. They started the program before the Olympics and it discovered players like Perry Baker who has become a star on the 7s circuit.

USA Rugby manages this resource and it features the NDA (National Development Academies) which USA Rugby promotes on their website, in their words, "National Development Academies (NDA) are independently operated entities that collaborate with USA Rugby based on a set of key deliverables." Those deliverables are also mentioned on their website and include 200 rugby sessions, 10 month program, 75 matches (7s) - they also allow some club and XVs equivalents in their formula.

If this was adhered to strictly what would it look like? An academy would have to align with a club or two to be practical, so during the season the club would handle two rugby sessions a week so we'll be generous and say 10 a month, so a 10 month season (which most clubs don't have) would be a 100. The academy would still have to come up with 100 sessions or 2 a week to give a total of 4 sessions per week for 10 months. I assume these could include weight sessions, video review sessions and the like but still you're looking at 4 days a week of rugby and then likely a game day. That's what USA Rugby expects of its National Development Academies.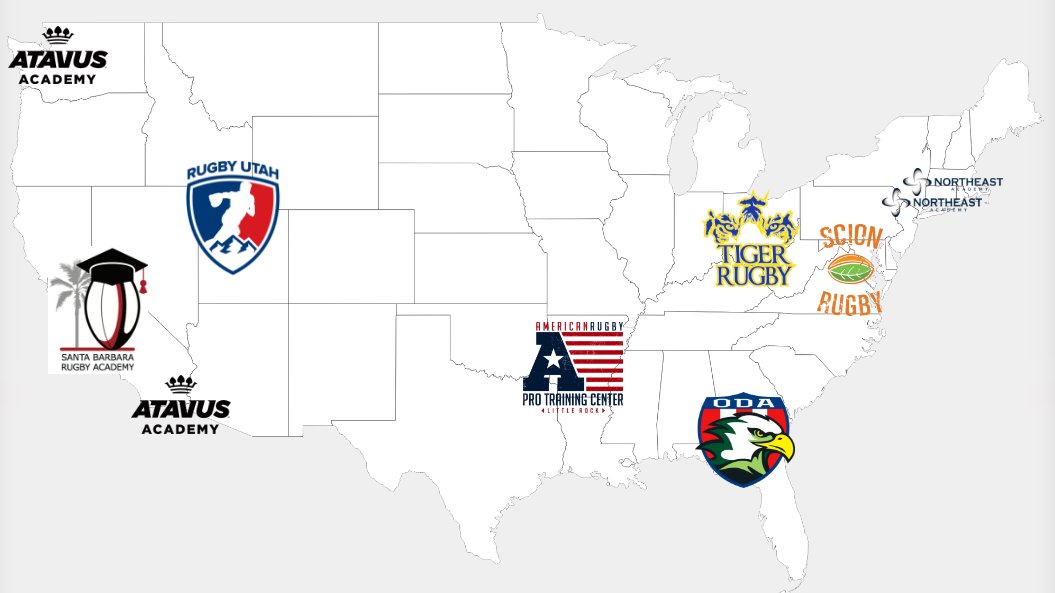 In Canada the situation is very much different, there are very few entities that are providing 4 days a week of rugby plus game day and focusing on 7s. It's why USA men went to the Olympics and Canada didn't, it's why our Maple Leaf men's program is struggling with results.

The academies in the US charge players to participate, the landscape in Canada needs to allow for this model as well. It's difficult with Rugby Canada and the Provincial Unions not willing to share the rugby marketplace - evidenced by the fact that neither have programs for independent academies. At a minimum Rugby Canada has to start a program like USA Rugby did to manage and encourage this segment of rugby development across the country.

In the meantime academies are trying to grow from the grassroots up, like seedlings in a harsh environment. Upright Rugby in Toronto is probably the most established to date. We had a chance to catch up with a new academy program led by former national 7s player Robin MacDowell. He recently held a rugby skills clinic at Cowichan Secondary for the North Island rugby community. It included national team players Pat Kay and Nanyak Dala.




These are a few comments from Robin.

What was the purpose of the clinic?

The purpose for the clinic was to help give the Cowichan Secondary School Boys and Girls programs some momentum as they build for their 2017 High School Season. Ron Glass who has taught and coached this program for close to 20 years has produced so many talented athletes in his time at Cow High. He was such a big influence in my rugby career not only while I was in high school but he helped support me for years after I graduated and I greatly credit him in achieving my dream to represent Canada. He was there at the beginning, saw me through the toughest of challenges, setbacks and ultimately the successes. He made it ok for me to dream, helped me believe in myself, and was a huge reason I succeeded. Since my international playing days I have come back every year to work with the Tbirds to give back to my roots and reinforce the proud tradition Ron has built.

We also partnered with The North Island Rugby Union, Cowichan Rugby Club so the athletes could understand the pathway outside of their High School Experience.

What is your opinion of the North Island talent?

I have had the fortune of playing rugby all over the world as an athlete and now as a coach - I am always blown away about the amount of talent the cowichan valley has. Rugby is now the fastest growing sport in the country and I encourage the valley athletes to pursue rugby post secondary in competing at the university level and fight for a spot on our olympic teams.

What did Pat and Nanyak bring to the clinic?

Having Patrick Kay (Cowichan Grad 2011) was massive for these current Cow High players. Patrick is a born and raised cowichan athlete and epitomizes what it takes to play rugby at the highest level. He is a great ambassador of our sport locally and internationally. I started working with Patrick when he was in grade 10 at Cow High he has the same attitude and approach to the game now as he did when he was just starting out. He is now one of the top rugby 7's players in the world thanks to great coaches like Ron Glass and the development he received from the junior programs at the Cowichan Rugby Club. By seeing a current National Team athlete like Patrick it shows these local kids that they to can do anything they set their heart and mind to. We were also thankful to have Nanyak Dala who is a multi capped Canadian 15's and 7's international player who shared his expertise with the T-birds. We hope this years team got a sense of the pride and tradition that run deep in the valley with 7 ex Tbird captain's in attendance.

What are you up to now?

I currently live in Saskatchewan where I coach at the University of Regina. I also have been involved with The Mexican Rugby Federation Women's Olympic Team for the past 4 years. I have recently formalized my own rugby academy and mentorship program after developing athletes across Canada for the past 10 years which is inspired by Thomas & Patrick Kay who were my first athletes I was fortunate enough to work with. If you would like more information on my MacDowellRugby Program you can reach me at robin@macdowellrugby.ca. I will be running camps back on the island this summer.

Anything else you want to add would be great too.

I would like to thank local sponsors who helped this first annual skills session a success:

Melissa Cottam Moo's Pizza
Liz & Lance Steward Just Jake's
Mark Bryant BCRugbynews.com

Guest Coaches:
Andrew Wright (Cowichan Rugby Club Senior Men's Coach)
Andrew Gudmundseth (Cowichan Rugby & Cow High Alumni Captain)
Mark Jackson (Mt. Prevost/Frances Kelsey Alumni Teacher & Coach)
Craig Lauridsen (Cow High Forward's Coach)
Jenner Teufel (Cowichan Rugby Club Men's Captain)
Patrick Kay (Cow High Alumni, Team Canada)
Nanyak Dala (Team Canada)



---