Weekend Results: Lakers Steam Past Saracens; CW Cast Away Rowers; Caps Top Ravens
posted Feb 18 2017
[ed. comments below]
We were 2-1 on predictions this weekend in BC Premier as Burnaby and CW won but Ravens didn't put up the challenge we expected and Caps seem to be getting stronger.
Burnaby 31 - Seattle 15
Burnaby were ahead 17-3 at the half but Seattle stormed back after halftime with two tries to close the gap to 17-15. Second half tries by James Reekie and Cole McQueen wrapped up the win for Burnaby.
CW 30 - Rowers 8
CW start the season on a strong note going 2-0 and join UBC, Burnaby and Capilano with unblemished records early in the spring season.
Capilano 18 - Ravens 7
Caps show their win over Vikes last match was not just a flash in the pan. It gets tougher next weekend though as Caps and Burnaby face off at Klahanie. Ravens go to 0-2 and have a bye next weekend.
Results from BCRU
Mens Premier League
Van. Rowing Club 8 vs 30 Castaway Wanderers
Womens Premier Division
Burnaby Lake 24 vs 27 Seattle
Capilano 6 vs 33 Westshore
Cowichan 46 vs 24 Castaway Wanderers
Mens Premier Reserve
Capilano 2 24 vs 7 UBCOB Ravens 2
Mens Division 1 - Mainland
Langley 36 vs 19 Kelowna Crows
Womens Division 1
Brit Lions 23 vs 22 United
Mens Division 2 - Mainland
Langley 2 27 vs 3 Kelowna Crows 2
Mens Division 2 - Island
Nanaimo 2 19 vs 43 Comox
Womens Division 2
Ridge Meadows 10 vs 25 Kelowna Crows
Mens Division 3
Chilliwack 34 vs 42 Simon Fraser RC Crossover Game
Surrey Beavers AA 3 5 vs 66 UBC 3 Crossover Game
---
Weekend Predictions: Saracens @ Lakers; CW @ Rowers; Ravens @ Caps: FULL SCHEDULE - VENUE CHANGES
posted Feb 17 2017
[ed. comments below. Note Burnaby venue changes below.]
Burnaby Lake vs Seattle @ Burnaby Lake - ref Christopher Assmus - kickoff 13:00
Both teams have only played one game so far this season with Burnaby showing 1 win and Seattle 1 loss. Both teams are affected by the Canada v USA match taking place later in the day at nearby Swangard Stadium. Seattle will be missing prop Olive Kilifi and Burnaby are without Admir Cejvanovic and Lucas Albornoz. It's still early in the season but Burnaby based on the fall season and last year are expected to finish 2nd/3rd behind UBC and perhaps Ravens. While Seattle will likely be battling for a 4th/5th placing. This match result will give a better idea of the team's playing strength in the spring season. Prediction: Burnaby by 8.
BURNABY
1 Anth Luca (Capt)
2 Andrew Lackner
3 Ben Rowley (i)
4 Craig Mclaughlin
5 Mike O'Toole
6 Ethan Nisbet (i)
7 Cole Mosychuk
8 Taitutsi Vikilani
9 Cody Rockson
10 Mike Goodall (i)
11 Kimi Vunituraga
12 Cole Macqueen
13 Jeke Gotegote
14 Brian Murphy
15 James Reekie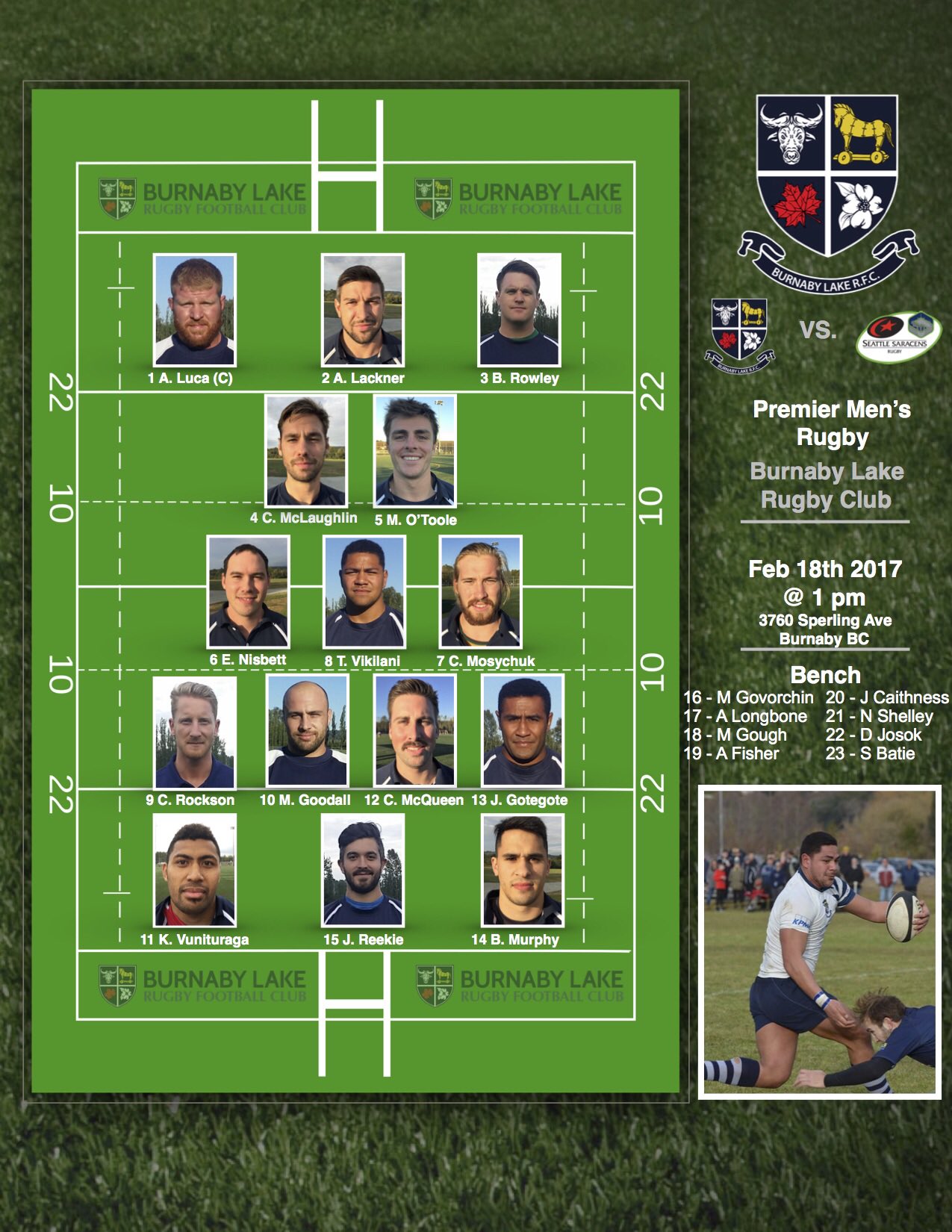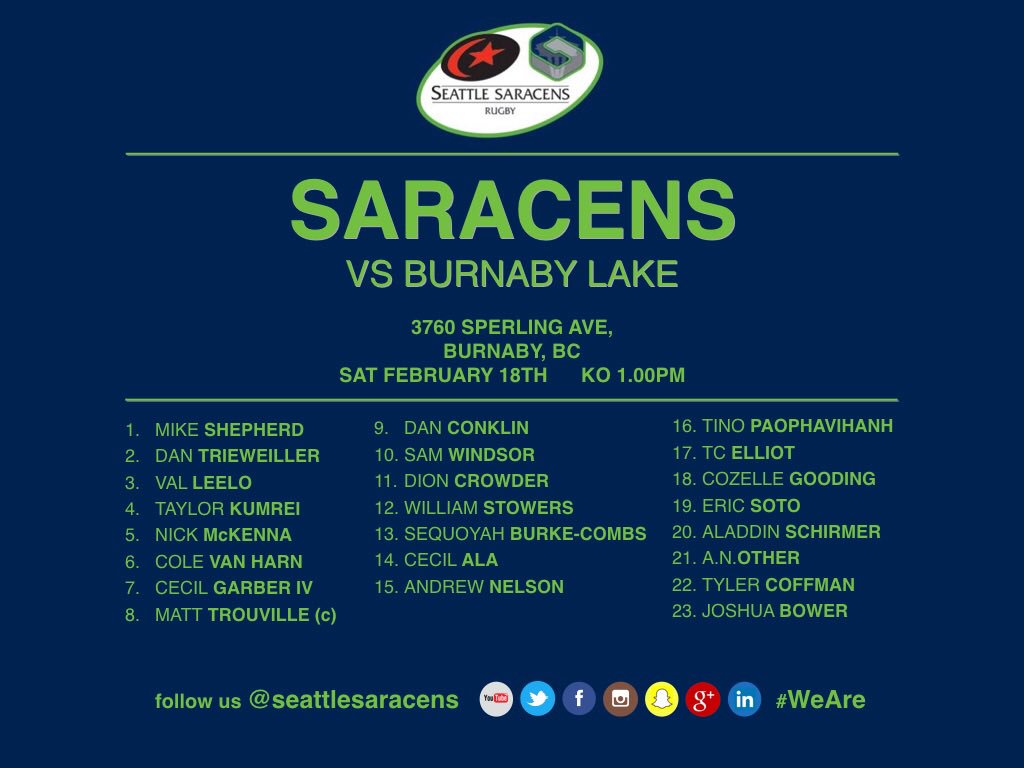 Burnaby Venue Changes
Unfortunately the fields at BLRC will not be open this weekend.
This is where we are at & have agreed upon.
Men's Premier vs Seattle - KO 1.00pm at John Oliver Park, 11590 Ladner Trunk Road, Delta, V4K
Men's 1st Div vs Seattle - KO 11.30am at John Oliver Park , 11590 Ladner Trunk Road, Delta, V4K
Women's Premier vs Seattle - KO 11.30 am Connaught Park, 2390 West 10th Avenue, Vancouver
Men's 3rd Div vs SFU - still trying to find a location will update shortly.
Burnaby clubhouse
Burnaby would like to pass this message on to fans taking in the Canada v USA match later on.
The Burnaby Lake Clubhouse will be open on Saturday for all the games at the Lake & before & after the Canada vs USA game at Swangard.
We offer a great location to park your car, rehydrate with a fresh beverage & then walk to the Burnaby Lake Skytrain Station (5-7 mins depending on age & fitness :) ) & taking the train to Paterson Skytrain Station to watch the game.
Everyone is welcome pre & post game & we look forward to welcoming friends old & new.
There is much pride within the Blue & White ranks as Burnaby Central Alum & Burnaby Product Admir Cejvanovic gets the start at No.8 for the national team.
Current Burnaby Lake Premier player Lucas Albornoz is on the bench where he is joined by 2 other players with recent Burnaby Lake playing connections Benoit Piffero & Cole Keith.
Burnaby Lake Rugby Club is proud to stand on guard for Canada.
If you're over we would love to see you at the Lake.
Rowers vs Castaway Wanderers @ Brockton Oval - ref Harry Mason - kickoff 14:15
This is the first match of the season for Rowers while CW impressed with a win in Seattle. If CW are to make a run at the playoffs this year they need to show consistency, a road win at Brockton would do that. Prediction: CW by 6.
Capilano vs UBCOB Ravens @ Klahanie Park - ref Saro Turner - kickoff 13:00
Caps are 1-0 defeating the Vikes at home while the Ravens lost to UBC in their season opener. This result will indicate which of these teams will challenge UBC and Burnaby this season for the top spots. Ravens took a blow losing Tom McKeen early in the season, the question is can they challenge the top teams without him? Caps are led by veteran Glenn Mckinnon at #8. Prediction: Ravens by 2.
CAPILANO
1 Andrew Crandell
2 Jason de Freitas
3 Mackenzie Mills
4 Reid Tucker
5 Rich Merinsky
6 Jordan Reid-Harvey
7 Alex Boyd
8 Glen Mckinnon (C)
9 Chris Robinson
10 Chad Carlsen
11 Austin Karius
12 Joel Hulett
13 Connor Christopher
14 Nathan Yanagiya
15 Connor Martin
UBCOB RAVENS
1. Paul Ahn
2. Dewald Kotze
3. Curtis Delmonico
4. Matteo Stanton
5. Nick Waggott
6. Joey Alexis
7. Kol Henrikson
8. Charlie Thorpe
9. Aj King
10. Aaron Mclelland
11. Kelepi Funilagi Gucake
12. Cully Quirke
13. Huw Grundy
14. Sean Hase
15. Sean Ferguson
Women's Premier
The women's league gets its first full spring schedule in play after the winter break. League leaders Westshore travel to 3rd place Capilano, 4th place Cowichan hosts 5th place CW and 2nd place Seattle visit last place Burnaby.
FULL SCHEDULE
Mens Premier
13:00 Burnaby Lake vs Seattle @ Burnaby Lake Christopher Assmus
14:15 Van. Rowing Club vs Castaway Wanderers @ Brockton Oval Harry Mason
13:00 Capilano vs UBCOB Ravens @ Klahanie Park Saro Turner
Womens Premier Division
11:30 Capilano vs Westshore @ Klahanie Park Tyler Dawson
11:30 Cowichan vs Castaway Wanderers @ Cowichan
13:00 Burnaby Lake vs Seattle @ Burnaby Lake David Holmes
Mens Premier Reserve
11:30 Burnaby Lake 2 vs Seattle 2 @ Burnaby Lake Jivan Dhaliwal
12:45 Capilano 2 vs UBCOB Ravens 2 @ Klahanie Park Brett Hay
12:45 Van. Rowing Club 2 vs Castaway Wanderers 2 @ Brockton Oval Michelle O'Brien
Mens Division 1 - Mainland
14:30 Brit Lions vs United @ John Oliver Park
14:30 Langley vs Kelowna Crows @ Crush Crescent Conan Cooper
14:30 Surrey Beavers AA vs Bayside @ Sullivan Heights
Womens Division 1
11:30 Bayside vs Kamloops @ South Surrey Ath Pk Heather Lilburn
11:30 Brit Lions vs United @ John Oliver Park
11:30 Nanaimo vs Simon Fraser RC @ May Bennett Pioneer
Mens Division 1 - Island
13:00 Port Alberni vs Cowichan @ Port Alberni
14:30 Nanaimo 1 vs Westshore 1 @ May Bennett Pioneer
Mens Division 2 - Mainland
12:00 Scribes vs United 2 @ Rupert Park Jay MacDonald
13:00 Abbotsford 2 vs Kamloops @ Central Valley
13:00 Langley 2 vs Kelowna Crows 2 @ Crush Crescent
13:00 Richmond 2 vs Meraloma 2 @ King George Park
13:00 Surrey Beavers AA 2 vs Bayside 2 @ Sullivan Heights
Mens Division 2 - Island
13:00 Castaway Wanderers 3 vs Westshore 2 @ Windsor Park
13:00 Nanaimo 2 vs Comox @ May Bennett Pioneer
Mens Division 1 & 2 - Island Exhibition
13:00 Cowichan 2 vs James Bay AA 3 @ Cowichan
Womens Division 2
10:00 Capilano 2 vs Westshore 2 @ Klahanie Park
10:00 Seattle 2 vs Comox @ Burnaby Lake Julian Bentall
11:30 Ridge Meadows vs Kelowna Crows @ Thomas Haney Julie Beyea
Mens Division 3
11:15 Burnaby Lake 3 vs Simon Fraser RC 2 @ Burnaby Lake
11:15 Capilano 4 vs Abbotsford 3 @ Klahanie Park
11:15 Capilano Academy vs Kats @ Klahanie Park
11:15 Surrey Beavers AA 3 vs UBC 3 @ Sullivan Heights
11:15 Van. Rowing Club 3 vs Ridge Meadows @ Brockton Oval Peter Hilgendorf
13:00 Chilliwack vs Simon Fraser RC @ Chilliwack
13:00 Squamish vs Meraloma 3 @ Squamish Lindsay Bottomer