Weekend Results: Lakers Top Caps; T-Birds Soar Past Saracens; CW Defeat Bays, Vikes Paddle Rowers
posted Feb 25 2017
[ed. comments below]
Men's Premier
Burnaby 39 - Capilano 6
It looks like a dominant win for Burnaby who keep pace with UBC at the top of the standings. Taitusi Vikilani opened the scoring for Burnaby and the young #8 needs to get onto the Canada radar quickly as the national team is floundering and in need of power forwards, Canada lost to Uruguay today. Next to cross the line for Burnaby was winger Dan Josok and it was 20-6 with two penalties and two conversions by #10 Mike Goodall added to the tally. That's how the half ended. The Burnaby scrum was dominant and they earned a penalty try to push the score to 27-6, they got the BP with a try by sub Nolan Shelley and it was 32-6. The final try was by Andrew Lackner. A big match next weekend Burnaby host UBC to determine 1st place.
UBC 32 - Seattle 22
Andrew Coe scored the first two tries for UBC and again another player who needs to be seen in Canada senior colours soon. UBC visit Burnaby next weekend for an epic encounter, Seattle have a bye next weekend.
CW 36 - James Bay 25
CW were up 22-15 at the half and increased that 7 point margin to 11 by the end of the match. CW are now 3-0 and pushing UBC and Burnaby for top spot. James Bay are 0-3 and in the unfamiliar position of cellar dwellers. CW host Vikes next weekend and the Bays visit the Ravens.
UVic 43 - Rowers 10
It wasn't close as UVic returned from their Aussie tour ready to roll and took down the visiting Rowers in style. UVic visit cross town rivals CW next weekend while the Rowers host Capilano.
Women's Premier
Westshore continue to roll with a dominant 64-7 win over Cowichan, CW with some returning players doubled visiting Seattle 40-20 while Capilano held off Burnaby 24-17.
Island Div 1
Nanaimo won the Times Cup over Port Alberni 38-36 in an exciting North Island fixture. The match had been postponed from December and the trophy represents the top Div 1 team on the Island. Port scored at the whistle but it was in the corner and the conversion was missed to prevent an overtime scenario. Cowichan defeated Westshore 22-10 in the other Div 1 match.
Mainland Div 1
Abbotsford defeated Langley 55-27 and Meraloma took down Kelowna 45-17. These appear to be the the top teams in Div 1 this season. Surrey also won their match over Brit-Lions.
---
Weekend Predictions: Lakers @ Caps; T-Birds @ Saracens; CW @ Bays; Rowers @ Vikes: FULL SCHEDULE POSTED
posted Feb 24 2017
[ed. comments below]
Capilano vs Burnaby Lake
@ Klahanie Park - ref David Smortchevsky 14:30
A match between #2 and #4 in the Premier league with #4 having the home field advantage. Both teams feature strong forward play with Burnaby having greater threats outside. If Caps can control possession they have a chance at the upset but when it goes wide Burnaby should prevail. Prediction: Burnaby by 5.
BURNABY
1 Anth Luca (Capt)
2 Micha Govorchin
3 Ben Rowley (i)
4 Lucas Albornoz
5 Craig Mclaughlin
6 Mike O Toole
7 Cole Mosychuk
8 Taitutsi Vikilani
9 Cody Rockson
10 Mike Goodall (i)
11 Brian Murphy
12 James Reekie
13 Jeke Gotegote
14 Dan Josok
15 Cole Macqueen
CAPILANO
1 - Steven Ng
2 - Jason de Freitas
3 - Mackenzie Mills
4 - Rich Merinsky
5 - Reid Tucker
6 - Jordan Reid-Harvey
7 - Alex Boyd
8 - Glen McKinnon (C)
9 - Chris Robinson
10 - Chad Carlsen
11 - Austin Karius
12 - Joel Hulett
13 - Connor Christopher
14 - Nathan Yanagiya
15 - Connor Martin
James Bay vs Castaway Wanderers
@ MacDonald Park - ref Christopher Assmus 14:30
James Bay starts the season in the unusual spot of last place, unheard of for them after two games but they lost to Burnaby and UVic in their first two matches. CW on the other hand are 2-0 with wins over Rowers and Seattle. Both teams are strong at recruiting and there's another new name on the CW roster, Riley Di Nardo, who is with the Maple Leaf 7s team out of Ontario. He plays scrum half in 7s but is on the wing in this match. The Bays have a decent lineup but no sign of JWR in the backline. Neil Meechan comes out of retirement to slot in at outside centre while power runner Mike Nieuwenhuysen takes inside centre and Sean White distributes at #10. It's an intriguing matchup with the result a bit of a coin toss, on the one hand Bays at home rarely lose and this is a must win for them, on the other hand CW seem to have hit the right chemistry to start the season. Prediction: Bays by 1.
CW
1. John Braddock
2. Clayton Thornber
3. Jack Sponarski
4. Nathan Thomas
5. Conor Turner
6. Riley Ilnicki C
7. Nathan Stewart
8. Cam Polson
9. Mike Dalsin
10. Keaton Styles
11. Jon Morris
12. Dustin Dobravski
13. Doug Fraser
14. Riley Di Nardo
15. Brandon Schellenberger
JAMES BAY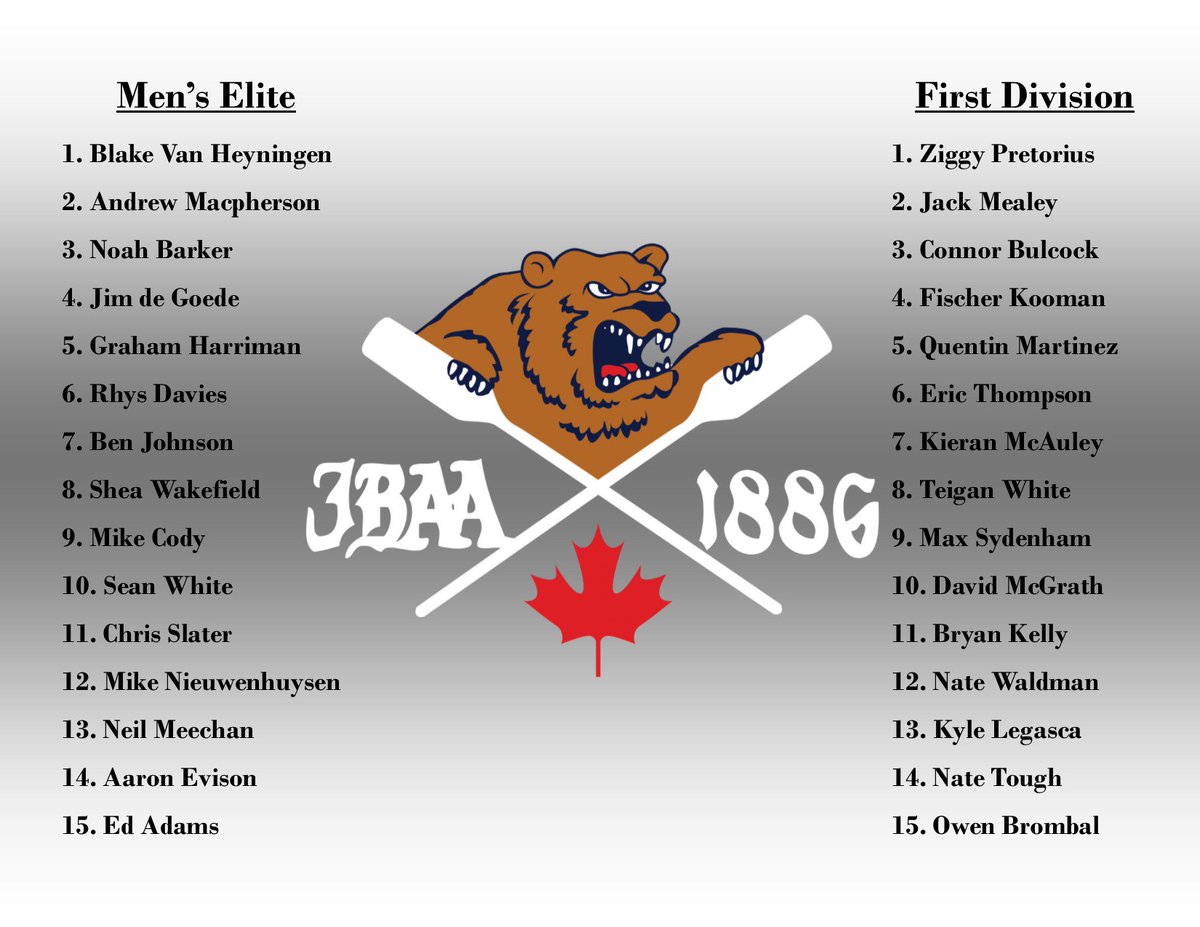 Seattle vs UBC
@ Magnuson Park 14:30
This is a strong rivalry, stoked when UBC knocked off Seattle in the Div 1 championship several years ago to gain promotion to the BC Premier. It doesn't look like there will be promotion/relegation this season but the rivalry continues. UBC are the form team right now, undefeated, knocking off Cal Bears in round one of the World News Cup last weekend. Seattle lost their first home game vs CW and will be smarting from that and looking for the big upset this weekend. UBC go in as favourites however. Prediction: UBC by 6.
UBC
1: Neil Courtney (Handsworth
2: Alex Mascott (St George's)
3: Chris Taylor (Dromore) (I)
4: Thomas Roche (St John's Ravenscourt)
5: James Carson (Oak Bay)
6: Jake Ikeda (Magee)
7: Nick Allen (Mulgrave)
8: Connor Hamilton (St George's)
9: Fraser Hurst (St George's)
10: Theo Sauder (St George's)
11: Manar Kulkhan (Port Moody)
12: Adam McQueen (Canmore)
13: Nathan Rees (Porth County)
14: Niko Clironomos (Magee)
15: Andrew Coe (Bill Crothers)
SEATTLE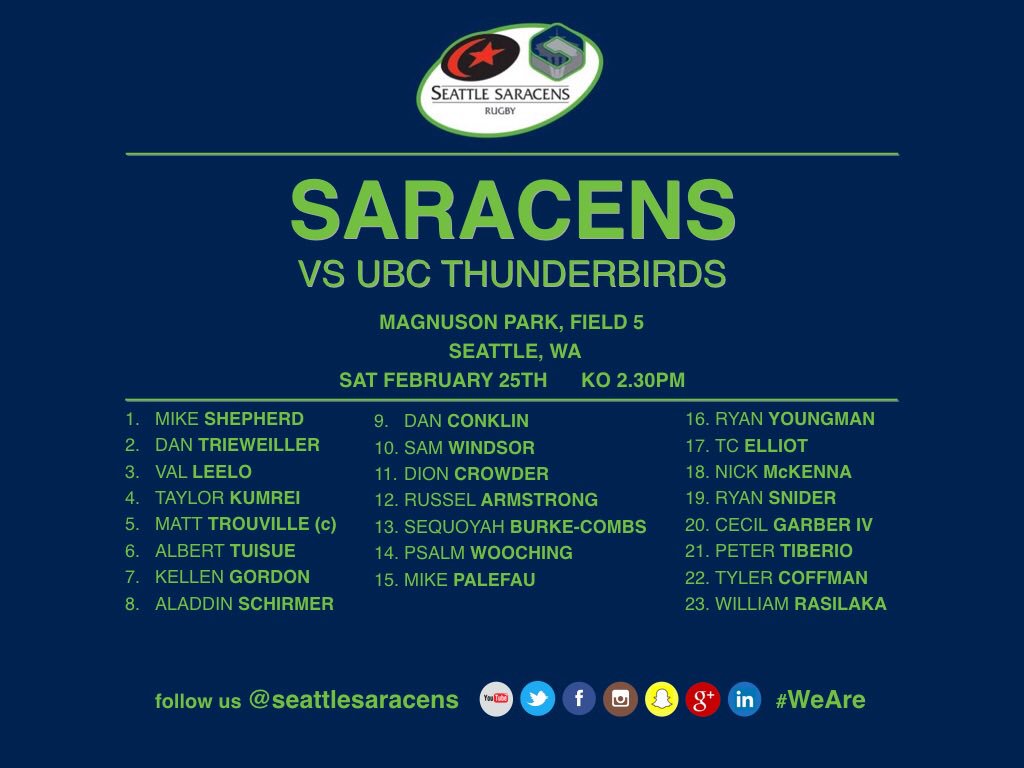 UVic vs Rowers
@ U Of Victoria - ref Nathan Abdelnour 14:30
UVic are returning from their Australia tour where they lost two close matches. Last year they won their Australia games but immediately fell into a funk in league play, so perhaps they'll do the opposite this year and go on a rampage in league play. The Rowers lost heavily to CW at home so on the road across the strait will be more of a test. UVic and CW match up well so Vikes should be favourites, especially at home. Prediction: Vikes by 10.
[ed. fun fact, it was pointed out to us that UVic loosehead Spencer Cooper is the Rower's coach Ian Cooper's son]
UVic
1 Spencer Cooper
2 Casey Reed
3 Macbryan Bos
4 Kevin Leask
5 Jesse Burns
6 James O'Neill
7 Jeff Nishima-Miller
8 Carson O'Sullivan
9 James Pitblado
10 Morgan Tate
11 Joe Erlic
12 Johnny Franklin
13 Kapi Vataiki
14 Jon Lorrimer
15 Fergus Hall
Reserves: Nott, Honjo, Kratz, Harvey, Kelly, Sutherland, Mahon, Morrison
ROWERS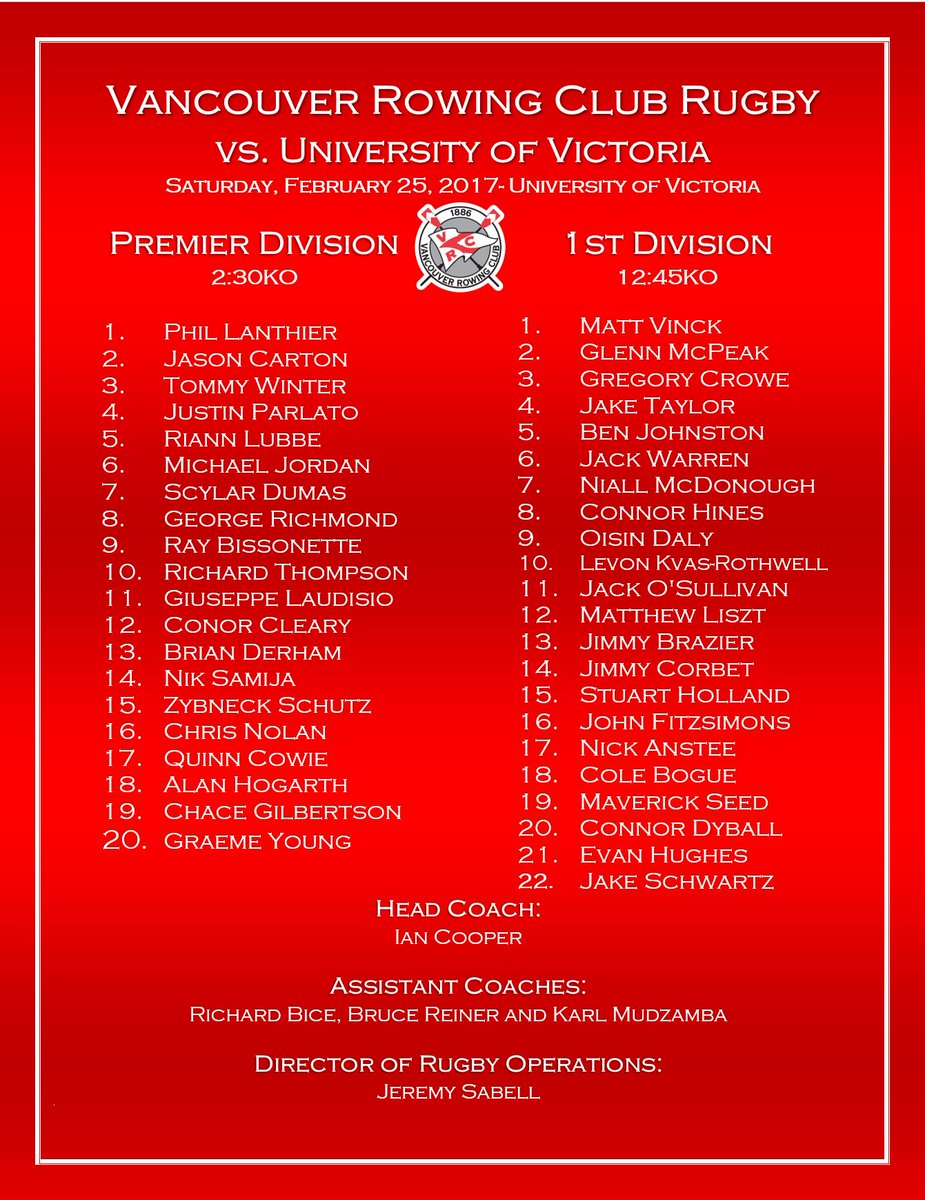 Womens's Premier
League leading Westshore host a revitalized Cowichan team that defeated CW last weekend. CW host Seattle and Burnaby travel to Klahanie to take on the Caps.
Island Div 1
It's the Times Cup this weekend, postponed from December due to snow. This is the 3rd attempt at replaying the match and even though snow is dusting the ground in certain areas, this game should go ahead. It's Nanaimo hosting Port Alberni. Westshore host Cowichan in the other weekend match.
Mainland Div 1
Some surprise early results, with Surrey falling to Bayside last weekend. Surrey were only second to Abbotsford last year while Bayside struggled. It seems the Sharks may have found their bite this season. Abby are expected to be the class of the field and they travel to Crush Crescent to take on Langley this weekend while Surrey host Brit Lions and Lomas host Kelowna. The Lomas should challenge Abbotsford for top spot in the league based on early results.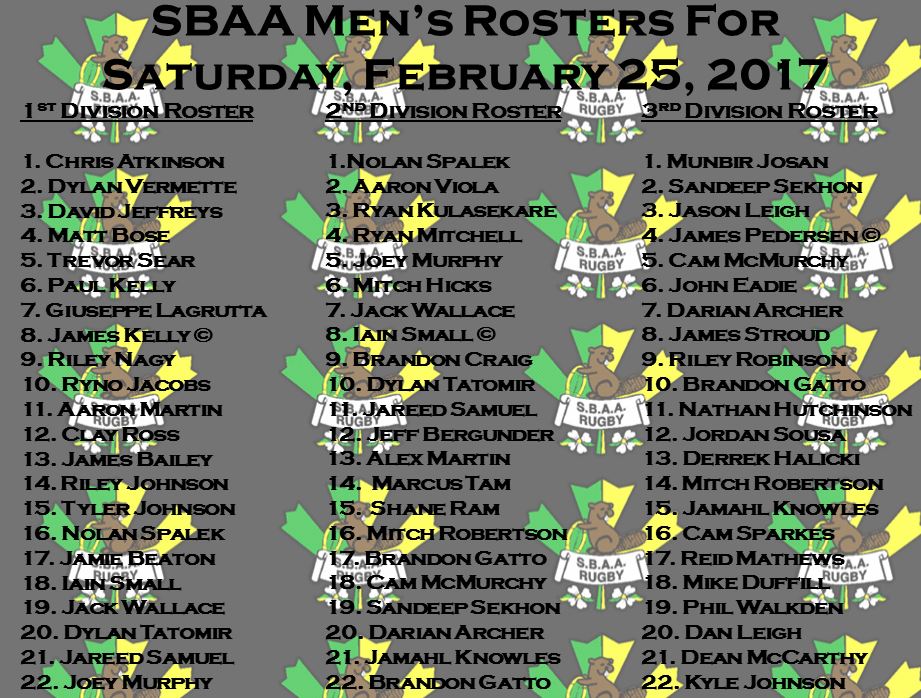 ISLAND RUGBY POSTER
FULL SCHEDULE
Mens Premier League
14:30 Capilano vs Burnaby Lake @ Klahanie Park David Smortchevsky
14:30 James Bay AA vs Castaway Wanderers @ James Bay AA - ref Christopher Assmus
14:30 Seattle vs UBC @ Magnuson Park
14:30 U Of Victoria vs Van. Rowing Club @ U Of Victoria - ref Nathan Abdelnour
Womens Premier Division
11:30 Capilano vs Burnaby Lake @ Klahanie Park - ref Trevor Honey
11:30 Castaway Wanderers vs Seattle @ Windsor Park - ref Robert Klatt
11:30 Westshore vs Cowichan @ Juan De Fuca - ref Darren Sage
Mens Premier Reserve
12:45 Capilano 2 vs Burnaby Lake 2 @ Klahanie Park - ref David Holmes
12:45 James Bay AA 2 vs Castaway Wanderers 2 @ James Bay AA - ref George Van
12:45 Seattle 2 vs UBC 2 @ Magnuson Park
12:45 U Of Victoria Norsemen vs Van. Rowing Club 2 @ U Of Victoria - ref Michael Moss
Mens Division 1 - Mainland
14:30 Langley vs Abbotsford @ Crush Crescent - ref Alan Hudson
14:30 Meraloma vs Kelowna Crows @ Connaught Park - ref Jamie Levchuk
14:30 Surrey Beavers AA vs Brit Lions @ Sullivan Heights - ref Harry Mason
Womens Division 1
11:30 Bayside vs Brit Lions @ South Surrey Ath Pk - ref Paul Kelly
11:30 Meraloma vs Vancouver Thunderbirds @ Connaught Park - ref Rod Watkins
11:30 Simon Fraser RC vs Abbotsford @ Simon Fraser no.4 - ref Julie Beyea
11:30 United vs Kamloops @ Town Centre South - ref Heather Lilburn
Mens Division 1 - Island
13:00 Port Alberni vs Nanaimo 1 @ May Bennett Pioneer - ref Kevin Smith
13:00 Westshore 1 vs Cowichan @ Juan De Fuca - ref Don Barber
Mens Division 2 - Mainland
13:00 Bayside 2 vs Richmond 2 @ South Surrey Ath Pk - ref Tyler Dawson
13:00 Langley 2 vs Abbotsford 2 @ Crush Crescent - ref Charles Brown
13:00 Meraloma 2 vs Kelowna Crows 2 @ Connaught Park - ref Ian Trevor
13:00 Surrey Beavers AA 2 vs Scribes @ Sullivan Heights - ref Sean Dingley
13:00 United 2 vs Kamloops @ Town Centre South - ref Neil Grant
Mens Division 2 - Island
13:00 Nanaimo 2 vs Westshore 2 May @ Bennett Pioneer
Mens Division 1 & 2 - Island Exhibition
13:00 Comox vs Castaway Wanderers 3 @ Comox
13:00 U Of Victoria Saxons vs Cowichan 2 @ U Of Victoria - ref Doug Hind
Womens Division 2
11:30 Scribes vs Ridge Meadows @ Rupert Park - ref Julian Bentall
13:00 Comox vs Surrey Beavers AA @ Comox - ref Tim Stokes
Mens Division 3
11:15 Capilano Academy vs Burnaby Lake 3 @ Klahanie Park - ref Bryn Tucker
11:15 Meraloma 3 vs UBC 3 @ Connaught Park - ref Dave Burns
11:15 Surrey Beavers AA 3 vs Kats @ Sullivan Heights - ref Colin Sexton
11:30 Squamish vs Ridge Meadows @ Brockton Oval - ref Robert Crowe
13:00 Capilano 4 vs Chilliwack @ Klahanie Park - ref Graham Stone
13:00 Simon Fraser RC vs Abbotsford 3 Simon Fraser no.4 - ref Darryl Lucas