Weekend Results: CW Top Vikes; Ravens Edge Bays; Lakers Blast T-Birds; Caps Sink Rowers
posted March 4 2017
CW 25 - UVic 20
CW move up to 2nd place in the standings just behind Burnaby and start the season with an impressive 4-0 record. The students were ahead at the half 17-13 but couldn't cross the line in the second stanza. The Vikes drop to 5th place and still looking a solid playoff bet. There's no club rugby next weekend with the Canada 7s in Vancouver taking over rugby in the province.
Ravens 34 - Bays 30
The Bays started strong going 7-0 and then 20-10 but couldn't finish strong and the home side takes the W. Ravens claim 6th spot while the Bays slide down to 0-4, a place they haven't seen in a long time. Only Rowers at 0-2 have less points. In two weeks the Bays host the Rowers looking for their first win while the Ravens will visit UVic.
Burnaby 52 - UBC 7
No surprise really considering UBC put out their second team to allow their first team to prepare for Cal Bears on Sunday. This result could be motivation for the T-Birds if the two meet in the playoffs come April. Lakers go top of the table while UBC slide to 3rd.
Capilano 21 - Rowers 7
3 tries to 1 with all converted. Tries from Connor Christopher, Jordan Reid-Harvey. Chris Robinson for the Caps. Capilano move into 4th while Rowers remain at zero points in the cellar. In two weeks Rowers visit James Bay and Capilano visit Seattle.
Women's Premier
A surprise win for Cowichan on the road at Klahanie 40-38 while CW with their top guns back make short work of Burnaby 52-31. Cowichan moves up to 3rd place while CW close the gap on the pack but remain in 5th spot trying to make up the points from the default to Seattle in the fall. In two weeks CW host Burnaby in a rematch, Cowichan host Westshore and Seattle host Capilano.
BCRU Results
Mens Premier League
BURNABY LAKE 52 V 7 UBC
UBCOB RAVENS 34 V 30 JAMES BAY AA
Womens Premier Division
BURNABY LAKE 31 V 52 CASTAWAY WANDERERS
CAPILANO 38 V 40 COWICHANLindsay Bottomer
Mens Premier Reserve
CASTAWAY WANDERERS 31 V 26 U OF VICTORIA NORSEMEN
UBCOB RAVENS 36 V 3 JAMES BAY AA
VAN. ROWING CLUB 10 V 46 CAPILANO
Mens Division 1 - Mainland
UNITED 13 V 22 BAYSIDE
Womens Division 1
UNITED 36 V 7 MERALOMA
Mens Division 2 - Mainland
MERALOMA 71 V 0 SCRIBES
RICHMOND 0 V 67 SURREY BEAVERS AA
UNITED 18 V 58 BAYSIDE
Mens Division 3
BURNABY LAKE 3 20 V 0 UBC 3 conceded by ubc
---
Weekend Predictions: Vikes @ CW; Bays @ Ravens; T-Birds @ Lakers; Caps @ Rowers
[ed. comments below]
posted March 3 2017
UVic @ CW
CW are on a bit of a tear now going 3-0 early in the season. Dustin Dobravsky was outstanding last week and the former UVic player will no doubt relish going up against his old team. The Vikes paddled the Rowers last weekend at home but this will be a stiffer test. Prediction: CW by 7.
UVIC
1. Spencer Cooper
2. Casey Reed
3. MacBryan Bos
4. Kevin Leask
5. Jesse Burns
6. Jeff Nishma-Miller
7. James O'Neill
8. Ollie Nott
9. James Pitblado
10. Will Kelly
11. Jonathan Lorimer
12. Morgan Tate
13. Johnny Franklin
14. Kapi Vataiki
15. Fergus Hall
CW
1. John Braddock
2. Clay Thornber
3. Jack Sponarski
4. Cam Polson
5. Connor Turner
6. Nathan Thomas
7. Riley Ilnicki ©
8. Haydn Evans
9. Mike Dalsin
10. Keaton Styles
11. Jonny Morris
12. Dustin Dobravsky
13. Doug Fraser
14. Mat Kelly
15. Brandon Schellenberger
James Bay @ Ravens
Two teams that are winless so far this season, both desperate to move up the ladder. If the post season is the same as last year, and with the BCRU that can't be taken as a given, then 6 teams will make the playoffs and 3 will hit the golf course. Currently Rowers, Bays, Ravens and Seattle are winless. Bays not that long ago could boast a backline of Phil Mack, Connor Braid, Pat Parfrey, Sean White, Jordan Wilson-Ross but now only Sean White is available. Will they have enough backline dazzle to put up some points? Prediction: Ravens by 5.
RAVENS
1. Paul Ahn
2. Dewald Kotze
3. Garret Garbe
4. Jon Phelan
5. Hans-peter Bakker
6. Nick Waggot
7. Dimitri Bonnis
8. Charlie Thorpe
9. Aj King
10. James Thompson
11. Kelepi Funilagi Gucake
12. Ben Grant
13. Kol Henrikson
14. Jeff Vreys
15. Sean Hase
JAMES BAY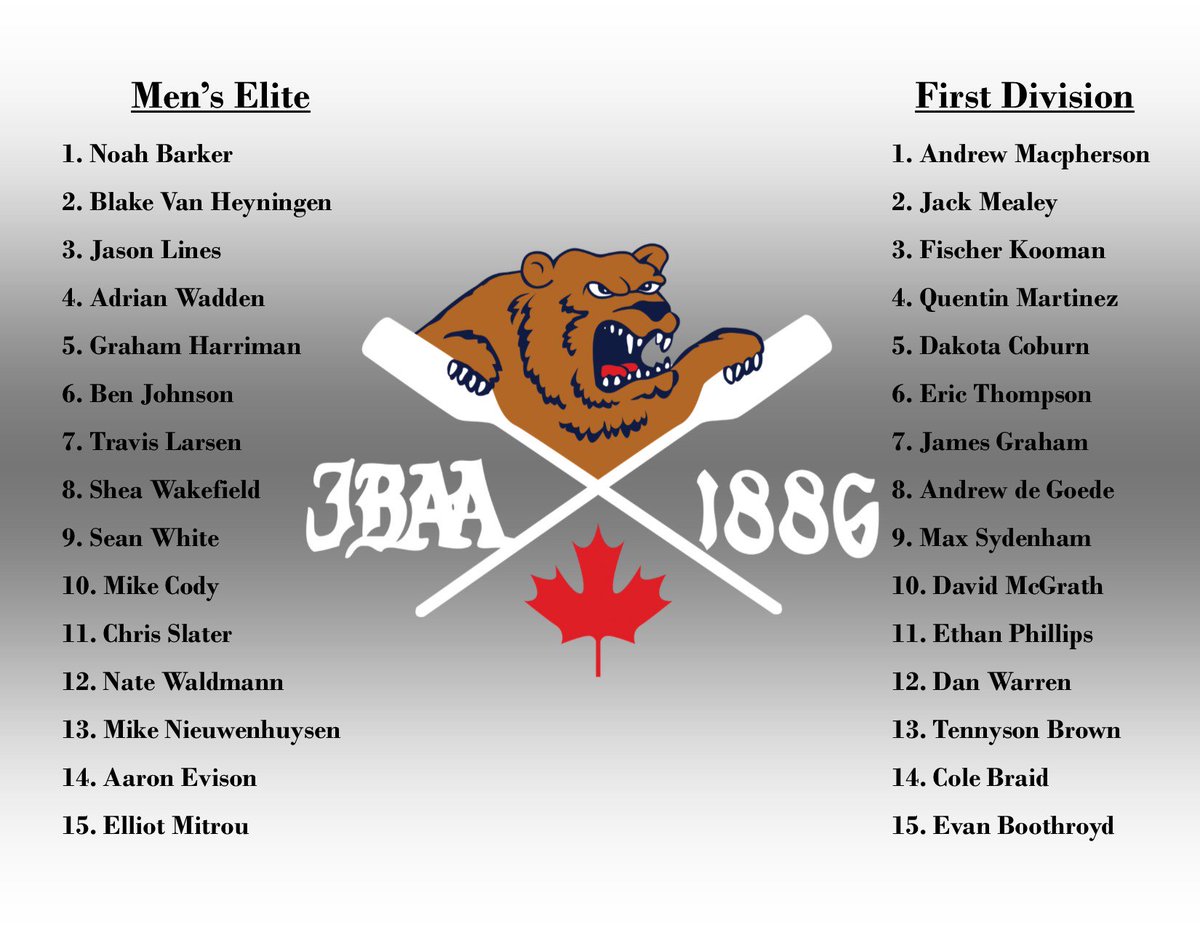 UBC @ Burnaby
This one is turning into a bit of a shambles, UBC have their "World Cup" game #2 versus Cal Bears on Sunday and tried to reschedule Saturday's match to another date but didn't happen. So basically now it's the Burnaby Prem team against the UBC Div 1 team on Saturday and Burnaby Div 1 vs UBC 3rds. So, not surprisingly, we're calling for a Burnaby win. Prediction: Burnaby by 12.
BURNABY
1 Anthony Luca (Capt)
2 Andrew Lackner
3 Ben Rowley (i)
4 Mike O Toole
5 Craig Mclaughlin
6 Lucas Albornoz
7 Ethan Nisbett (i)
8 Taitutsi Vikilani
9 Cody Rockson
10 Mike Goodall (i)
11 Matt Chan
12 James Reekie
13 Jeke Gotegote
14 Dan Josok
15 Cole Mcqueen
Caps @ Rowers
There is a strong rivalry between these teams and the Rowers would like nothing better than to beat their higher ranked neighbours to the north. They have the home field but were thoroughly beaten by a middle of the pack Vikes side last weekend in their first match so it's difficult to estimate their playing strength at home. Caps have proven they can win games this season, defeating Vikes and Ravens and losing to Burnaby. Prediction: Caps by 8.
CAPILANO
1 - Andrew Crandell
2 - Steven Ng
3 - Mackenzie Mills
4 - Reid Tucker
5 - Rich Merinsky
6 - Jason de Freitas
7 - Jordan Reid-Harvey
8 - Glen McKinnon (C)
9 - Chris Robinson
10 - Chad Carlsen
11 - Austin Karius
12 - Connor Christopher
13 - Eligh Papin
14 - Nathan Yanagiya
15 - Connor Martin
Women's Premier
League leaders Westshore have a bye but CW travel to Burnaby and Cowichan visit Capilano
Full Schedule from BCRU
Mens Premier
Castaway Wanderers v U Of Victoria @ Windsor Park 04/03/2017 14:30
UBCOB Ravens v James Bay AA @ Jericho 04/03/2017 14:30
Burnaby Lake v UBC @ Burnaby Lake 04/03/2017 14:30
Van. Rowing Club v Capilano @ Brockton Oval 04/03/2017 14:30
Womens Premier Division
Burnaby Lake v Castaway Wanderers @ Burnaby Lake 04/03/2017 11:30
Capilano v Cowichan @ Klahanie Park 04/03/2017 11:30
Mens Premier Reserve
Castaway Wanderers 2 v U Of Victoria Norsemen @ Windsor Park 04/03/2017 12:45
UBCOB Ravens 2 v James Bay AA 2 @ Jericho 04/03/2017 12:45
Burnaby Lake 2 v UBC 2 @ Burnaby Lake 04/03/2017 12:45
Van. Rowing Club 2 v Capilano 2 @ Brockton Oval 04/03/2017 12:45
Mens Division 1 - Mainland
United v Bayside @ United - Hume 04/03/2017 14:30
Meraloma v Brit Lions @ Connaught Park 04/03/2017 14:30
Womens Division 1
Nanaimo v Bayside @ May Bennett Pioneer 04/03/2017 11:30
United v Meraloma @ United - Hume 04/03/2017 11:30
Vancouver Thunderbirds v Brit Lions @ UBC 04/03/2017 11:30
Kamloops v Simon Fraser RC @ Kamloops Park 04/03/2017 11:30
Mens Division 1 - Island
Cowichan v Port Alberni @ Cowichan 04/03/2017 13:00
Westshore 1 v Nanaimo 1 @ Juan De Fuca 04/03/2017 14:30
Mens Division 2 - Mainland
United 2 v Bayside 2 @ United - Hume 04/03/2017 13:00
Meraloma 2 v Scribes @ Connaught Park 04/03/2017 13:00
Richmond 2 v Surrey Beavers AA 2 @ King George Park 04/03/2017 13:00
Kamloops v Langley 2 @ Kamloops Park 04/03/2017 13:00
Mens Division 2 - Island
Westshore 2 v Nanaimo 2 @ Juan De Fuca 04/03/2017 13:00
Mens Division 1 & 2 - Island Exhibition
Castaway Wanderers 3 v James Bay AA 3 @Windsor Park 04/03/2017 11:30
Womens Division 2
Westshore 2 v Scribes @ Juan De Fuca 04/03/2017 11:30
Kelowna Crows v Surrey Beavers AA @ Parkinson Rec Field 04/03/2017 11:30
Comox v Capilano 2 @ Comox 04/03/2017 12:00
Mens Division 3
Simon Fraser RC 2 v Kats @Simon Fraser no.4 04/03/2017 11:15
Van. Rowing Club 3 v Capilano Academy @ Brockton Oval 04/03/2017 11:15
Ridge Meadows v Capilano 4 @ Thomas Haney 04/03/2017 13:00
Chilliwack v Surrey Beavers AA 3 @ Chilliwack 04/03/2017 13:00
Simon Fraser RC v Meraloma 3 @ Simon Fraser no.4 04/03/2017 13:00