What's Wrong at Rugby Canada? Letter from Former iRB Rep Chris Le Fevre; Rugby Canada Letter on ARC Performance; A Look Back at the 2003 RWC Cycle and Pacific Pride

posted March 7 2017
[ed. comments below]

It's a strange week for Canadian rugby, on the one hand we're elated about the upcoming Vancouver 7s and getting ready to party but on the other hand we're going through a bit of depression and sadness about the failing health of our men's XVs program. It fell to 23rd this week in the World ranking behind Uruguay, Spain and Germany. It doesn't seem respectful to go right into the 7s party mode without addressing the failing health of a dear friend. So let's address this now and revisit it in a week or two in more detail.

First read this letter from Chris Le Fevre, an esteemed member of the Canadian rugby community, former Rugby Canada board member and former iRB representative. His opinion carries a lot of weight. I met him a few times when the Rugby Canada Super League (RCSL) was in its heyday.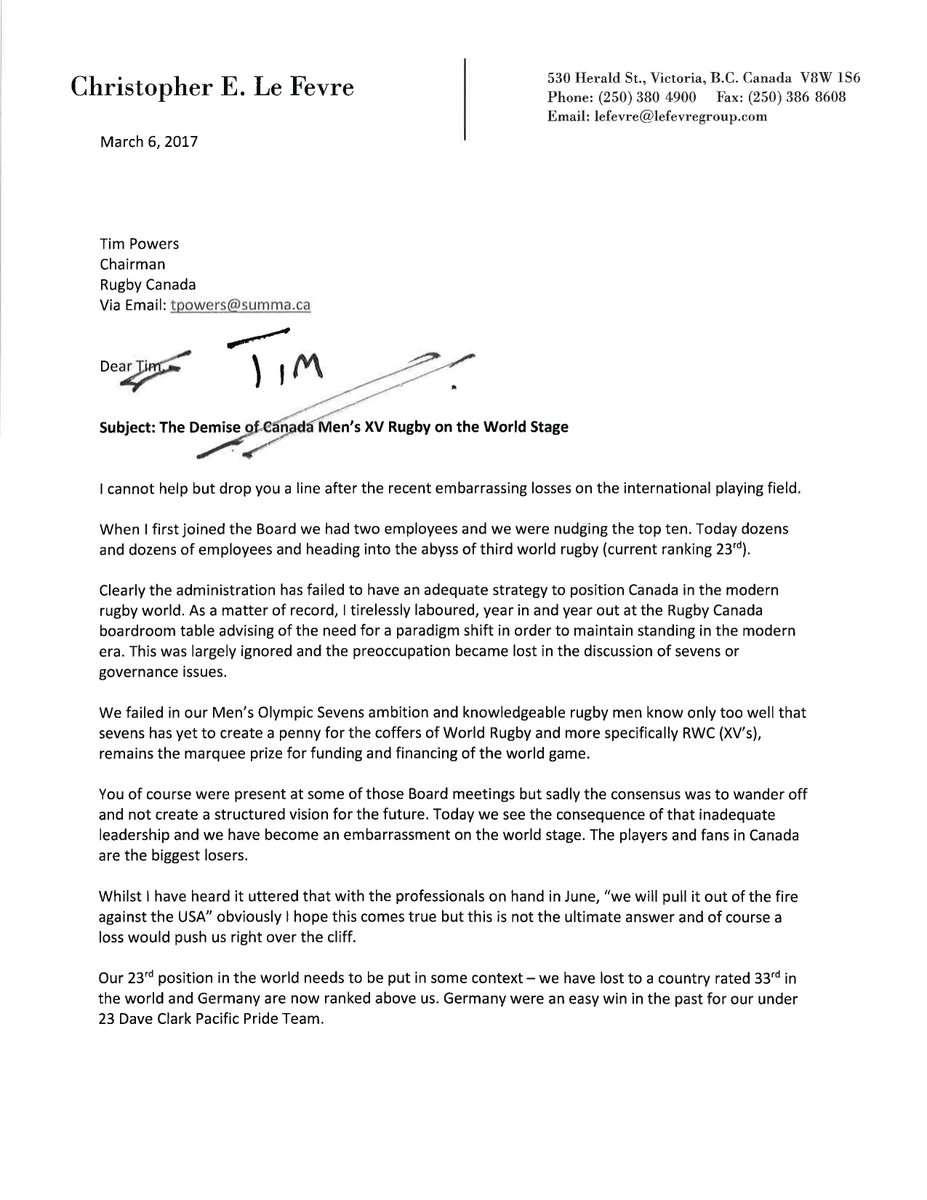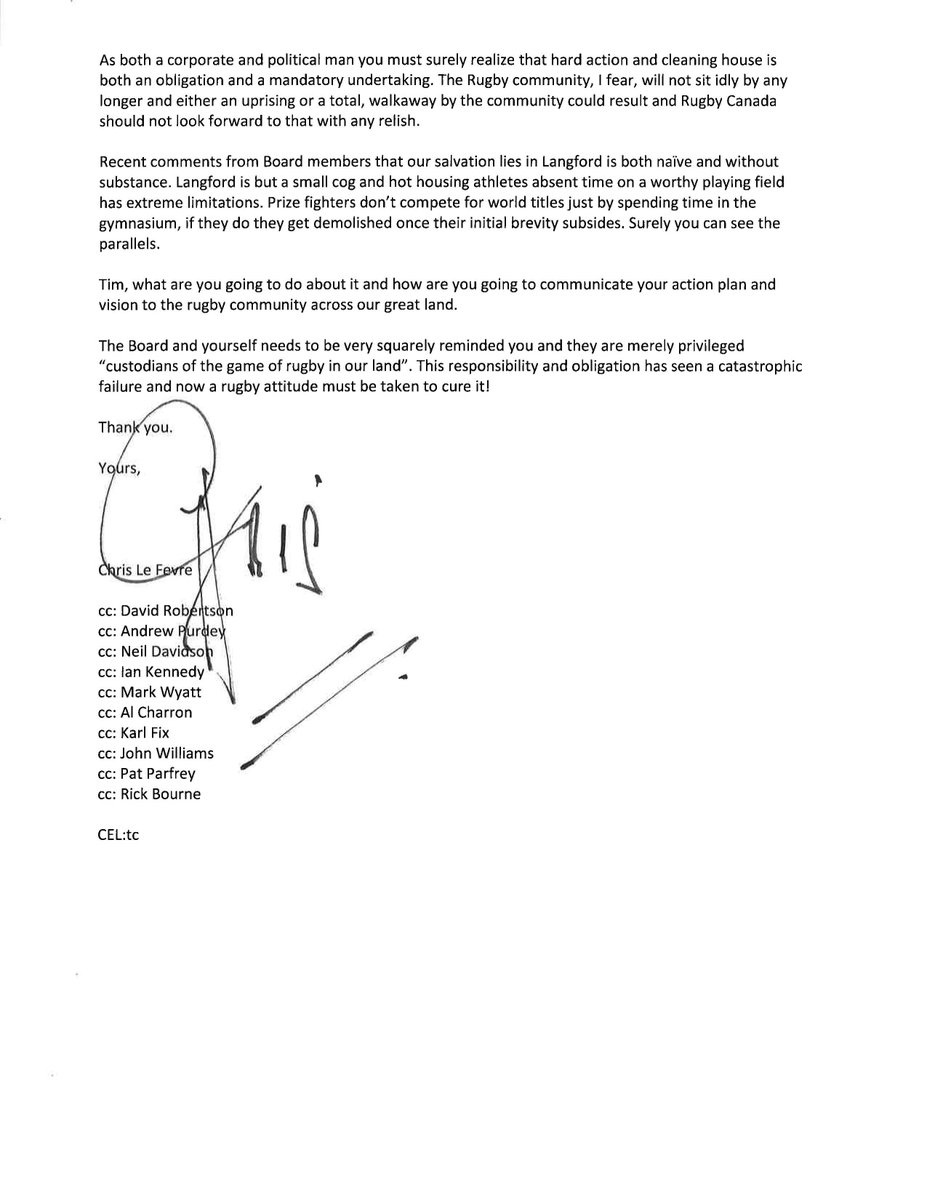 His thoughts accurately reflect what a number in the rugby community are feeling. You can use the facebook comment feature to add your thoughts.

I'll also add what Rugby Canada issued today as their official response to the ARC performance. It's a stock template, apologize, stay the course, things will get better, buy some time tactic. Some will buy into it but we've seen this ploy before, we're looking for meaningful actions not words.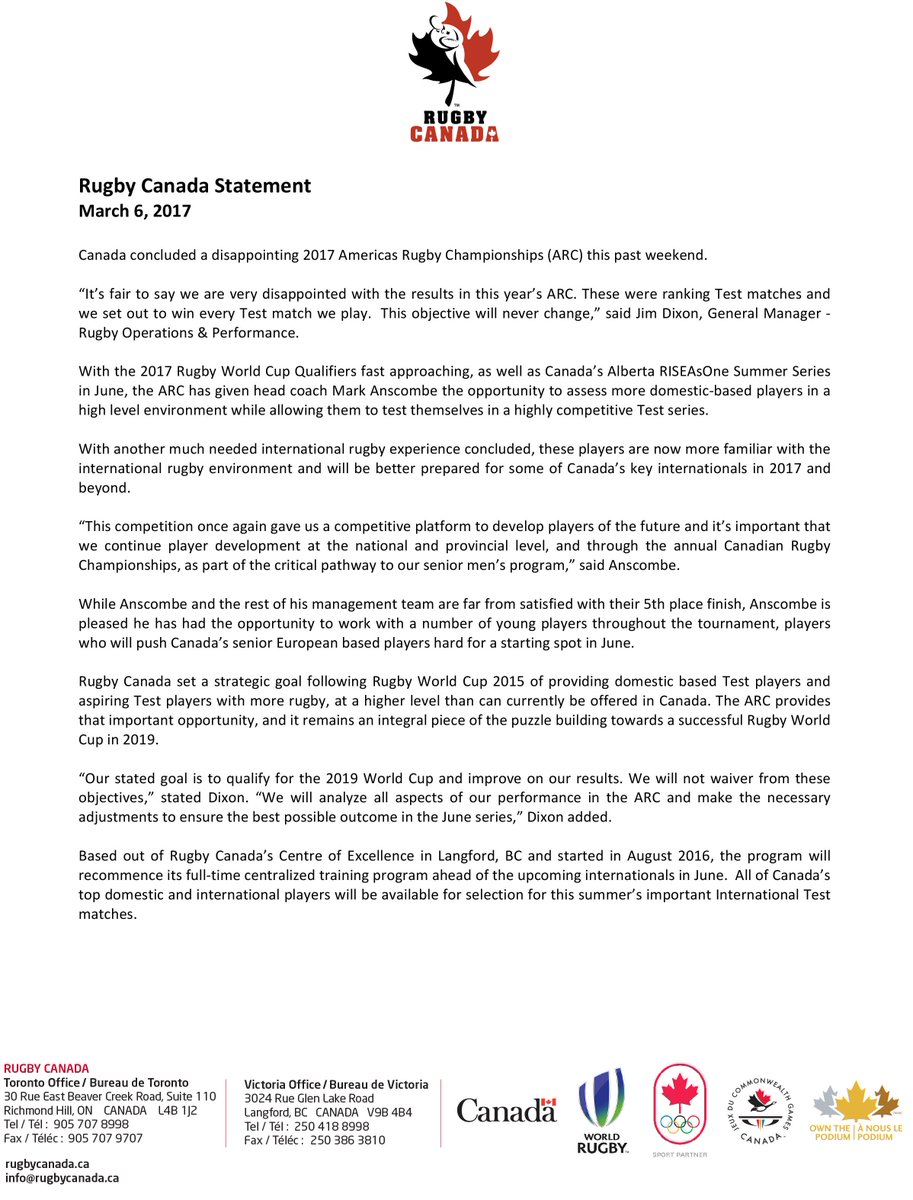 As part of this soul searching on Canadian rugby I revisited some stories from several World Cup cycles previous. I found one from January 2000 just after the 1999 World Cup. It was an announcement of David Clark as the new Senior Men's XVs coach for the 2003 RWC cycle. David was already well known to us as he started the Pacific Pride program, also referred to as CCSD and Young Canada. He had started that several years earlier and it was the jewel of Canadian rugby. It brought the best U23 players from across the country to live, eat and sleep rugby as one team. We would send them to Germany and Chile to play their national teams and win, these players were our future and they were good, very good. David Clark as Senior men's coach was expected to continue overseeing this program while also tasked with setting up development programs elsewhere in Canada, selecting coaches for all junior programs, and running the talent identification program. He was an immensely talented individual who wasn't afraid of a bit of work. He also reported directly to the Board of Directors. Just think about the number of hats he wore and how many equivalent people are doing his job today and none of them doing as good a job as he did in any aspect.

In those days there were 8 people at HQ in one office in Ottawa, 8 paid staff. Compare that to what we have today, we've become fat and lazy, bloated in the corporate sense and it's reflected in our decision making. We have four to five people doing what one used to do and getting in each other's way. It's time to trim down, put Canadians back in charge of Canadian rugby and get back on track.

from Rugby Canada website circa January 2000

RUGBY CANADA NAMES NEW HEAD COACH

Rugby Canada announced today that it has chosen David Clark as its first professional Head Coach through to the World Cup 2003. Clark who acted as Assistant Coach for the past three years under retired head coach Pat Parfrey, will continue to be responsible for the Pacific Sport rugby development program which he directs and coaches in Victoria, as well as acting as Canada's Head Coach.

"I'm absolutely delighted," said Clark, "to be selected to this exalted position as Rugby Canada takes a momentous step into the professional era. Rugby Canada realizes that it must step-up and raise the bar in this new professional world, and my challenge is to see that that step-up occurs." Clark, an Australian, came to Canada in 1996 as Head Coach and Director of the Commonwealth Centre for Sport's Development (now called Pacific Sport) which has been highly successful. The program has taken many of Canada's top Under 23 players for two year stints, training and educating them to the highest rugby level. In the three years Clark has run the program it has prepared and produced most of Canada's new internationals in John Tait, Dan Baugh, Kyle Nichols, Pat Dunkley, Morgan Williams, Jon Thiel, Nik Witkowski, Colin Robertson, and Adam Marshall, as well as many of Canada's Sevens team players. Clark has not only produced rugby players capable of stepping into the international sphere but has developed and molded their characters as well.

Clark came to Canada from the Australian Institute of Sport where he directed and coached the rugby section, a program that developed players like Wallaby captain John Eales, Tim Horan, Jason Little, Matt Burke, and others, to win the 1991 and 1999 World Cups for Australia. As a player, Clark toured South Africa with the Wallabies in 1963, played 27 games for Queensland, and 300 first grade games for the GPS Old Boys in Brisbane. He was also the Queensland Rugby Director of coaching from 1978 until 1988. As Head Coach of Rugby Canada, Clark will be in charge of talent identification; setting up centres of Elite Athlete Development across the country; the selection of coaches for all of Canada's men's teams from Under 19 to Senior Men, and will advise the Women's rugby program coaches. He will report to the Board of Rugby Canada.

"Now that we have entered the professional era, expectations are higher," said Clark. " Change can be expected to meet those challenges, and I relish the challenge."

David would like to recognize and thank all those in Rugby Canada who have supported the creation of this new position and for the stewardship of Brian Dyer in this process.

"Rugby Canada is very pleased to have a man of David Clark's experience and talent as its new head coach," said Rugby Canada's Chief Operating Officer John Billingsley. "David is well respected in international rugby circles for his knowledge and dedication to the game."

Clark's first task will be to ready Canada for the Epson Cup series with matches against Tonga (Vancouver), Fiji, Samoa, Japan (Toronto) and the U.S.A. beginning in May. Canada will also play Ireland (Toronto), South Africa and Italy this year.

For further information contact:

Rugby Canada's Chief Operating Officer, John Billingsley: 613-748-5657

David Clark: 250-744-1729



---