UBC Win Men's Division; UVic Claim Women's Competition

posted March 19 2017
[ed. comments below]

The UVic men couldn't make it 5 in a row as their cross strait rivals UBC took the title. The two teams were the class of the tournament and the player of the tournament would likely be Andrew Coe. There's little doubt Coe could be a fixture with the national 7s team at some point once his studies are completed. Others that impressed in the final match were Theo Sauder UBC and Jon Lorimer & Grady Bowd UVic. The UVic Norsemen claimed third over Alberta while two improved sides, Regina and UBC Okanagan, battled for 5th. UBCO won that match 22-10.



In the women's division UVic finally were able to claim the title in their backyard after UBC took it last year and Ontario teams the three years previously. McMaster claimed third.




There's talk of alternating the tournament to an east/west hosting arrangement in following years and having USport run it instead of Rugby Canada.


---
UVic and UBC Undefeated on Day 1 in Men's and Women's Divisions

posted March 17 2017
[ed. comments below]

As expected UVic and UBC breezed through Day 1 in the men's division, UBC racking up a +178 point differential and UVic a +107 PD. The only suprise perhaps is that the UVic second team, the Norsemen, are also 3-0 with a +101 PD. The Cup QF will see UVic take on Regina, UBC face Trent, Norsemen vs UBC Okanagan and Alberta vs Royal Military College. It's likely by the semis that UBC will face the Norsemen and UVic either Alberta or RMC. It will come down to a UBC v UVIC final unless the Norsemen can pull off the upset and create a UVic v UVic scenario.

The women's division is a little more competitive, UVic and UBC are undefeated but UBC only beat Guelph by 4 points and UVic exacted some revenge on Calgary, who defeated them in the Canada West tournament, with a +14 win. However the QF and SF matches could create some surprises. UVic will face Guelph, UBC might have an easier path vs Humber. The other QF sees McMaster vs Lethbridge and Alberta vs Calgary. It could come down to a UBC v UVic final but they'll likely have to get through Calgary and McMaster in the semis in tough matchups.

Full results are on the University 7s website.





---
University 7s Championship Friday and Saturday at Westhills Stadium in Langford: Schedules and Predictions

posted March 15 2017
[ed. comments below]

In the men's division 4 of the 12 teams are from BC, 3 from Alberta, 3 from Saskatchewan and only 2 from Ontario. There's no representation from Atlantic Canada. Noticeabley absent are Queen's, Western, Waterloo and McMaster.

In the women's division 5 of the 12 are from Ontario, 3 from Alberta, 2 from BC and 2 from Saskatchewan. Again no representation from Atlantic Canada.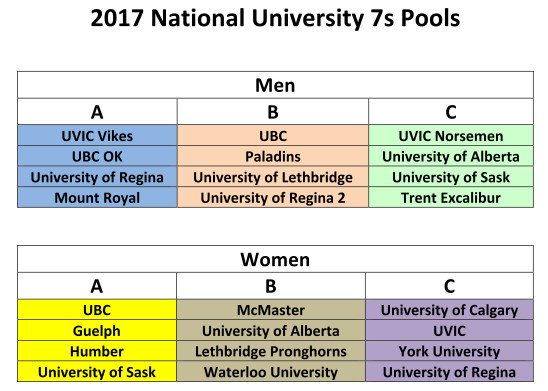 Predictions

Men

UVic and UBC are the favourites, they've gone head to head the last 3 years in the final with UVic winning all of them. In 2013 it was UVic again winning but this time over Western. That was the year Western had Conor Trainor playing for them. Here's a BCRN clip from that event.



Especially with the absence of the prominent Ontario rugby programs it's looking very much like a UVic v UBC rematch but this may be UBC's year. First off the BCRU have scheduled UVic vs Ravens on the Saturday in XVs, two games, so that leaves UVic scrambling to assign players and will leave them stretched thin. They'll likely put the focus on the 7s tournament and take a hit in the XVs matches but their coaching staff will be stretched thin as well. Crosby Stewart one of their 7s stars is still nursing an injury and likely won't suit up. Also Rugby Canada have prevented them from using their Canada players (so we understand), Luke Bradley, Lucas Hammond and Isaac Kaay so they're taking a hit on several fronts. UBC on the other hand have two players that stood out for the Maple Leafs last weekend Theo Sauder and Andrew Coe, plus they have a number of talented backline players in their program. Prediction: UBC for Gold, UVic Silver, Alberta Bronze.

Women

The women's competition will likely be more competitive, winners for the last four years were 2016 UBC, 2015 McMaster, 2014 McMaster, 2013 Guelph. UVic have also been in some of the final matches but came up short. This year the Canada West 7s tournament was won by Calgary with UVic showing a strong second, Alberta 3rd and UBC 4th. So it doesn't appear UBC will repeat their title from last year. McMaster and Guelph always have strong teams as evidenced by 3 of 4 titles in the last four years. Prediction will be a bit of a guessing game but we'll go Calgary for Gold, McMaster Silver and UVic Bronze.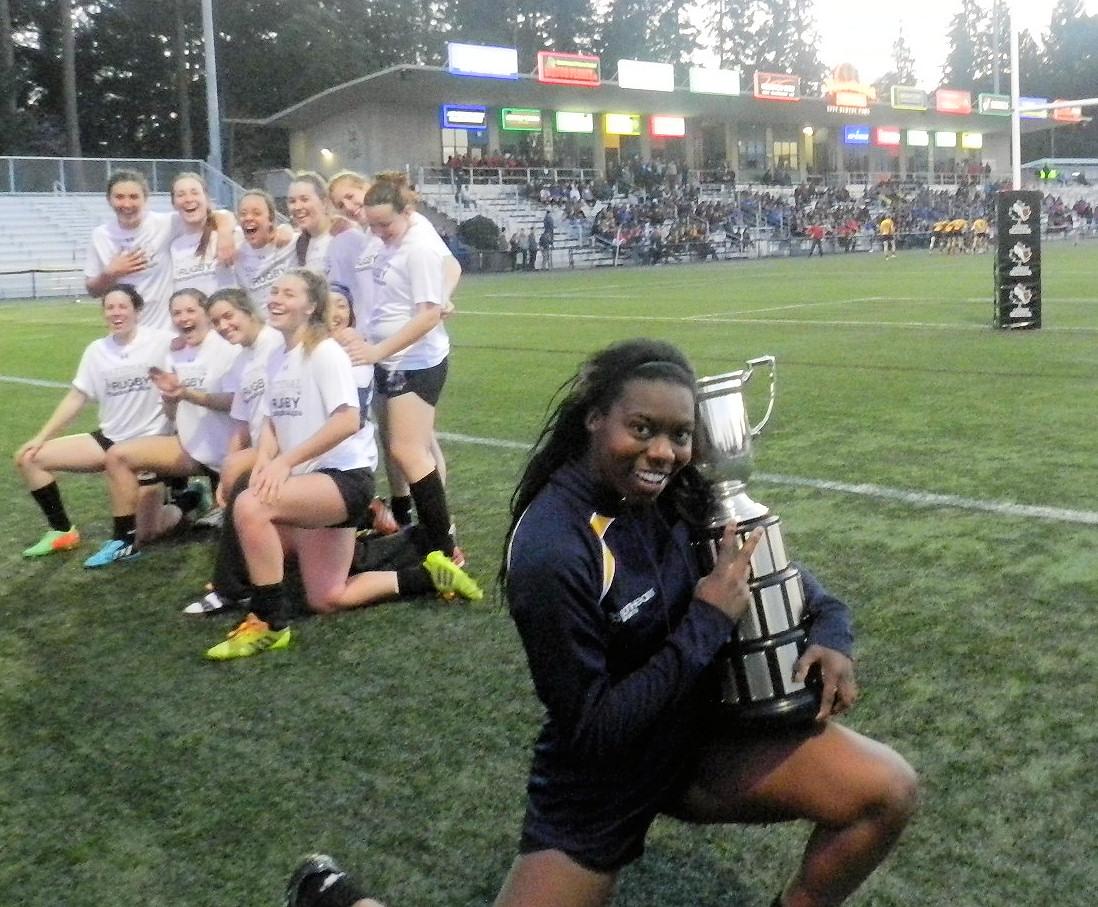 Our BCRN MVP in 2015 was Ashley Gordon from McMaster, she now plays for the Canadian Maple Leaf team.

Here is the Day 1 schedule.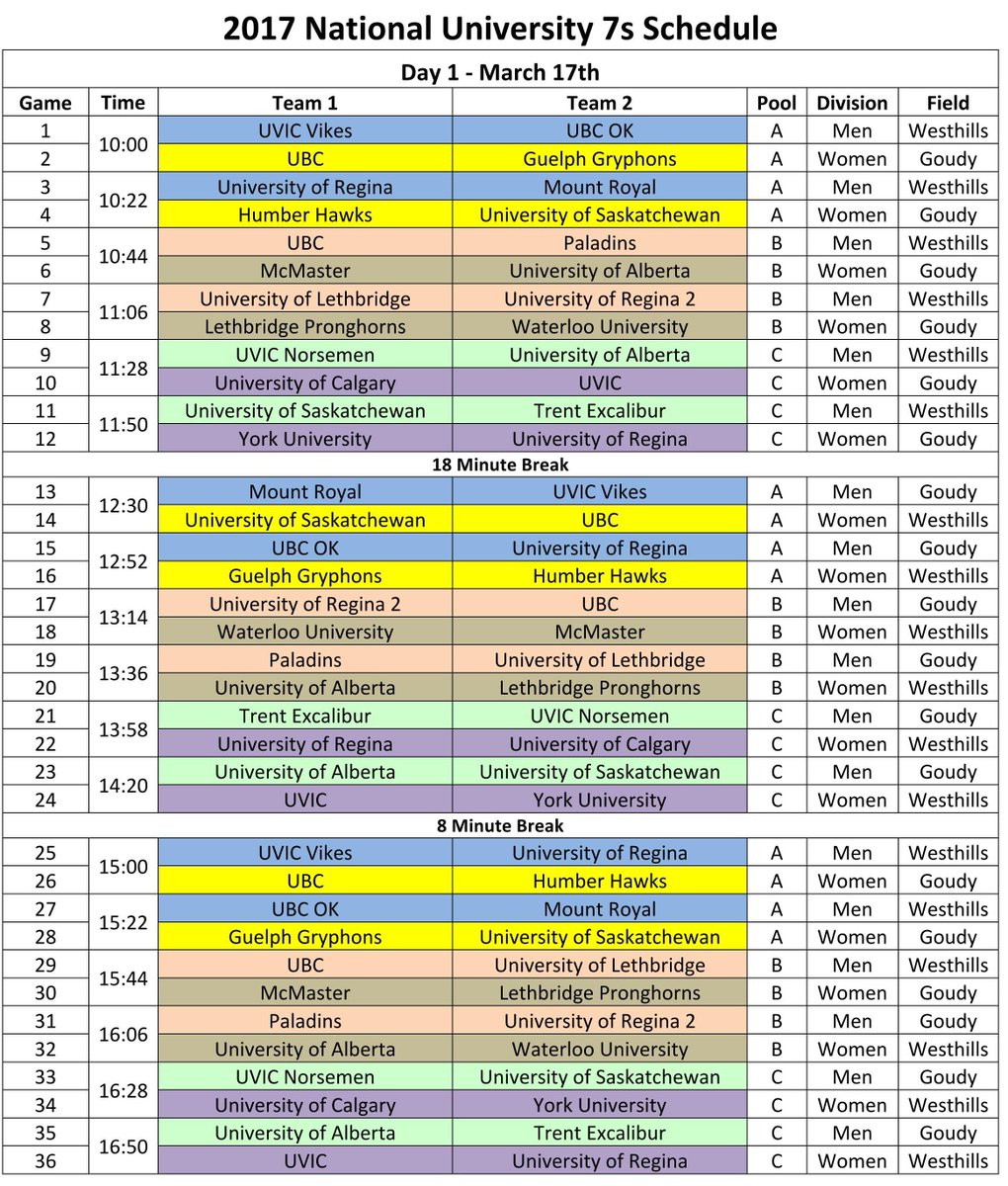 ---