| | |
| --- | --- |
| BC Rugby Weekend of March 25th 2017 | |
Weekend Results: CW Clip T-Birds; Bays Dominate Caps; Saracens Outscore Vikes; Ravens Draw With Rowers

posted March 25 2016

CW 28 - UBC 25

Last week we said CW by 3 and they lost by 3, this week we say the opposition by 3 and CW win by 3. What are the odds of getting the margin accurate two weeks in a row but the teams reversed. There's something weird going on in the rugby cosmos. Talking of 3, Ray Barkwill scores a hat trick in this match, pretty impressive for a hooker. Dan Moor notched the other CW try for their BP. UBC get a BP in the loss. The result puts CW temporarily top of the table but Burnaby have a game in hand. UBC hold onto 3rd place but are now in danger of losing hosting privileges for a semi-final match. Next week CW travel to Klahanie and UBC to Brockton.

James Bay 41 - Capilano 15

A second big win for the Bays at home and a second crushing defeat for the Caps on the road. There's now a 4 way tie for 5th place with Bays, Caps, Seattle and UVic with Ravens just 1 point ahead. All to play for in the remaining weeks and a HUGE Bays v Seattle match at MacDonald park next weekend. Caps will have to stop the CW juggernaut next weekend if they want to secure a place in the playoffs. They face UBC in their final match of the season.

Seattle 45 - UVic 32

Seattle like the Bays are peaking at the right time with two big home wins, they face each other next weekend which should be an epic match. Seattle on the road for 3 remaining matches Bays, Rowers, Ravens. They're well placed to make the playoffs. UVic only have one match left hosting Burnaby so they'll be in a tough spot to make the playoffs if Caps get some points out of their remaining matches.

Ravens 22 - Rowers 22

A bit disappointing for Ravens if they want to get past the quarter finals. They look safe for a playoff spot with 3 matches remaining unless there are some upsets by Caps and Vikes. Ravens finish off against Burnaby, CW and Seattle.

Women's Premier

We thought with the Canada v USA national teams in action this coming week it might throw the form book out the window and it did, CW lost to Caps 36-26 and the Cowichan Piggies put a thumping on second place Seattle 66-47. First place Westshore was the only team to hold form with a 26-15 win over Burnaby.

Island Div 1

This was the final weekend of regular season for Island Div 1, it's playoffs next week and it will be the same matchups. Westshore boasting 3 Canada players destroyed Port 76-10, suiting up for the former VV were Kyle Baillie at #8, Eric Howard at #2 and Maple Leaf 7s David Dinbandhu at #12. The Westshore win coupled with Nanaimo's 12-10 loss to Cowichan leaves a Westshore, Nanaimo, Cowichan, Port Alberni finish in the standings with 1v4 and 2v3.

Mainland Div 1

Lomas defeated Langley 32-12 and Surrey took down United but those are the only results we have from today. Lomas are top of the table, Abby also undefeated going into the weekend. A lot of make up games to be put in before the playoffs due to weather postponements. The top 4 mainland teams make the playoffs along with the top 2 island teams.


---
Weekend Predictions: T-Birds @ CW; Caps @ Bays; Vikes @ Saracens; Rowers @ Ravens: ROSTERS & FULL BC SCHEDULE POSTED

posted March 24 2017
[ed. comments below]

UBC @ CW

This should be the match of the weekend, a lot of Canada players and hopefuls on the field. CW have added Rob Povey to their list of capped players, he'll be going up against Theo Sauder a Canada U20 standout and perhaps heir to the #10 jersey down the road. Andrew Coe vs Keaton Styles at fullback, two key talents. UBC are missing their South African prop, Lemkus, in the starting XV so that may be an equalizer. Quality throughout the rosters, should be a good one. CW at home gave top ranked Burnaby all they could handle in a close loss, expect the same in this match. UBC by 3.

UBC

1. N. Courtney (Handsworth)
2. A. Mascott (St George's)
3 C. Taylor (I) (Dromore)
4. S. Clark (Kitsilano)
5. J. Carson (Oak Bay)
6. T. Roche (St Johns Ravenscourt)
7. J. Ikeda (Magee)
8. C. Hamilton (St George's)
9. J. Sandover-Best (Robert Bateman)
10. T. Sauder (St George's)
11. M. Kulkhan (Port Moody)
12. A. McQueen (Canmore)
13. N. Rees (Port County)
14. N. Clironomos (Lord Byng)
15. A Coe (Bill Crothers)

CW

#1 John Braddock
#2 Ray Barkwill
#3 Jack Sponarski
#4 Cam Polson
#5 Connor Turner
#6 Riley Ilnicki (C)
#7 Nathan Stewart
#8 Haydn Evans
#9 Mike Dalsin
#10 Robbie Povey
#11 Dan Moor
#12 Dustin Dobravsky
#13 Doug Fraser
#14 Anton Ngongo
#15 Keaton Styles

Capilano @ James Bay

The Bays grizzly woke up from hibernation last week and devoured the Rowers, this will be a stiffer test however. No Mack this week so some of the magic will be gone from the Bays attack. The Caps sit in 4th place at 12 points, the Bays are stuck near the bottom at 7, and with only two games left after this weekend it's a must win for the Bays if they hope to continue to post-season play. Caps have Glen McKinnon back in the lineup and hope to bounce back after a tough road trip loss to Seattle. How well do Caps travel outside the Vancouver area - this match should provide an answer. Prediction: Bays by 5.

JBAA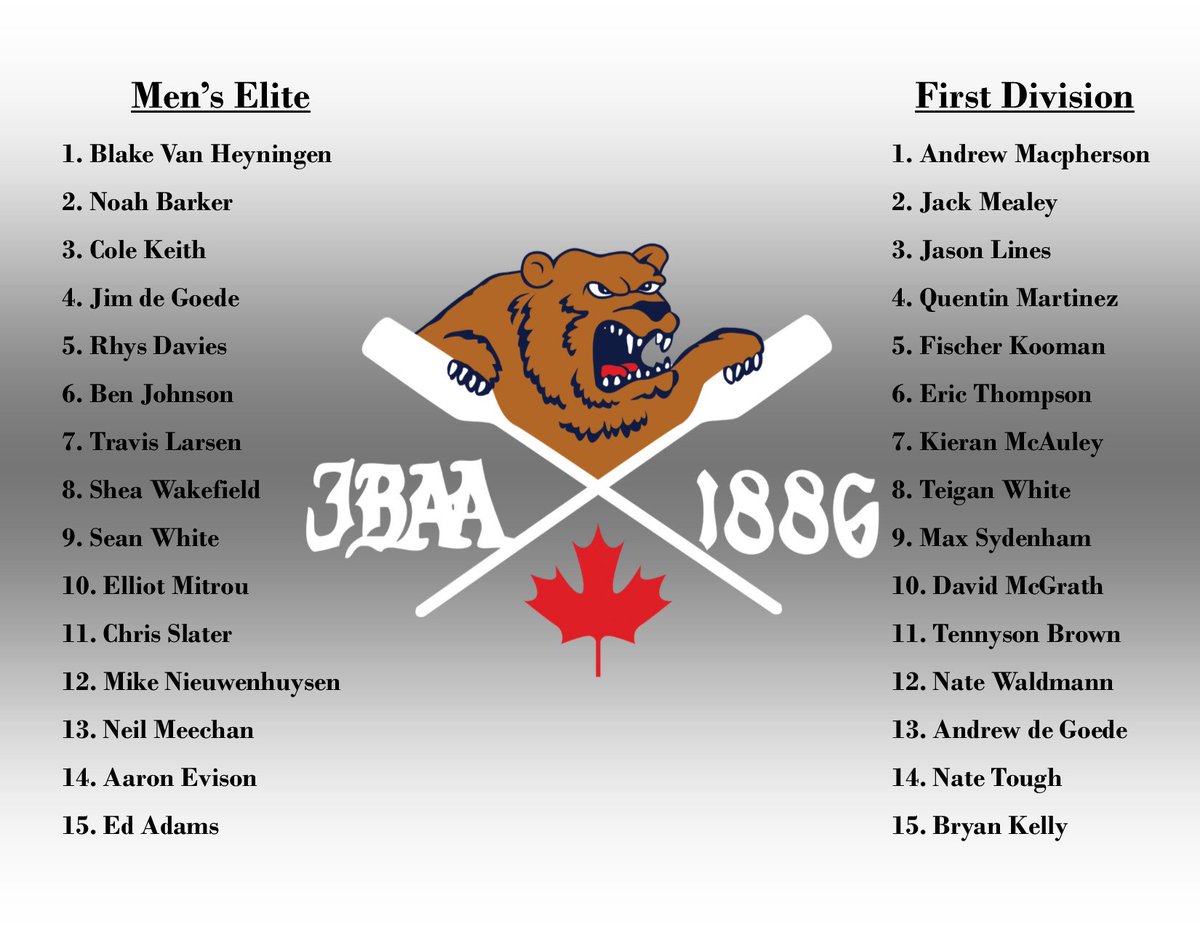 Caps

1 Johnny-Ray Houston
2 Jason de Freitas
3 Jesse Ryan
4 Dave Owen
5 Rich Merinsky
6 Reid Tucker
7 Jordan Reid-Harvey
8 Glen McKinnon
9 Chris Robinson
10 Chad Carlsen
11 Motu Vilisoni
12 Alex Boyd
13 Greg Brown
14 Kail Spooner
15 Connor Martin

UVic @ Seattle

Seattle are looking hot right now, especially at home. They crushed Caps last weekend for their first win. They still have 3 games left after this weekend so plenty of time to make a run into the playoffs. UVic have their backline returning after being sent to 7s duty last weekend. Grady Bowd gets the start at #10 trying to get more experience for future Canada representation, he's up against a talented Irish #10, Sam Windsor, who impressed the Caps last weekend. Seattle likely to have an advantage in the scrums with big Olive Kilifi putting pressure in from the loosehead side. Always a tough road trip when Seattle are at full strength. Prediction: Seattle by 8.

UVic

1 Macbryan Bos
2 James O'Neill
3 Spencer Cooper
4 Liam Chisholm
5 Conor Keys
6 Jeff Nishima-Miller
7 Carson O'Sullivan
8 Kevin Leask
9 James Pitblado
10 Grady Bowd
11 Jon Lorimer
12 Morgan Tate
13 Guiseppe Du Toit
14 Johnny Franklin
15 Fergus Hall

Seattle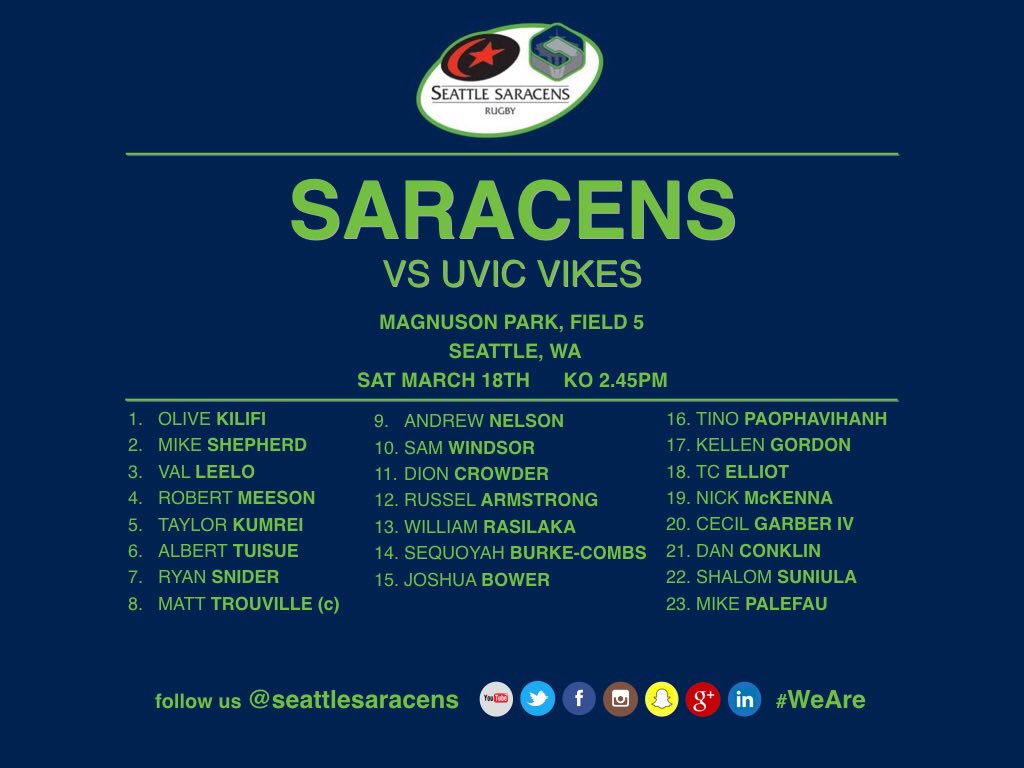 Rowers @ Ravens

Rowers are winless while Ravens sit at 2-2, both teams have 3 games left after this. Unlikely Rowers will see a win this season but Ravens are still in the hunt and each game is critical now. Ravens defeated Vikes and Bays and should be able to add another this weekend at home. Prediction: Ravens by 10.

Ravens

1. Paul Ahn
2. Dewald Kotze
3. Garret Garbe
4. Jon Phelan
5. Liam Flanagan
6. Nick Waggot
7. Dimitri Bonnis
8. Charlie Thorp
9. Aj King
10. Hajun Gill
11. Sean Hase
12. Ben Grant
13. Sean Ferguson
14. Jeff Vreys
15. Aaron Mclelland

Women's Premier

The national women's team were in camp this week and are travelling to California for matches next week. That means some teams will be playing below strength without their national players. It could yield some surprising results. CW host Capilano, Westshore host Burnaby and Cowichan host Seattle. Favourites on current form would be CW, Westshore and Seattle.

FULL SCHEDULE
BCRU Schedule (home team v visiting team - ref)

Mens Premier League
14:45 CASTAWAY WANDERERS V UBC - Brett Hay
14:45 JAMES BAY AA V CAPILANO - Kevin Smith
14:45 SEATTLE V U OF VICTORIA
14:45 UBCOB RAVENS V VAN. ROWING CLUB - Jay MacDonald

Womens Premier Division
11:30 CASTAWAY WANDERERS V CAPILANO - Darren Sage
11:30 COWICHAN V SEATTLE - Manvinder Samra
11:30 WESTSHORE V BURNABY LAKE - John DeGoede

Mens Premier Reserve
13:00 CASTAWAY WANDERERS 2 V UBC 2 - Michael Moss
13:00 JAMES BAY AA 2 V CAPILANO 2 - George Van
13:00 SEATTLE 2 V U OF VICTORIA NORSEMEN
13:00 UBCOB RAVENS 2 V VAN. ROWING CLUB 2 - Harry Mason

Mens Division 1 - Mainland
14:30 BAYSIDE V ABBOTSFORD - David Holmes
14:30 KELOWNA CROWS V BRIT LIONS
14:30 LANGLEY V MERALOMA - David Smortchevsky
14:30 SURREY BEAVERS AA V UNITED - Jivan Dhaliwal

Womens Division 1
11:30 BAYSIDE V MERALOMA - Lindsay Bottomer
11:30 KAMLOOPS V ABBOTSFORD
11:30 SIMON FRASER RC V VANCOUVER THUNDERBIRDS - Heather Lilburn
11:30 UNITED V NANAIMO - Rod Watkins

Mens Division 1 - Island
13:00 NANAIMO 1 V COWICHAN - Don Barber
13:00 PORT ALBERNI V WESTSHORE 1 - Mauke Mauke

Mens Division 2 - Mainland
13:00 BAYSIDE 2 V ABBOTSFORD 2 - Toby Mustill
13:00 KAMLOOPS V RICHMOND 2
13:00 KELOWNA CROWS 2 V SCRIBES
13:00 LANGLEY 2 V MERALOMA 2 - Charles Brown
13:00 SURREY BEAVERS AA 2 V UNITED 2 - Tyler Dawson

Mens Division 2 - Island
13:00 COMOX V NANAIMO 2 - Anthony Forth
13:00 WESTSHORE 2 V CASTAWAY WANDERERS 3 - Tim Stokes

Womens Division 2
11:30 KELOWNA CROWS V SCRIBES
11:30 RIDGE MEADOWS V CAPILANO 2 - Colin Sexton

Mens Division 3
11:30 MERALOMA 3 V CAPILANO 4 - Robert Crowe
11:30 SURREY BEAVERS AA 3 V RIDGE MEADOWS - Bryn Tucker
11:30 UBC 3 V CHILLIWACK - Mike landiak
12:30 KATS V VAN. ROWING CLUB 3 - Graham Haigh
13:00 SIMON FRASER RC V SQUAMISH - Conan Cooper
14:30 SIMON FRASER RC 2 V CAPILANO ACADEMY - Sean Dingley



---