Weekend Results: CW Top Caps; Seattle Edge Bays; Burnaby Defeat Ravens; UBC Pound Rowers - Island Div 1 Playoffs Westshore and Nanaimo Advance
posted April 1 2017
[ed. comments below]
CW 31 - Caps 29
Caps gain 2 BP in the loss which helps them in the playoff race. CW stay top of the standings but Burnaby are close behind with a game in hand. The teams have one game left, CW hosting Ravens and Caps visiting UBC. Caps were ahead in the dying minutes but CW kicked a penalty to secure the win. CW have 30 points, Caps have 14.
Seattle 36 - James Bay 32
The Bays also claim 2 BP in the loss and are tied with Caps for 5th. If the season were to end today they would both make the playoffs but Ravens are one point behind and have a game in hand. It was the Saracens backline that made the difference. The Bays had limited options once the ball got to Sean White at #10, he did his best but there wasn't much attack going on outside him. The Saracens on the other hand had some talented backs and their two wings were danger players securing several tries between them. The James Bay forwards kept them in the game and the scrum battle was even. Seattle have a firm hold on 4th place, 3 points ahead of both Caps and James Bay. Seattle have two games left and are a good bet to finish in 4th and host the 5th place team in the playoffs.
Burnaby 29 - Ravens 10
No BP for the Ravens which leaves them in 7th place but with a game in hand on the teams they're chasing for a playoff spot. Ravens will have to get points from CW on the road and Seattle at home, a tall order to make the playoffs. Burnaby at 29 points are one behind CW with a game in hand. They are on track to finish first with UVic on the road and Rowers at home. Burnaby scored three first half tries for a 17-7 HT lead. They added two more in the second half for the bonus point.
UBC 83 - Rowers 0
Do you think UBC were a little angry after the CW loss, it looks that way. Rowers were the recipients of the backlash. UBC with the BP win have 21 points with two games left. If CW get a point out of their next match then UBC won't be able to catch them even though having a game in hand. UBC are looking good to finish 3rd and host the 6th place team in the QF. They finish off with matches against James Bay and Capilano, both at home.
It's a little early to call but it could be CW hosting UBC in one semi and Burnaby hosting Seattle in the other but still a lot of rugby to play to alter that prediction.
Women's Premier
Westshore defeated Burnaby and Seattle defeated Cowichan, those teams are likely to keep their #1 and #2 ranking in the last few weeks of the season. #1 Westshore would host #4 and #2 Seattle would host #3 in the playoffs. CW, Cowichan and Caps are in the running for 3rd/4th place in the standings.
Div 1 Island
It's Westshore and Nanaimo as the two Island reps in the playoffs. They'll meet next week to determine who is #1 and #2. Westshore defeated Port Alberni 57-28 while Nanaimo defeated Cowichan 31-14.
Div 1 Mainland
Abbotsford and Meraloma continue as the two undefeated sides on the mainland and favourites to advance in the playoffs. Surrey also won, defeating Kelowna 48-15. Next weekend's match Lomas @ Abby will determine #1 and #2 in the standings going into the playoffs. The top four teams from the mainland make the playoffs and Bayside, Langley, Surrey are still in the hunt for the 3rd/4th place picks.
---
Weekend Predictions: CW @ Caps; Saracens @ Bays; Lakers @ Ravens; T-Birds @ Rowers: ROSTERS AND FULL SCHEDULE ADDED
posted March 31 2017
[ed. comments below]
CW @ Capilano
CW top of the table and Caps are in a four way tie for 5th place, two of those 5th place teams won't make the playoffs. Both CW and Caps will have one match left after this. CW are looking strong for a home field semi-final with a win this weekend. Caps need the win to keep in the playoff race. Both teams missing key players, Caps without Glenn McKinnon at #8 aren't the same team. He received a red card against JBAA last week (2 yellows) and the Caps have made their views known about that. CW are missing Ray Barkwill who is going for knee surgery hoping to be back for the RWC qualifiers in June/July. Apparently Dan Moor isn't available either. I think CW have too much backline prowess with former Vikes Dobravsky and Fraser, also Ngongo outside. They've also added Povey to #10. Unless the Caps can keep the ball in tight and play keep away, the home field advantage may not be enough. Prediction: CW by 7.
CAPILANO
1. Jesse Ryan
2. Jason De Freitas
3. Mackenzie Mills
4. Dave Owen
5. Rich Merinsky
6. Reid Tucker
7. Alex Boyd
8. Jordan Reid-Harvey
9. Chris Robinson (C)
10. Chad Carlsen
11. Austin Karius
12. Connor Christopher
13. Greg Brown
14. Nathan Yanagiya
15. Connor Martin
CW (roster from last week with two changes)
#1 John Braddock
#2 Clay Thornber
#3 Jack Sponarski
#4 Cam Polson
#5 Connor Turner
#6 Riley Ilnicki (C)
#7 Nathan Stewart
#8 Haydn Evans
#9 Mike Dalsin
#10 Robbie Povey
#11 Justin Logan
#12 Dustin Dobravsky
#13 Doug Fraser
#14 Anton Ngongo
#15 Keaton Styles
Seattle @ James Bay
The Bays are missing a couple of key players, Phil Mack, coaching the Jamaican women's 7s team going to Hong Kong and Travis Larsen who apparently picked up an injury last match. Elliot Mitrou also injured against Caps. Seattle are missing William Rasilaka who gave UVic fits in their match. However Seattle have Psalm Wooching returning from the national 7s program. Wooching has been getting some press as a football player who has chosen rugby and is targeted to be the next star of the USA 7s team down the road once he gets more rugby experience. Seattle also missing captain Matt Trouville who usually slots in at #8. This is going to be a battle, there's the 71-0 beating Seattle put on the Bays in 2015 at MacDonald Park that still is an open wound. Looking forward to this one. As far as predictions hard to say, how good is this Wooching and will he see enough ball? The Bays have called up a couple of Div 1 players to fill backline roles and Neil Meechan is coming out of rugby retirement this year to also take up a backline role. Seattle are missing their Irish flyhalf, Sam Windsor, who impressed visiting teams. They have big Olive Kilifi, a national team prop up against Cole Keith, a good contest there. A lot of variables to consider as well as home field advantage. If the Bays, typified by the hard-nosed Ben Johnson and skilled Sean White, can control the game through their forwards and field position through their halfbacks then they might pull this one off. Prediction: Bays by 1.
JAMES BAY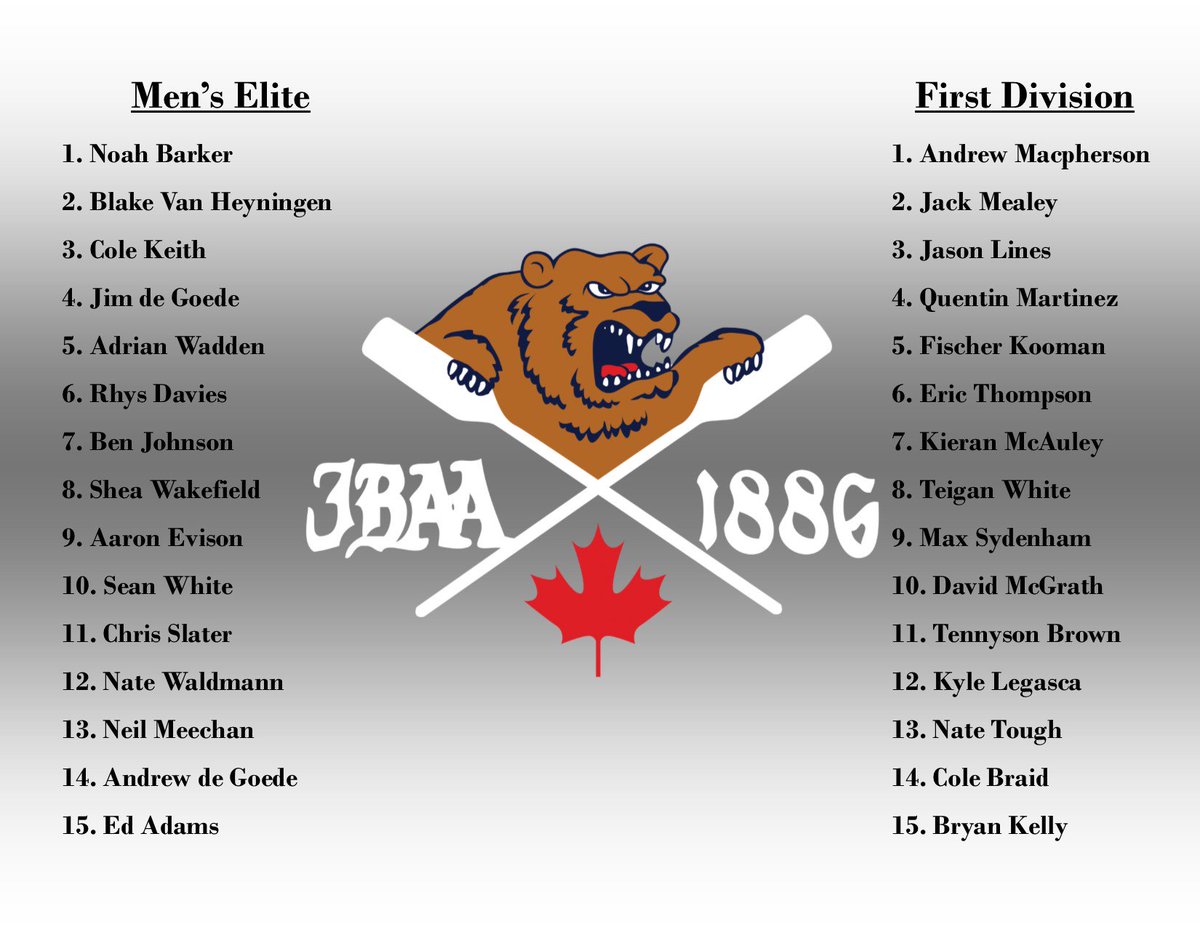 SEATTLE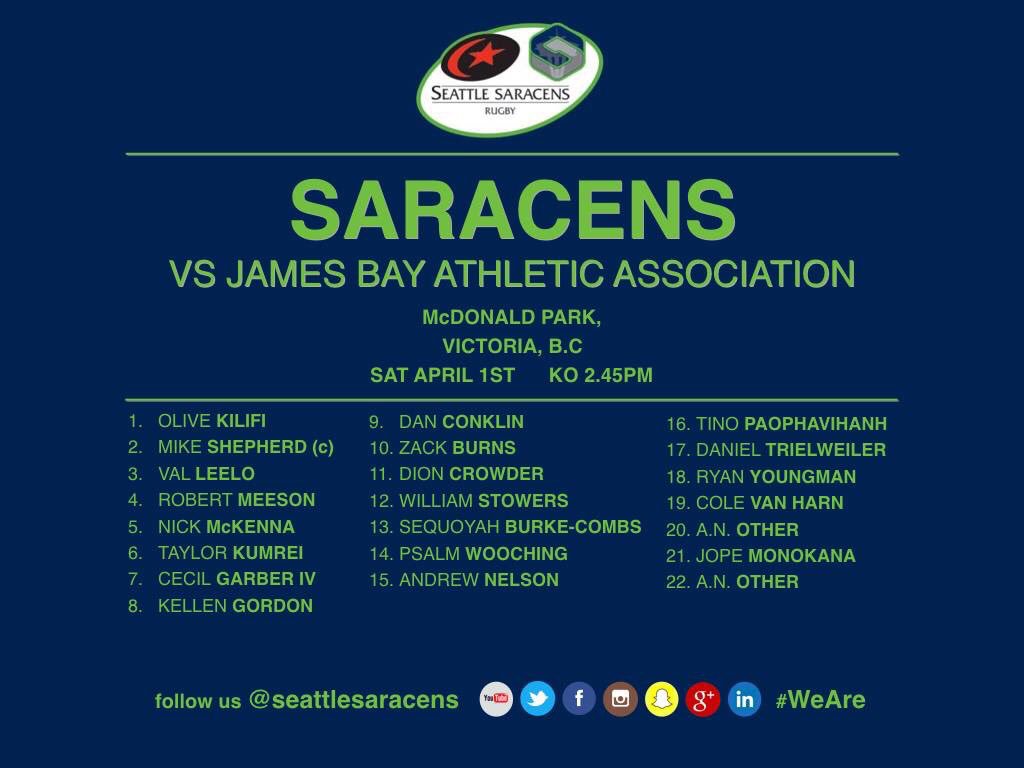 Burnaby @ Ravens
Burnaby are one point behind CW but have a game in hand so Burnaby will finish #1 if they win their remaining matches. Ravens have three very tough games left to get some points out of to keep their playoff hopes alive. They face Burnaby this week, then CW, then Seattle. Ravens were disappointing against Rowers while Burnaby had a weekend to rest and heal. Prediction: Burnaby by 8.
BURNABY
1 Anthony Luca (Capt)
2 Micha Govorchin
3 Ben Rowley (i)
4 Mike O'Toole
5 Craig Mclaughlin
6 Lucas Albornoz
7 Doug Breadon
8 Taitutsi Vikilani
9 Jack Caithness
10 Mike Goodall (i)
11 Matt Chan
12 Jeke Gotegote
13 Kimi Vunituraga
14 Shane Dagg
15 Cole Mcqueen
RAVENS
1. Paul Ahn
2. Dewald Kotze
3. Garret Garbe
4. Jon Phelan
5. Liam Flanagan
6. Nick Waggot
7. Dimitri Bonnis
8. Charlie Thorpe
9. Aj King
10. Hajun Gill
11. Sean Hase
12. Ben Grant
13. Nick Blevins
14. Sean Ferguson
15. Aaron Mclelland
UBC @ Rowers
UBC will be smarting from their loss to CW last weekend, they have a game in hand on CW but are 9 points adrift. If CW win this weekend it will be very difficult for UBC to catch them for a top two position and a bye in the quarter-finals. Rowers got their first points of the season with a draw against Ravens last week. Don't see that happening this week. Prediction: UBC by 12.
UBC
1. C. Sampson (Sir Charles Tupper)
2. A. Mascott (St George's)
3. N. Courtney (Handsworth)
4. C. Weyell (Handsworth)
5. T. Roche (St John's Ravenscourt)
6. J. Ikeda (Magee)
7. N. Penny (Penticton)
8. C. Hamilton (St George's)
9. J. Sandover-Best (Robert Bateman)
10. A. McQueen (Canmore)
11. M. Kulkhan (Port Moody)
12. B. Lesage (Henry Wisewood)
13. N. Rees (Port County)
14. N. Clironomos (Lord Byng)
15. T. Sauder (St George's)
FULL SCHEDULE
(courtesy BCRU)
Saturday 1st April, 2017
Division / Venue / Time / Home / Away / Referee / AR1 / AR2
Mens Premier League / Klahanie Park / 14:45 / Capilano / Castaway Wanderers / Mason Harry / Dawson Tyler / landiak Mike
Mens Premier League / James Bay AA / 14:45 / James Bay AA / Seattle / Smortchevsky David / /
Mens Premier League / Jericho / 14:45 / UBCOB Ravens / Burnaby Lake / Hay Brett / / Hudson Alan
Mens Premier League / Brockton Oval / 14:45 / Van. Rowing Club / UBC / Turner Saro / Holmes David / Johnson Scott (Pending)
Womens Premier Division / Klahanie Park / 11:30 / Capilano / Castaway Wanderers / landiak Mike / /
Womens Premier Division / Magnuson Park / 11:30 / Seattle / Cowichan / / /
Womens Premier Division / Burnaby Lake / 12:00 / Burnaby Lake / Westshore / Lilburn Heather / /
Mens Premier Reserve / Klahanie Park / 13:00 / Capilano 2 / Castaway Wanderers 2 / Dawson Tyler / /
Mens Premier Reserve / James Bay AA / 13:00 / James Bay AA 2 / Seattle 2 / Mauke Mauke / /
Mens Premier Reserve / Jericho / 13:00 / UBCOB Ravens 2 / Burnaby Lake 2 / Macdonald Jason / /
Mens Premier Reserve / Brockton Oval / 13:00 / Van. Rowing Club 2 / UBC 2 / Holmes David / /
Mens Division 1 - Mainland / Exhibition Park / 14:30 / Abbotsford / Brit Lions / Honey Trevor / /
Mens Division 1 - Mainland / Parkinson Rec Field / 14:30 / Kelowna Crows / Surrey Beavers AA / / /
Mens Division 1 - Mainland / Connaught Park / 14:30 / Meraloma / United / Stone Graham / /
Womens Division 1 / Kamloops Park / 11:30 / Kamloops / Vancouver Thunderbirds / / /
Womens Division 1 / Connaught Park / 11:30 / Meraloma / Brit Lions / Beyea Julie / /
Womens Division 1 / May Bennett Pioneer / 11:30 / Nanaimo / Abbotsford / Moss Michael / /
Womens Division 1 / May Bennett Pioneer / 11:30 / Nanaimo / Abbotsford / / /
Womens Division 1 / Simon Fraser no.4 / 11:30 / Simon Fraser RC / United / Bentall Julian / /
Mens Island Division 1 Playoffs / May Bennett Pioneer / 13:00 / Nanaimo 1 / Cowichan / Foster Andrew / Moss Michael / Barber Don
Mens Island Division 1 Playoffs / Juan De Fuca / 13:00 / Westshore 1 / Port Alberni / Van George / /
Mens Division 2 - Mainland / Exhibition Park / 13:00 / Abbotsford 2 / Scribes / Dhaliwal Jivan / /
Mens Division 2 - Mainland / Kamloops Park / 13:00 / Kamloops / Bayside 2 / / /
Mens Division 2 - Mainland / Parkinson Rec Field / 13:00 / Kelowna Crows 2 / Surrey Beavers AA 2 / / /
Mens Division 2 - Mainland / Connaught Park / 13:00 / Meraloma 2 / United 2 / Johnson Scott / /
Mens Division 2 - Mainland / King George Park / 13:00 / Richmond 2 / Langley 2 / Dingley Sean / /
Womens Division 2 / Klahanie Park / 10:00 / Capilano 2 / Scribes / Burns Dave / /
Womens Division 2 / Sullivan Heights / 10:00 / Surrey Beavers AA / Westshore 2 / / /
Womens Division 2 / Parkinson Rec Field / 11:30 / Kelowna Crows / Ridge Meadows / / /
Mens Division 3 / Exhibition Park / 11:30 / Abbotsford 3 / Burnaby Lake 3 / Watkins Rod / /
Mens Division 3 / Klahanie Park / 11:30 / Capilano Academy / Meraloma 3 / Treacy Marcus / /
Mens Division 3 / Brockton Oval / 11:30 / Van. Rowing Club 3 / UBC 3 / Crowe Robert / /
Mens Division 3 / Chilliwack / 13:00 / Chilliwack / Simon Fraser RC 2 / Rowell Stephen / /
Mens Division 3 / Balaclava Park / 13:00 / Kats / Ridge Meadows / Cooney John / /
Mens Division 3 / Squamish / 13:00 / Squamish / Capilano 4 / / /