Canada Lose to Italy in Final Match of Tour 51-22: Reflection on Last Age-Grade Win Over Italy

posted April 16 2017
[ed. comments below]

The obvious spin Rugby Canada will put on this is "what a great learning experience" but a scoreline of 156 to 47 over three matches shows that things need to change in order to improve the men's XVs program. The sizeable loss to Italy is probably the most disheartening as they're a country that we have been competitive with in the past. They're ranked 15th just ahead of Romania and USA, Canada used to be in the mix there as well.

I take you back to June 2005, the last time we beat Italy in age-grade rugby. It was the U21 World Championship, the top level, not the Tier 2 level Canada competes in today. Canada defeated Italy 33-30.

This was the Canadian lineup on the day. Almost every player, even if they were from outside BC, played winter rugby in BC. The RCSL was still going, between BC rugby in the winter and RCSL in the summer, players were getting a lot of competitive domestic rugby. Plus the Pacific Pride U23 residential program had been a major force. Then the RCSL league was terminated, the Pacific Pride program was terminated and players were not encouraged as much to play winter rugby in BC. Changes are needed, we may not be able to go back to the old structures but new ones have to be devised. More competitive rugby throughout the year, in BC in the winter and the rest of Canada in the summer and a residential academy system operating full time.

2005 Canada U21 team that defeated Italy

1 Jordan Allen
Edmonton Gold

2 David Nielsen
Aurillac / Ontario

3 Robbie Wright
University of Victoria / British Columbia

4 Josh Dunning
Oak Bay / British Columbia

5 Cody Berg
Burnaby Lake / British Columbia

6 Nolan Ott
McMaster / Ontario

7 Adam Kleeberger
University of Victoria / British Columbia

8 Dave Biddle
Meralomas / British Columbia

9 Spence Dalziel
Meralomas / British Columbia

10 Dave Spicer (C)
University of Victoria / British Columbia

11 Phil Mack
James Bay AA / British Columbia

12 James Buchanan
Hornets / Alberta

13 Dave Stockton
University of Victoria / British Columbia

14 Steve Piatek
Brantford / Ontario

15 Jarod Selby
Lindsay / Ontario

16 Ken Van Allen
James Bay AA / Ontario

17 Glen McKinnon
Capilanos / British Columbia

18 Matt Evans
Hornets / Alberta

19 Sam Val-Zehan
Oak Bay / Alberta

20 Aaron Goddard
Burnaby Lake / British Columbia

21 Andrew Gudmunseth
Cowichan / British Columbia

22 Steve Woodward
Meralomas / Alberta

from Rugby Canada

Canada's men's U19 team concluded its International Series campaign with a 51-22 defeat to Italy.

Jack McRogers had two tries for Canada while Christop Stangl got his second try of the tour too.

In their other two games, Canada lost 55-11 to England and 50-14 to Wales.

"This was a great learning experience for our guys," said Ken Goodland, Rugby Canada's Coordinator, National Player Development & Talent ID. "I'm very proud of their attitude and effort all week.

Canada's Men's U19 Team vs. Italy (Name, club, hometown):

1. Samuel Turner, (UBC) Vancouver, BC
2. Jack McRogers, (Aurora Barbarians) Newmarket, ON
3. Emerson Prior, (Trent University Varsity Club) Gananoque, ON
4. Jackson Marquardt, (Concordia University) Ottawa, ON
5. Christoph Stangl, (UBC) Vancouver, BC
6. Owain Ruttan, (UBC) Precious Corners, ON
7. Peter Ingoldsby, (Teignmouth RFC), Totnes, Devon, England
8. James O'Neill, (UVic) Cochrane, AB
9. Brandon Schellenberger, (Castaway Wanderers) Victoria, BC
10. Brennig Prevost, (UVic) Victoria, BC
11. Evan Norris, (Shawnigan Lake School) Victoria, BC
12. Mostyn Findlay, (UVic) Regina, SK
13. Quinn Ngawati, (St Michaels University School) Victoria, BC
14. Elias Ergas, (UBC) North Vancouver, BC
15. Seth Purdy, (Shawnigan Lake School) Mill Bay, BC
16. Damon Adams, (Castaway Wanderers) Victoria BC
17. Kyle Joe, (Cowichan) Ladysmith, BC
18. Spencer Cooper, (UVic), Victoria, BC
19. Peyton Eager, (Cowichan RFC) Cowichan, BC
20. John Jubenvill, (UBC) Surrey, BC
21. James Hammond, (Toronto Nomads/United RFC) Vancouver, BC
22. Miquel-Fabian Palij, (Markham Irish) Markham, ON
23. Matthew Ye, (UBC) Markham, ON
24. Logan Martin-Feek, (West Shore) Victoria, BC

Coaching Staff:

Dean Murten — Head Coach
John Lavery — Coach
Anthony Le Carte — Coach
Conan Cooper — Strength & Conditioning Coach
Desmond Lynch —Mental Skills Coach & Team Manager
Ben Motum —Physiotherapist
Aaron Takel — Performance Analyst

Canada's Men's U19 Schedule:

Canada 11-55 England
Canada 14-50 Wales
Canada 22-51 Italy


---
Canada Fall to Wales 50-14 in Second Match of Tour: Face Italy Next

posted April 13 2017

Canada lost to Wales 50-14 and will face the other team with an 0-2 record, Italy, on Sunday. England and Wales are 2-0, Ireland and Scotland are 1-1.

from Welsh Rugby Union

It was the visitors who opened the scoring with a 13th-minute try from number eight Christoph Stangl, converted by fly-half Brennig Prevost, for a seven-point lead.

Wales' response was swift, as scrum-half Aron Hemmings wrong-footed the defence inside their 22 and found half-back partner Llew Smith, whose try was impressively converted by inside centre Scott Lloyd.

It took even less time for the hosts to score their next, with the Canadians scarcely able to get a finger on the pacy Tomi Lewis as the winger touched down for a blistering solo effort. Lloyd watched as his conversion attempt rebounded off both uprights before clearing the crossbar. 14-7.

Replacement Tom Hoppe had barely been on the field for more than a couple of minutes before touching down in the corner after a sweeping passage of play by his fellow Welsh backs. 19-7.

Not to be denied, the combative Canadians kept themselves in the hunt when blindside Owain Ruttan powered his way over the line. Those five points became seven thanks to Prevost's impressive conversion and Wales now only held a slim 19-14 advantage.

A minute left in the first half, Wales fullback James McCarthy broke away from the chasing pack for a timely try and a ten-point lead for the hosts at half-time.

Wales then made an ideal start to the second half after a try from elusive wing Ioan Davies; Lloyd's conversion making it two converted scores the difference between the two sides

Hoppe found himself on the scoreboard once again later on in the game, this time touching down under the posts for a simple conversion from Lloyd. It was then the turn of another young Welshman to notch up his second try of the night: this time Ioan Davies making his mark on proceedings. Lloyd's superb conversion of the try took the scores to 45-14.

Time was almost up on the clock, but not before replacement scrum-half Harri Morgan managed to make an impact with a try down the right wing for a full-time score of 50-14 to Wales.

To Canada's credit, they played with aggressive intent right to the final whistle, and the Welsh coaches will have been delighted to see their team once again keep the opposition scoreless in the second half.

In other Day Two results, Scotland beat Italy 28-22, while a terrific battle between England and Ireland saw the Red Rose emerge 39-20 winners.

The final day of this year's International Series comes this Sunday, with the teams facing off at the CCB Centre for Sporting Excellence in Ystrad Mynach. Commencing the action will be Italy v Canada (12:00), followed by Scotland v England (14:30), before a climactic clash between Wales and Ireland (16:15).

from Rugby Canada

Canada's men's U19 team fell 50-14 to Wales Wednesday in the second game of the International Series.

Canada took an early lead in the 10th minute as Christoph Stangl touched down after great work by the forwards with Brennig Prevost converting for a 7-0 lead.

Wales would score three unanswered tries for a 19-7 lead after 22 minutes before Canada got its second try of the game through Owain Ruttan in the corner with Prevost again converting to cut the deficit to 19-14.

After Wales grabbed a fourth try just before the break for a 24-14 lead, the hosts extended their lead, outscoring the Canadians 26-0 in the second half to seal a 50-14 win.

Canada completes its tour Sunday when they face Italy.


---
Canada Names Squad for Wales Clash on Wednesday 11:30am PT

posted April 12 2017
from Rugby Canada

Canada's men's U19 head coach Dean Murten has named his starting XV for Wednesday's International Series against hosts Wales.

Murten has made nine changes to his starting lineup after Saturday's 55-11 defeat to England.

It's an entirely new front row for Canada as Samuel Turner, Kyle Joe and Damon Adams all start with Jackson Marquardt and Jackson Matthews at lock. Owain Ruttan, James O'Neill and Christoph Stangl form Canada's back row.

Matthew Ye starts at scrum-half while Brennig Prevost comes in at fly-half. Elias Ergas, who had Canada's lone try against England, is joined by Miquel-Fabian Palij on the wings with Quinn Ngawati and John Jubenvill in the centres. James Hammond starts at fullback once again.

Wednesday's game kicks off at 2:35pm ET/11:35am PT from Parc Y Scarlets but will not be streamed live. Follow Rugby Canada on Twitter for live updates.

Canada's Men's U19 Team vs. Wales (Name, club, hometown):

1. Samuel Turner, (UBC) Vancouver, BC
2. Kyle Joe, (Cowichan) Ladysmith, BC
3. Damon Adams, (Castaway Wanderers) Victoria BC
4. Jackson Marquardt, (Concordia University) Ottawa, ON
5. Jackson Matthews, (Beaconsfield RFC) Beaconsfield, QC
6. Owain Ruttan, (UBC) Precious Corners, ON
7. James O'Neill, (UVic) Cochrane, AB
8. Christoph Stangl, (UBC) Vancouver, BC
9. Matthew Ye, (UBC) Markham, ON
10. Brennig Prevost, (UVic) Victoria, BC
11. Elias Ergas, (UBC) North Vancouver, BC
12. Quinn Ngawati, (St Michaels University School) Victoria, BC
13. John Jubenvill, (UBC) Surrey, BC
14. Miquel-Fabian Palij, (Markham Irish) Markham, ON
15. James Hammond, (Toronto Nomads/United RFC) Vancouver, B
16. Gavin Kratz, (UVic) Victoria, BC
17. Emerson Prior, (Trent University Varsity Club) Gananoque, ON
18. Jack McRogers, (Aurora Barbarians) Newmarket, ON
19. Peyton Eager, (Cowichan RFC) Cowichan, BC
20. Aidan Foley, (Western University) Oakville, ON
21. Logan Martin-Feek, (West Shore) Victoria, BC
22. Mostyn Findlay, (UVic) Regina, SK
23.Seth Purdy, (Shawnigan Lake School) Mill Bay, BC
24. Brandon Schellenberger, (Castaway Wanderers) Victoria, BC
25. Evan Norris, (Shawnigan Lake School) Victoria, BC

Canada's Men's U19 Schedule:

Canada 11-55 England
Canada vs. Wales — April 12
Canada vs. Italy — April 16


---
Canada v England Match Video

posted April 10 2017
[ed. comments below]

The match video is below. It points out some basics that Canadian players at this age have to work on, basic tackling and passing skills are exposed in many cases at this level. There are plenty of examples throughout the video. It wouldn't be a bad idea for many of these players to take part in 7s tournaments as well for extra practice in those areas.

The video also points out, sadly, the reality of refereeing when playing in Europe against Tier 1 competition. It's hard to get an even playing field until more North American referees make the top tier. The referee in this match had one set of standards for England, another for Canada. The photo below shows where the offside line is at a ruck if you're from England (white line), where it should be and where it was for Canada (in yellow). There were different standards for set pieces and rucks in the referees mind. You just have to listen to the different verbal instructions he gave each team not in possession. Hopefully in future matches they'll be able to find an impartial referee.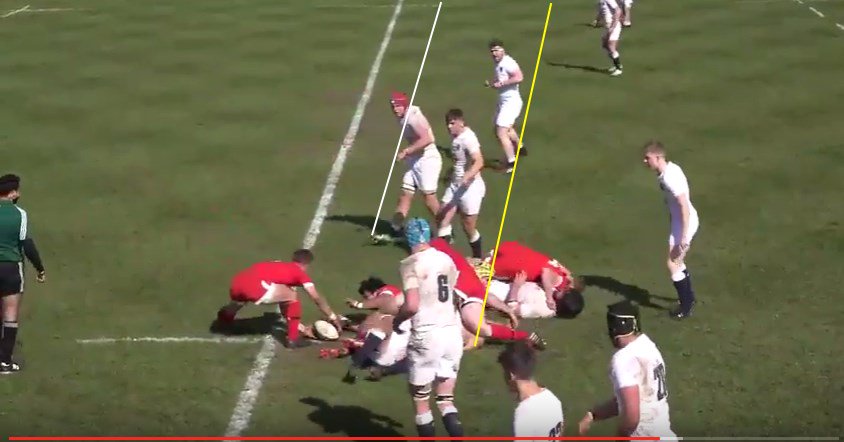 White line represents the offside line if you're wearing white, yellow for all other teams




---
Canada U19 Fall to England 55-11 in First Match: Next Wales on Wednesday

from Rugby Canada
posted April 8 2017

Canada's U19 men's team lost its international series opener 55-11 to England Saturday.

Canada got two penalties from Logan Martin-Feek while Elias Ergas had Canada's lone try.

England built a 17-6 lead before Canada closed the gap through Ergas' first half try. However, England added to their lead, taking a 29-11 advantage into half time.

It was all England in the second half as they added four more tries to complete a resounding 55-11 win.

Canada is back in action on Wednesday when they face hosts Wales.

Canada's Men's U19 Team vs. England (Name, club, hometown):

1. Gavin Kratz, (UVic) Victoria, BC
2. Jack McRogers, (Aurora Barbarians) Newmarket, ON
3. Emerson Prior, (Trent University Varsity Club) Gananoque, ON
4. Aidan Foley, (Western University) Oakville, ON
5. Jackson Marquardt, (Concordia University) Ottawa, ON
6. Jackson Matthews, (Beaconsfield RFC) Beaconsfield, QC
7. James O'Neill, (UVic) Cochrane, AB
8. Christoph Stangl, (UBC) Vancouver, BC
9. Brock Gallagher, (Stratchona Druids) Edmonton, AB
10. Logan Martin-Feek, (West Shore) Victoria, BC
11. Evan Norris, (Shawnigan Lake School) Victoria, BC
12. Mostyn Findlay, (UVic) Regina, SK
13. Elias Ergas, (UBC) North Vancouver, BC
14. Seth Purdy, (Shawnigan Lake School) Mill Bay, BC
15. James Hammond, (Toronto Nomads/United RFC) Vancouver, B
16. Damon Adams, (Castaway Wanderers) Victoria BC
17. Kyle Joe, (Cowichan) Ladysmith, BC
18. Samuel Turner, (UBC) Vancouver, BC
19. Peyton Eager, (Cowichan RFC) Cowichan, BC
20. Owain Ruttan, (UBC) Precious Corners, ON
21. Quinn Ngawati, (St Michaels University School) Victoria, BC
22. Matthew Ye, (UBC) Markham, ON
23. John Jubenvill, (UBC) Surrey, BC
24. Miquel-Fabian Palij, (Markham Irish) Markham, ON
25. Brennig Prevost, (UVic) Victoria, BC
26. Brandon Schellenberger, (Castaway Wanderers) Victoria, BC

Canada's Men's U19 Schedule:

Canada 11-55 England
Canada vs. Wales — April 12
Canada vs. Italy — April 16


---
Canada Name Team to Face England on Saturday 6:30am PT

from Rugby Canada
posted April 7 2017

Canada's men's U19 head coach Dean Murten has named his starting XV for Saturday's game against England.

The game will be played at Taffs Wells RFC, 20 minutes outside of Cardiff.

Gavin Kratz, Jack McRogers and Emerson Prior will form Canada's front row while Aidan Foley and Jackson Marquardt start at lock. Jackson Matthews and James O'Neill start at flanker with Christoph Strangl at No. 8.

Brock Gallagher gets the nod at scrum-half with Logan Martin-Feek at fly-half. Evan Norris and Seth Purdy start on the wings with Mostyn Findlay and Elias Ergas in the centres. James Hammond starts at fullback.

Saturdays game kicks off at 9:30am ET/6:30am PT but will not be streamed live due to a change in the game location.

Canada's Men's U19 Team vs. England (Name, club, hometown):

1. Gavin Kratz, (UVic) Victoria, BC
2. Jack McRogers, (Aurora Barbarians) Newmarket, ON
3. Emerson Prior, (Trent University Varsity Club) Gananoque, ON
4. Aidan Foley, (Western University) Oakville, ON
5. Jackson Marquardt, (Concordia University) Ottawa, ON
6. Jackson Matthews, (Beaconsfield RFC) Beaconsfield, QC
7. James O'Neill, (UVic) Cochrane, AB
8. Christoph Stangl, (UBC) Vancouver, BC
9. Brock Gallagher, (Stratchona Druids) Edmonton, AB
10. Logan Martin-Feek, (West Shore) Victoria, BC
11. Evan Norris, (Shawnigan Lake School) Victoria, BC
12. Mostyn Findlay, (UVic) Regina, SK
13. Elias Ergas, (UBC) North Vancouver, BC
14. Seth Purdy, (Shawnigan Lake School) Mill Bay, BC
15. James Hammond, (Toronto Nomads/United RFC) Vancouver, B
16. Damon Adams, (Castaway Wanderers) Victoria BC
17. Kyle Joe, (Cowichan) Ladysmith, BC
18. Samuel Turner, (UBC) Vancouver, BC
19. Peyton Eager, (Cowichan RFC) Cowichan, BC
20. Owain Ruttan, (UBC) Precious Corners, ON
21. Quinn Ngawati, (St Michaels University School) Victoria, BC
22. Matthew Ye, (UBC) Markham, ON
23. John Jubenvill, (UBC) Surrey, BC
24. Miquel-Fabian Palij, (Markham Irish) Markham, ON
25. Brennig Prevost, (UVic) Victoria, BC
26. Brandon Schellenberger, (Castaway Wanderers) Victoria, BC

Canada's Men's U19 Schedule:
Canada vs. England — April 8
Canada vs. Wales — April 12
Canada vs. Italy — April 16


---
Canada U19 Schedule Starts Saturday vs England: Saturday Venue Change from Pontypridd to Taffs Well and Cardiff Arms Park

posted April 5 2017
[ed. comments below. A late development as Saturday's venues changed from Sardis Road, Pontypridd to Taffs Well and Cardiff Arms Park. The 3G artificial turf at Sardis Road was considered to require further testing as seven players suffered friction burns in a previous match played there. More details from BBC report. Apparently the England v Canada match will be played at Taffs Well RFC while the other matches take place at Cardiff Arms Park.]

There's still no word on whether there will be a live stream of the matches from the tournament, question has been asked and passed onto Rugby Canada. There were a number of complaints about the tour communication when the team took on the USA in December, it's the same management team so we'll see if there was any learning and adjustment by RC.

Below is an article from the Welsh Rugby Union who are hosting the tournament with venues and times. It should be noted this is billed as a U18 Series so Canada are given a bit of leeway by putting in a U19 team, not uncommon when a Tier 2 country plays in a Tier 1 tournament.

Canada are training out of Cardiff Metropolitan University and their first match is in Pontypridd Taffs Well vs England.

We'll bring you more updates as we get them.

UPDATE

This is what we've been told to expect in terms of coverage.

U19 vs England on Saturday
- No streaming
- Updates on social media (as much as possible)
- Roster will be released day before
- There will be a post match recap and highlights

U18 vs Georgia on Friday
- Stream available (details to be provided)
- Roster will be announced day before match
- There will be a post match recap and highlights

Check Rugby Europe website for updates and stream details.

from Welsh Rugby Union - March 28th

The Welsh Rugby Union will host the U18 International Series next month, with participation from teams from across Europe and North America.

Along with the host nation, U18 sides from Canada, England, Ireland, Italy and Scotland will take part in the competition which is a continuation of last year's successful series - also held in Wales - with a significant proportion of those players in action recently in the U20 Six Nations.

"This is the second year that we have hosted this event and we can't wait to run it again in April," said Gethin Watts, Age Grade Manager of the Welsh Rugby Union. "It will be enhanced this year with Canada being involved bringing it to a round number of teams, so we can have all the games played back-to-back at three venues across the country.

"The teams participating have been instrumental in creating a developmental culture to the series, meaning that the games will be high-paced, high-skilled and played at a great intensity. I would urge fans of open running rugby to come along as it will be a great insight into the future talent of each country."

Three Welsh venues - Pontypridd's Sardis Road, Parc y Scarlets in Llanelli and Newport Gwent Dragons' training base, the CCB Centre for Sporting Excellence in Ystrad Mynach - will host back-to-back matches across three days next month. Training bases for the visiting nations will include Whitchurch High School and Cardiff International Sports Stadium (Ireland and Scotland respectively), Bonymaen RFC and Swansea University (Italy and England) and Cardiff Metropolitan University (Canada).

"We're extremely grateful to these venues for offering their support to the U18 International Series and the participating countries," added Watts. "This wouldn't be possible without their help, but with it we can now look forward to what will be a memorable three days of rugby here in Wales."

Fixtures

Saturday 8th April - Sardis Road, Pontypridd Taffs Well and Cardiff Arms Park.
England v Canada (14:30)
Ireland v Italy (17:00)
Wales v Scotland (19:15)

Wednesday 12th April - Parc y Scarlets, Llanelli
Scotland v Italy (15:30)
England v Ireland (17:15)
Wales v Canada (19:35)

Sunday 16th April - CCB Centre for Sporting Excellence, Ystrad Mynach
Italy v Canada (12:00)
Scotland v England (14:30)
Wales v Ireland (16:15)

---

Canada's Men's U19 Roster for Wales Tour (Name, club, hometown):

Damon Adams, (Castaway Wanderers) Victoria BC
Marco Cazza, (Ormstown Saracens) Saint-anicet QC
Peyton Eagar, (Cowichan RFC), Duncan BC
Elias Ergas, (UBC) North Vancouver, BC
Mostyn Findlay, (UVic) Regina, SK
Aidan Foley, (Western University) Oakville, ON
Brock Gallagher, (Stratchona Druids) Edmonton, AB
Jeremy Gamm, (Markham Irish) Markham, ON
James Hammond, (Toronto Nomads/United RFC) Vancouver, BC
Peter Ingoldsby, (Teignmouth RFC) Devon, England
Kyle Joe, (Cowichan) Ladysmith, BC
John Jubenvill, (UBC) Surrey, BC
Gavin Kratz, (UVic) Victoria, BC
Jake Lan, (UBC) Vancouver, BC
Logan Martin-Feek, (West Shore) Victoria, BC
Jackson Matthews, (Beaconsfield RFC) Beaconsfield, QC
Jack McRogers, (Aurora Barbarians) Newmarket, ON
Jordon Montgomery, (PEI Mudmen) Kensington, PEI
Quinn Ngawati, (St Michaels University School) Victoria, BC
Evan Norris, (Shawnigan Lake School) Victoria, BC
James O'Neill, (UVic) Cochrane, AB
Brennig Prevost, (UVic) Victoria, BC
Emerson Prior, (Trent University Varsity Club) Gananoque, ON
Seth Purdy, (Shawnigan Lake School) Mill Bay, BC
Owain Ruttan, (UBC) Precious Corners, ON
Michael Smith, (UBC) Surrey, BC
Christoph Stangl, (UBC) Vancouver, BC
Brandon Schellenberger, (Castaway Wanderers) Victoria, BC
Matthew Ye, (UBC) Markham, ON



---