Weekend Results: Burnaby Dump Vikes; T-Birds Dominate Bays; Ravens Upset CW; Seattle Edge Rowers
posted April 9 2017
[ed. comments below]
Burnaby 41 - UVic 26
Burnaby put a lock on first place and a home semi-final on the 29th. Vikes are done for the season and finish in 8th place. The match was close at the half, 24-14 for Burnaby, with Vikes going out to an early lead at 14-5. Burnaby host Rowers next weekend to close out the regular season.
UBC 32 - James Bay 6
The Bays have to wait and see if they'll make the playoffs, they're tied with Caps and they won the head to head match so would go through but Caps have one game left against UBC. If they get one bonus point in that match they'll knock the Bays out of the playoffs. The T-Birds have a firm hold of 3rd place and still have a game left versus Capilano. They'll host a quarter-final match on the 22nd against the 6th place team, likely Caps or Bays.
Ravens 29 - CW 26
A big effort by Ravens to claim their playoff spot. The win puts them into 5th place and they host Seattle next weekend and could possibly overtake 4th place Seattle with win. CW get their needed bonus point in the loss to secure 2nd place in the standings and a home semi-final on the 29th.
Seattle 29 - Rowers 20
Seattle had to work hard for the win and remain in 4th place. A big game next weekend versus Ravens which will decide who hosts the quarter-final match on the 22nd. Rowers have one match left at Burnaby.
Women's Premier
Westshore will finish the season in top place and host a semi-final on the 29th. There's still two weeks left in the season but with a 14 point lead in the standings they won't be caught regardless of results. Seattle sit in second at 38 points but Caps with the win have closed the gap and sit in 3rd with 32 points. Cowichan claim 4th at 31 points with a bonus point win at Burnaby. CW at 25 points (possibly 26 if they gained two bonus points in the loss) have one game left in Cowichan on the 22nd.
Cowichan 45 - Burnaby 20
Capilano 31 - Seattle 17
Westshore 25 - CW 23
Island Div 1
Nanaimo win the Cowichan Cup and claim the Island #1 ranking and a home semi-final on April 29th. Westshore travel to Mainland 3 on the 22nd.
Nanaimo 37 - Westshore 31
Mainland Div 1
It's a bit unclear who is 2nd and 3rd in the standings with the BCRU showing one less game for Abby. Lomas are clearly top of league undefeated, Abby have one loss and Surrey have two losses with one week left in the regular season. Mainland 3 will host Westshore while Mainland 2 will host Mainland 4 on the 22nd. Nanaimo will host the winner of Mainland 2/4 on the 29th and Lomas will host the winner of Westshore/Mainland 3.
Meraloma 14 - Abbotsford 3
Surrey 22 - Langley 8
---
Weekend Predictions: Burnaby @ Vikes; Bays @ T-Birds; Ravens @ CW; Saracens @ Rowers: ROSTERS AND FULL SCHEDULE
posted April 7 2017
[ed. comments below]
These are the standings going into Saturday's action.

Burnaby @ UVic
The Vikes are still in with a shot at the playoffs but it's slim, a win over Burnaby plus some losses by James Bay, Ravens and Caps could see them advance. First tall order is a win against an undefeated Burnaby side. UVic will be under the gun in the sets and that's where Burnaby will be pushing their advantage. The Vikes have some backline power with Grady Bowd, James Pitblado, Jon Lorimer, Fergus Hall, Kapi Vataiki and Guiseppe du Toit. They can match up against anyone in the league, the issue is with the forwards and support for players like Liam Chisolm and Ollie Nott. Burnaby likely to keep their perfect record going. Prediction: Burnaby by 8.
BURNABY
1 Anthony Luca (Capt)
2 Andrew Lackner
3 Ben Rowley (i)
4 Mike O Toole
5 Craig Mclaughlin
6 Lucas Albornoz
7 Cole Mosychuk
8 Ethan Nisbett (i)
9 Mark Higgins (i)
10 Mike Goodall (i)
11 Dan Josok
12 James Reekie
13 Kimi Vunituraga
14 Shane Dagg
15 Cole Mcqueen
UVIC
Shota Honjo
Casey Reed
Mac Bos
Alex McAra
Jesse Burns
Liam Chisholm
Ollie Nott
Carson O'Sullivan
Evan Cambridge
Thomas Di Fiore
Matt Sutherland
James Pitblado
Gradyn Bowd
Morgan Tate
Guiseppe du Toit
Johnny Franklin
Jonathan Lorimer
Fergus Hall
Kapi Vataiki
Bays @ UBC
The Bays are in tough here against two time champs UBC but UBC are showing a few cracks in there armour losing twice this year already. Both losses were on the road however and against the top two ranked sides. They are missing their two starting props and Andrew Coe, the Bays should match up well in the forwards. The question is how will their backs matchup, that lost them the game last week against Seattle. They have a few returning players in the backline so this will be a better effort from the Bays. This is the Bays last game of the season, they need points from this or risk being overtaken by Ravens who have a game in hand. Prediction: UBC by 2.
UBC
1. C. Sampson (Sir Charles Tupper)
2. A. Mascott (St George's)
3. N. Courtney (Handsworth)
4. C. Weyell (Handsworth)
5. T. Roche (St John's Ravenscourt)
6. J. Ikeda (Magee)
7. N. Penny (Penticton)
8. N. Allen (Collingwood)
9. J. Sandover-Best (Robert Bateman)
10. A. McQueen (Canmore)
11. M. Kulkhan (Port Moody)
12. B. Lesage (Henry Wisewood)
13. N. Rees (Port County)
14. N. Clironomos (Lord Byng)
15. T. Sauder (St George's)
JBAA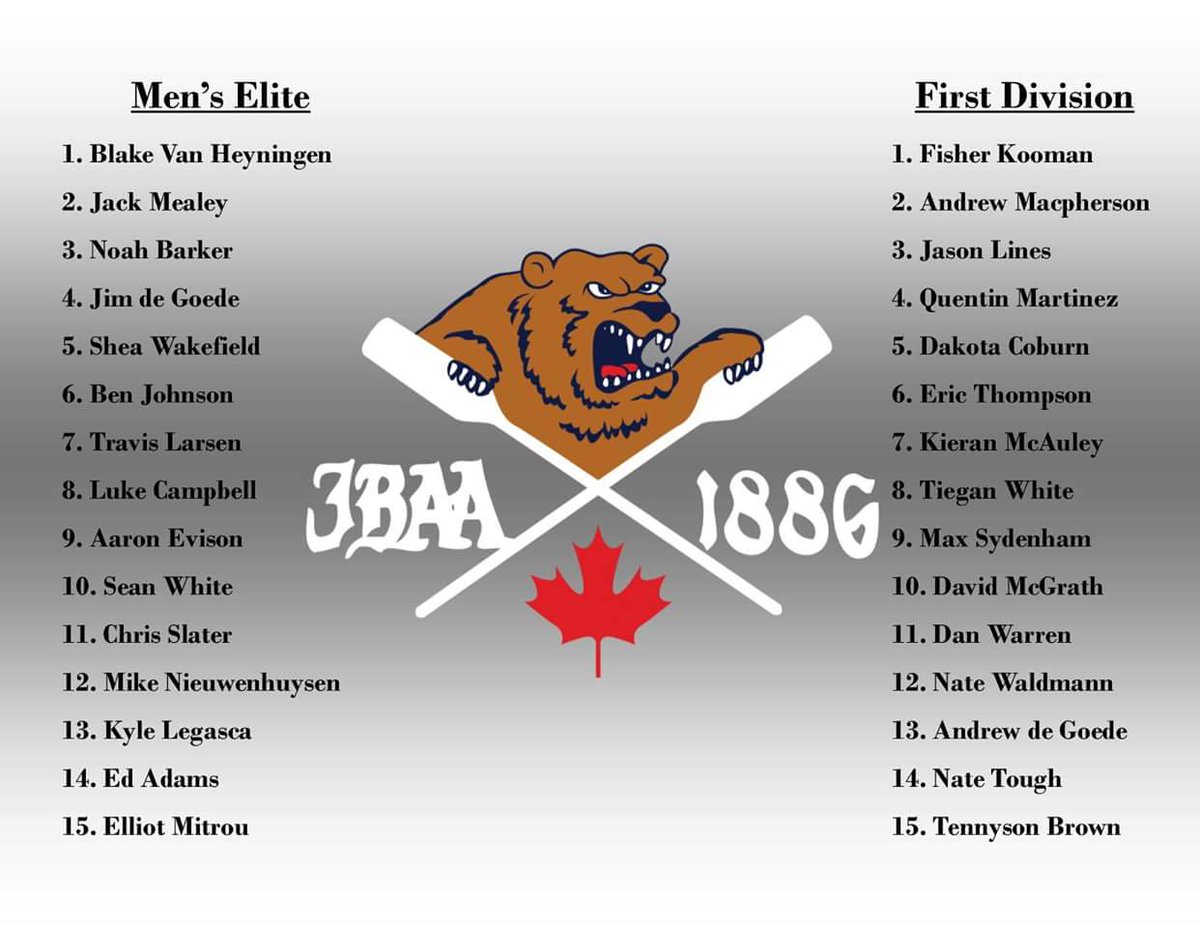 Ravens @ CW
CW just need a point out of this match to secure a semi-final, they're 9 points ahead of UBC the only challenger close enough. From a playoff perspective that's the important stat. The Ravens are in more desperate need of points and even for them bonus points, win or lose are critical. They're one point behind both Caps and Bays for the final playoff spot. Ravens have a good backline, strengthened by Nick Blevins at outside centre. Even though they're down the ranking ladder they're well capable of creating the upset. CW have played well this year with national players in and out of the roster, they have the addition of Povey which has helped them. A carded 7s player, Riley di Nardo, gets the start for CW at scrum half in this match. Doug Woolridge comes into the front row rotation. CW should get the points they need to secure a home semi and Ravens might pick up a point or two to help their cause. Prediction: CW by 3.
RAVENS
1. Curtis Delmonico
2. Paul Ahn
3. Garret Garbe
4. Jon Phelan
5. Hans-Peter Bakker
6. Nick Waggot
7. Kol Henrikson
8. Charlie Thorpe
9. Aj King
10. Hajun Gill
11. Sean Hase
12. Culy Quirke
13. Nick Blevins
14. Ben Grant
15. Aaron Mclelland
CW
1. Doug Wooldridge
2. Clayton Thornber
3. Jack Sponarski
4. Cam Polson
5. Connor Turner
6. Doug Pearson
7. Nathan Stewart
8. Haydn Evans
9. Riley Di Nardo
10. Robbie Povey
11. Anton Ngongo
12. Doug Fraser
13. John Moar
14. Justin Logan
15. Mike Dalsin
Seattle @ Rowers
Seattle are too strong for the Rowers, a similar roster that defeated the Bays last week. Rowers are out of playoff contention and in it this weekend to put on a good show for the home crowd. Seattle should pull away in the second half with some serious scoring power out wide. Prediction: Seattle by 12.
SEATTLE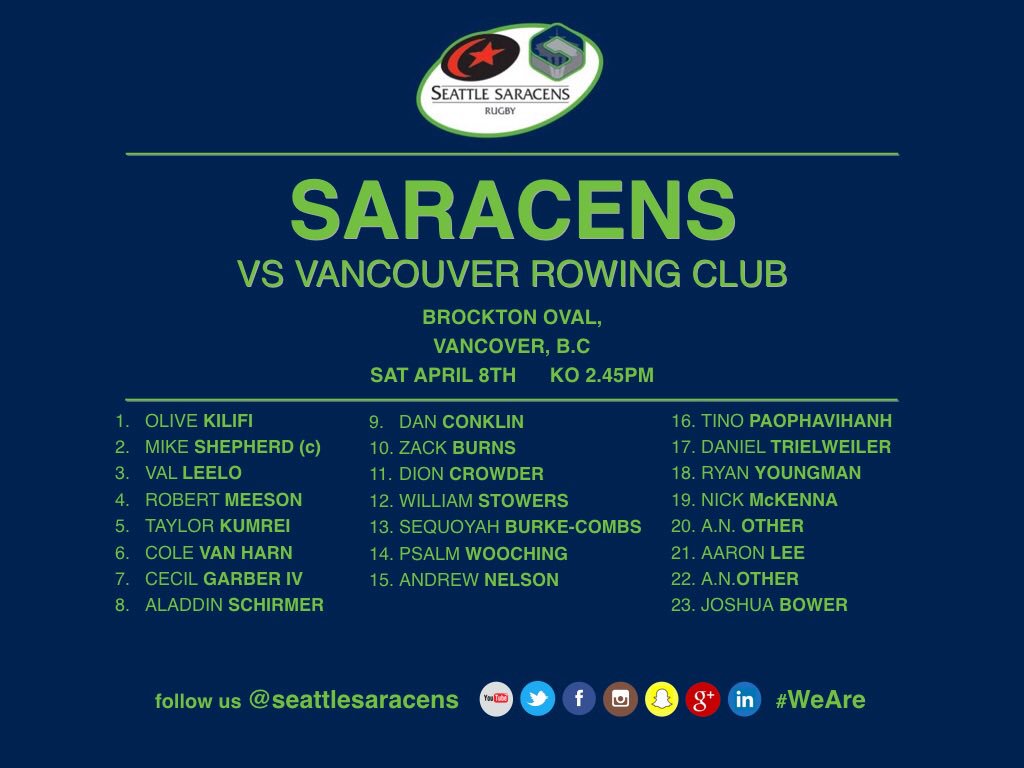 FULL SCHEDULE
TIME / VENUE / TEAMS / REF
Mens Premier League
14:45 @ Windsor Park / CASTAWAY WANDERERS V UBCOB RAVENS / Visiting Referee 1
14:45 @ UBC / UBC V JAMES BAY AA / Brett Hay
14:45 @ U Of Victoria / U OF VICTORIA V BURNABY LAKE / Saro Turner
14:45 @ Brockton Oval / VAN. ROWING CLUB V SEATTLE / Harry Mason
Womens Premier Division
11:00 @ Windsor Park / CASTAWAY WANDERERS V WESTSHORE / John DeGoede
11:30 @ Magnuson Park / SEATTLE V CAPILANO
11:45 @ Burnaby Lake / BURNABY LAKE V COWICHAN / David Holmes
Mens Premier Reserve
13:00 @ Windsor Park / CASTAWAY WANDERERS 2 V UBCOB RAVENS 2 / George Van
13:00 @ UBC / UBC 2 V JAMES BAY AA 2 / David Smortchevsky
13:00 @ U Of Victoria / U OF VICTORIA NORSEMEN V BURNABY LAKE 2 / Andrew Foster
13:00 @ Brockton Oval / VAN. ROWING CLUB 2 V SEATTLE 2 / Jay MacDonald
Mens Division 1 - Mainland
14:30 @ Exhibition Park / ABBOTSFORD V MERALOMA / Tyler Dawson
14:30 @ John Oliver Park / BRIT LIONS V BAYSIDE / Jivan Dhaliwal
15:00 @ Crush Crescent / LANGLEY V SURREY BEAVERS AA / Graham Stone
Womens Division 1
11:30 @ Exhibition Park / ABBOTSFORD V MERALOMA / Rod Watkins
11:30 @ John Oliver Park / BRIT LIONS V SIMON FRASER RC / Dave Burns
11:30 @ May Bennett Pioneer / NANAIMO V KAMLOOPS / Manvinder Samra
11:30 @ UBC / VANCOUVER THUNDERBIRDS V BAYSIDE / Julie Beyea
Mens Island Division 1 Playoffs
14:45 @ Juan De Fuca / WESTSHORE 1 V NANAIMO 1 / Nathan Abdelnour
Mens Division 2 - Mainland
12:00 @ Rupert Park / SCRIBES V BAYSIDE 2 / Neil Grant
13:00 @ Exhibition Park / ABBOTSFORD 2 V MERALOMA 2 / Sean Dingley
13:00 @ Kamloops Park / KAMLOOPS V KELOWNA CROWS 2
13:00 @ Crush Crescent / LANGLEY 2 V SURREY BEAVERS AA 2 / Toby Mustill
13:00 @ United - Eagle Ridge / UNITED 2 V RICHMOND 2 / Trevor Honey
Mens Island Division 2 Playoffs
13:00 @ Juan De Fuca / WESTSHORE 2 V NANAIMO 2 / Darren Sage
Womens Division 2
11:30 @ Thomas Haney / RIDGE MEADOWS V COMOX / Marusia Ochoa
Mens Division 3
11:30 @ Exhibition Park / ABBOTSFORD 3 V MERALOMA 3 / Jamie Levchuk
11:30 @ Klahanie Park / CAPILANO 4 V KATS / David Nelley
11:30 @ Chilliwack / CHILLIWACK V SQUAMISH / Club to Assign Ref
11:30 @ Simon Fraser no.4 / SIMON FRASER RC 2 V SURREY BEAVERS AA 3 / Julian Bentall
11:30 @ UBC / UBC 3 V CAPILANO ACADEMY / Bryn Tucker
13:00 @ Thomas Haney / RIDGE MEADOWS V BURNABY LAKE 3 / Charles Brown
13:00 @ Simon Fraser no.4 / SIMON FRASER RC V VAN. ROWING CLUB 3 / Scott Johnson