Canada Win Silver: Lose to NZ on Final Play of Game: VIDEO HIGHLIGHTS
posted April 23 2017
[ed. comments below]
Canada played some amazing rugby during the tournament defeating the defending Olympic champions, Australia, 33-0 in the semi-final. They made a few uncharacteristic errors in the final against NZ and that was the difference. Next tournament in May is in Langford May 27-28.
Julia Greenshields had an exceptional tournament and was named to the tournament all-star team along with Ghislaine Landry.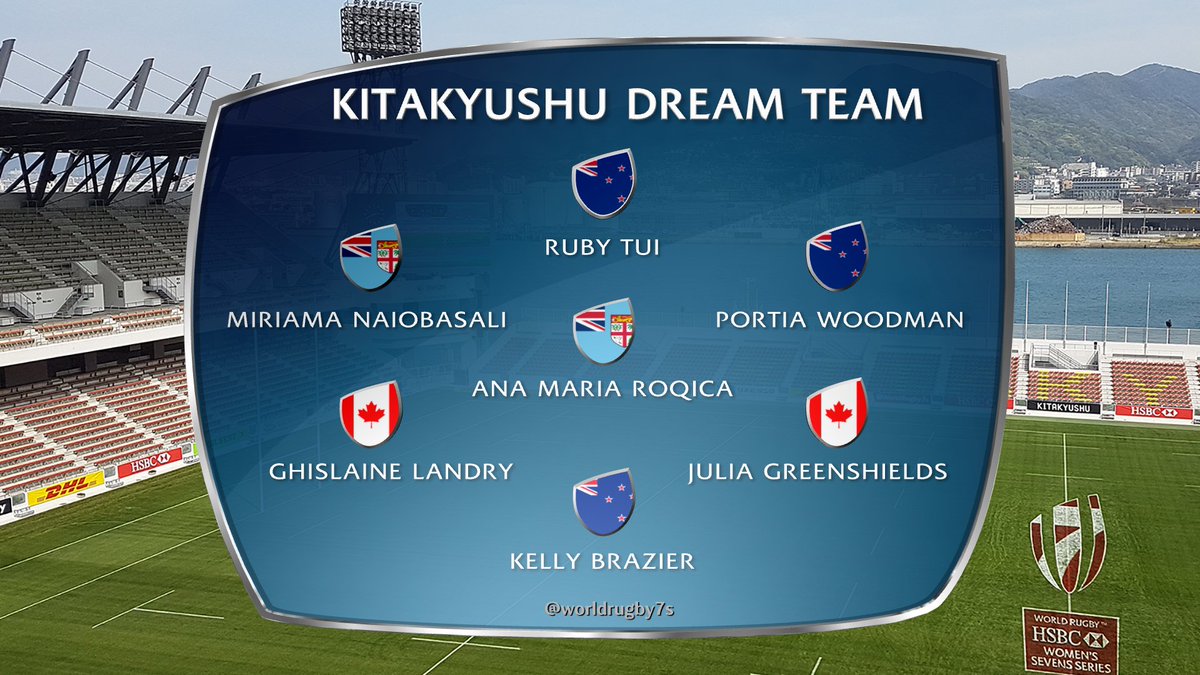 from Rugby Canada
Canada's women's sevens team finished in second place at the Kitakyushu Sevens after losing to New Zealand 17-14 in the Cup Final at Mikuni World Stadium Kitakyushu in Japan.
It was Canada's second Cup Final appearance in three events and the result earned them another 18 points in the HSBC World Rugby Women's Sevens Series standings where they remain in third place with 64 points. Canada gained two points on Australia who still sit in second place with 66 points while series leaders New Zealand extended their lead over the Aussies to 10 points with their third cup title of the season.
Canada fell to 0-3 all-time vs New Zealand in Cup Finals.
Canada advanced to the final with an impressive 33-0 win over Australia in the Cup Semifinals. The 33-point win over Australia was historical, as it marked the largest ever win in the head-to-head matchup.
Earlier in the day, Canada defeated Russia 41-0 in the Cup Quarterfinals. The 41-point win was also Canada's largest ever victory in the all-time head-to-head matchup with Russia.
Canada's win over Australia in the semifinals was the team's 100th all-time win on the series, becoming just the third team ever to do so behind Australia and New Zealand.
What head coach John Tait said:
"The whole team is really proud of how they played the tournament but gutted we didn't win the final. Full credit to New Zealand, they are a team with great composure and made us pay for the few mistakes we made. Was very pleased also to see Julia Greenshields step up as a consistent finisher on attack and defend so well throughout all six games and we once again had solid contributions from the whole squad. That is some of the best rugby we've ever played and we will strive to take it one step further for the home crowd in Langford next month."
CANADA 41-0 RUSSIA
After going three from three on day one action, Canada hit another level in their cup quarterfinals, dominating a talented Russian side in a convincing 41-0 win.
Canada scored early and often, and put in a strong defensive effort to pick up their first shutout of the tournament.
Captain Ghislaine Landry opened the scoring in the first minute with a converted try to give Canada a 7-0 lead.
Julia Greenshields continued her impressive play this weekend with a brace in three minutes and all of a sudden Canada held a 17-0 lead just before the hooter sounded.
With the clock still running, Jen Kish scored a fourth first half try for Canada and Landry's conversion made it 24-0 heading into the break.
While Canada held a big lead, there was no letdown on defence, as Landry Bianca Farella and Natasha Watcham-Roy teamed up for a chase down tackle to prevent a Russian try.
Landry added another converted try in the ninth minute to extend the lead to 31-0.
Landry then connected with Charity Williams on a long kick and chase and as Williams went to ground her first-touch found a streaking Landry who ran in for the try.
Watcham-Roy would add another try in the final second to give Canada an historical win over the Russians.
CANADA 33-0 AUSTRALIA
Never has Canada dominated the reigning Olympic Gold medalists as much as they did Sunday in what turned out to be the most lopsided victory ever in the all-time matchup.
The weekend trend continued for Canada, who dominated possession throughout the match.
Canada were led by Julia Greenshields who picked up a hat trick, pushing her tournament try total to eight.
Breanne Nicholas and Britt Benn added two second half tries to cement a place in the Cup Final.
While Australia were missing some key players, nothing should be taken away from Canada's performance in the Cup Semifinal. It was a total team effort and it showed that the Canadians are the team to beat this weekend in Kitakyushu.
CANADA 14-17 NEW ZEALAND
It was a heartbreaking ending to a terrific weekend of rugby from Canada as New Zealand ripped away victory with a last second try to capture their third cup title of the season.
Had Canada won, they would have drawn level with the Black Ferns with two cup titles apiece.
It was a promising start for the Canadians, who scored the first try of the match through a reaching Hannah Darling. Captain Ghislaine Landry stepped up and nailed the conversion from a difficult angle to give Canada a 7-0 lead.
New Zealand would respond with a converted-try before half as both teams went into the break tied 7-7.
Canada pushed ahead after Landry and Jen Kish teamed up for a try as the friends played off one and other before Kish touched down. Landry once again hit a difficult try and Canada restored their seven point lead.
New Zealand answered with another try to cut the lead to 14-12 and retained possession off the restart after Canada was unable to secure the ball.
With the hooter sounded, New Zealand used the final possession to run a few phases before finding an overlap on the Canadian defence to score the game-winning try.
---
Canada 3-0 on Day 1 - Face Russia in Cup QF: VIDEO HIGHLIGHTS
from Rugby Canada
posted April 22 2017
Canada's women's sevens team advanced to the Kitakyushu Sevens cup quarterfinals after finishing atop Pool C with a perfect 3-0 record.
It is the first ever HSBC World Rugby Women's Sevens Series event to be held in Japan.
Canada opened day one action at Mikuni World Stadium Kitakyushu with a 29-12 win over England.
They made it two wins from two with a convincing 43-5 win over Spain in their second match of pool play before claiming top spot in the pool with a 29-12 win over North American rivals USA.
Canada will play Russia in the cup quarterfinals.
It is Canada's 24th straight HSBC World Rugby Women's Sevens World Series cup quarterfinal.
Canada also hit 3,000 points all-time on the series, becoming only the third country to do so behind New Zealand and Australia.
What head coach John Tait said:
"Happy with the day, we got a lot of contributions from all 12 and only had a total of five turnovers all day. Looking after the ball like that really puts the opposition under pressure. We will need to stay connected on defence better again on day two against teams like Russia if we are to have a chance at the cup. They are the fastest team and if you get disjointed in defence they can score from anywhere. On attack we need to make the ball and defence move around, when we do that and find the speedsters we have like Bianca, Ghislaine, Charity and Julia then we can be a really tough draw for anyone."
What captain Ghislaine Landry said:
"Really happy. Over the year we are looking to put in six good games and to build on day one like that is a big positive going into the quarterfinals. We have such dynamic athletes right now and to be able to switch up lineups like that, people can't prepare for that kind of thing so it's definitely an asset."
"It's always a physical battle against (USA), it's a long standing rivalry but we're happy that we showed up for that one and got the win."
CANADA 29-12 ENGLAND
Canada opened Pool C play with a 29-12 win over England, a team that has caused problems for the Canadians in the past.
It's been an evenly matched history between the two teams, with Canada entering the Kitakyushu Sevens with 10 wins in their previous 18 HSBC World Rugby Women's Sevens Series matches against England.
However, it's been over a year since England last beat Canada on the series and that that streak was extended to another match with a comfortable win for the Canadians.
Bianca Farella got Canada on the board early with a try after an England penalty at their own five metre line.
Britt Benn was then shown a yellow card for a deliberate knock-on and England responded shortly after with a try to bring the match to 7-5.
Captain Ghislaine Landry then extended her all-time series lead in points with a try off the back of a ruck and Canada held a 12-5 lead at half.
Canada came out rolling in the second half as Benn scored just a minute in to extend the lead to 17-5.
After England responded with a try to make it a 17-12 match, Benn grabbed her second try of the half as her brace gave the Canadians a 22-12 lead.
Julia Greenshields added some insurance in the final moments, racing down the touchline to leave the chasing English defenders in her dust.
CANADA 43-5 SPAIN
Canada showed glimpses of brilliance in a dominating 43-5 win over Spain in their second pool match of day one.
While they showed hesitance at times, Canada put together clinical finishes in successive possessions throughout the match to hand Spain their biggest defeat in the all-time matchup.
Canada opened the scoring through Sara Kaljuvee who touched down with a try after Canada controlled possession off of the opening kickoff.
Unfortunately for Kaljuvee, she would be injured shortly after and it was Spain taking advantage of their opponents playing with six players as a try evened the match 5-5.
From there, Canada controlled almost every aspect of the match.
Julia Greenshields used her pace for one try, on the next Canadian possession it was Breanne Nicholas scoring her first try of the tournament and then it was Hannah Darling scoring after the hooter as Canada scored three tries in three minutes to take a 22-5 lead into the break.
Spain showed much more fight in the opening minutes of the second half but were unable to find an opening in a strong defensive line from the Canadians.
Charity Williams then changed momentum with a try and Bianca Farella followed up with a brace in the final two minutes as Canada came away with the lopsided victory.
CANADA 29-12 USA
Canada has dominated the all-time matchup and the trend continued Saturday in Kitakyushu, Japan with a 29-12 win for the Canadians.
There was lots at stake, with the winner taking top spot in Pool C as both teams entered the match undefeated after two matches.
After USA opened the scoring, captain Ghislaine Landry put Canada past the 3,000 all-time points mark with a converted try to draw the match even 7-7.
Bianca Farella continued her scoring ways in Japan picking up her fourth try of the day to extend Canada's lead to 14-7.
USA would hit back before the first half hooter and Canada's lead was cut to 14-12 heading into the break.
After Landry added her second try of the match, Julia Greenshields dashed in for another try to give Canada a 24-12 lead.
Charity Williams would add some insurance with a late try.
Canada improved to 14-1-1 all-time against the USA.
Canada's Las Vegas Sevens Roster (Name, club, hometown):
Britt Benn – Guelph Redcoats (Napanee, ON)
Hannah Darling – Peterborough Pagans (Warsaw, ON)
Bianca Farella – Town of Mont Royal (Montreal, QC)
Julia Greenshields – Sarnia Saints (Sarnia, ON)
Sara Kaljuvee – Toronto Scottish (Ajax, ON)
Jen Kish – Edmonton Rockers (Edmonton, AB)
Ghislaine Landry (captain) – Toronto Scottish (Toronto, ON)
Megan Lukan – Unattached (Barrie, ON)
Breanne Nicholas – London St. Georges (Blenheim, ON)
Ashley Steacy – Lethbridge Rugby Club (Lethbridge, AB)
Natasha Watcham-Roy – Hull Volant (Gatineau, QC)
Charity Williams – Markham Irish (Toronto, ON)
Coaching Staff:
Meaghan Howat – Manager
John Tait – Head Coach
Sandro Fiorino – Assistant Coach
Morgan Williams – Assistant Coach
Canada's Kitakyushu Sevens Day 1 Schedule (Friday, April 21):
Canada 29-12 England
Canada 43-5 Spain
Canada 29-12 USA
Canada's Kitakyushu Sevens Day 2 Schedule (Saturday, April 22):
Canada vs Russia at 9:52 pm ET / 6:52 pm PT
---
Tait Names Team for Kitakyushu, Japan 7s April 21-22
posted April 13 2017
from Rugby Canada
Langford, BC – Canada's women's sevens team head coach John Tait has named his roster for the inaugural Kitakyushu Sevens, the fourth leg in the 2016-17 HSBC World Rugby Women's Sevens Series.
Coming off a bronze medal last month at the USA Sevens, Canada enters next weekend's tournament third in the series standings with 46 points. They are 10 points behind series leaders New Zealand but only four points behind second-place Australia. Canada holds a 10-point cushion on Fiji who sit fourth.
Tait has made two changes to the team that finished third in Las Vegas, bringing veteran Ashley Steacy and Julia Greenshields back into his squad to replace the injured Kayla Moleschi and Caroline Crossley.
Steacy missed the Las Vegas event attending her sister's wedding while Greenshields returns after featuring in the side for the season's first two events in Dubai and Sydney.
The loss of Moleschi, who is likely out until the start of next season with a foot injury, is a serious blow to the team. She was recently named Rugby Canada's 2016 Women's Sevens Player of the Year and her 22 events played are the most by a Canadian player in HSBC World Rugby Women's Sevens Series history.
"Kayla epitomizes our team-first mentality and has been so consistent for us over the past few years," said Tait. "It definitely will be a big challenge to play without Kayla because she does so many different things really well for us."
That makes the return of Steacy all the more important, as her versatility and veteran presence will help with the loss of Moelschi.
"Always good to have the experience and calming presence that Ashley brings to the team," said Tait. "Julia has been in great form and the two of them coming in gives us more speed and versatility in the squad."
While Moleschi's skills will be missed – she's a great passer and ball carrier that commits defenders and gives everyone around her more time and space – Tait isn't anticipating a big drop off in performance.
"This team has lots of ability and I am excited to see how we match up with some players taking on bigger roles through the second half of the series," said Tait.
Canada will kick off the second half of the season in Kitakyushu grouped in Pool C with England, Spain and USA.
This is the first time a women's series event has been held in Japan.
"Japan is a beautiful country but we are on the ground for such a short time so we will be focused on performing well and improving again," said Tait. "The team has been sharp, working hard on and off the field and are keen to challenge for the gold in Japan."
Canada's Las Vegas Sevens Roster (Name, club, hometown):
Britt Benn – Guelph Redcoats (Napanee, ON)
Hannah Darling – Peterborough Pagans (Warsaw, ON)
Bianca Farella – Town of Mont Royal (Montreal, QC)
Julia Greenshields – Sarnia Saints (Sarnia, ON)
Sara Kaljuvee – Toronto Scottish (Ajax, ON)
Jen Kish – Edmonton Rockers (Edmonton, AB)
Ghislaine Landry (captain) – Toronto Scottish (Toronto, ON)
Megan Lukan – Unattached (Barrie, ON)
Breanne Nicholas – London St. Georges (Blenheim, ON)
Ashley Steacy – Lethbridge Rugby Club (Lethbridge, AB)
Natasha Watcham-Roy – Hull Volant (Gatineau, QC)
Charity Williams – Markham Irish (Toronto, ON)
Coaching Staff:
Meaghan Howat – Manager
John Tait – Head Coach
Sandro Fiorino – Assistant Coach
Morgan Williams – Assistant Coach
Canada's Kitakyushu Sevens Day 1 Schedule (Friday, April 21):
Canada vs England at 9:52 pm ET / 6:52 pm PT
Canada vs Spain at 12:36 am / 9:36 pm PT
Canada vs USA at 3:20 am ET / 12:20 am PT
Canada's Kitakyushu Sevens Day 2 Schedule (Saturday, April 22):
TBD