Weekend Results: T-Birds Dash Caps Hopes; Ravens Draw with Seattle; Burnaby Thrash Rowers
posted April 15 2017
[ed. comments below]
UBC 43 - Capilano 5
The Caps couldn't generate enough attack to get 4 tries and leave the competition tied with Bays for 6th but having lost the head to head encounter bow out of the playoffs. UBC will host the Bays in the QF, a tall order for the Bays but with a few players like Phil Mack back they may give it decent go.
Ravens 31 - Seattle 31
Ravens got their 4 tries for a BP but couldn't prevent Seattle from getting their tries and a split of the points in a draw. The result means the teams will reverse roles next week in the quarter-finals with Seattle as host.
Burnaby 101 - Rowers 3
This has to be one of the biggest scorelines I remember in the Premier league. Not much to say except Burnaby are obviously ready for the playoffs where they'll host the winner of Seattle v Ravens.
Mainland Div 1
Surrey upset Meraloma 36-23 which means the mathematicians will have to tally up the points and divide by number of games played to decide the final standings with Lomas, Abby and Surrey the top three teams. The top mainland team gets a bye in the quarter-finals, #2 hosts #4 and #3 hosts Westshore.
Women's Premier
Westshore look to be the class of the league this year and schooled visiting Seattle 50-14. Last year's champions CW didn't make the playoffs this year. There's a full slate of games next weekend and then the semi-finals on the 29th will see Westshore host the lower of Caps or Cowichan and Seattle host the higher of Caps or Cowichan.
---
Weekend Predictions: Rowers @ Burnaby; Caps @ UBC; Seattle @ Ravens: FULL SCHEDULE
posted April 14 2016
[ed. comments below]

Rowers @ Burnaby
#9 plays #1 should be an easy prediction although Rowers gave Seattle a good game last time out. Burnaby have a week's rest after this match to heal any injured bodies. Admir Cejvanovic makes a rare appearance for the Lakers, in the old days (a few years ago) you would be able to go to the BCRU site to find out the stats on each player but no more. A player has to have played 4 matches (Sept-Apr) to be playoff eligible. It's a strong Burnaby lineup and they'll want to go into the playoffs on the back of a good performance. Prediction: Burnaby by 12.
BURNABY
1 Anthony Luca (Capt)
2 Micha Govorchin
3 Ryan Ackerman
4 Mike Gough
5 Craig Mclaughlin
6 Doug Breadon
7 Fuku Vikilani
8 Admir Cejvanovic
9 Mark Higgins (i)
10 Jack Caithness
11 Dan Josok
12 Jeke Gotegote
13 Kimi Vunituraga
14 Matt Chan
15 Shane Dagg
Caps @ UBC
Caps just need one point out of this match to knock the Bays out of the playoffs and take 6th place. Do they go defensive and try to keep UBC within 7, unlikely. Better bet might be to go for four tries and not worry about the scoreline. UBC have the advantage out wide so Caps might be doing a lot of kicks to the corner with lineout and maul. UBC have to win the game to maintain 3rd place, a Seattle win and UBC loss could move them down to 4th place. Prediction: UBC by 10
CAPS
1 Rob Scott
2 Jason de Freitas
3 Mackenzie Mills
4 Rich Merinsky
5 Reid Tucker
6 Jordan Reid-Harvey
7 Alex Boyd
8 Glen McKinnon (C)
9 Chris Robinson
10 Chad Carlsen
11 Austin Karius
12 Greg Brown
13 Connor Christopher
14 Nathan Yanagiya
15 Connor Martin
UBC
1. C. Sampson (Sir Charles Tupper)
2. A. Mascott (St George's)
3. N. Courtney (Handsworth)
4. C. Weyell (Handsworth)
5. T. Roche (St John's Ravenscourt)
6. J. Ikeda (Magee)
7. N. Penny (Penticton)
8. C. Hamilton (St Georges)
9. J. Sandover-Best (Robert Bateman)
10. T. Sauder (St George's)
11. M. Kulkhan (Port Moody)
12. B. Lesage (Henry Wisewood)
13. N. Rees (Port County)
14. N. Clironomos (Lord Byng)
15. A. Coe (Bill Crothers)
Seattle @ Ravens
The most intriguing matchup of the weekend. Ravens have to win with a BP and prevent Seattle from getting a BP, a tall order. That scenario would give Ravens a home game in a rematch against Seattle in the quarter-finals. Any other scenario would see Ravens travel to Seattle for the first round of the playoffs. Although it's possible a Capilano win and Ravens loss could see Caps travel to Seattle. Prediction: Ravens by 6.
RAVENS
1. Curtis Delmonico
2. Paul Ahn
3. Garret Garbe
4. Jon Phelan
5. Hans-Peter Bakker
6. Nick Waggot
7. Kol Henrikson
8. Charlie Thorpe
9. Aj King
10. Harjun Gill
11. Sean Ferguson
12. Ben Grant
13. Nick Blevins
14. Cully Quirke
15. Aaron Mclelland
SEATTLE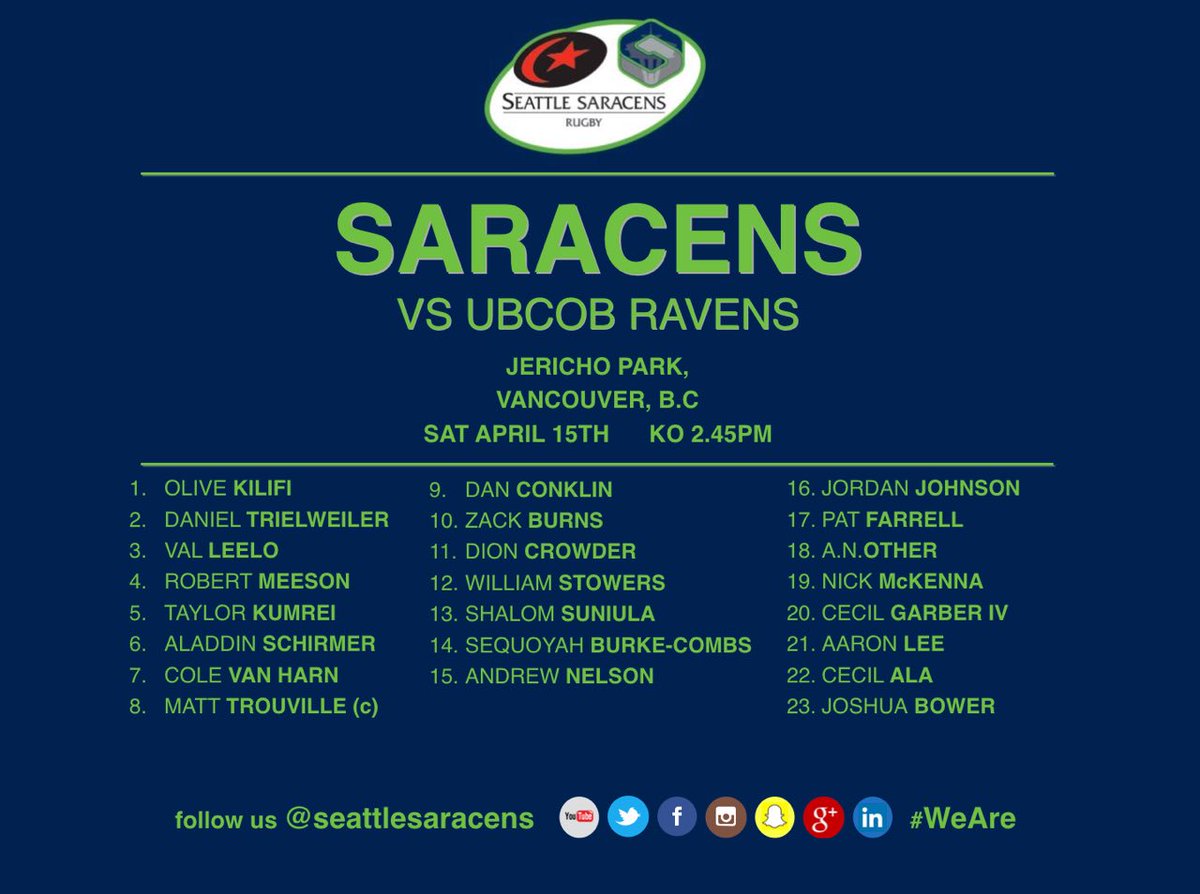 Premier Women
Only game on the schedule is Seattle travelling to Westshore. The result won't affect the standings with Westshore #1 and Seattle #2.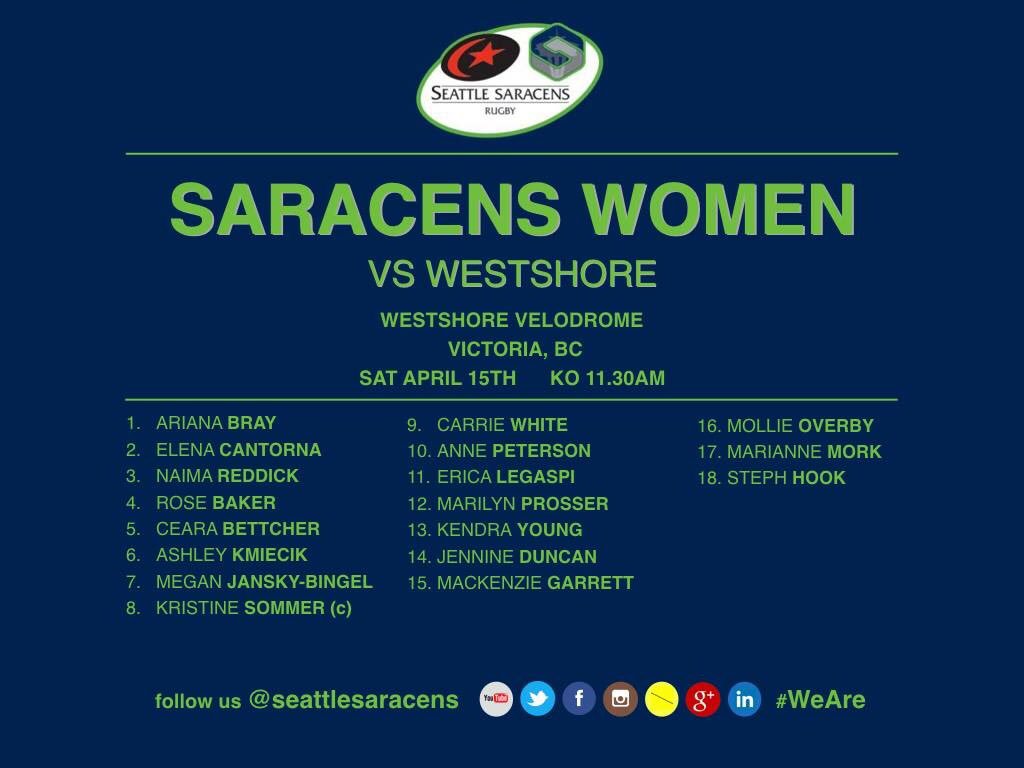 Mainland Div 1
Meralomas have a lock on first place with Abbotsford having a slight lead over Surrey for second. A win by Abby over United would secure second place, Surrey face undefeated Lomas and Bayside host Kelowna. A likely playoff scenario for next week would see Surrey host Westshore and Abby host Bayside or Langley with Meraloma and Nanaimo having first round byes.
FULL SCHEDULE
Mens Premier League
14:30 / Burnaby Lake / BURNABY LAKE V VAN. ROWING CLUB / David Smortchevsky
14:30 / UBC / UBC V CAPILANO / Christopher Assmus
14:30 / Jericho / UBCOB RAVENS V SEATTLE / Saro Turner
Womens Premier Division
11:30 / Juan De Fuca / WESTSHORE V SEATTLE
Mens Premier Reserve
12:45 / Burnaby Lake / BURNABY LAKE 2 V VAN. ROWING CLUB 2 / Brett Hay
12:45 / UBC / UBC 2 V CAPILANO 2 / David Holmes
12:45 / Jericho / UBCOB RAVENS 2 V SEATTLE 2 / Toby Mustill
Mens Division 1 - Mainland
14:30 / South Surrey Ath Pk / BAYSIDE V KELOWNA CROWS / Graham Stone
14:30 / Sullivan Heights / SURREY BEAVERS AA V MERALOMA / Tyler Dawson
14:30 / United - Eagle Ridge / UNITED V ABBOTSFORD / Scott Johnson
Womens Division 1
11:30 / Exhibition Park / ABBOTSFORD V VANCOUVER THUNDERBIRDS / Neil Grant
11:30 / Simon Fraser no.4 / SIMON FRASER RC V BAYSIDE / Heather Lilburn
Mens Division 2 - Mainland
13:00 / South Surrey Ath Pk / BAYSIDE 2 V KELOWNA CROWS 2 / Sean Dingley
13:00 / Trout Lake / SCRIBES V KAMLOOPS
13:00 / Sullivan Heights / SURREY BEAVERS AA 2 V MERALOMA 2 / Jamie Levchuk
13:00 / United - Eagle Ridge / UNITED 2 V ABBOTSFORD 2 / Ian Trevor
Womens Division 2
10:30 / Juan De Fuca / COMOX V WESTSHORE 2postponed from mar 25
11:30 / Sullivan Heights / SURREY BEAVERS AA V KELOWNA CROWS / Rod Watkins
Mens Division 3
11:00 / Simon Fraser no.4 / SIMON FRASER RC 2 V SQUAMISH / Lindsay Bottomer
11:15 / Exhibition Park / ABBOTSFORD 3 V CAPILANO ACADEMY / David Nelley
11:15 / Burnaby Lake / BURNABY LAKE 3 V VAN. ROWING CLUB 3 / Bryn Tucker
11:15 / Sullivan Heights / SURREY BEAVERS AA 3 V CAPILANO 3