Canada win Cup at Singapore 7s
©
Canada Claim Gold in Singapore! Defeat USA in Final for 1st World Rugby Series Cup: VIDEO HIGHLIGHTS

from BCRN 7s correspondent
posted April 16 2017

After a week of training in the spectacular city of Singapore - Canada got down to business as the eighth stop on the HSBC Sevens circuit got underway on Saturday.

News earlier in the week that University of Victoria forward Isaac Kaay would have to sit out three games for a seemingly harmless 'roll' across the back of a Fijian player in the in-goal area did not sit well with many fans at home who expressed their views on social media as to the harshness of the sentence.



From the video it was apparent that Kaay had started his tackle some 5 meters from the goal-line and was fully committed by the time the ball was touched down.

And in his defense his body angle suggests that there was no way he could have pulled up or changed direction.

These sort of decisions have happened before in past years in other conditions during a game and many have accused the governing body of some very inconsistent responses – this decision is clearly in that category.

Kaay will miss the Russia and Hong Kong game in Singapore and then be available to play Fiji in Canada's final pool game of the day.

One thing is certain – the young man from Kamloops will not change his playing style to suit anyone – and with word that his coach is not unduly distressed by the incident it seems likely that another Fijian might feel some 'smack-down' before the circuit concludes in Twickenham later this year!

Singapore has massive implications for Canada as regards the Standings – with Scotland barely seven points ahead of Canada and finding themselves in a pool-from-hell with USA, New Zealand and Wales it could be (on paper) that they will head straight to the Bowl competition after the pool stages.
A Cup round quarter-final would see Canada over take them!

That said Canada cannot take any pool game lightly – Russia has an awkward style which prevents many teams from executing properly and Hong Kong historically have never been a pushover.

Wales too are in the hunt immediately behind us and must be watched in the rear view mirror by Canada as well - an American and New Zealand advancement into the Cup Quarters will ensure Canada move up again in the Standings when Singapore is concluded.

Day 1

Russia proved worthy and awkward as predicted but Canada made good use of their possession and we just a better team on the day. Douglas scored first then John Moonlight touched down just before half-time as Canada began to get the upper hand.

A couple of errors allowed the Russians to think they had a comeback in the cards - but Luke McCloskey pounced on them right after the break with a try followed by Mike Fuailefau's beauty and the Russians headed back to the changing room to sharpen their skates!

It was the ideal start to the Singapore tournament and left no question that the next game would be even more vital.

Canada 28 v Russia 15

Hong Kong was never in this contest as Canada seemed clear about what they had to achieve and what was at stake.

Lucas Hammond jumped on Hong Kong to score first with quickness and pace – followed by Douglas and then Fuailefau touched down just before the break.
Just after half-time Harry Jones scored and Canada's bench started to empty.

Mullins scored next – then Bradley, Jared Douglas, Pat Kay and Luke McCloskey came on and took Canada through to another Cup Quarter Final berth.

Canada 34 v Hong Kong 0

Sometimes it has been possible to catch the islanders off guard after a cup win the previous weekend but unfortunately that wasn't the case in Singapore today.

Presently Fiji has too many weapons and once they establish their run-and-gun off load routine there are few teams that can keep up.




First-up tackles must be made and secured so off-loads do not follow and that in itself is a major challenge as these guys are huge and their arms have a greater length than an albatross in full flight.

Regardless – Jared Douglas who is improving every time out got a lone try which Pat Kay converted at full time.

In between all this action was Mr. Jordan Way who seemed to have lost the off-side line completely as Fiji continued to live in our backfield the entire game!

Add to that the in-goal assistant referee who got in the way of a try we clearly should have touched down and it all made for a frustrated looking coach at half time.

Sadly the bleeding continued after the half as we continued to offer the islanders a chance to run at us with the ball – our passing was poor and our off loads were up for grabs as Fiji took them and headed off to our goal-line.

We had our moments in this game but then we decided to give the ball away like we were attending an Easter egg festival!

Fortunately tomorrow is another day and a quarter final match with New Zealand is in the offering.

Canada 7 v Fiji 35

Day 2

The second day in Singapore started as well as could possibly be expected with a convincing win over New Zealand – you could probably count on one hand the number of times Canada has beaten the Kiwis so this time will have been exciting for everyone on the squad but particularly the seasoned players.

The really good thing about the Cup Quarters Finals is that when you win three other teams lose and are eliminated immediately – exit Fiji, South Africa and Kenya.

As we pushed our intentions forward and won a hotly contested game versus England – exit Australia in the other semi-final.

And then Canada was standing on the edge of history with a final game on offer against our southern neighbors.

Let's be clear here – scoring 26 points against New Zealand is no easy task!

We jumped on them immediately and Hirayama began a magical performance which would see him score three tries and three conversions – but everyone was involved in determining this outcome and you could nearly feel the energy of possibility on the screen as the clock moved closer to the 14 minute mark – and in fact went over by at least a minute.

Some will say that we had put the game out of reach by half-time after Mike Fuailefau touched down for a crucial try.

It was at that point a long way back for New Zealand – too long as it turns out and the momentum gained from this quarter-final win was enormous for Canada.

Canada 26 v New Zealand 19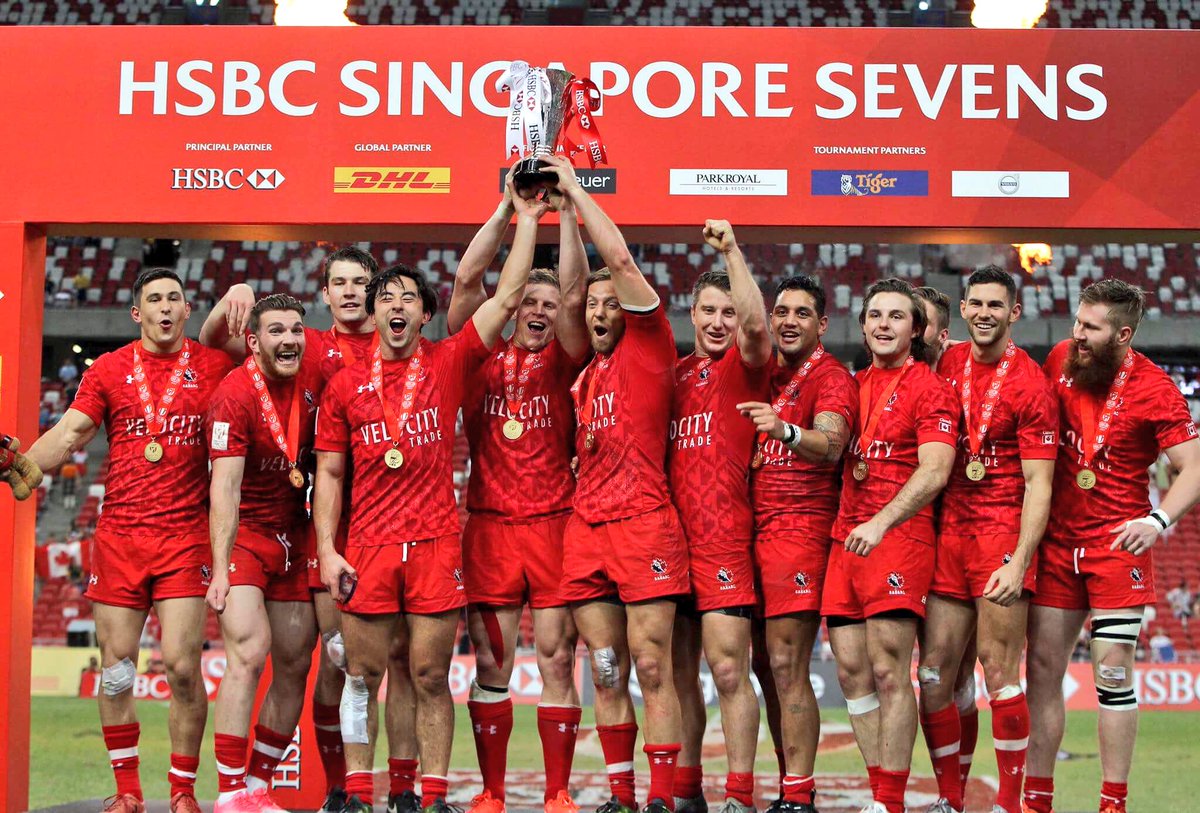 England got on the board first but Canada had already shown some very tenacious defense and we did not lose our intensity, our determination or our composure in this game – and more importantly in the second half we had enough of the ball to secure a victory from the frustrated England team who simply ran out of options.

Kaay scored, Douglas scored and once again Mike Fuailefau sealed the deal with his try – everything was hard work and full-on commitment but at each turn Canada frustrated England into submission and won a well deserved victory –and a berth in the final!

Canada 17 v England 5

The Americans have been on the rise for some time and coming into the final they we amongst the leaders at the top of the circuit standings.

They have adopted a fairly simple style which has been very successful for them and results have certainly come their way.

It was no surprise that this final would be an intense affair.

Mullins scored first dragging Perry Baker several meters on his back as if he was going for a day hike on Grouse Mountain, then Harry Jones got a beauty after fending off several US defenders along the way and once again Mike Fuailefau got a vital try after the Yanks made a complete mess of their set piece – all in the first half and it proved to be a determining factor in the end as we forced the Americans to work their way back into the game and that in its self was a huge undertaking.

But they do have some weapons and always there is Perry Baker to contend with in any game. After the Fuailefau try we got the ball back and were working our way up field when a loose kick by the Americans out the side of a ruck went to Baker and he made no mistake about finishing this gift off with a try – it was indeed a gift that possibly Mr. Jordon Way got wrong but it wasn't his first mistake of the weekend as he needs to revisit the off-side laws more thoroughly. Another ruck after a kick-off which went wrong as we were pushed off the ball and the Americans scored right at the half-time marker – game on!

And indeed it was as right after half-time we gave Perry Baker too much room out wide and he went for another speedy try – Moonlight accepted that he had to give Baker some room outside but he was probably expecting some help from the inside which did not arrive in time and the result was inevitable. 19 -19

Now there was precious seconds of frantic tackling and defense and recycling and probing until Nathan Hirayama found some space and the Americans condensed on him but the ball had already gone and Lucas Hammond saw exactly where to go and he headed up field into the in-goal area – TRY, CONVERSION and CUP WIN!



And before any Dream Team is posted let's put Lucas Hammond and Nathan Hirayama at the top of any list – what a tournament they have had!

Well done Canada!

Canada 26 v USA 19

Paris Sevens – Pool A - South Africa, Scotland and Japan – and more promise.

Stay tuned Paris is next!

Canada Team – Singapore
Luke Bradley (University of Victoria) Port Alberni, BC
Tevaughn Campbell (Saskatchewan Roughriders) Scarborough, ON
Jared Douglas (Abbotsford RFC) Abbotsford, BC
Justin Douglas (Abbotsford RFC) Abbotsford, BC
Mike Fuailefau (Castaway-Wanderers) Victoria, BC
Lucas Hammond (University of Victoria) Toronto, ON
Nathan Hirayama (University of Victoria) Richmond, BC
Harry Jones (Capilano RFC) Vancouver, BC
Isaac Kaay (University of Victoria) Kamloops, BC
Luke McCloskey (Castaway-Wanderers) Victoria, BC
John Moonlight (C) (James Bay AA) Pickering, ON
Josiah Morra (Toronto Saracens) Toronto, ON
Matt Mullins (Queen's University) Belleville, ON

Coaching Staff:
Head Coach Damian McGrath
Assistant Coach Lee Douglas
Physiotherapist Danielle Mah
Analyst Calum Ramsay
Manager Brian Hunter


---
Canada Make Cup Round for Fourth Straight Tournament: Face New Zealand in Cup QF

posted April 15 2017
[ed. comments below]

It might be a record for Canada, four Cup round appearances in a row. We'll have to get the statisticians to confirm that but it hasn't happened often if at all. Damian McGrath has them playing a style of rugby that suits their talents. They're controlling the contact point more than before and not shying away from setting up a ruck and patiently attacking from the next phase. Canada doesn't have the break away speed of other teams (exception of Justin Douglas) but they do have some big players who can win the physical battle and secure the breakdown.

Congratulations to Jared Douglas on his first series try.




from Rugby Canada

Canada moved into the Singapore Sevens cup quarterfinals after going 2-1 in pool play.

Canada opened its tournament with wins over Russia and Hong Kong, guaranteeing themselves a cup quarterfinal berth ahead of their pool stage finale with Fiji.

It marks the fifth time in the last six tournaments that Damian McGrath's men had advanced to the cup quarterfinals.

Canada will now play at 1:14am ET/10:14pm PT.

CANADA 28-15 RUSSIA

Canada got off to a comfortable start in Singapore after a straight forward win over Russia.

Canada's top try-scorer Justin Douglas opened the scoring for a 7-0 lead before Vladislav Sozonov cut the deficit to 7-5.

John Moonlight's 98th series try gave Canada a 14-5 half time lead before Luke McCloskey pushed the lead to 21-5.

Vladislav Lazarenko got Russia's second try as he collected a nice grubber kick before Mike Fuailefau sealed the victory with a late try despite Stanislav Bondarev's late try.

CANADA 34-0 HONG KONG

Canada ran in six tries in a dominant win over Hong Kong to book a cup quarterfinal berth.

Lucas Hammond gave Canada the ideal start inside five minutes before Justin Douglas' try pushed the lead to 12-0. Off of the ensuing restart, Mike Fuailefau directly collected Nathan Hirayama's restart, beat one final Hong Kong defender, and paced in for a wonderful solo effort for a 19-0 half time lead.

Harry Jones quickly made it 24-0 to start the second before Matt Mullins scored his second try of the season while Jared Douglas rounded out the scoring by grabbing his first career HSBC World Rugby Sevens Series try to complete a 34-0 victory.

CANADA 7-35 FIJI

Fiji showed their class in the Pool A decider as they rompted to a 35-7 win.

Waisea Nacuqu (2) and Mesulame Kunavula gave Fiji a 21-0 advantage at the break before Nacuqu completed his hat-trick early into the second half. Sevuloni Mocenacagi's try pushed the lead to 35-0 before Canada got on the board through a Jared Douglas try at the end.

---
McGrath Names Team for Singapore: Starts Friday 9:30pm PT

from Rugby Canada
posted April 14 2017

Pat Kay returns to Canada's men's seven squad ahead of this weekends Singapore Sevens.

Kay, who travelled but didn't play in Hong Kong last weekend, replaces Luke Bradley in the 12-man squad with Bradley dropping to 13th man this week.

"Pat Kay is a key player for us so his return is a welcome boost," head coach Damian McGrath said. "I haven't decided on who will miss out as yet as we have bumps and bruises while Isaac Kaay is suspended for the first two games."

Jared Douglas, Justin Douglas, Mike Fuailefau, Lucas Hammond, Nathan Hirayama, Harry Jones, Isaac Kaay, Luke McCloskey, John Moonlight, Josiah Morra and Matt Mullins round out Canada's squad.

Canada is coming off of a seventh place finish in Hong Kong where they lost to Argentina in the 5th place semi-final. It marked the fourth time in the past five tournaments that Canada has reached the cup round.

"Self belief is growing that we are a top eight team," McGrath said. "Confidence can be dangerous on the World Series as every team is capable of winning on any given day."

The recent surge in form from McGrath's side has seen them jump up to ninth in the HSBC World Rugby Sevens Series standings and having been drawn into a pool with Fiji, Russia and Hong Kong, Canada will fancy their chances at another cup appearance.

"On paper we are in a good pool," McGrath said. "Fiji are in great form but we pushed them hard last week. Hong Kong are an unknown quantity. Russia, despite being near the foot of the table, are a very difficult team to play. They push everyone they play close. We will have to be at our best to win."

Canada is 0-3 against Fiji this season but is 4-0 against Russia and have yet to face Hong Kong this season.

Moonlight has a chance to become only the sixth Canadian to score 500 HSBC World Rugby Sevens Series points as he currently sits on 485. His 97 tries are the third most in Canadian history. Last week, Hirayama became the first Canadian to register 1,000 series points while also becoming the highest scoring Canadian of all-time, passing Phil Mack's previous record. Hirayama needs five conversions to reach 300 for his career.

The Singapore Sevens, which runs April 15-16, can be seen LIVE in its entirety at www.worldrugby.org

Canada's Men's Sevens Squad for Singapore Sevens (Name, club, hometown):

Luke Bradley – (UVic Vikes/Port Alberni Black Sheep) Port Alberni, BC
Jared Douglas – (Abbotsford RFC) Abbotsford, BC
Justin Douglas – (Abbotsford RFC/BC Bears) Abbotsford, BC
Mike Fuailefau – (Castaway Wanderers/BC Bears) Victoria, BC
Lucas Hammond – (UVIC Vikes) Toronto, ON
Nathan Hirayama – (UVic Vikes/BC Bears) Richmond, BC
Harry Jones – (Capilano RFC) Vancouver, BC
Isaac Kaay – (UVic Vikes) Kamloops, BC
Pat Kay – (Castaway Wanderers/BC Bears) Duncan, BC
Luke McCloskey – (Castaway Wanderers) Victoria, BC
John Moonlight – Captain (James Bay AA/Ontario Blues) Pickering, ON
Josiah Morra – (Toronto Saracens) Toronto, ON
Matt Mullins – (Queen's University/Ontario Blues) Belleville, ON

Unavailable for Selection:

Phil Berna – (UBC Thunderbirds) Vancouver, BC
Adam Zaruba – (Capilano RFC/BC Bears) Vancouver, BC

Coaching Staff:

Head Coach – Damian McGrath
Assistant Coach – Lee Douglas
Physiotherapist – Danielle Mah
Analyst – Calum Ramsay
Manager – Brian Hunter

Singapore Sevens Day 1 Schedule:

Canada vs. Russia — 12:30am ET/9:30pm PT
Canada vs. Hong Kong — 3:28am ET/12:28am PT
Canada vs. Fiji — 8:06am ET/5:06am PT



---