| | |
| --- | --- |
| BC Rugby Weekend of April 22nd 2017 | |
Weekend Results: T-Birds Fly Past Bays; Saracens Take Down Ravens

posted April 22 2017
[ed. comments below]

UBC 29 - James Bay 15

This wasn't easy for the defending champions, the Bays were ahead 5-3 at the half and when was the last time the T-Birds were held to 3 points after 40. The Blue defence were obviously getting the job done. The score went to 8-3 in the second half and the thought of a massive upset started to become a possibility. That ended quickly as the next score update was 17-8 as UBC scored two quick tries. It then went up to 29-8 before the Bays closed out the game with a try. Sean Duke scored two tries for the students. They will travel to Windsor Park next week to try and avenge their loss in the regular season.



Seattle 46 - UBCOB Ravens 32

As expected Seattle had too much firepower at home and the loss of Blevins to the Ravens hurt their chances. He was deemed not to have played enough regular season matches for Ravens to qualify for the playoffs. Seattle will now travel to Burnaby to face the league leaders.

Women's Premier

Westshore defeated Capilano 57-14 while CW won at Cowichan 44-36. The BP for Cowichan puts them in a tie with Caps for 3rd/4th with 3rd travelling to Seattle, 4th to Westshore. Tie breaking rules will have to be applied by BCRU to determine final standings for 3rd/4th.

Men Div 1

Surrey defeated Westshore 41-31 and move onto the semi-finals against Meraloma while the winner of Abby v Bayside will travel to Nanaimo. A bit of an upset reported, Bayside 47 - Abbotsford 25. Bayside will travel to Nanaimo.

Men Div 2

Lomas and Surrey are the top two teams and await the QF winners from today's matches Abby v Langley and Kamloops v United. Kamloops defeated United 34-25.

Men Div 3

Westshore defeated Comox to take the Island 1 position, Comox go in as Island 2. Westshore will host the #2 3A side and Burnaby will host the #3 3A side next weekend in the semis. The standings in 3A have Caps Academy 23pts, Lomas 22pts and SFU 21pts before this weekend's action. Comox will host 3B #2 while 3B #1 hosts 3B #3. Currently Caps and Squamish are tied at 29pts, Ridge Meadows has 20pts.

Women's Div 1

Playoffs start next weekend with 1 v 4 and 2 v 3. Standings before this weekend's results had Lomas, United, Abby and Bayside in the top four spots.

Women's Div 2

Ridge Meadows defeated Westshore 43-29 and will travel in the semi-final to either Comox or Capilano. The other QF match this weekend was Scribes v Kelowna.

Men's Premier Reserve

In the reserve's league it was CW defeating Ravens 40-26. CW next travel to Burnaby in the semis. UBC hosted Seattle in the other QF with the winner travelling to UVic next weekend.


---
Weekend Predictions: Premier Quarter-Finals Ravens @ Seattle and Bays @ T-Birds: FULL SCHEDULE

posted April 21 2017
[ed. comments below]

Bays @ UBC

Bays are going old school with their roster presentation. They have Phil Mack back and Travis Larsen. Graham Harriman is back from injury. They have one of their better lineups this season but are still looking a little light in the outside backs although they have one of the carded 7s players, Kyle Lagasca, in the centres. UBC haven't released their roster at time of writing which is a little unusual for them so not sure if there are some injury concerns. If they have their full strength front row that could be a deciding factor, especially with Cole Keith in NZ on Rugby Canada's dime. Backline players like Theo Sauder and Andrew Coe could be game breakers if they're healthy. Last time they met it was 32-6 for the Birds, should be closer this time but home side gets the nod. Prediction: UBC by 12.

BAYS



Ravens @ Seattle

Last match in Vancouver was a draw and Ravens seem to be missing Nick Blevins this week which would be a big loss. Seattle look to be fully loaded with big Olive Kilifi at loosehead and Shalom Suniala at #15, also William Rasilaka who rarely travels north is suiting up in the centres. Seattle at home will be the favourites in the rematch. Prediction: Seattle by 10.

RAVENS
1. Curtis Delmonico
2. Paul Ahn
3. Garret Garbe
4. Jon Phelan
5. Liam Flanagan
6. Nick Waggot
7. Kol Henrikson
8. Charlie Thorp
9. Aj King
10. Hajun Gill
11. Sean Ferguson
12. Ben Grant
13. Culy Quirke
14. Sean Hase
15. Aaron Mclelland

SEATTLE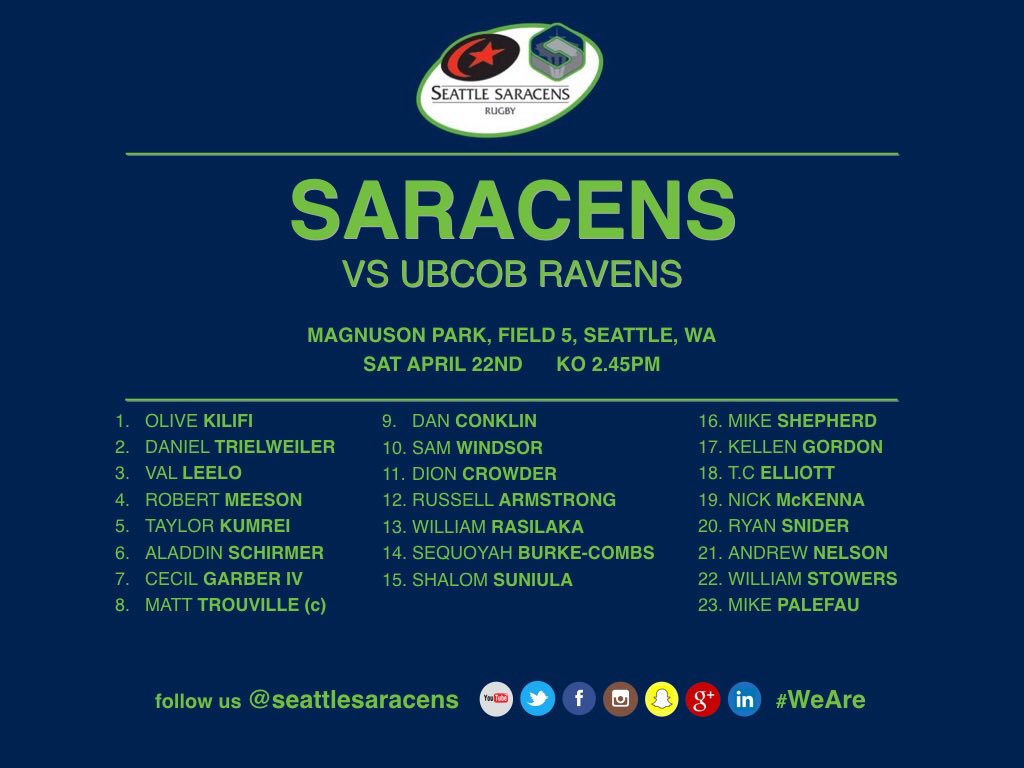 Women's Premier

Last week of the regular season, the only position left to decide is who will travel to Seattle, Cowichan or Capilano. Wins by Cowichan as they host CW or Capilano when they host Westshore this weekend could earn them a trip across the border, the lower of the teams will travel to Westshore. Caps are currently one point ahead of Cowichan in the standings.

CAPILANO
1. Nevene Hammoud
2. Megan Copeland Dinan
3. Melissa Robinson (C)
4. Anna Navrot
5. Stacey Hake
6. Vanessa Janzen
7. Nicola Jones
8. Lindsey Nicholson
9. Jacklyn Simington
10. Jackie Tittley
11. Heather Muir
12. Andrea Burk
13. Aly McCormack
14. Shawnee Monchalin
15. Ashley Robinson

Men's Division One

Div 1 enters the quarter-finals with Surrey hosting Westshore and Abbotsford hosting Bayside. Nanaimo and Meraloma await the winners of the QF.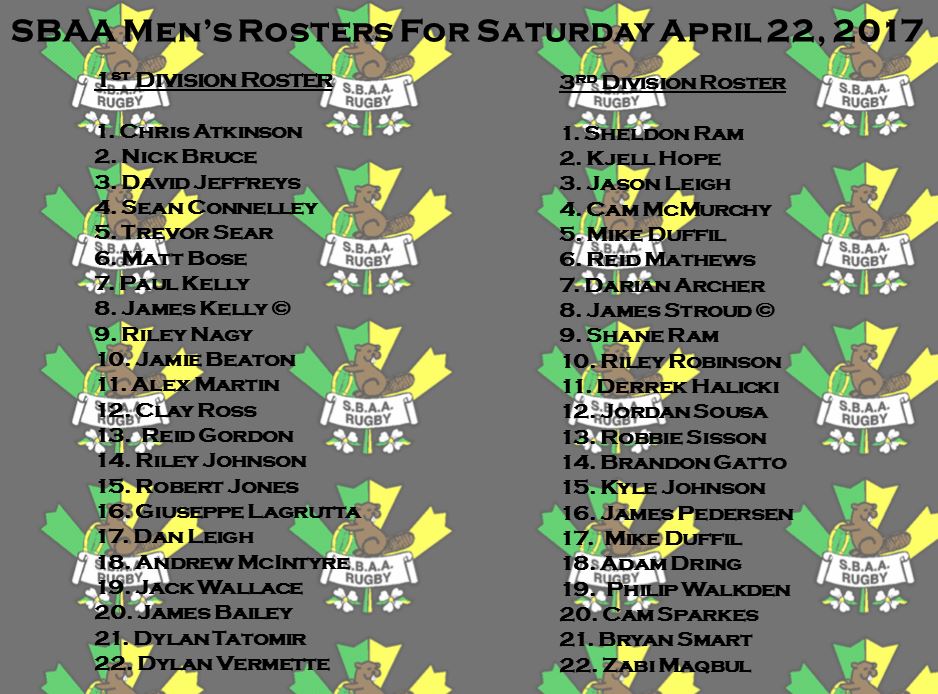 Men's Division Two

Kamloops host United and Abbotsford host Langley in the first round of the playoffs.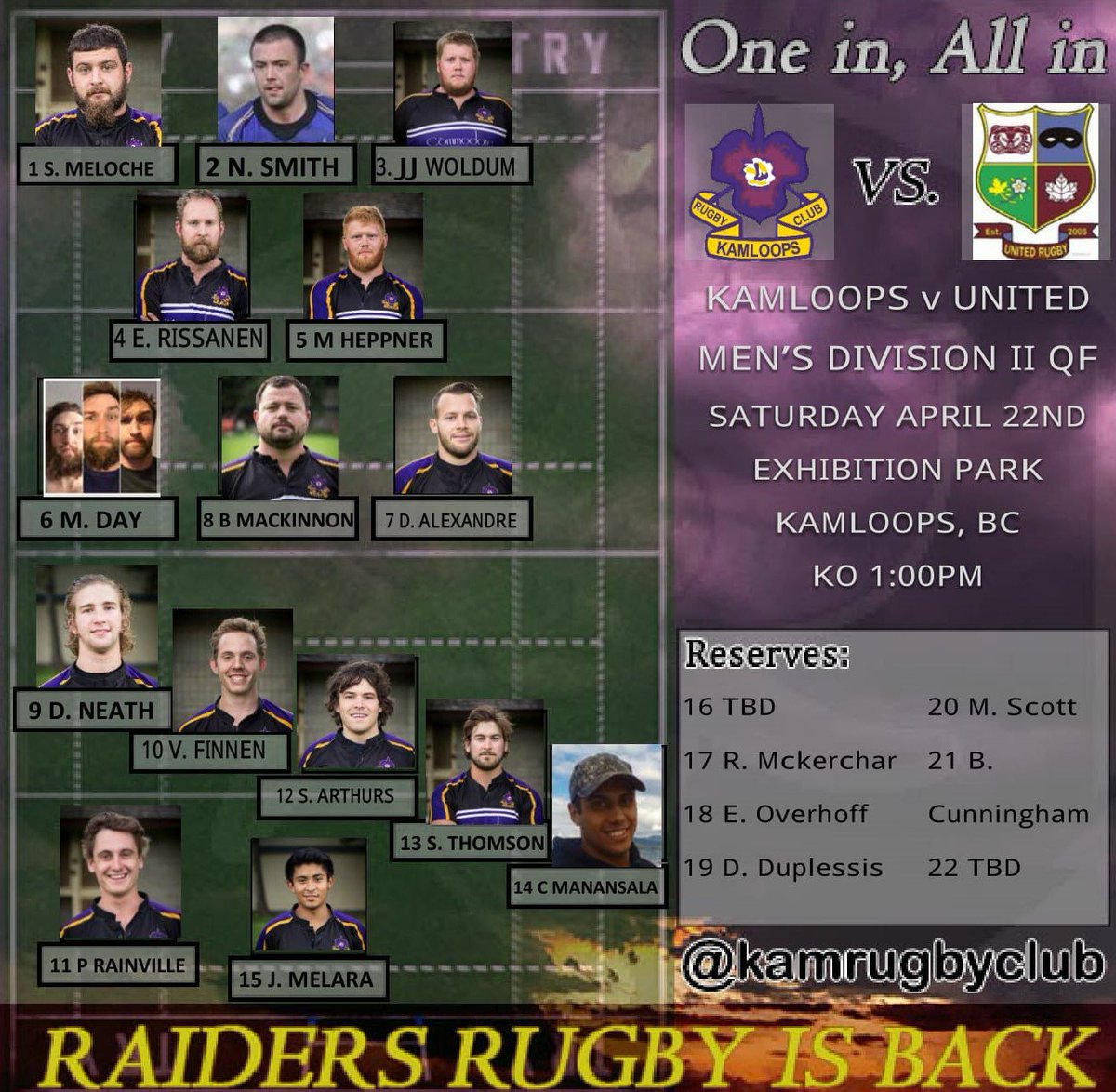 FULL SCHEDULE

Mens Premier Playoffs
14:45 @ Magnuson Park / SEATTLE V UBCOB RAVENS - Saro Turner
14:45 @ UBC / UBC V JAMES BAY AA - David Smortchevsky

Mens Reserve Playoffs
13:30 @ Windsor Park / CASTAWAY WANDERERS 2 V UBCOB RAVENS 2

Womens Premier Division
11:30 @ Klahanie Park / CAPILANO V WESTSHORE - David Holmes
11:30 @ Cowichan / COWICHAN V CASTAWAY WANDERERS
11:30 @ Magnuson Park / SEATTLE V BURNABY LAKE

Mens Division 1 Playoffs
14:45 @ Exhibition Park / ABBOTSFORD V BAYSIDE - Toby Mustill
14:45 @ Sullivan Heights / SURREY BEAVERS AA V WESTSHORE 1 - Conan Cooper

Mens Division 2 Playoffs
13:00 @ Exhibition Park / ABBOTSFORD 2 V LANGLEY 2 - Sean Dingley
13:00 @ Kamloops Park / KAMLOOPS V UNITED 2 - Bob Zryd

Womens Division 2 Playoffs
11:30 @ Trout Lake / SCRIBES V KELOWNA CROWS - Julie Beyea
11:30 @ Juan De Fuca / WESTSHORE 2 V RIDGE MEADOWS - Darren Sage

Mens Division 3
11:30 @ Klahanie Park / CAPILANO ACADEMY V SIMON FRASER RC - Jamie Levchuk
11:30 @ Klahanie Park / CAPILANO 4 V SIMON FRASER RC 2 - Robert Crowe
11:30 @ Connaught Park / MERALOMA 3 V BURNABY LAKE 3 - Bryn Tucker
11:30 @ Brockton Oval / VAN. ROWING CLUB 3 V ABBOTSFORD 3 - David Nelley
13:00 @ Thomas Haney / RIDGE MEADOWS V CHILLIWACK - Rod Watkins
13:00 @ Squamish / SQUAMISH V SURREY BEAVERS AA 3 - Lindsay Bottomer

Womens Division 1
11:30 @ Exhibition Park / ABBOTSFORD V BAYSIDE - Heather Lilburn
11:30 @ Kamloops Park / KAMLOOPS V MERALOMA
11:30 @ May Bennett Pioneer / NANAIMO V BRIT LIONS
11:30 @ UBC / VANCOUVER THUNDERBIRDS V UNITED - Scott Johnson

Mens Island Division 2 Playoffs
13:00 @ Juan de Fuca / WESTSHORE V COMOX

23/04/2017
Mens Reserve Playoffs
13:00 @ UBC / UBC 2 V SEATTLE 2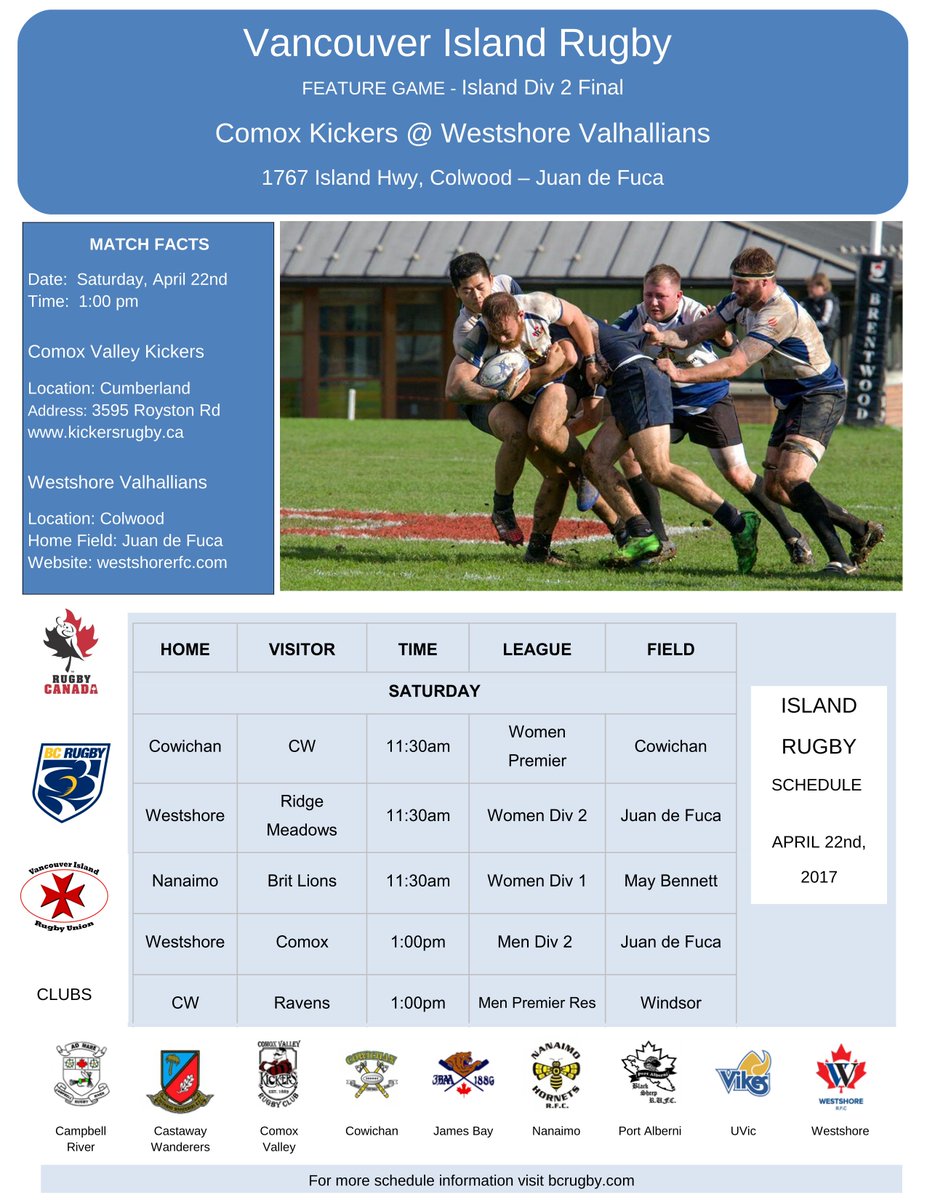 Photo Archive

We go back to Feb 2005 for this photo. Director of Sales for Helijet, Troy MacDonald, was delivering the goods on time and safely back then.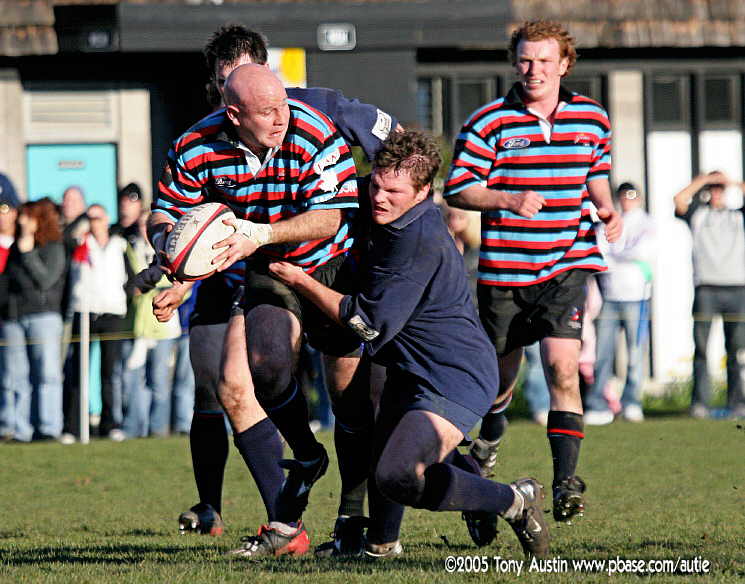 ---