| | |
| --- | --- |
| BC Rugby Weekend of April 29th 2017 | |
Weekend Results: Burnaby Defeat Saracens; T-Birds Soar Past CW: Other Winners Nanaimo, Surrey, Westshore, Seattle, UVic, Meraloma, Kamloops: PHOTO GALLERIES AND MATCH VIDEO ADDED

posted April 29 2017
[ed. comments below]

Burnaby 20 - Seattle 11

The teams traded penalties to start but Jeke Gotegote scored the first try to give Burnaby the lead, a lead they wouldn't relinquish. Prop Ben Rowley added to the lead and the half saw a 17-3 lead for the home side. Seattle added a penalty and an unconverted try in the second half to Burnaby's one penalty to close out the scoring.




UBC 29 - CW 15

Theo Sauder scored three tries in the game and UBC avenged an earlier loss at Windsor Park. It was all UBC in the first half for a 22-3 lead but CW came back in the second half with two tries, one by Anton Ngongo who will no doubt be on the national 7s radar. Theo Sauder finished out the scoring however to seal the victory. As predicted UBC v Burnaby in the final.


Photo gallery by Chris Wilson at Island Wave Photography

Women's Premier

Westshore and Seattle with two emphatic wins, the #1 and #2 in the season fittingly face off in the finals. Westshore dispatched Capilano 44-7 and Seattle took care of Cowichan 66-22.

Men's Div 1

Surrey continue to knock off the favourites, Westshore last week and Meraloma this week. The final 28-5. A similar result in Nanaimo where the Bayside Sharks were defeated 26-7. Nanaimo and Surrey will meet in the big show next week in Abbotsford.



Men's Div 2

Kamloops and Meraloma will meet in the final with Lomas defeating Langley 22-3 and Kamloops defeating Surrey 20-5.

Women's Div 1

UBC defeated Lomas 24-0 and United took down Abbotsford 46-10, so it's UBC v United in the final.

Women's Div 2

Capilano and Kelowna meet in the final next weekend, Caps 17-0 Ridge Meadows and Kelowna 29-24 Comox.

Men's Premier Reserve

UVic defeated UBC 37-21 and will face the winner of Sunday's Burnaby v CW. Sunday update Burnaby defeat CW 50-15 and will face UVic in final.

Men's Div 3

In men's Div 3a Burnaby and Westshore were winners and will meet in the final. Burnaby defeated SFU 36-0 and Westshore defeated Capilano Academy 62-5.

In 3B it was Caps 48-10 Comox and Squamish 33-0 Ridge Meadows. Squamish and Capilano in the final.


---
Weekend Predictions: T-Birds @ CW; Saracens @ Burnaby - 18 Semi-Final Matches in Total: 11 ROSTERS LISTED

posted April 27 2017
[ed. hope to add rosters by tomorrow afternoon]

UBC @ CW

The top four teams are left in the running for the Rounsefell Cup. When the season began we thought a UBC v Burnaby rematch was likely. It still seems on track but CW and Seattle will have their say this weekend. No doubt CW are the surprise team this year, the infusion of new Rugby Canada talent has lifted the team, the addition of Povey and Moor was key. The UVic pair of Dobravsky and Fraser have been solid in the centres for the tricolours. UBC have been solid the last few years and are two time defending champions. Players like Andrew Coe and Theo Sauder have a bright future in XVs and 7s for Canada. CW won the regular season match with a comeback win. Think this one may be a different outcome but close. Prediction: UBC by 3.

UBC

1 Connor Sampson (Charles Tupper)
2 Alex Mascott (St George's)
3 Neil Courtney (Handsworth)
4 James Carson (Oak Bay)
5 Thomas Roche (St John's Ravenscourt)
6 Connor Weyell (Handsworth)
7 Nakai Penny (Penticton)
8 Connor Hamilton (St George's)
9 Jorden Sandover-Best (Robert Bateman)
10 Adam McQueen (Canmore)
11 Manar Kulkhan (Port Moody)
12 Nathan Rees (Porth County)
13 Niko Clironomos (Lord Byng)
14 Theo Sauder (St George's)
15 Andrew Coe (Bill Crothers)

CW

1 John Braddock
2 Clayton Thornber
3 Doug Woolridge
4 Cam Polson
5 Connor Turner
6 Nathan Stewart
7 Haydn Evans
8 Doug Pearson
9 Mike Dalsin
10 Robert Povey
11 Anton Ngongo
12 Dustin Dobravsky
13 Doug Fraser
14 Dan Moor
15 Keaton Styles

Seattle @ Burnaby

Seattle are having their best season since being promoted to Premier. Burnaby however are the form team right now and would go down as favourites to claim the Cup this year. Seattle don't always travel across the border with their top team so it will be interesting to see the roster when it's available Friday afternoon. Burnaby might have Admir back in the roster which will bolster an already strong forward pack. I like the home team for this one and am sticking with a UBC v Burnaby final. Prediction: Burnaby by 7.

BURNABY

1 Anthony Luca (Capt)
2 Micha Govorchin
3 Ben Rowley (i)
4 Lucas Albornoz
5 Craig Mclaughlin
6 Admir Cejvanovic
7 Cole Mosychuk
8 Taitutsi Vikilani
9 Jack Caithness
10 James Reekie
11 Kimi Vunituraga
12 Mike Goodall (i)
13 Jeke Gotegote
14 Cole Macqueen
15 Cody Rockson

SEATTLE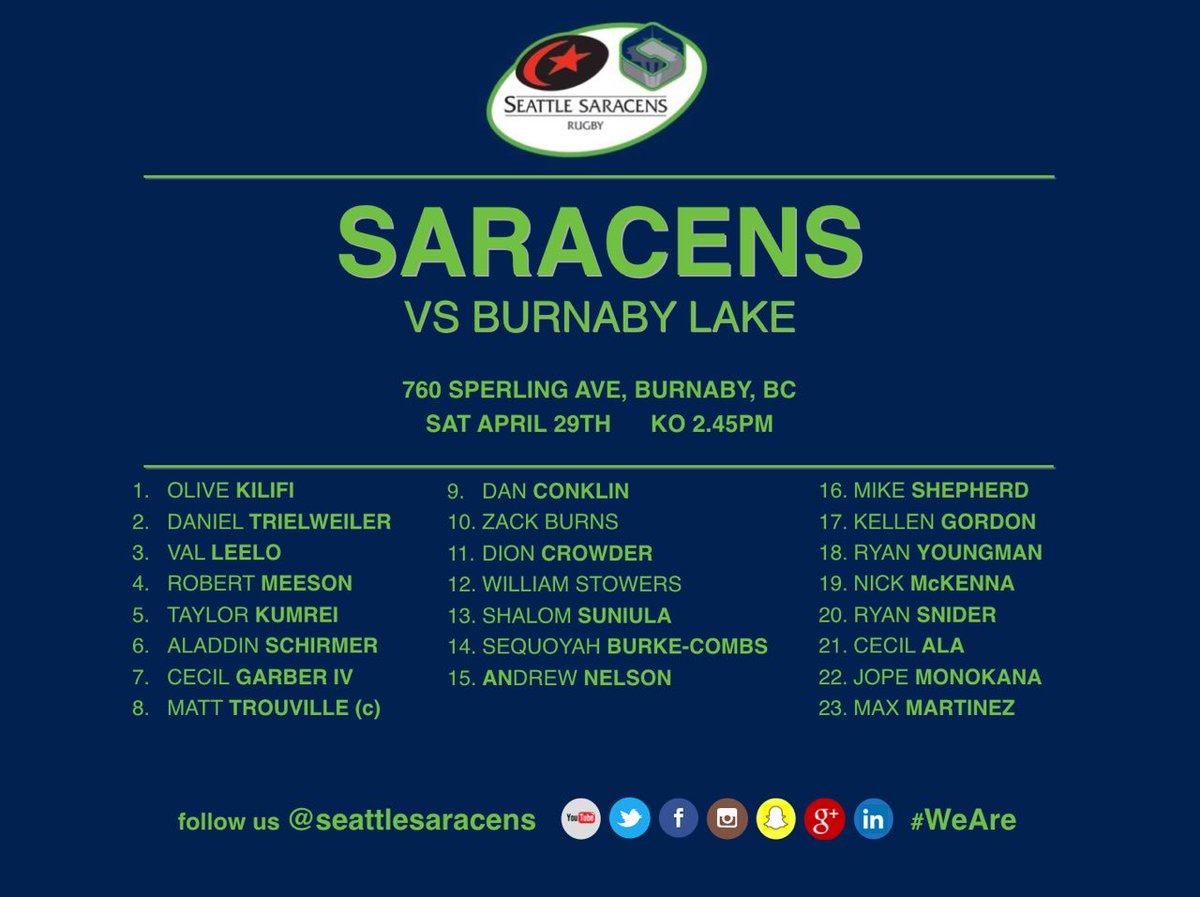 Women Premier

Capilano @ Westshore
Cowichan @ Seattle

Westshore haven't lost a game all season. Don't see it happening at home this weekend. Cowichan travel to Seattle in the other match although they've asked for a neutral site for the match. This would be Cowichan's third trip to the USA this season, more than any other team. They got pounded last time when they had a depleted side. Odds would favour a Westshore v Seattle final but Cowichan have the Russell sisters and they are capable of producing an upset. [ed. just announced that Seattle will host game at Chuckanut Bay RFC]

WESTSHORE

1. Rosie Lang
2. Brittany Simms
3. Marlene Donaldson
4. Rori Wood
5. Tanya Jones
6. Shannon Fitzpatrick
7. Courtney Simms
8. Barbara Mervin
9. Brianna Miller
10. Emily Belchos
11. Selina McGinnis
12. Amanda Thornborough
13. Meaghan Howat
14. McKenzie Pusch
15. Ellisa Alarie

CAPILANO

1. Nevene Hammound
2. Megan Copeland Dinan
3. Melissa Robinson (C)
4. Anna Navrot
5. Stacey Hake
6. Louisa Hadley
7. Nicola Jones
8. Lindsey Nicholson
9. Jacklyn Simington
10. Jackie Tittley
11. Heather Muir
12. Andrea Burk
13. Genevieve Bittorf
14. Shawnee Monchalin
15. Ashley Robinson

COWICHAN

1 Sherry Spence
2 Rebecca Cali Saari
3 Jessica Pederson
4 Tyson Beukeboom
5 Bristine Gibbons
6 Laura Russell
7 kelly Russell
8 Quinn Battie
9 Jamaina McLeod
10 Natasha Smith
11 Rebecca Kerswell
12 Angela Davies
13 Avi Sharabi
14 Carolyn Gudmundseth
15 Shanise Gelaude

SEATTLE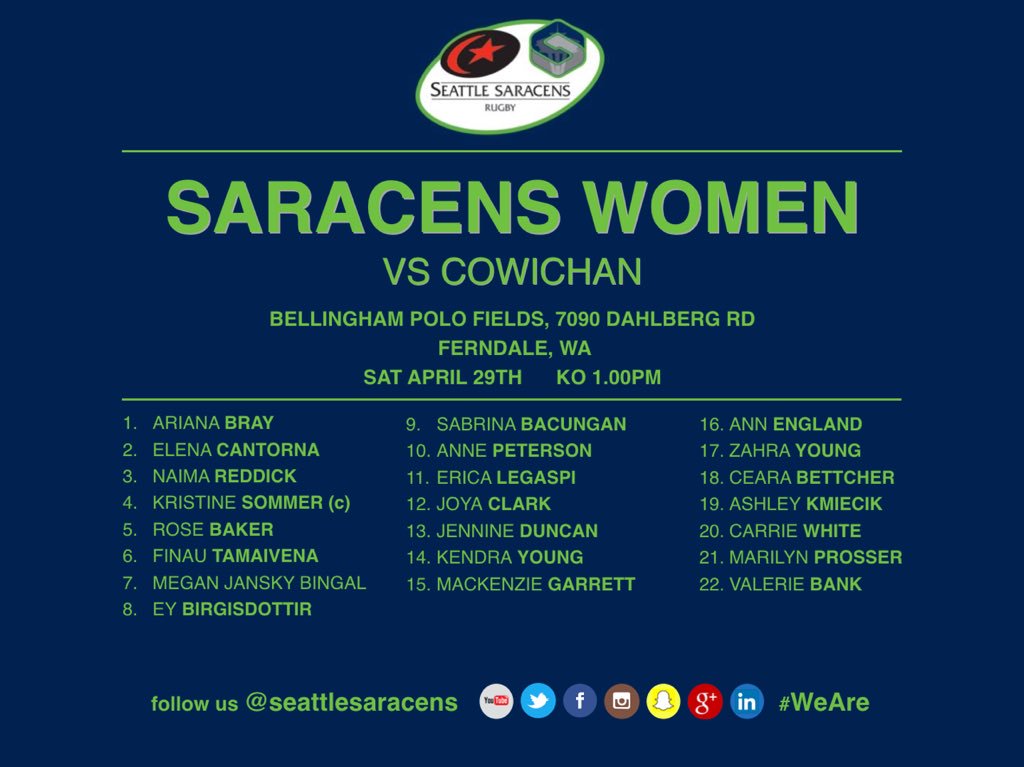 Men Div 1

Bayside @ Nanaimo
Surrey @ Meraloma

The Lomas are favourites to take the title in Div 1 but Surrey knocked off Westshore last week so can they do it again? The Nanaimo v Bayside match is a bit of an unknown, two teams who don't play each other frequently. Bayside were once a Premier title contender when the likes of Adam van Staveren was regularly in the roster. In recent years they've made a reputation as a talented young team playing expansive rugby. They struggled losing to teams like Langley and Brit Lions but knocked off Abby last weekend. Nanaimo have had an up and down season as well. Going undefeated in the fall and winning the Times Cup but struggling with a couple of losses in the spring before rebounding and claiming the Cowichan Cup over Westshore. It should be an epic weekend in Div 1.

NANAIMO



BAYSIDE

1 Calixto Martinez
2 Nick Wright
3 Conner Dickie
4 Kyle Wilkie
5 Jeremy Bergmann
6 Douglas Fairbank
7 Ben Sullivan
8 Spencer Thorpe
9 Logan Smith
10 Alex Ferguson
11 Trevor Nelson
12 Corey Wood
13 Andrew O'Connor
14 Spencer Marshall
15 Tyler Train [Captain]

SURREY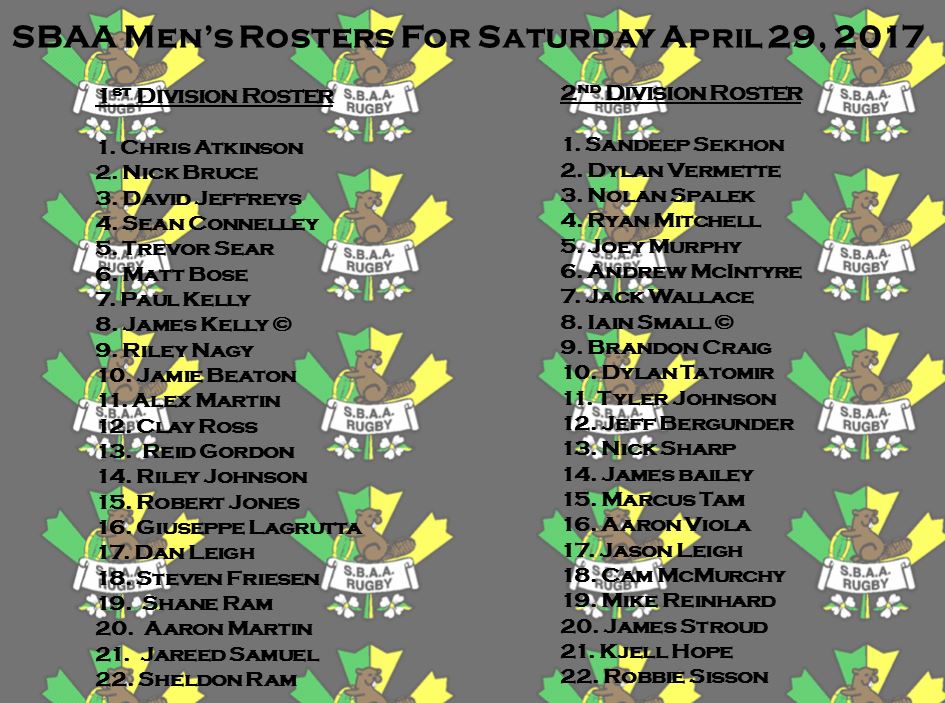 Women's Div 1

United @ Abbotsford
Meraloma @ Vancouver Thunderbirds

Abby are traditionally strong in this division, they're coming off some strong performances from local high schools in previous years so have a good base. The Vancouver Thunderbirds are likely the UBC team in the spring league. UVic don't play in the spring but many Vikes bolster the CW women's program. Best guess would be Abby v UBC in the final.

Men's Premier Reserve

Some controversy here with one Burnaby player putting out a heated tweet about playing on Sunday. The Reserve League is a bit of an odd duck, it's there mainly because some Premier teams can't put out two full men's teams on a weekend so they travel with a common pool of reserve players. It's why it was renamed the Reserve league. So BCRU made an allowance for the Reserve League to change to a Sunday in the playoffs when the two teams had to travel to separate destinations. No one has made use of that clause so far in the playoffs but CW apparently said "yes please" and it doesn't look like Burnaby are too happy about it, at least this one player. Some suggest the Reserve league should be dropped altogether and have the second team play in a regional league.



FULL SCHEDULE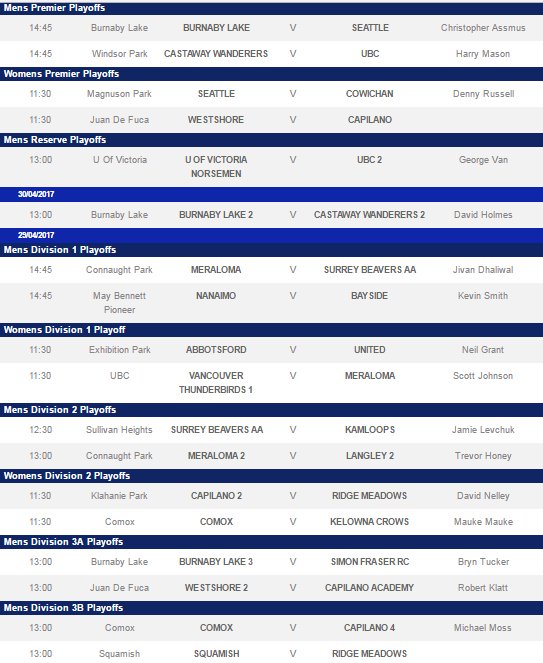 ---