Doug Fraser reaches for try line
© Chris Wilson
Vancouver Tyee Win Men's Title; Island Wins Women's Title: Match Report Added

posted May 21 2017
[ed. comments below]

The Tyee basically won the game in the first 20 minutes as they went up 24-0 and by the time the Tide got into the match it was too late. The final was 48-8. The Tyee scrum was dominant on the day and set a strong platform for the backs.

The BC coaches will now select a team to take on a Canada Select side next Saturday.

In the women's match it was the Island building on their earlier round one 49-24 victory with a closer 26-12 win in round two.



VIRU women

Tyee v Tide Match Report

4 minutes

Tide have a lineout at their 22, they win it and spread it wide trying to play expansive rugby but first touch gets dropped but backwards. Tide recover the ball in the ruck but the clearing kick from in goal doesn't find touch and gifts an attacking opportunity to the Tyee back three. Good handling and interplay between forwards and backs and two phases later Cole Keffer makes a break down the left side and gets within a metre of the goal line after being tackled. A couple more phases and big loosehead prop Neil Courtney bounces off a tackle and in. The Tyee handling is very good, Tide have made two mistakes to set it up, a dropped ball and a poor clearing kick. Conversion is good. In the two scrums so far the Tide are being destroyed.

7-0

12 minutes

Tide get the ball at midfield after a few phases with a lineout but it's not close to being straight. Another error. Another dominant scrum by the Tyee and Jorden Sandover-Best scampers down the field to take the ball inside the Tide 22. Some good defensive line speed from Tide #10 Danny Hamstra interupts the Tyee attack, the ball is floated wide and almost intercepted but knocked on, Tyee scrum. Another dominant Tyee scrum and a break by #9 Jorden Sandover-Best. The ball is knocked on about 10 metres out, one of the first errors from the Tyee. The Tyee turn the ball over in the subsequent scrum and the ball quickly gets out to the backs, #11 Cole Keffer and #15 Aaron McLelland team up out wide and feed the ball inside to a charging #13 AJ King to go over unopposed. Conversion missed.

12-0

16 minutes

Tide are attacking and get down to the 5 metre line with possession. Off second phase ball it comes out to #10 Danny Hamstra with the #4 and #3 outside him. Neither looked like they wanted to run a good line for him and stood with hands waiting. The alert Tyee #4 Connor Weyell saw that and came storming up on defence and picked the ball off and ran the intercept back. He was run down by Tide #5 about 30 metres out but #15 McLelland and #10 Harjun Gill were on hand to receive the over the shoulder pass. They fed it back to Weyell who ran it in, conversion missed.

17-0

19 minutes

Tide were attacking again, ball fed flat to the #1 who drops it and Tyee are on the counter attack. McLelland starts the counter attack and finishes it off using his blistering pace. Two times now Tide have turned the ball over with promising attacking position. Two times the Tyee punished them with tries. Conversion made.

24-0

20 minutes to HT

Tide again on attack but they can't seem to put more than several phases together before dropping the ball. Another easy pass dropped, again a prop involved, and Tyee have the ball. Pretty weak call by ref on Tyee player running into contact with forearm up, won't see that called in NZ. The Tyee centres are doing a good job coming up quickly and not giving the Tide backs any room. Ref thinks too fast and and offside called, #8 Travis Larsen taps and goes. The Tide finally are putting together an attack into double digit phases without dropping the ball and they're looking good and at the 5 metre line of the Tyee. They get another penalty call in their favour, tap and go and the ball gets stripped, Tyee on attack again. The play gets ragged, more penalties, ball not going to hand. The rest of the half is scoreless with the Tide playing most of the rugby inside the Tyee half but good defence and a lack of finishing skills thwarts the Tide and they get no reward.

HT 24-0

46 minutes

Tyee get a lineout inside Tide 22 when a call at the breakdown goes against the Tide #8. The Tyee knock it on, it's cleared but not out and the Tyee back three attack. McLelland looks the class of the backs and he weaves his way through the Tide defence to gain large yards. The Tsunami #10 playing for Tide is doing well on defence and is up quickly, it leads to a turnover and Tide have the ball. They get a penalty about 30 metres out and decide to take the points this time. The ref is struggling a bit with calls at the breakdown, not allowing much of a contest. The Tide finally get on the board.

24-3

50 minutes

Tide don't clear the ball well from inside their 22 and try a chip to the wing which looks awkward. The ref calls a penalty for being ahead of the ball. The lineout play works like a charm for the Tyee, Nakai Penny #7 gets clean ball up high and throws it down to a charging Taitusi Vikailani #8 who powers his way over. Conversion is missed.

29-3

70 minutes

Tide on attack and one of the props loses the ball and Tyee counter again. They lose it, Tide lose it again and it's a Tyee scrum. Play starting to look scrappy again. Tyee probe into the Tide 22 but another knock on turns the ball over. Tyee get the ball back from a kick and Nakai Penny slices through the middle but can't finish off the pass to the winger on his left on a two on one. Tyee keep possession get called for a penalty and Tide get a chance to clear from inside their 5 metres. Guiseppe du Toit is now starting to make his presence more apparent in the centres and he breaks out for some yards. Tide are now at the Tyee 22 with a Tyee scrum. Tide have a new backrow in including two Tsunami players, Brandon Hudson and Foster Dewitt. Play continues back and forth, fairly even, but poor ball handling continues to kill promising attacks. Another dominant Tyee scrum gets a penalty and a kick to touch to set up a prolonged period of attack inside the Tide 22. Aaron McLelland sees a gap but a great tackle by young Schellenberger (#15) cuts him down. McLelland gets up slowly from that tackle. The ball is recycled and #20 listed as John Franklin for the Tyee rumbles in under the posts. Conversion is good.

36-3

75 minutes

The Tyee find space out wide, a nice backline move sees #11 Cole Keffer sprint in for the try. It was started by #13 AJ King beating his counterpart and then it was good interlinking play from there. A warm applause from the crowd for perhaps the best try of the day so far. Conversion missed.

41-3

78 minutes

The Tide strike back for their only try of the match they find some space out wide as the game is opening up in the closing minutes. They camp out inside the 5 metres for several phases before the replacement loose forward Foster Dewitt crashes over from a quick tap penalty. Conversion missed.

41-8

80 minutes

Players are getting tired now, a Tyee break pinballs off several players and bounces into one of the backs hands and he waltzes under the post. #13 AJ King again was central to the play. Conversion good.

48-8

FT 48-8


---
Island Tide vs Vancouver Tyee Match Saturday 2:30 @ Klahanie: Rosters Listed

posted May 19 2017
[ed. comments below]

It's been a strange McKechnie Cup season with the VRU and FVRU not participating but the NVIRU stepping up. The purpose of the regional competition is to build towards the provincial BC Bears team. In round one the South Island Tide defeated the North Island Tsunami. The winner goes on to face the Vancouver Tyee for the Cup on Saturday.

The Tyee were created to represent mainland players in the absence of the VRU and FVRU teams. Rick Bourne (UBCOB) and Curry Hitchborn (UBC) stepped up to help organize with Curry the head coach and James Thompson (UBC/UBCOB) the assistant coach.

The Tyee have a strong UBC/UBCOB presence, not surprising looking at the management group but there are some key players from other clubs. Taitusi Vikailani the young #8 from Burnaby is a welcome addition and he'll be well tested going up against Canada A player Travis Larsen for the Tide. It's a strong loose forward presence with Nakai Penny (UBC) and Jordan Reid (Capilano), two young prospects lining up for the Tyee. Penny played for Tsunami last week and Tsunami are well represented with four players on the Tide as well. In the spirit of selection matches it was decided to allow top prospects from the losing team to join teams entering the second round.

It should be an entertaining match, last weekend the Tide v Tsunami match was a wide open game with big hits as players looked to impress provincial and national coaches. It should be more of the same this weekend and give BC Bears selectors a chance to evaluate players.

The game kicks off at 2:30pm at Klahanie, it's preceded by the Island vs Vancouver women's game at 12:45pm. The Island women ran up a +25 in the first match of the two game, total point series.

Tyee Men

1 Clint Lemkus - UBC
2 Paul Ahn - UBCOB
3 Neil Courtney - UBC
4 Connor Weyell - UBC
5 Nick Allen - UBC
6 Jordan Reid - Harvey - Capilano
7 Nakai Penny - UBC
8 Taitusi Vikailani - Burnaby
9 Jorden Sandover - Best - UBC
10 Harjun Gill - UBCOB
11 Cole Keffer - UBC
12 Cully Quirke - UBCOB
13 AJ King - UBCOB
14 Sean Ferguson - UBCOB
15 Aaron Mclelland - UBCOB
16 Andrew Lackner - Burnaby
17 Matias Suez - UBCOB
18 Anton Belerozov - Meraloma
19 Gavin Rowell - UVIC
20 John Franklin - UVIC
21 Reid Tucker - Capilano
22 Jason De Freitas - Capilano

Tide Men

1. Jon Braddock, CW
2. Casey Reed, UVIC
3. Noah Barker, JBAA
4. Liam Chisolm, UVic
5. Shea Wakefield c, JBAA
6. Cam Polson, CW
7. Kevan Leask, UVic
8. Travis Larsen, JBAA
9. Jenner Teufel, Cow
10. Danny Hamstra, Cow
11. Justin Logan, CW
12. Guiseppe du Toit, UVic
13. Mike Nieuwenhuysen, JBAA
14. Jordan Tait, WS
15. Brandon Schellenberger, CW
16. Andrew McPherson, JBAA
17. Jay Jimmo, WS
18. Jason Gagnier, WS
19. Tua Vaa, WS
20. Brandon Hudson, Comox
21. Foster Dewitt, Port Alberni
22. Nate Waldmann, JBAA
23. Luke Campbell, JBAA

Tide Women

1 Sherry Spence (Cowichan)-Vice Captain
2 Brittany Sims (WS)
3 Chelsey Minter (WS)
4 Rosie Lang (WS)
5 Rori Wood (WS)
6 Chanelle Edwards-Challenger (CW)
7 Courtney Sims (WS)
8 Shannon Fitzpatrick (WS)
9 Jess Neilson (CW)
10 Meg Howat (WS) - Captain
11 Maddy Graham (CW)
12 Dakota Weir (CW)
13 Brittany Waters (CW)
14 Dawson German (Comox)
15 Sya Trafford (UVIC)
16 Mellisa Sims (WS)
17 Neila Schaad (Comox)
18 Aimee Burley(Comox)
19 Rebecca Saari (Cowichan)
20 Michelle Flowers (Cowichan)
21 Sarah Levson (WS)
22 Selina McGinnis (WS)
23 Kayla Fenrick (Nanaimo)

Vancouver Women

1. Tess Woldring, UBC
2. Gillan Boag, UBC
3. Mel Rob, Capilano
4. Emmy Baker, UBC
5. Louisa Hadley, Capilano
6. Haley Glendinning, BLRC
7. Allison McCormick, Capilano
8. Katie Grudzinsky, BLRC
9. Christina Burnham, SFU
10. Jess Harvey, BLRC
11. Angel Rose, BLRC
12. Mackenzie Carson, UBC
13. Kaitlin Cummings, Kamloops
14. Ciara Malone, UBC
15. Annie Arnott, BLRC
16. Lauren Tagg, BLRC
17. Tianna Coutts, BLRC
18. Danielle Veronica Fearns, SFU
19. Heather Muir, Capilano
20. Nicole Mary, Capilano
21. Carlisle Connor, Brit Lions
22. Amy Christine, Brit Lions
23. Alix Krahn, Meraloma


---
South Island Defeat North Island 46-19: Island Women Overpower Vancouver 49-24: Photo Galleries & Full Match Video

[ed. comments below]
posted May 14 2017

One of the best things observed on the day, besides the sunshine making a rare appearance since November, was that all the right people were at the match. Not only the women's national coach, Francois Ratier but also the men's national coach, Mark Anscombe. Then the two BC coaches Tony Healy and Phil Mack were also present taking notes, pen and paper in hand. Sean White was observing and providing his input to coaching staff. Players in both games were given every chance to impress the BC and national coaches.

There were the usual suspects, for the South, Travis Larsen, Doug Fraser and Mike Nieuwenhuysen stood out. As expected Fraser and Nieuwenhuysen shredded the North defences as they did last year. Many of the South tries were from counter-attacks through the backline. The North worked hard for their tries through strong forward effort, their last try was a push over from a 5 metre scrum which made the North pack very happy to end the day. Cody McClary the North tighthead did well as did young Riley Savard whose presence changed the dynamic of the scrum which had been fairly even up to that point. When he entered the North scrum started to dominate, a point noticed by selectors. The north backrow of Nakai Penny, Foster Dewitt and Brandon Hudson got the attention of selectors as well for the amount of work they put in. The south second row of Shea Wakefield and Liam Chisolm were a force in the match.

Rugby was the winner on the day with a good rugby spectacle put on for the national and provincial coaching staff.



FULL MATCH VIDEO


In the women's match the Island ran out to an early lead and then cruised a bit as the Vancouver team scored a number of second half tries to close the gap. The Island #10 Meg Howat organized the team well and was a standout as was Canada centre Amanda Thornborough at #12. The teams next meet in Vancouver for the rematch.



FULL MATCH VIDEO



---
North vs South Island Match on Saturday - Winner to Face Mainland on 20th

posted May 12 2017
[ed. comments below]

The club season in BC is over and those aspiring for higher honours will now focus on regional rugby. For senior men this means the McKechnie Cup. This year it's being contested by the South Island Tide, North Island Tsunami and a Mainland team called the Tyee.

The North v South game is Saturday and there are some good players on both rosters.

For the North, Canada A tighthead prop Cody McClary will be one to watch. Kyle Joe the Canada U19 hooker gets the start along with Noah Dobson. The reserve front row for the North may be just as damaging as weightlifting coach and strength specialist Patrick Milford is backup tighthead and Riley Savard who was invited to the Canada U20 camp and had a stint at UBC can play any of the front row positions. Akira Takehawa was selected man of the match at hooker by Bayside when Nanaimo beat them in the Div 1 quarterfinal. The North matches up well in the front row.

The South have a good looking second row with Canada player Liam Chisolm along with former UVic teammate Shea Wakefield. Kevin Leask from UVic is backup.

The backrows have some talent, for the north Nakai Penny who started for the championship UBC team last weekend. He's back with family on the North Island and suiting up for the Tsunami. He pairs up with former UBC teammate Foster Dewitt who has improved his game and who will be playing for Port Alberni next year. Brandon Hudson is openside, a smaller backrow player in the mold of Neil Back, small but with an engine that never stops. For the South Travis Larsen, originally assigned to the North as his dad played for Nanaimo, he is living in Victoria and decided to suit up with the Tide. He has some Canada A appearances under his belt. He teams up with Kieran Mcauley and Cam Polson.

The backs are where the south will shine, the UVic combo of Pitblado to du Toit up against two former Shawnigan standouts Jenner Teufel and Carlin Hamstra. Doug Fraser, originally from Ladysmith and eligible for the North, now lives in Victoria and suits up with the Tide. He partners with Mike Nieuwenhuysen. These two gave the Tsunami fits last year in a tight 41-38 win for the Tsunami. The North relies on the veteran experience of Andrew Gudmundseth and Brad Marshall to keep them in check.

Last year the Tsunami forwards had the edge while the Tide backs were a force. It will be interesting to see how it plays out this year. BC coach Phil Mack will be there as will Canada coach Mark Anscombe. The game is being used as a selection game for the BC Bears. The winner goes on to play the Mainland team coached by Curry Hitchborn. That match will be on the 20th at Klahanie.

Curry was out tonight at Klahanie getting his troops ready to face the winner. They also practice on Tuesday and Thursday next week at 7pm at Klahanie, all are welcome to tryout. There's a feeling among those involved that the BC Bears program has more energy to it this year with Tony Healy and Phil Mack at the helm. Between the three teams there are at least 90 players to select from this year and it feels as if every player is being given an honest shot.

BC will play Canada on May 27th at Westhills Stadium in Langford after Day 1 of the women's Canada Sevens concludes.

The game this Saturday is at Windsor Park at 2pm. The Island women take on Vancouver at 12:30pm at the same venue.

Men North v South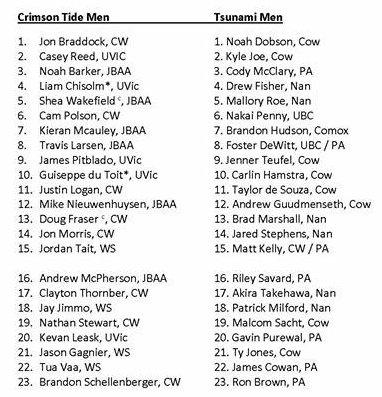 Women Island v Vancouver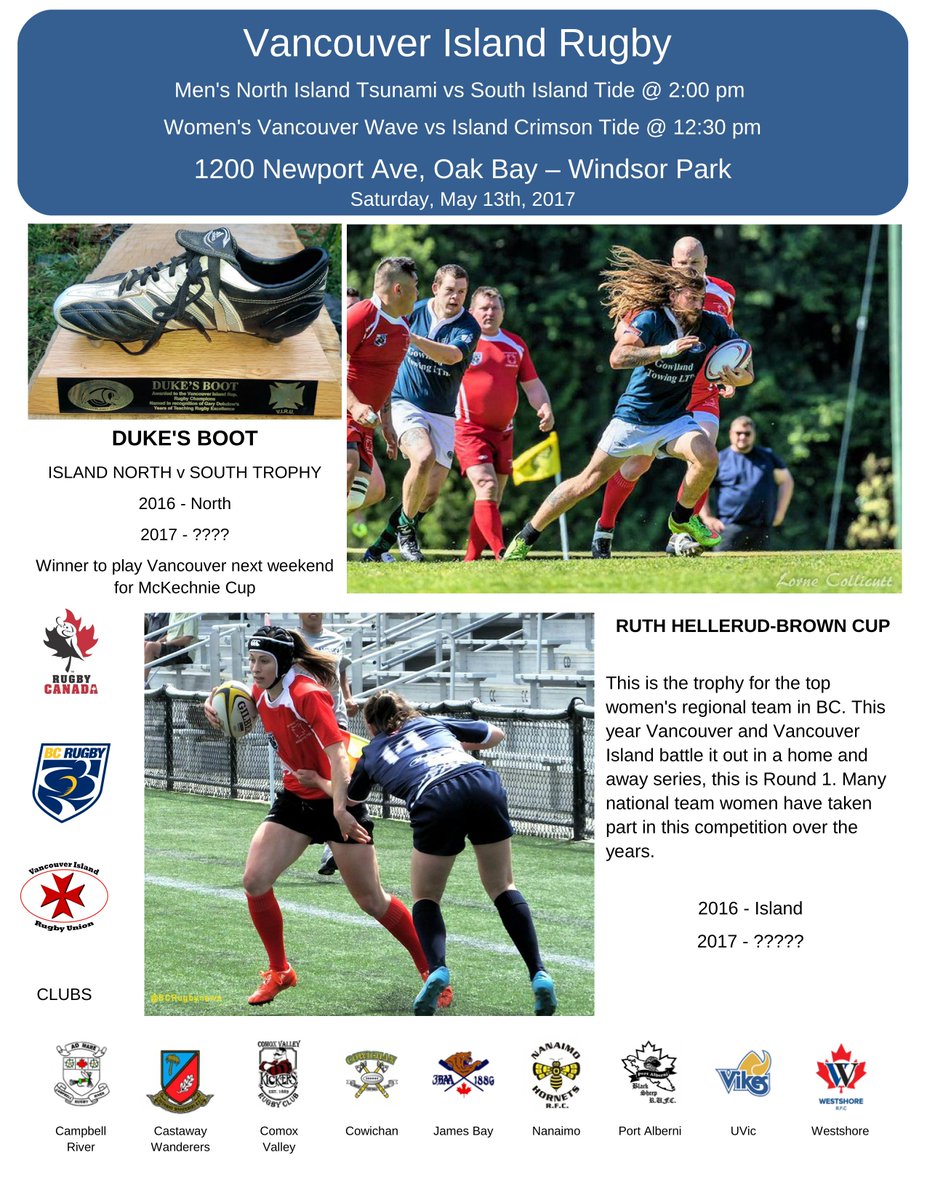 ---