| | |
| --- | --- |
| BC Girls High School 2017 | |
Carson Graham Win AAA Title; Abbotsford AA; Elgin Park Tier 2

posted May 30 2017
[ed. comments below]

The girls wrapped up their high school XVs season last weekend with the pre-tournament rankings pretty well predicting the outcome. Carson Graham went into the finals ranked #1 in AAA and they defeated #2 Yale 19-17 in the final to repeat as champions. A detailed report can be read in Howard Tsumura's article.

In AA the rankings were accurate as well as #1 Abbotsford defeated #2 Williams Lake by a score of 41-10. Again Howard Tsumura has the details in his excellent article, Sisterhood of Panthers.

Tier 2 saw some upsets as #4 Elgin Park walked away with the title, defeating #3 Hugh McRoberts 24-17.

For further results check out the @BCHSGRA twitter feed.





---
Girls Provincials in Abbotsford May 25-27: Three Tiers & 24 Teams

posted May 17 2017

Twenty-four school programs will come together at Rotary Stadium in Abbotsford from Thursday to Saturday next week for the Girls HS XVs provincials.

AAA

Three strong rugby regions represented in the top 3 with North Shore Carson Graham ranked #1, Fraser Valley Yale second and North Island Shawnigan Lake third.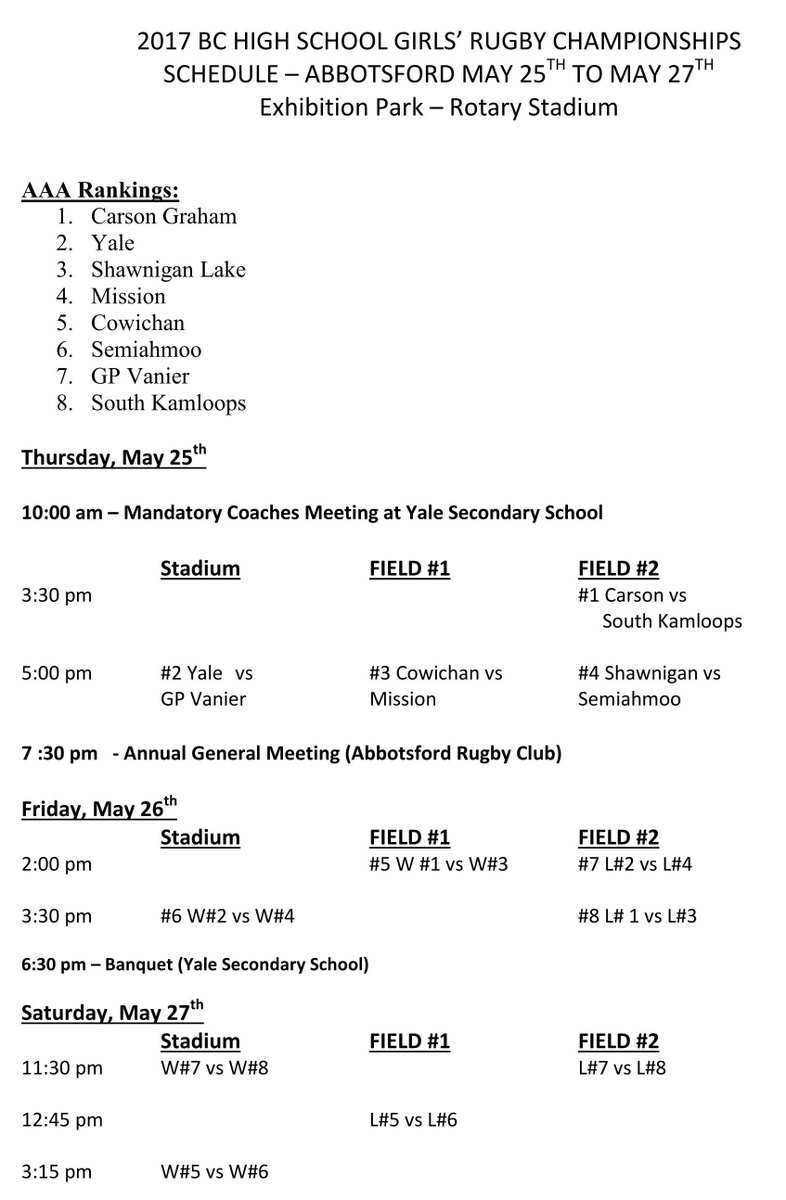 AA

Home town Abbotsford are ranked #1, followed by Williams Lake school, Lake City and then North Island's Brentwood.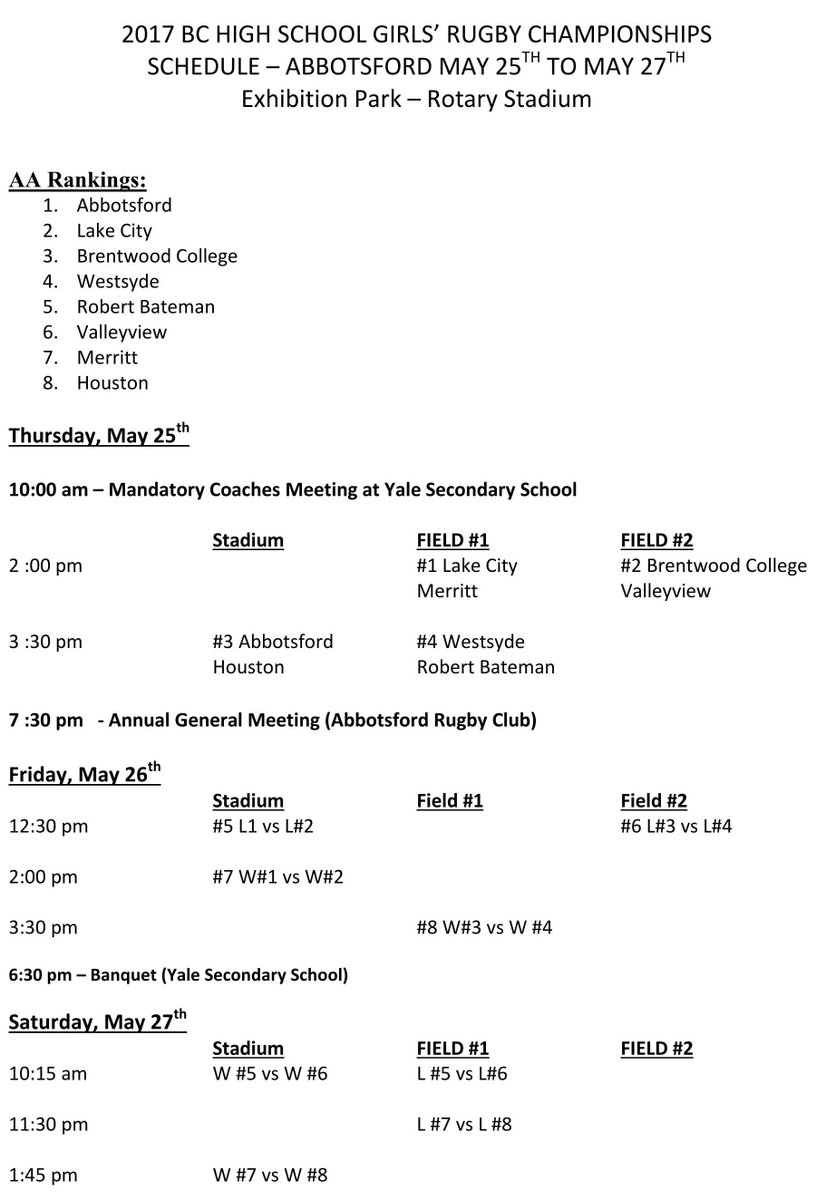 Tier 2

Gleneagle in Coquitlam are ranked #1 followed by North Island Alberni and Richmond's Hugh McRoberts.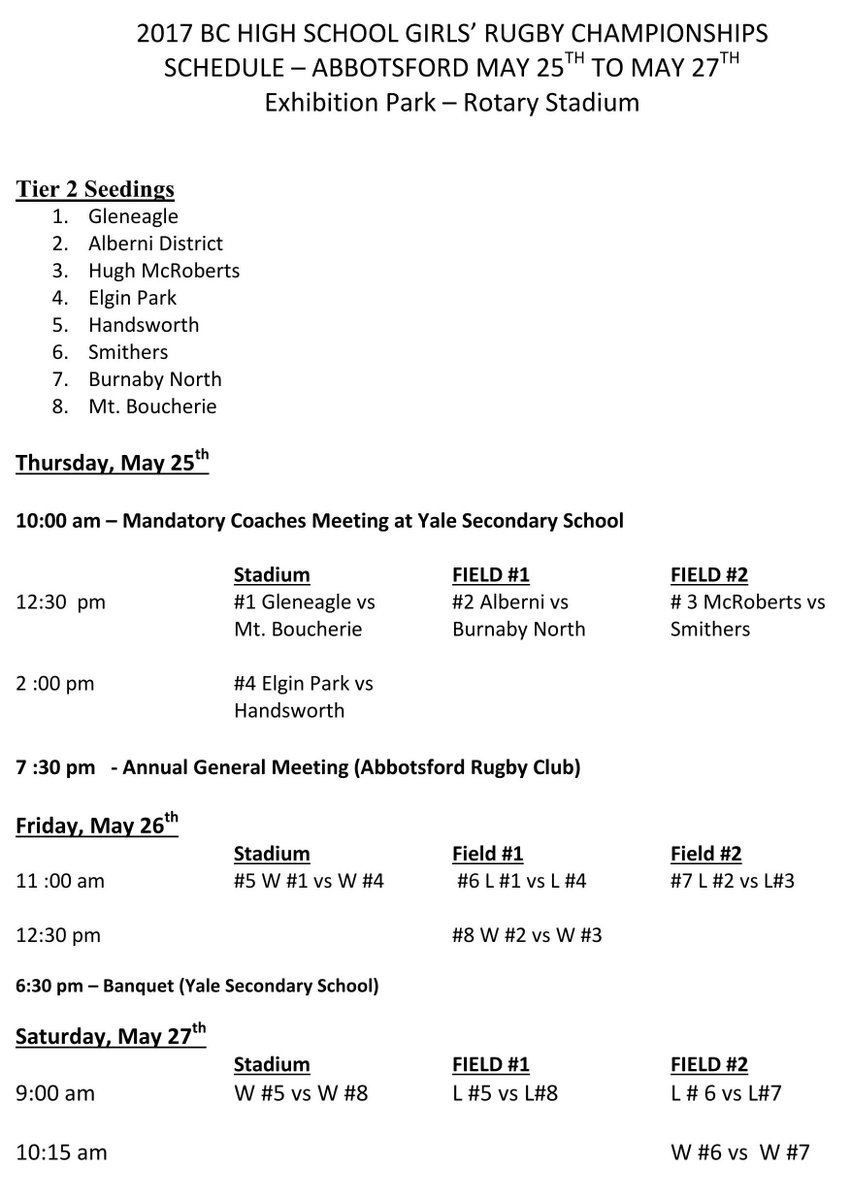 ---