Could Canada Support Their Own Pro League? Blues Face Raptors on Saturday
posted May 18 2017
[ed. comments below]
It's something I've been thinking more of lately, what Canada could do to start their own Pro league instead of waiting for our neighbours to the south to dictate the where and when. The latest Ontario Blues press release prompted the article. The Blues have probably been the most consistent "professional-like" rugby organization in the country over the last few years. They were started in 2009 and one person whose name always shows up in a management capacity is Mark Winokur who probably can take a lot of the credit. They're the right team playing in the wrong league, the CRC, which is not the way forward for Canada. Their match vs Glendale Raptors could be a portent of things to come as the Raptors are one of the core teams of the new MLR (Major League Rugby) league proposing to start in 2018.
The thing that caught my eye in the Blues press release is they're treating the MLR as a fact even though it's a vision right now. The exact wording, "Saturday's rugby clash with professional side Glendale Raptors of Major League Rugby". The MLR isn't even an operational league yet but people are buying into the vision and that's what Canada is lacking... vision. Create the vision and then sell it. It's paying dividends for the MLR.
The Blues could fit right in I suspect, one problem is there aren't any teams in that eastern population hub that would be convenient for a Toronto area based team, at least in 2018. The Blues are playing this match at Sherwood Forest Park and I'm guessing that's not a professional level venue so that's another factor to consider. The Raptors have a nice 5,000 capacity stadium with top level live stream broadcasting capability.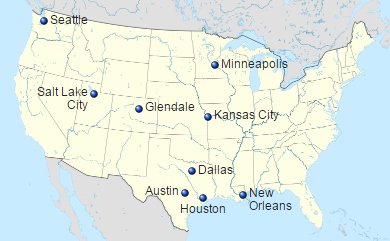 Let's move west for a bit to look at the options for BC. The minimum for a pro team is a viable stadium, the previous PRO Rugby guy, Doug Schoninger, had that right. Victoria could support a small market pro team, and these new leagues will be "small market" for a while until rugby grows in popularity. There are three stadiums Westhills, Centennial and Royal Athletic and the player pool with Rugby Canada centralized in Victoria is top level. The mainland area might be able to support two teams, there are a number of stadiums including Swangard in Burnaby and Rotary in Abbotsford. Calgary and Edmonton would be logical choices and Karl Fix in Regina wouldn't let something like this slide. That could be 6 possible teams and it's starting to look a lot like the western part of the defunct RCSL.
The difference this time around would be it's run from the bottom up instead of the top down. In the past Rugby Canada has said, "we need elite rugby, this is how it's going to work" and of course it hasn't. The MLR is building from the bottom up, groups of individuals believing they can grow a professional franchise, make money, grow rugby and finding like minded groups to form a league. It has to be that way to be sustainable. Are there groups of individuals in these Canadian cities who believe they can grow a professional franchise?
I hope to talk to Karl Fix at the Pacific Pride reunion this weekend and get his views. If there's one Canadian rugby person who typifies the entrepreneurial spirit needed to make it work, it would be Karl.
from Ontario Blues
Ontario Blues Senior Men's Head Coach Chris Silverthorn has named his 23 man squad for Saturday's rugby clash with professional side Glendale Raptors of Major League Rugby. The match will be played in Burlington, Ontario at Sherwood Forest Park. Gates open at 1:00pm and kick-off is at 3:00pm.
Five changes have been made to the squad that prevailed in New York three weeks ago, including the additions of Glasgow Warriors prop Djustice Sears-Duru, Lindsay flanker Jeremy Wright, Toronto Scottish center Alex Colborne and Rugby Canada centrally carded players, wing Dan Moor and hooker Eric Howard.
"Its still early in our season, but the guys have now had a few games under their belt and the attitude at training has been excellent," said Silverthorn. "We know they are a pro team that is way ahead of us in preparation, but we feel we can look forward to a very even contest."
Tickets for the match are available at the gate for $10/person. If you are planning on attending in a group of 25 or more, please contact info@rugbyontario.com by Friday May 19 to receive a discounted rate.
If you can't make it out to Burlington, catch the LIVE STREAM on our YouTube page.
Ontario Blues Roster
FORWARDS:
Rob Brouwer, Lindsay (capt)
Djustice Sears-Duru, Crusaders
Eric Howard, Brantford Harlequins
Andrew Quattrin, Aurora Barbarians
Ryan Surgenor, Bytown Blues
Pat Lynott, Bytown Blues
Hank Mcqueen, Balmy Beach
Mike Sheppard, Stoney Creek Camels
Paul Ciulini, Aurora Barbarians
Lucas Rumball, Balmy Beach
Andrew Wilson, Crusaders
Jeremy Wright, Lindsay
Seb Pearson, London St. George's
BACKS:
Andrew Ferguson, Crusaders
Mario Vanderwesthuizen, Guelph Redcoats
Shawn Windsor, Stoney Creek Camels
John Sheridan, Markham Irish
Alex Colborne, Toronto Scottish
Dan Moor, Balmy Beach
Jon West, Crusaders
Josh Campbell, London St. George's
Kainoa Lloyd, Mississauga Blues
Rory Mcdonnell, Brantford Harlequins
COACHING STAFF:
Chris Silverthorn - Head Coach
Cory Hector - Assistant Coach
Mark Winokur - Team Manager
Chris Kelly - Athletic Therapist
Rodin Lozada - Video Analyst
Dr Chris Gallimore - Team Doctor
Ontario Blues Sr. Men vs. Glendale Raptors
Saturday, May 20, 2017
Kickoff: 3:00pm ET
Sherwood Forest Park, Burlington