Canada Come Up Short 27-20 Against England: Next Match vs Australia: FULL MATCH VIDEO
posted June 12 2017
[ed. comments below]
It was a similar story line to the NZ match, forwards match up well, backline just doesn't have the skills to break down the top two teams in the world. Until Canada can change that equation they'll be a little behind NZ and England.
Canada looked good when they got in an attack rhythm that saw pods of forwards crashing ahead, breaking the gainline, but when it went wide there inevitably would be a dropped ball or poor pass or ill advised kick.
England opened the scoring when they "took one against the head" on a Canada feed to the scrum. In the replay it hadn't nothing to do with the England hooker but just a poor feed from the Canada scrum-half where it looks like she bounced it off her own loosehead's foot and into the England scrum. Canada were out of position expecting to attack and England's Emily Scarratt #13 just split between the #10 and #13 like a hot knife through butter. A few passes later, a few missed tackles later England were over for the try. One mistake, one counter attack, one try. That's the reality playing the #2 in the world, Canada can't afford the mistakes.
Canada's strong possession game got them three back when England infringed at their 22 for offside and Magali Harvery slotted it over, 7-3 with 15 minutes gone.
Off the ensuing kickoff, another error by Canada inevitably led to another try by England. Canada #4 got stripped of the ball in the tackle and England were on attack on the 22, they ran two players at Canada's #10 and she chose the wrong one. England's #7 gained yards, ball recycled and #14 scored out wide. It was all too easy on the counter attack and Canada's defense was caught napping. It was now a quarter way through the match, 2 tries to none for England and it could have gone downhill fast.
Credit to the Canadian women as they battled back and got hold of the ball at the England 5 metres. Wisely the forwards decided to hold onto the ball and they pounded one in, McEwen getting credit for the try. Harvey converted, 12-10.
Canada were pushing the game in the second quarter but just couldn't finish, promising attacks ended in dropped balls, England played strong defence but Canada's backline handling skills were the real culprit.
Still with just a minute left in the half Canada were pinning England back inside their 22. They got turned over in the breakdown however and a few missed tackles later England were counter attacking. Emily Scarratt again was the initiator she kicked from inside her 22 and the Canadian back three weren't able to cover, the ball bounced, Zussman was isolated and it resulted in a penalty. England went into the half with another 3 points, 15-10.
Canada deserved more out of that second 20 as they had the possession but not the finishing.
England started the second half stronger and were using some good tactical kicking to keep Canada inside their 22. It looked like they would score as they had an overlap but Karen Paquin took a gamble that paid off and stepped in front of a floating pass and sprinted the length of the field for a try to put Canada up 17-15. It was against the run of play but Canada were in the lead.
The lead didn't last long however and again Scarratt was involved, Magali Harvey made an ill advised attempt at a chip kick that went straight into the hands of Scarratt. England were on attack and the ball eventually got out to Lydia Thompson their #14, I imagine coach Francois Ratier will have nightmares about what happened next. She beat both Kelly Russell and Frederique Rajotte in the tackle situation and powered through both of them and scored a try from 30 metres out. It's definitely a try that shouldn't have happened, can't happen if you want to beat the #2 team in the world.
There was now 25 minutes left and England ahead 22-17.
To Canada's credit they kept coming back and Harvey closed the gap with a penalty, 22-20, with 20 minutes left. England hit right back with a try that again involved Scarratt with a tidy pass out to the winger. There was a forward pass involved in the build up to that try however and Canada can feel a little aggrieved that wasn't called. It was now 27-20.
Canada attacked in the last 20 in an attempt to tie it up but again just didn't have the finishing skills although the opportunities were there. Canada get 10 out of 10 for heart and the forwards get a 9 out of 10 for their play, the backline is still the problem however. Andrea Burk will help when she gets healthy but they need to involve Magali Harvey more on the inside as she is one of the more evasive runners. There are a few of the 7s players who would enhance the backline but national policy doesn't seem to allow that switch over, even for the World Cup.
Canada play Australia next and need to show they can put on some points against a lower ranked team. It's a good chance to try some different combinations and some different tactics in the backline.
The full match video is below.
---
Canada Name Team to Face England: Live Stream Monday 5:30pm
posted June 12 2017
The forward pack stays the same from the NZ match but a slight change in the backs sees Emily Belchos slide over from #10 to #12, Alex Tessier takes the #10 spot and Lori Josephson comes in at #9. It's an interesting change and with two fly-half on the field it may provide more options on attack. Andrea Burk usually owns the #12 position but picked up an injury on tour.
The game is streamed live on worldrugby.org at 5:30pm PT.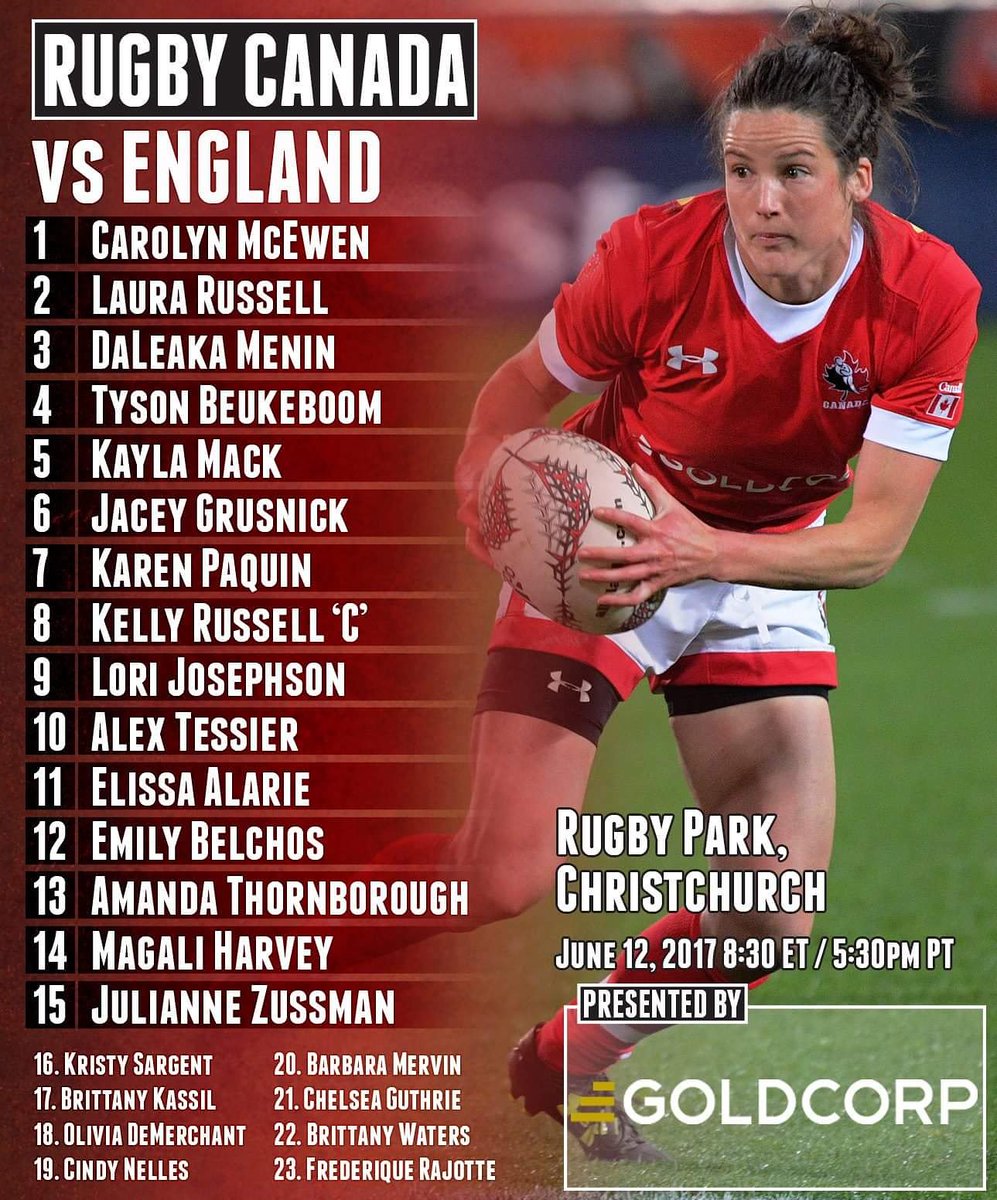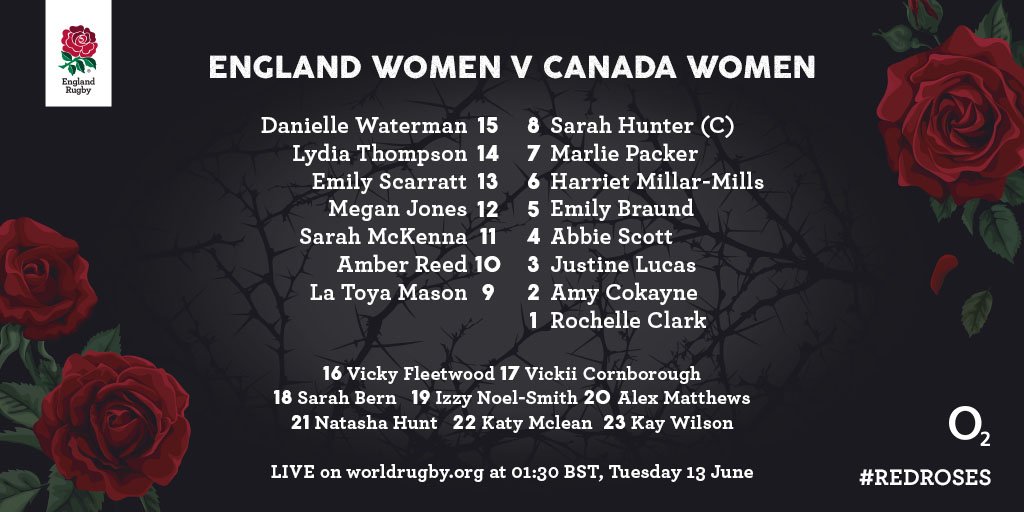 from Rugby Canada
Canada's senior women's head coach Francois Ratier has made just two changes to his starting XV ahead of Monday's International Women's Rugby Series clash with England in Christchurch.
Alex Tessier comes in at fly-half in place of Emily Belchos, who moves to inside centre, while Lori Josephson replaces Chelsea Guthrie at scrum-half.
"We are changing nine and 10 to have other options in the future," Ratier said. "We are also expecting some reaction from players who didn't perform against New Zealand too."
It's an unchanged forward pack for Canada as Carolyn McEwen, Laura Russell and DaLeaka Menin occupy the front row with Tyson Beukeboom and Kayla Mack at lock.
Jacey Grusnick and Karen Paquin start at flanker with captain Kelly Russell at No. 8.
Belchos is joined by Amanda Thornborough in the centres with Elissa Alarie and Magali Harvey on the wings. Julianne Zussman starts at fullback.
Canada is coming off of a 28-16 defeat to New Zealand in its opening match of the tournament. Alarie and Grusnick had tries for Canada in a preview of the two sides' 2017 Women's Rugby World Cup pool match in August. England opened the tournament with an emphatic 53-10 win over Australia.
"The most important thing is to understand why we have lost and we did," Ratier said. "This group need to find their 'killer instinct' to beat the best."
Monday's game kicks off at 8:30pm ET/5:30pm PT and can be seen LIVE on www.worldrugby.org
Canada's Roster vs. England (Name, club, hometown):
1. Carolyn McEwen, Burnaby Lake Rugby Club (Vancouver, BC)
2. Laura Russell, Toronto Nomads/Cowichan RFC (Bolton, ON)
3. DaLeaka Menin, Hornets (Vulcan, AB)
4. Tyson Beukeboom, Aurora Barbarians/Cowichan RFC (Uxbridge, ON)
5. Kayla Mack, Saskatoon Wild Oats (Saskatoon, SK)
6. Jacey Grusnick, Barrhaven Scottish (Alliston, ON)
7. Karen Paquin, Club de Rugby de Quebec/Castaway Wanderers (Quebec City, QC)
8. Kelly Russell, captain Toronto Nomads/Cowichan RFC (Bolton, ON)
9. Lori Josephson, Aurora Barbarians (Beaverton, ON)
10. Alex Tessier, Montreal Barbarians (Sainte-Clotilde-de-Horton, QC)
11. Elissa Alarie, Ste-Anne-de-Bellevue RFC/Westshore RFC (Trois Rivieres, QC)
12. Emily Belchos, Westshore RFC (Innisfil, ON)
13.Amanda Thornborough, Westshore RFC (Brandon, MB)
14. Magali Harvey, Town of Mont-Royal RFC (Quebec City, QC)
15. Julianne Zussman, Castaway Wanderers (Montreal, QC)
16. Jane Kirby, Highland RFC (Brampton, ON)
17. Brittany Kassil, Guelph Redcoats (Guelph, ON)
18. Olivia DeMerchant, Woodstock Wildmen/Castaway Wanderers (Mapledale, NB)
19. Cindy Nelles, Belleville Bulldogs (Belleville, ON)
20. Barbara Mervin, Westshore RFC (Peterborough, ON)
21. Chelsea Guthrie, Stratchona Druids (Edmonton, AB)
22. Brittany Waters, Meraloma Athletic Club/Castaway Wanderers (Vancouver, BC)
23. Frederique Rajotte, Sainte-Anne-de-Bellevue RFC (Montreal, QC)
Unavailable due to Injury:
Latoya Blackwood, Westshore RFC (Montreal, QC)
Andrea Burk, Capilano RFC (North Vancouver, BC)
Coaching Staff:
Francois Ratier- Head Coach
Shaun Allen- Assistant Coach
Colette McAuley- Technical Support
Nicole Crowley- Manager
Nicole Ainsworth- Athletic Therapist
Nicole Allen- Athletic Therapist
James Kent- Analyst